When: February 1 to 28
Most of us don't need an excuse to enjoy a delicious cup of hot chocolate, but February is always a particularly good month to do so in Calgary. That's because YYC Hot Chocolate Fest, which encourages local restaurants and coffee shops to come up with unique hot chocolate drinks in support of Calgary Meals on Wheels, runs for the entire month. Order as many of the 2022 drinks for takeout or dine-in as you can, then vote for your favourites online.
When: Multiple dates in February
February is Black History Month, and several local organizations and arts companies are hosting events to commemorate it. A virtual film screening of John Ware Reclaimed, an in-person poetry event and talks on anti-racism are just a few upcoming events to put on your radar.
Read more: Black History Month Events to Check Out in Calgary
In 2019, Avenue launched the Made in Alberta Awards, which recognize and celebrate locally made products from across the province. There are 11 award categories and a $5,000 cash prize for one grand prize winner. Entries are now open for 2022, so be sure to share the news with a local maker you know or enter your own Alberta product by March 31, 2022.
View this post on Instagram
Tori-K Food Express is a new spot where you can get your fill of Japanese street food in Crescent Heights. Order a rice box with katsu, try the karaage or spicy pork skewers or check out the terimayo hot dog. There are also plenty of milk tea and smoothie options to wash it all down with.
1015 Centre St. N.W., instagram.com
When: February 1 to 14
Calling all poutine fans! La Poutine Week is back this month and more than a dozen Calgary restaurants are offering some awesome takes on this popular dish. You can try a fried chik'n poutine from VBurger, a spicy beef vindaloo poutine from Joyce on 4th and more.
After closing in 2020, The Plaza Theatre in Kensington has reopened under new owners. Inside, the lobby has a colourful new look and you can get some popcorn, candy and other snacks to enjoy during your film. There's also a new cocktail bar in the back if you want to grab a drink. Check The Plaza's website for upcoming movie screenings.
1133 Kensington Rd. N.W., theplaza.ca
When: February 1 to 28
Back for its 18th year, the annual Exposure Photography Festival has an impressive line-up of exhibits in store for audiences this month. This year's festival features a mix of exhibitions and events you can see online or in-person.
Multiple locations, exposurephotofestival.com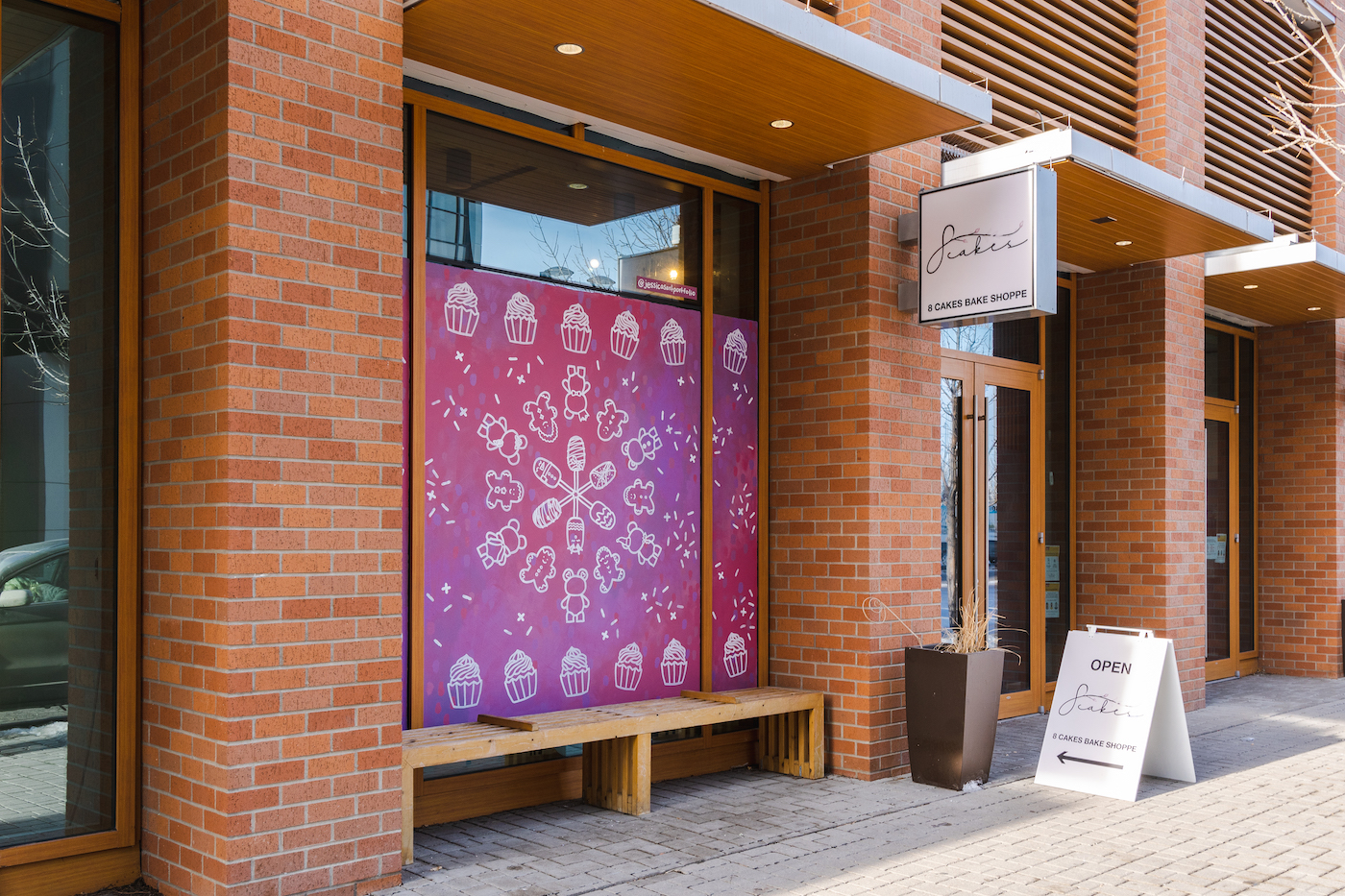 When: Until February 27
This month, go for a walk through Inglewood and East Village to take in the Northern Reflections exhibition. Artistic teams worked together to create colourful art on the windows of 16 local businesses, which can be turned into animated, augmented reality experiences with music through the Augle app. A full list of mural locations is available online.
Multiple locations in Inglewood, maudcollective.com
When: Opens February 3
There's a new spot to do some outdoor skating this month. Starting on February 3, skaters can check out the Top Deck Skating Rinks in Southcentre Mall's parking lot near Decathlon. One rink is for hockey while the other rink is for leisure skating, and 90-minute skating sessions can be booked from Thursdays to Sundays. Bookings require a minimum $2 donation per skater that will support Big Brothers Big Sisters of Calgary and Area.
Southcentre Mall, 100 Anderson Rd. S.E., southcentremall.com
Grab a coffee at two new Beltline coffee shops
If you're in the Beltline and need a coffee, you're in luck because two new coffee shops have opened recently. Local coffee chain Deville has opened a new location right beside the upcoming new food hall The District at Beltline. Down the street, the team behind I Love You Coffee Shop have opened I Love You Coffee Shop Jr, which has a takeout window and four bar seats inside.
Deville, 227 12 Ave. S.W., devillecoffee.ca; I Love You Coffee Shop Jr, 520 12 Ave. S.W., instagram.com
View this post on Instagram
When: February 4 to 27
Back after a successful inaugural year, Chinook Blast is an exciting winter festival running over four weekends this month. A winter light festival, concerts, art exhibitions, workshops and outdoor sporting activities are just a few of the events going on.
Multiple locations, chinookblast.ca
When: February 12
On February 12, head to Calgary's Crescent Heights neighbourhood for a night of storytelling, art and performances during the Crescent Moon Festival. Chantal Chagnon, Mera Reyes, Precille Buckasa and Matt Blais are just a few of the artists taking part in this year's event.
When: Until February 13
Part of Vertigo Theatre's 45th anniversary season, Cipher follows a forensic toxicologist exploring a decades-old murder case involving a secret code. Catch a performance in downtown Calgary until February 13.
The Playhouse, 115 9 Ave. S.E., 403-221-3708, vertigotheatre.com
View this post on Instagram
Mama Africa is a new African restaurant and bar that opened along 17 Ave. S.W. at the end of January. Make dinner plans to try menu items like plantain chips, peri peri shimp, the suya burger, goat stew, boerewors sausage and more, not to mention the cocktails.
1410 17 Ave. S.W., 587-881-4407, mamaafricayyc.ca
When: February 17 to 20
Block Heater, the annual winter music festival put on by Calgary Folk Music Festival, returns this month with a mix of outdoor and indoor performances. The festival kicks things off with an online Black History Month panel on Thursday night, followed by more than a dozen bands and singers performing over the rest of the weekend. Catch performances by Witch Prophet, Cadence Weapon, Rain Maida, Chantal Kreviazuk, Reuben and the Dark and more.
It may be too cold to play golf outdoors right now, but you can still practice your swing at a new facility called Go Go Golf. The 5,600-square-foot indoor golf lounge is home to six bookable golf simulators where you can play a round on virtual courses from around the world. There's also a food and drink menu if you work up an appetite.
10135 Southport Rd. S.W., 587-349-4943, gogogolf.ca
When: February 19
The winter edition of Little Modern Market is running for one day only on February 19 from 9:30 a.m. to 3:30 p.m. Support local by shopping from over 70 vendors selling apparel, food products, jewellery, home decor, pet items and more.
Atco Park, The Commons Building, 5302 Forand St. S.W., littlemodernmarket.com
View this post on Instagram
When: Until mid-March
Arthur, Cleopatra, Napoleon, Josephine — these are just a few of the adorable king penguins you could see waddling through the Calgary Zoo during this year's Penguin Walk. Every winter starting in January, the zoo's king penguin colony go on a daily morning walk around the grounds that the public can watch (weather dependent). The walks start at the Penguin Plunge at 10:30 a.m., so don't miss your chance to see these awesome animals outside of their usual habitat.
Calgary Zoo, 210 St. Georges Dr. N.E., 403-232-9300, calgaryzoo.com
When: February 26
Woezo Africa Music & Dance Theatre Inc.'s annual UNGANISHA event returns this month with a look back at its 2019 production. A celebration and examination of how African culture has shaped modern dance, UNGANISHA uses local talent to explore the stories behind dance styles like samba, Afro-Caribbean, hip-hop, jazz, capoeira and more. The 2022 event will take place online and tickets are $20.
When: Until February 28
No luck on dating apps lately? The 17th Ave. Retail & Entertainment District is hosting its "Get Off the Apps and Onto the Ave" program throughout the rest of February. Featuring a wide range of events intended to help you meet single Calgarians, the program includes upcoming events like singles yoga fitness classes, a board game night, a coffee and cocktail mixer and more.
Multiple locations, 17thave.ca