It's the month to take advantage of those hot days and long, warm nights. Luckily, there's lots going on in the next 31 days so making the most of it should be no problem. This August, attend cultural and music festivals, catch a playground opening, speak with a famous author and eat the best tacos in the city.
The Fringe Festival runs from August 1 to August 9, and one of the many shows is Who Killed Gertrude Crump? The tale of the death of the world famous murder mustery author comes from Vancouver's Ryan Gladstone. Tara Travis will perform the entire thing with the help of her puppets. Tickets are $15.
(Lantern Church Sanctuary, 1401 10 Ave. S.E., calgaryfringe.ca)
The Calgary International Blues Festival runs from July 28 until August 3. This year, in addition to Ana Popovic and Joe Louis Walker, see Canadian blues guitarist Bill Durst. Durst has recorded more than 115 songs and can boast 7 national radio chart hits. The Bill Durst Band performs at 2:30 p.m. on the mainstage at Shaw Millenium Park on August 2. The single day festival pass costs $50.
(Shaw Millenium Park, 1220 9 Ave. S.W., calgarybluesfest.com)
Sunfest returns to Inglewood on August 2 and that means the fourth annual pie-eating contest. Competitive pie eaters will (messily) consume delicious blueberry pies from Wilde Grainz on the quarter hour for the entire duration of the festival. Sign up at the ICA booth at the festival to compete.
(Minh Chau parking lot, inglewoodsunfest.com)
If you missed out on the Calgary Folk Music Festival, don't despair. The Canmore Folk Music Festival runs from August 2 to 4. Catch performances by musicians such as Calgarian Michael Bernard Fitzgerald and The Strumbellas, a six-piece indie band from Toronto. A single day ticket bought at the gate will cost you $45.
(Centennial Park, 6 St., Canmore, canmorefolkfestival.com)
photo by adam greenberg
You've probably never scaled a mountain like this before. Feel like an experienced mountaineer when you try Banff's Via Ferrata. It's not hiking and it's not mountain climbing: think climbing with lots of ladders, all of which are located at the side of the mountain. Led by a certified instructor, it's a safe activity that's guaranteed to thrill. And be sure to grab a bite at the newly opened Cliffhouse Bistro. The two-hour walk costs $139; the four-hour walk costs $169.
What better way to celebrate Heritage Day (and a Monday off work) than with a star-studded concert? Canadian jazz singer Holly Cole is the headliner and singer Sarah Slean from Ontario will also be gracing the stage. And you know the cute kids from Nashville? (Admit it, you've binge watched the show on Netflix.) Their parents, Canadian country-pop duo The Stellas, will be performing as well. Tickets are $44.95.
(Heritage Park, 1900 Heritage Dr. S.W., heritagepark.ca)
Feel a pang of nostalgia as you watch a movie from your car: drive-in movies at Deerfoot Mall return on August 6. Catch Jaws at 9:30 p.m. after participating in some family-friendly activities that start at 5 p.m. The other movies playing this month are Ghostbusters, Toy Story and Back to the Future. Donations to Brown Bagging for Calgary's Kids are accepted.
(Deerfoot Mall, deerfootmall.com)
Find your new favourite piece of art on Stephen Avenue during August's Calgary Art Walk. Browse paintings, sculpture, photographs and more, and know that when you buy, you're helping those living in extreme poverty.
(Stephen Avenue, artistsforthepoor.ca)
Lovers of historical fiction will be over the moon to hear that Jack Whyte will be at this year's When Words Collide literary festival. The author, who was born in Scotland and now lives in British Columbia, has written the popular Arthurian saga The Camulod Chronicles. Registration for the festival (which runs August 8 to August 10) is already full, but book-lovers can contact the organizers to get put on the waiting list.
(Carriage House Inn, 9030 Macleod Tr. S., whenwordscollide.org)
Watching the Commonwealth Games has probably inspired you to get moving. Enjoy a ride with a view and bike the Legacy Trail. This multi-use lane is roughly 22 kilometres long and connects Canmore and Banff. It's relatively flat, which means you can concentrate on the magnificent mountain views.
(pc.gc.ca)
Have you ever tried bulgogi or kim chi? You should, they're delicious. The 11th annual Korean Day Festival is on August 9, which makes it the perfect opportunity to sample a variety of different Korean foods, watch cultural performances and discover more about the history of Korea.
(Shaw Millenium Park, 1220 9 Ave. S.W.)
On August 10, the Calgary Zoo is holding another event just for photographers. Before the zoo grounds open to the public, see the animals in the crisp, morning light and capture photos of them when the light is perfect. This event is held for photographers ages 16 and up. This event costs $35.
(Calgary Zoo, 1300 Zoo Rd. N.E., calgaryzoo.com)
Mardo Loop's annual street festival, Marda Gras, is on August 10 and includes concerts and street performances.
(Marda Loop, mardaloopbrz.ca)
Eat tacos in Kensington
You know how El Charrito Taqueria on Edmonton Trail won Best Tacos in our Best Summer Food Guide? The owners of the best tacos in the city have opened another location, this time in the heart of Kensington. Get the horchata to drink, order some tacos from Graciela and don't forget a side of guacamole – it's also some of the best in the city.
(318A 10 St. N.W., 403-478-2924)
Who doesn't love fireworks? Since it started in 2003, GlobalFest fireworks and cultural festival has seen more than 100,000 people attend. This year, Japan, Thailand, Vietnam and France are presenting fireworks displays. Japan presents the first fireworks display, which takes place on August 14. The finale is on August 23.
(Elliston Park, globalfest.ca)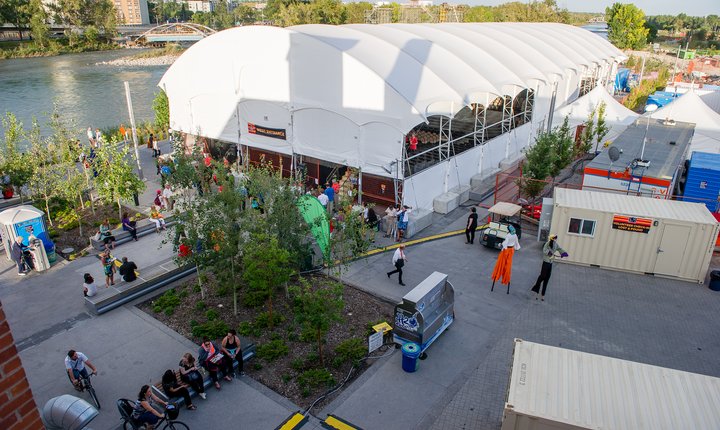 photo courtesy of calgary opera
Opera in the Village returns to the East Village for the second year. This year, expect performances of Candide and Hansel and Gretel at the outdoor opera festival. But the fun doesn't stop there: from August 14 to August 23 there will also be singing contests, circus acts and performances by The Green Fools. Oh, and there's a beer garden. Tickets are from $35.
(RiverWalk Plaza, 618 Confluence Way S.E., calgaryopera.com)
You won't even break a sweat. Really – it's physics. And it's part of the first phase of Telus Spark's Branasium outdoor park, which opens on August 15. The one-acre space includes an all-weather 63-foot slide from Germany, a teeter-totter for six people and a huge set of ears.
(Telus Spark Science Centre, 220 St. George's Dr. N.E., 403-817-6800, sparkscience.ca)
On August 16, join yogis in Calgary, and in 40 other cities, in the third annual yogathon. This event isn't just about health and fitness though – you'll also be helping a good cause. Salute the sun in order to support Care for Children, a program that provides education to children living in rural India. Registration for the yogathon costs $25.
(100 Stephen Ave. S.E., yogathoncanada.org)
This trendy women's store only opened in Calgary on July 18. Get a head start on back-to-school shopping and be one of the first to purchase a graphic T-shirt or slouchy sweater from one of Market Mall's newest stores.
(Market Mall, brandymelville.ca)
Lovers of all things local will have a blast meeting the farmers who grow and prepare their food. Meet local ranchers, bakers from Saskatchewan and Albertan cheese makers. After this tour, each time you return to the market you'll see familiar faces. The tour is on August 23 and costs $30.
(Calgary Farmers' Market, 510 77 Ave. S.E., 403-240-9113, calgaryfarmersmarket.ca)
photo courtesy of calgary dragon boat society
Be part of one of the biggest sporting festivals in Calgary and support more than 1,000 athletes as they race for the championship title. On August 23 and 24, you can volunteer your time to make sure everything runs smoothly for these athletes. Register to volunteer as a photographer, a results runner, a timing official or more. Bonus that you get to take home a cool volunteer T-shirt.
(North Glenmore Park, 7305 Crowchild Tr. S.W., chinatowncalgary.com)
On August 24, drive north to Cochrane and enjoy a small-town fair. This year, the Olde Tyme Fair is themed "cowboy boots, Canadian roots." Don your Stampede attire and get ready for dog agility shows, scarecrow contests, human rooster crowing (really) and agricultural demonstrations. Adult admission is $3.
(Bearspaw and District Community Fair Association, bearspawfair.com)
On August 28, 29 and 30, the night sky will be moonless. Take advantage of that and head out of town to the University of Calgary's observatory. On a clear night, you'll be able to see galaxies and nebula. And if you don't know what those look like (or what they are) there are research scientists present to answer your astronomy questions.
(Rothney Astrophysical Observatory, ucalgary.ca)
Calgary Pride runs from August 22 until September 1. If you're only able to catch one event, be sure to make it to the parade. Wear as much colour as you can and show your support for the LGBTQ community on August 31. Join in the festival that takes place right after the parade ends.
It's not every day that you get to listen to blasting rock music at Calgary's birthplace. X-Fest runs on August 30 and August 31 and features some big names in the alternative rock world, including Arctic Monkeys, Death Cab For Cutie Foster the People and Tegan and Sara. For an incredible deluxe musical experience, book a 10-person cabana. Single day tickets cost $99.
(Fort Calgary, xfestcalgary.com)