When: Runs until November 11
"Short season, big drama." That's how Alberta Theatre Projects has summed up its 2023-24 season, which kicks off with a production of the Canadian play Made in Italy (in partnership with Theatre Calgary). The semi-autobiographical, one-person show dives into the story of Italian immigrant Francesco, his father and their time in Jasper, Alberta in the 1970s.
Martha Cohen Theatre, albertatheatreprojets.com
When: November 1 to 11
As you travel along Memorial Drive this month, take a minute to honour the memory of the Southern Alberta and Canadian soldiers that have sacrificed their lives. More than 3,500 white crosses will be set up in fields along the road from November 1 to 11 as part of the Field of Crosses Memorial Project. The public can visit the five-acre memorial throughout that time, attend sunrise and sunset ceremonies until November 10, or attend the Remembrance Day ceremony here on November 11.
200 Memorial Dr. N.W., fieldofcrosses.com
Get your holiday shopping done while supporting local by checking out one of the fall and holiday markets happening over the next few weeks. More than two dozen markets are taking place in and around Calgary in November and December, leaving plenty of opportunities to pick some locally made art, ceramics, home decor and more.
Read more: Holiday Arts and Crafts Markets In and Around Calgary
View this post on Instagram
MIK, which stands for Made in Korea, recently opened along 17th Avenue S.W. and brings something new to Calgary's coffee scene. Along with creative drinks like strawberry-infused coffee, you can treat yourself to a dacquoise pastry or a croongee, which is a flattened croissant with ice cream and toppings. There's also a photo booth and a phone case station where you can deck out a case in fun decorations.
101, 1019 17 Ave. S.W., @mik_coffee_
When: November 3 to 12
Back for its 12th year, the Calgary European Film Festival highlights films from more than 25 countries including Germany, Iceland, Serbia, Spain and more. In-person screenings take place at Globe Cinema, with select films available to stream online as well. Get individual tickets for $15, a five-ticket bundle for $50 or a full festival pass for $150.
Globe Cinema, 617 8 Ave. S.W., calgaryeuropeanfilmfestival.ca
Stretch your creative muscles this month by taking a local workshop. Whether you want to make a candle, a plant terrarium or try your hand at knitting, there is a class for you.
Read more: Where to Take a Crafty Workshop in Calgary
When: November 4, 18 and 25
If you've ever wanted to learn how to make ice cream from an expert, now is your chance. Made by Marcus owner Marcus Purtzki will be leading several ice cream workshops this month where you can learn how to make your ultimate ice cream flavour. At the end of it all, you'll leave with four pints of your custom flavour to enjoy at home.
Made by Marcus, 121, 1013 17 Ave. S.W., eventbrite.ca
View this post on Instagram
Pickleball courts, a skate park, basketball, an off-leash dog park — there's no shortage of fun things to do at Pixel Park, the newest addition to Calgary's Culture + Entertainment District. The temporary space, which just opened in mid-October, is even home to a big electrical vehicle charging site with 24 electric stalls. Pixel Park is open every day of the week, with staff on-site three days each week.
12 Avenue S.E. and Macleod Tr. S.E., calgarymlc.ca
When: November 5 to 12
Calling all tennis fans! Don't miss the chance to see some of the incredible tennis players from the ATP, ITF and WTA World Tours at the Calgary National Bank Challenger. The professional men's and women's tennis tournament takes place at the Osten & Victor Alberta Tennis Centre. Daily admission tickets are available, as well as weekend and weekly passes.
Osten & Victor Alberta Tennis Centre, 295 90 Ave. S.E., calgary.nationalbankchallenger.com
When: November 16 to 26
Calgary company Hung's Noodles is celebrating its 40th anniversary with a new festival that's all about great noodle dishes. A partnership with Roots Collective Canada, the festival highlights different noodle dishes from local eateries in support of Calgary Meals on Wheels. Once you've tried some of the dishes, you can rate your favourites online to help determine the most creative dish and the top-rated dish.
Multiple locations, yycnoodlefestival.com
If you're craving Korean food, you're in luck — several new restaurants offering everything from Korean barbecue to fried chicken have recently opened around the city. Check one of them out the next time you're feeling peckish.
Read more: 9 New Korean Restaurants to Check Out in Calgary
When: November 17 and 18
The latest season of the TD Amplify series starts this month under the guidance of Calgary's poet laureate, Wakefield Brewster. The first show asks five artists — Adetola "aloT of Poetry" Adedipe, Jiajia Li, Jocelyn Mah, James Watson and Mandy Morris — to explore how we accept the puzzle pieces that make up our identities.
Engineered Air Theatre, artscommons.ca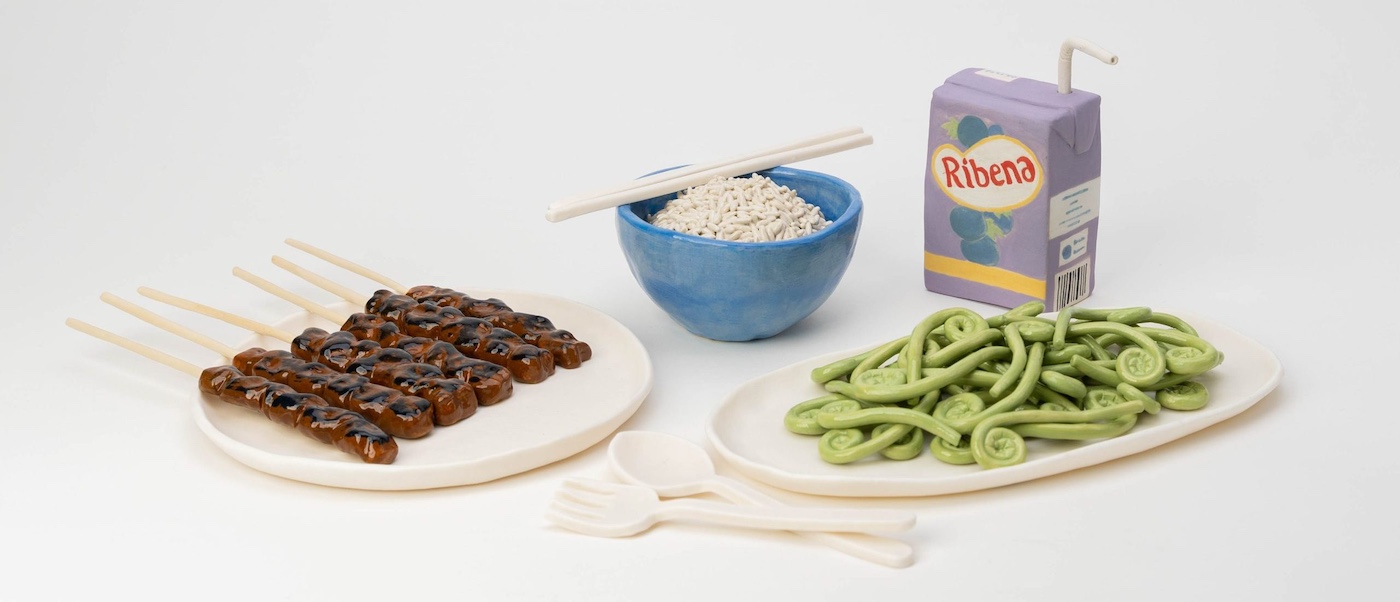 When: On now until February 4, 2024
Using large-scale photo-collages and hand-built ceramic sculptures, Lethbridge-based artist Angeline Simon explores the role and impact of food in Chinese-Malaysian culture and her own family's experiences and memories. This exhibition is available to view for free at the Esker Foundation until February 4, 2024.
1011 9 Ave. S.E., 403-930-2490, eskerfoundation.com
When: November 17 to 19
The Calgary Justice Film Festival focuses on environmental and social justice films, with more than a dozen movie screenings to choose from this year. Not only are all the screenings free, but the filmmakers and local experts will be on hand for short discussions on the films, too. Attendees can also check out the Peace Fair featuring various vendors and organizations at River Park Church on November 18 and 19.
Globe Cinema, 617 8 Ave. S.W. and River Park Church Theatre, 3818 14A St. S.W., justicefilmfestival.ca
When: November 17 to January 7
Every winter, the Calgary Zoo stays open in the evenings and invites the public to explore its grounds, which are decked out in more than one million colourful lights for its annual Zoolights event. It's a magical experience complete with themed activities, photo ops and nearly 250 light figures.
Calgary Zoo, 210 St. George's Dr. N.E., 403-232-9300, calgaryzoo.com
If you need a new pet bowl, collar, toy or leash, consider checking out You Thrifty Animal, a new pet thrift store where all of the profits support the programming at Parachutes for Pets. The shop is even cat- and dog-friendly if you feel like bringing your furry friend with you to shop.
6120 1A St. S.W., @youthriftyanimal
When: November 18
What happens when you take 25 musicians, have them draw names from a hat, give them 12 hours to come up with new material and ask them to perform in a one-off band? You get the Sled Island Rock Lotto, of course. Taking place at The Palomino, this event promises to be a fun night of musical creativity, and tickets are only $10 in advance or $15 at the door.
The Palomino, 109 7 Ave. S.W., showpass.com
View this post on Instagram
If you're looking for a new outdoor space to explore, check out Haskayne Legacy Park. Spanning 126 hectares, the new park in northwest Calgary offers walking and biking trails, outdoor fireplaces and more to facilitate your next outdoor adventure.
9000 149 St. N.W., calgary.ca 
When: November 19 and 20
National Geographic Live casts a spotlight on some of the most interesting explorers, scientists, photographers and filmmakers in the world as they share their research and experiences with live audiences at the Jack Singer Concert Hall. Covering everything from the rise of the T. rex to life in the arctic, the series' 12th season kicks off with a presentation from filmmaker and photographer Andy Mann on November 19 and 20 that explores his experiences as a climber and diver.
Jack Singer Concert Hall, artscommons.ca
Avenue is launching a new newsletter focused on the innovative people, companies and initiatives that make Calgary great and are helping the city move forward. Sign up to receive the first edition in your inbox soon.
When: November 21 to 26
Broadway Across Canada returns to Calgary this month with the first show of its 2023-24 season, the Tony Award-winning production of Hadestown. The musical takes on two love stories from Greek mythology, ushering guests into the underworld with Orpheus and Eurydice, as well as King Hades and Persephone. If that weren't interesting enough, the show also has a unique local connection: Before taking the theatre world by storm, Hadestown was originally partly developed at Edmonton's Citadel Theatre.
Southern Alberta Jubilee Auditorium, 1415 14 Ave. N.W., calgary.broadway.com
When: November 22 and 23
Whether you're looking for holiday gifts for others or a little treat for yourself, there's no better place to find a great local product than at the Made in Alberta fall market. Mark your calendar and check back soon for a list of vendors.
Bow Valley Square, 205 5 Ave. S.W., madeinalbertaawards.ca
View this post on Instagram
When: November 24 to December 3
The Calgary Opera takes on a classic fairy tale this month with the one-act opera Beauty and the Beast. Running from November 24 to December 3 at the Mamdani Opera Centre in the Beltline, the production follows the story of Beauty, her two sisters and her father, and how Beauty's life is turned upside down after she requests that her father get her a single rose on his travels.
Mamdani Opera Centre, 1315 7 St. S.W., calgaryopera.com
Calgarians can now get a taste of the famous guacamole (and burritos, bowls and tacos) from Chipotle. The American chain recently opened its first Calgary location in the Sunridge neighbourhood and quickly drew long lines of hungry guests. If you're in more of a hurry, there is a Chipotlane drive-thru where you can pick up online pre-orders.
Read more: American Chain Chipotle Opens First Calgary Restaurant in Sunridge
2791 32 Ave. N.E., 403-230-2134, chipotle.ca
When: November 26
For many of us, the holidays mean breaking out our pots and pans to do some Christmas baking. But if you're looking to make something a little different this year, consider taking The Cookbook Co. Cooks' morning or afternoon Christmas baking class on November 26. Who knows, you may just discover your new favourite holiday treat.
The Cookbook Co. Cooks, 722 11 Ave. S.W., cookbookcooks.com