4 Ski Destinations For Those Who Also Like Spas
Pamper your body, soul and stomach after (or before) an epic day on the slopes.
By Lisa Kadane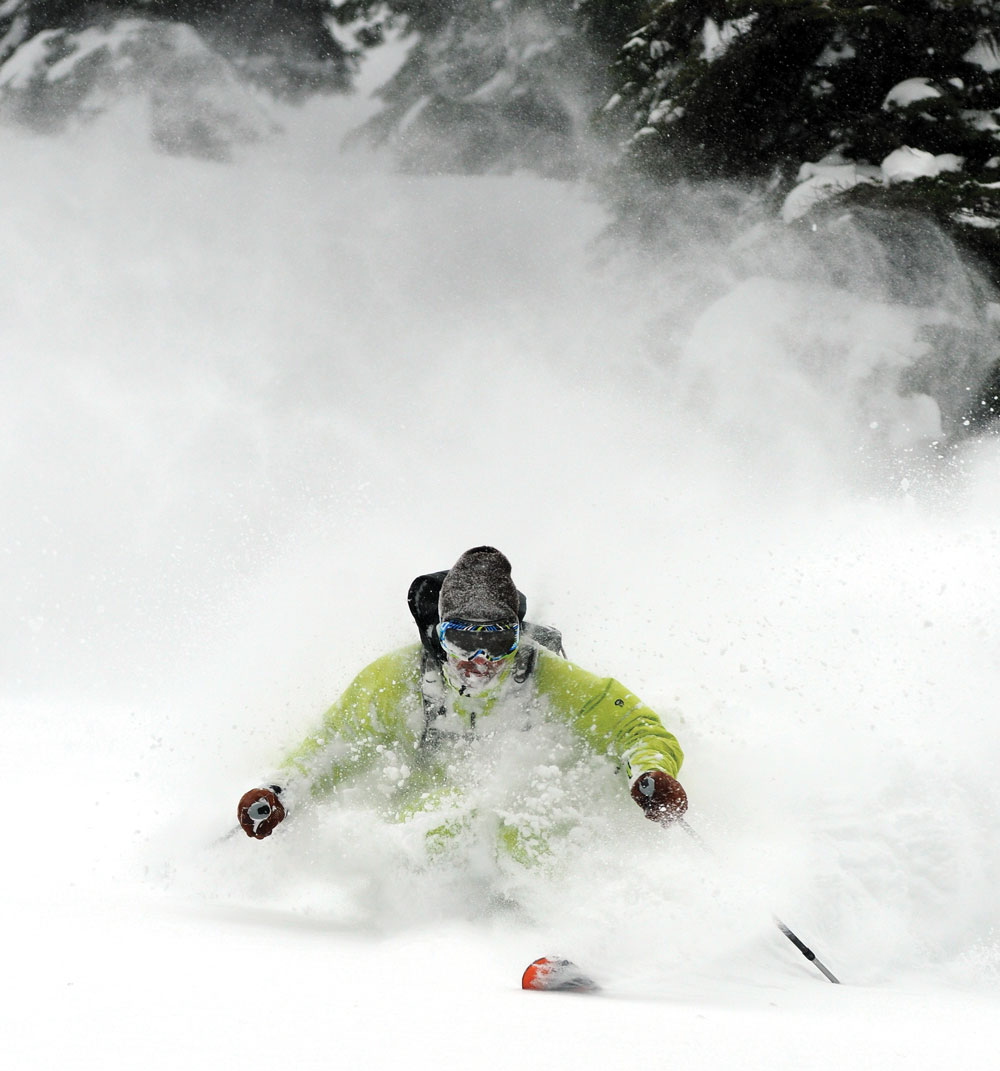 Photograph by Mike McPhee/Island Lake Catskiing
Island Lake Catskiing offers pristine snow in addition to spa and dining luxury.
At 3 p.m., fresh snow settles silently outside the snowcat deep in the Lizard Range in southeastern B.C. It's the moment of truth: should I spare my flagging quads and sip hot cider in the cozy conveyance, or should I glide down one last run through fluffy new-fallen flakes and rack up another 1,000 vertical feet of spectacular untracked turns at Island Lake Catskiing?
As tempting as it is to rest up, I opt to ski – it's not every day I get to glide atop hero snow. Besides, that medicinal shot-ski at Bear Lodge will still be there after one more run, and my tired legs will enjoy the aprs encore of a deep-tissue massage, a free-range chicken dinner, and a comatose sleep under a soft duvet even more if I turn them into Jell-O.
As much as we love carving up deep powder, the idea of punishing our bodies on the slopes becomes less appealing with age. So, we're happy to see our favourite winter pastime has evolved to include opportunities for pampering and rejuvenating ourselves post-ski or -snowboard. It's now possible to book afternoon spa treatments, rent a slope-side home and hire a private chef, or stretch out overworked muscles with on-mountain yoga. Here are four places to pamper yourself after a day of soul-satisfying powder.
By its very nature, cat-skiing provides access to a pampered powder experience: a comfortable snowcat transports you uphill, drops you off to follow a guide down virgin slopes and then picks you up at the bottom to repeat. And when the powder-8 turn carving ends, the lodge experience begins.
"It's about more than the skiing," confirms Island Lake Catskiing marketing director Mike McPhee. "It's relaxed, and social. We play up the 'soft side' of the experience: dining, lodging, the spa."
It's not that those aspects trump the powder – that's next to impossible. But, taken together, they elevate the experience and enable weekend warriors like me to rip it up through deep snow (gracefully, I might add) several days in a row.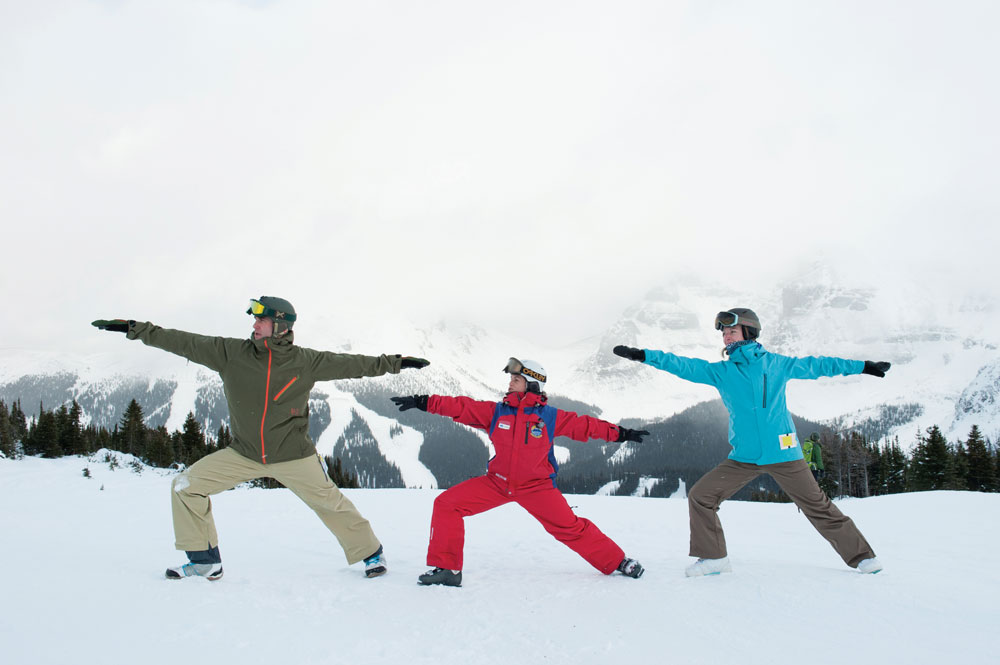 Sunshine Mountain Lodge, the only ski-in, ski-out accommodation in Banff National Park, maroons guests in a snow-bound village at 2,195 metres' elevation. You're guaranteed first tracks unless you sleep in – a real possibility inside the boutique-style lofted suites, complete with king beds and fireplaces – and the powder won't get skied out if you gear up for Delirium Dive's big mountain, backcountry-like terrain.
But how do you ensure you'll be able to ski just as enthusiastically on day two? With on-mountain yoga, natch, courtesy of the resort's Restorative Yoga & Ski Retreats running through May.
Begin the day in downward dog to stretch those hamstrings pre-ski and then tour Sunshine's hidden gems with Christine Davidson, your weekend Hatha yoga guru and CSIA-certified ski instructor, who is happy to dole out tips and pointers for each pastime. After a day of ski therapy – or "moving meditation" in yoga-speak – it's time for another session to target tired ski muscles and overextended joints with the goal of rehabilitating bodies for more powder turns the following day.
"The yoga is less about doing headstands and more about stretching muscles and meditating," confirms Davidson. A healthy gourmet dinner at The Eagle's Nest completes the package.
sunshinemountainlodge.com/SpecialOffers/yoga-and-ski.php
Check your parka, helmet and goggles with "Jeeves," a.k.a. your private butler, when you check in to the Eagle's Eye Suites at Kicking Horse. Here, set atop this rugged resort known for its gnarly terrain and powder-filled bowls, are two luxury rooms nestled within a high-altitude outpost of timber, rock and glass known as Eagle's Eye.
Access to your mountain aerie is by gondola, and, though popping a bottle of bubbly on the way up is technically not allowed, you can arrange for your butler to have a bottle chilling in the suite. The Eagle's Eye Suites experience includes the aforementioned butler to fetch aprs-ski cocktails, serve dinner and basically be at your beck and call during your stay (hungry for a midnight snack? Ring Jeeves). You'll also work with a private chef to plan dinner and breakfast, which can be served in the room or in adjacent Eagle's Eye Restaurant.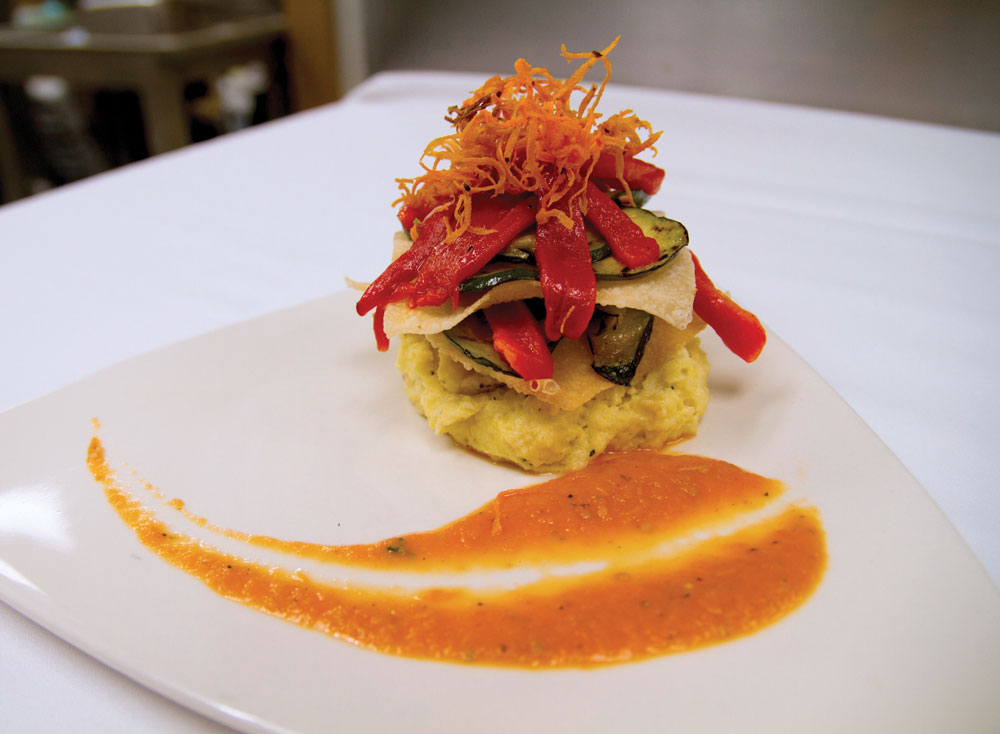 Grilled vegetable napoleon, goat cheese polenta with smoke pepper coulis at Eagle's Eye.
Come morning, a private instructor or guide will lead you out into Kicking Horse's version of champagne: plentiful, pillowy snow. The best time to book a suite is mid-week when there are fewer riders to compete with for fresh tracks, and when you'll have Eagle's Eye all to yourself after the sun sets (the restaurant is open to the public for dinner on Friday and Saturday nights).
Call 1-866-754-5425 for Eagle's Eye Suites availability, pricing and to book, or visit kickinghorseresort.com
Skip to the front of the lift line, discover Fernie's secret powder stashes and get pointers for riding the resort's outrageously pitched chutes during a Steep and Deep Camp. Then, ski in to your slope-side chalet and collapse in the hot tub while a private chef creates a gourmet dinner.
The two-day powder workshops, for groups of three to a maximum of six, attract advanced riders looking to take their skiing to the next level, says Wendy Reade, the director of guest services and snow school. The lessons are led by pros who know the mountain, and the focus is on making previously inaccessible terrain an exciting challenge by building confidence through deep snow control and turning techniques, and tips and tricks for getting down steep slopes with dignity. What's more, they use video analysis so you can see how you're skiing or snowboarding – it then becomes easier to modify your form.
When the lifts close you can get as sloppy as your legs feel with aprs bevvies at the Griz Bar and then continue the party at The Alders, your six-bedroom on-mountain retreat complete with a pool table and hot tub. Hire a private chef to prepare your dream dinner, from a traditional feast of Alberta beef tenderloin with rosemary potatoes to an Asian-influenced wild sockeye salmon sashimi with a spicy yuzu kosho sauce. All you have to do is show up at the table with an appetite.
Steep and Deep Camps, skifernie.com; mountain chalet, ferniecentralreservations.com; private chef, Matt Sorochuk with Iron Creek Catering, ironcreekcatercompany.com, or Cam Carr with Alpine Lodge and Yamagoya, 250-430-0090