If you think January through April in Calgary are only good for sitting at home and dreaming of warmer months, think again. Whether you're an outdoor enthusiast, a culture lover or a foodie, there is plenty to do this winter.
---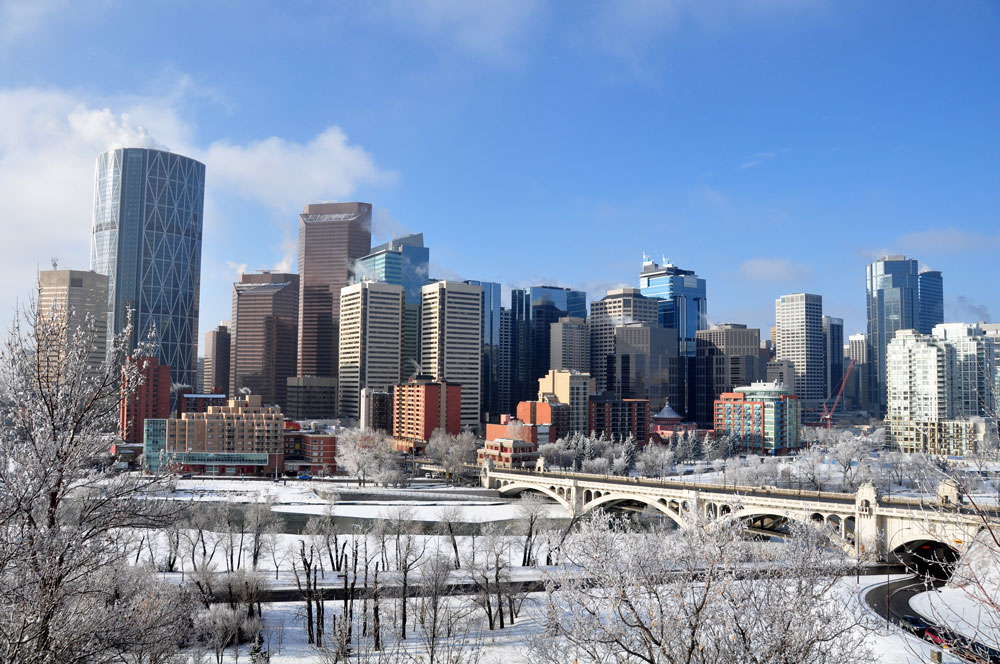 ---
Winter food events
What winter lacks in abundance it makes up for in culinary creativity, and it's a great time to explore the city's dining scene through some major food events.
Dates: February 1 to 29
Address: Various locations
This is the month to try as many hot chocolates as you can. Participating restaurants and cafes across Calgary each create a signature hot chocolate and try to win Calgarians' hearts – the hot chocolate with the most votes takes home the title of Calgary's Best Hot Chocolate. Proceeds from this festival supports Calgary Meals on Wheels.
Valentine's Day Dining
Dates: Feb. 14
Many restaurants feature special Valentine's Day offers and menus, including the Lake House, Home Tasting Room and the Bow Valley Grill at the Fairmont Banff Springs Hotel – but you have to book early.
Dates: February 19 and 20
Address: BMO Centre Hall E
Cost: From $75
Sip, sample and get input from wine experts at this "playground for the palate" featuring wines from all over the world.
Dates: March 4 to 13
Address: Various locations in Calgary
More than 60 restaurants will showcase their talents with 10 days of fixed-price menus and culinary events.
Dates: April 6 to 17
Address: Various locations in Canmore
Cost: Ticket prices vary
This mountain food and drink festival is 12 full days of special set-price menus, cooking classes, progressive dinners and cooking events. Popular events each year include the Long Table Dinner (on April 7), the Culinary Symphony (on April 15) or the Big Brunch (on April 17).
---
For the outdoor enthusiast
Calgary's proximity to the Rocky Mountains, world-class ski hills and winter activities is one of the city's claims to fame. But you don't always have to exit city limits to enjoy winter sports.
If you're the kind of person who likes running
Running is a popular Calgary pastime, even in the heart of winter. Take to the city's pathways or trails – there are approximately 580 kilometres of regional pathway. Or, keep your fitness on track by registering for a fun run during the snowy months.
5km or 10 km
January 16
$15
Eau Claire, 200 Barclay Parade S.W., mec.ca
21.1 km
February 20
From $70
Fort Calgary, 750 9 Ave. S.E., hypothermichalf.com
5 km or 10km
March 13
Registration cost varies
Central Memorial High School, 5111 21 St. S.W., raceonline.ca
1 mile, 5 miles or 21.1 km
March 19
Registration cost varies
Eau Claire, 200 Barclay Parade S.W., larchecalgary.org
5km, 10km or 15km
April 9
$15
St Luke School, 1232 Northmount Dr. N.W., mec.ca
Don't leave your bike in the garage all winter
The City of Calgary clears 350 kilometres of its 800-kilometre pathway network, including the Bow River path all the way from Home Road N.W. to Nose Creek S.E. (And the Nose Hill trails are an option all year if you're into fat biking.)
If you prefer your biking to be a little more social, take part in Winterpalooza. It's Calgary's winter bike festival and this year it runs from February 10 to 14. There are different activities each year, but you can always count on the winter bike scavenger hunt, the annual polar run and the photo booth. And warm Chinook winds can make Winter Bike to Work Day on February 12 one of the best cycling days of the year.
Go snowshoeing and cross-country skiing in the city
Rent gear from the University of Calgary Outdoor Centre and spend a few hours making the most of the snow while still in the city limits. If cross-country skiing is your sport, there are groomed trails on the Shaganappi Golf Course, Confederation Golf Course, Maple Ridge Golf Course and Lakeview Golf Course.
There are also more than two kilometres of groomed cross-country trails at WinSport. You can ski here during the day or go for some nighttime skiing. Trail access for one day costs $21.99 for adults. And, there are rentals available on-site.
Weaselhead Park, Edworthy Park, Fish Creek and North and South Glenmore Parks are ungroomed, but ideal if you prefer snowshoeing.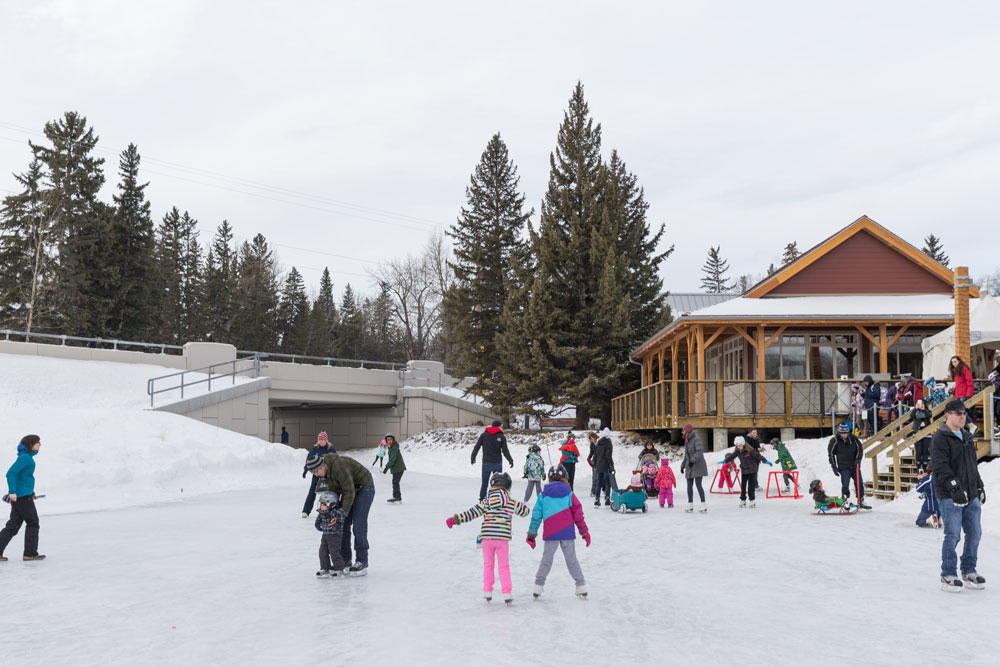 photograph courtesy of the city of calgary
Bowness Park Lagoon.
You're never far from an outdoor skating rink in Calgary. There are more than 34 volunteer-maintained neighbourhood rinks, popular with families and shinny hockey players. Popular city-maintained rinks like the Bowness Park Lagoon, Prince's Island Lagoon or Olympic Plaza are hockey stick-free and stay open from mid-December through February, weather permitting.
Try all the other adventurous outdoor activities
The WinSport Winter Sport Institute at Canada Olympic Park is Calgary's go-to outdoor activity centre. There's family-friendly skating, skiing and snowboarding lessons and even bobsleigh and luge rides. When you come in from the hill, explore the inspiring Canadian Sports Hall of Fame.
WinSport, 88 Canada Olympic Rd. S.W., 403-247-5452, winsport.ca
Or if you don't like doing sports, watch them
Sports fans have plenty to be excited about in winter. The Calgary Flames play about three games a week between January to March. The Calgary Inferno play every weekend from January 9 to February 21. And the Calgary Hitmen season doesn't wrap until March 22.
Switch up hockey for lacrosse with a Calgary Roughnecks game – you can catch games about five times a month until the end of April.
---
Head to the mountains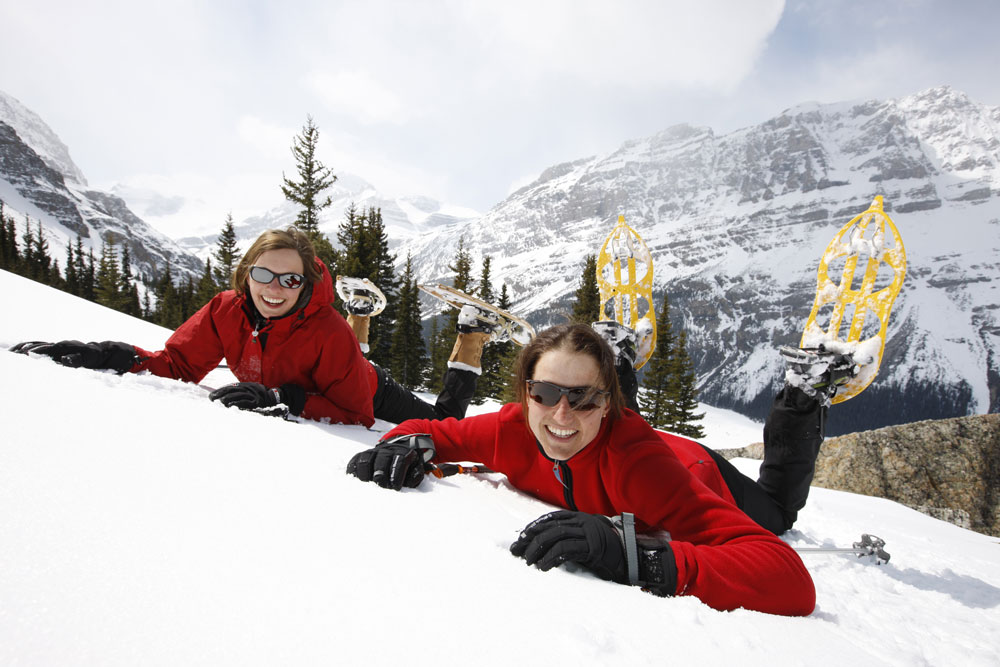 photograph courtesy of banff lake louise tourism/globetrotte
Date: January 23 (Jasper); March 5 (Lake Louise; join the wait list)
Address: Fairmont Jasper Park Lodge; Fairmont Chateau Lake Louise
Cost: From $55
Snowshoeing is one of the fastest growing outdoor winter activities. Get involved in the trend and participate in the Blitz Snowshoe Fun Run, a 5 kilometre of 10 kilometre event. The shorter course is designed for all ages and abilities, while the longer loop is slightly more advanced. Whichever distance you choose though, you'll enjoy the scenery and receive a hot drink to help warm you up after the event.
Dates: Cancelled; returning in 2017
Address: Banff Avenue Square, 214 Banff Ave.
Try a new sport this winter. Mountain Equipment Co-op and Banff Snow Day's annual Ice Climbing Festival takes place in the heart of Banff. Take a skills clinic in the mountains, try the sport for the first time on the ice wall located right in Banff's town centre, or check out the latest gear if you've already got an interest in the sport. There are also ice climbing competitions that anyone can participate in.
Dates: February 13 to March 1
Address: Canmore Civic Centre, 902 7 Ave., Canmore
This year it's the World Cup Edition of the Canmore Winter Carnival. During the six-week festival, there are six different themes – one for each week. The first week of the festival is all about the World Cup Biathlon. That theme is followed by International Week, then Family Week, then Food and Drink Week and then Arts and Culture Week. The sixth week of the festival is Ski Tour Canada – FIS Cross Country World Cup. During the 45 days there is also ice carving, snow sculpting and Kid 'n' Mutt races.
Drive to one of the many downhill ski hills
Date: Until mid-April; weather dependent
Cost: Prices vary
Downhill skiing doesn't have to take up an entire weekend. You get still get some quality ski time in one day, without spending more time in the car than in the fresh air. Nakiska Mountain Resort is a little over one hour outside of Calgary, Mount Norquay is about 90 minutes away and Lake Louise Ski Resort is about a 2-hour drive.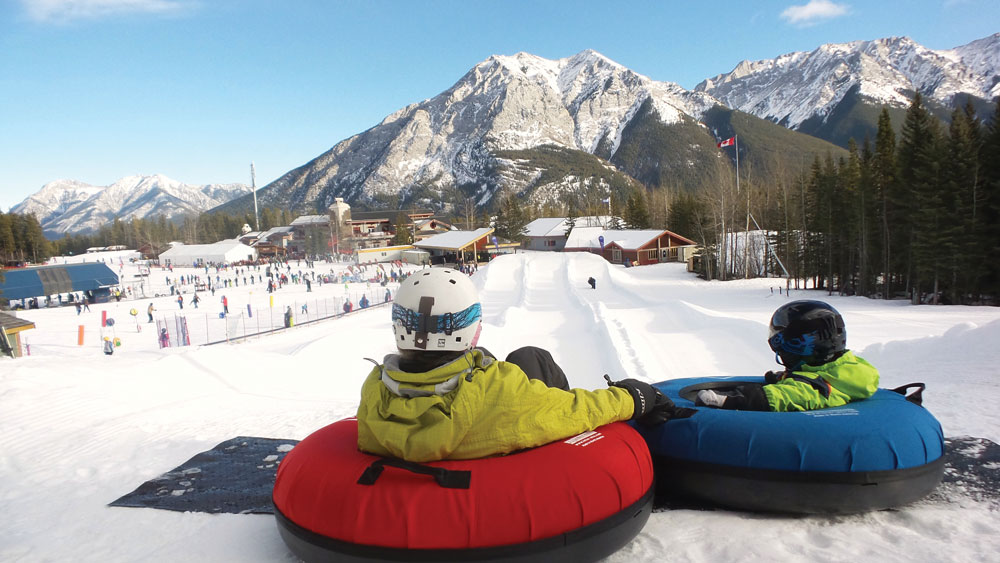 photograph courtesy of resorts of the canadian rockies
Wanidu Tube Park at Nakiska.
Date: Until mid-April; weather dependent
Cost: Adult day tickets $30; youth $25; children $20; seniors $25
If you're the kind of person who feels like Bambi while on skis, you can still get out and enjoy the mountains. The tube park at Mount Norquay is the first of its kind in the Banff area. You ride the magic carpet up the hill with your tube and slide down (solo or in a group) in one of the tube lanes. It's exhilarating and no lessons are required if you're a newbie.
Date: Until mid-April; weather dependent
Cost: Free entry
For something a little out of the city, but not too far, pack up the cross-country skis and drive to the West Bragg Creek Recreation Area. There is a range of easy and intermediate trails in this park, ranging from 1.5 kilometres one way to a 14.4 kilometre loop. (Pack a backpack with some water and snacks if you're planning to do this one.) This site is also a good option for snowshoeing and fat biking.
Date: Until the end of March
Address: Tour leaves from Warner Stables in Banff
Cost: $189 per couple for the private sleigh ride; $32 per adult and $27 per child for the family sleigh ride
Ride in a horse-drawn sleigh while taking in the views of the Canadian Rockies and Bow River. Take that special someone on a private tour. It includes a cowboy guide, warm blankets, Bernard Callebaut chocolates and Champagne. (No children or babies are permitted on the private tours.) The tours last approximately 45 minutes. The family-friendly sleigh ride also goes across the meadows but doesn't include the treats.
Address: 1 Emerald Lake Dr., Field
Cost: From $159 per night
No one blames you for wanting to admire the mountains from indoors if you're staying at a gorgeous boutique hotel. If you prefer experiencing winter from a stainless steel outdoor hot tub or dry sauna, the Emerald Lake Lodge is the place to spend a weekend.
---
What to do if you feel like staying indoors
When the temperature drops well below zero, sometimes doing things outdoors just isn't an option. Luckily, there are special events taking place indoors during the coldest winter months.
Dates: January 15 to 17
Address: BMO Centre, Stampede Park
The 45th annual Homexpo features 250 exhibits of everything from storage solutions and fine art to home developers and appliances, as well as guest presentations by designers and TV personalities like Sarah Richardson and Tommy Smythe. There are also pro seminars covering a range of topics in interior design and home improvement.
Dates: January 16 to May 31
Address: Telus Spark Science Centre, 220 St. George's Dr. N.E.
Cost: Adults $24.95; seniors $22.95; youth $20.95; children $17.95
A new travelling exhibition opens at Telus Spark this winter. It's Gunther bon Hagen's Body Worlds Vital exhibition and it's made up of real human bodies that have been donated to science and preserved. You'll get a close-up, in-depth understanding of what our bodies really look like inside and how they work.
Dates: February 4 to 7
Address: BMO Centre, Stampede Park
Dream of warmer weather at the Calgary Boat and Sportsmen's Show. A range of boats, marine products and accessories, fishing and hunting gear and destination travel locations are showcased. Attend presentations by a few of Canada's prominent outdoorsmen and women, let the kids try out the "catch and release" game at the fishing pond and interact with rare and endangered birds.
Dates: February 25 to 28
Address: BMO Centre & Corral
Includes the Home and Garden Stage, which features celebrity presenters including Heather Draper on interior and garden design. Exhibitors cover interiors, exteriors, cleaning products, fitness supplies, lighting, mortgage information and much more. The show incorporates workshops, a beer garden, food trucks and complimentary 10-minute design consultations, as well as miniature garden workshops.
---
Winter events for the culture lover
The arts season is still going strong. Here are just a few of the theatre productions, music festivals – there are two new ones this year – and cultural performances to attend before spring.
Festivals
Dates: February 8
February 8, 2016 marks a new year in the lunar calendar. This year, it's the year of the monkey. Expect Chinatown and the Chinese Cultural Centre to come alive with dragon and lion dances, traditional food, demonstrations and games.
Dates: March 5 to 6
Address: Heritage Park, 1900 Heritage Dr. S.W.
This quebecois festival has francophone music and dance performances, traditional food and maple candy. It has been running in Calgary since 2002.
Film
Dates: January 6; February 3; March 2; April 6
Address: Cineplex Odeon Eau Claire, 200 Barclay Parade S.W.; Globe Cinema, 617 8 Ave. S.W.
Cost: $15
On the first Wednesday of the month until April, critically acclaimed documentaries are screened. Often a guest filmmaker is present to answer questions before the screening. The first documentary screened of 2016 is A Ballerina's Tale.
Banff Mountain Film Festival World Tour
Dates: January 18 to 31
Address: Rozsa Centre, University of Calgary, 2500 University Dr. N.W.; John Dutton Theatre, 616 Macleod Tr. S.E.
Cost: Adult tickets $25 per program; seniors and children $20
The Banff Mountain Book and Film Festival wrapped up on November 6. If you missed it, some of the best adventure films from the festival are screened again throughout January.
Dates: February 25 to 27
Address: Engineered Air Theatre, Arts Commons
Cost: Ticket prices vary
This is the longest-running film festival in Calgary and the only one that showcases experimental movies made with celluloid film. While the films aren't limited by a $100 budget anymore like they were back in 1992, they are still made on a tight budget.
Music
Dates: January 28 to 30
Address: Various locations
Cost: Festival pass from $70
This new winter festival takes place at two venues (Last Best and Broken City), on five stages. It's all about local craft beer and music – more than 25 bands perform. A few of the attending musicians include The Velveteins, Solids and Betrayers. Dancing under heaters on the patios at the two venues is strongly encouraged.
Dates: February 12 to 14
Address: Three venues in Inglewood
Cost: 3-day pass $80; one-day tickets from $15
This is the first year that the Calgary Folk Music Festival presents a winter music event. National and international artists perform concerts, and like the Calgary Folk Music Festival, also participate in collaborative songwriter-in-the-round sessions. Attending artists include The Harpoonist and the Axe Murderer and Lorrie Matheson.
Dates: February 22 to 28
Address: Various locations
Cost: Ticket prices vary
The Calgary International Blues Festival is still months away, but you can still get a taste of the blues. Blues music takes over the city for four days this February.
Dates: March 28 to April 3
Address: Various locations
Cost: Ticket prices vary
It's the 45th annual Juno Awards and you're going to want to attend something. This is a big deal and it's going to take over the city.
Theatre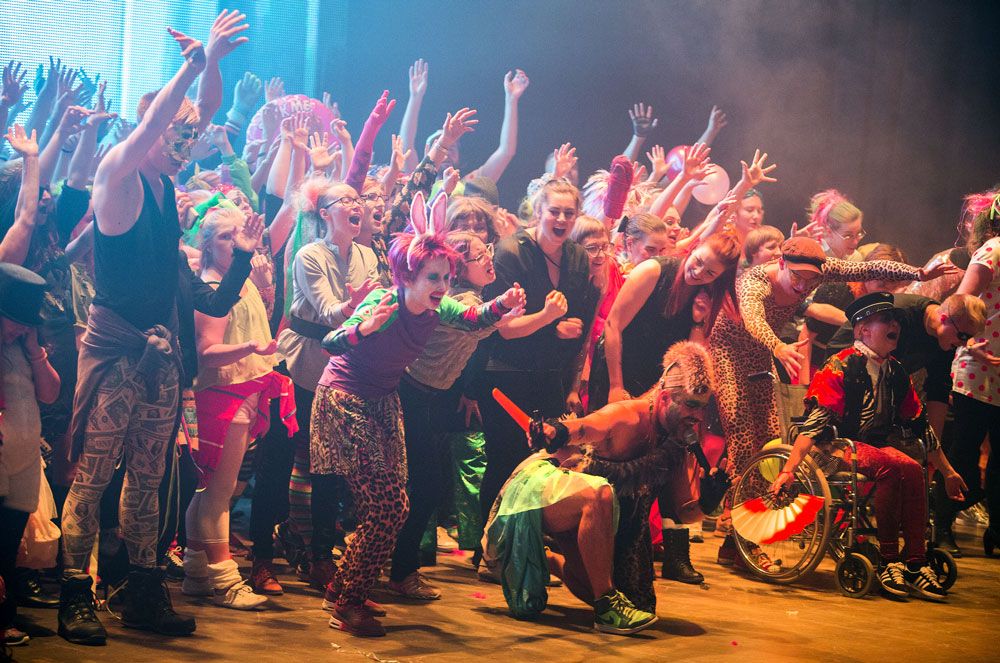 PHOTOGRAPH BY PEKKA MAKINEN/COURTESY OF FINNISH HOUSE OF DANCE ASSOCIATION
Miguel Gutierrez in Deep Aerobics. This is part of High Performance Rodeo this year.
Dates: January 7 to 31
Address: Various locations in Calgary
Cost: Ticket prices vary
This year marks the 30th anniversary of this one-of-a-kind, slightly quirky theatre, dance and comedy festival. There are returning classics, like the 10-Minute Play Festival and ProArts@Noon. There are also new shows you don't want to miss, like an elevator party, an aerobics lesson and a film where actors play the same scene over and over.
The Little Prince – The Musical
Dates: January 19 to February 28
Address: Max Bell Theatre, Arts Commons
Cost: Ticket prices vary
We've been waiting for this show to come to the stage since it was announced. Theatre Calgary, in association with Lamplighter Drama from London, England, presents the world premiere of The Little Prince – The Musical. Based on the well-loved book by Antoine de Saint-Exupry and adapted by Nicholas Lloyd Webber and James D. Reid, The Little Prince tells the familiar story of the pilot who crashes his plane in the Sahara Desert and then meets a young prince from an asteroid.
Dates: January 23 to February 21
Address: Vertigo Theatre, 115 9 Ave. S.E.
Cost: Tickets from $25
Vertigo Theatre's first production of 2016 is all about Ellery Queen, a mystery novelist who has come to the charming New England town of Wrightsville looking for inspiration for his newest novel. While things are looking up after the Depression, poisonings and murder are always on the table.
Dates: February 8 to 27
Address: Lunchbox Theatre, 115 9 Ave. S.E.
Cost: $25
Lunchbox Theatre's next production, Book Club, centres around Jenny. Everyone at Jenny's book club thinks she's the best. They think she's the best wife and she's the best mother. But when she disappears one day, everyone in the club has to channel their inner detective, follow the clues and hunt her down.
Dates: March 1 to 19
Address: Martha Cohen Theatre, Arts Commons
Cost: Ticket prices vary
Alberta Theatre Projects presents Cockroach, based on the novel of the sme name by Canadian author Rawi Hage. It's about a man who moves from the Middle East to Montreal. It's the middle of winter and he's stuck in poverty. He encounters difficulty after difficulty, and tries everything in order to escape the shadows and live a life where he can thrive. Throughout the play, the audience slowly sees the man change, both for better and for worse.
Dates: March 15 to April 10
Address: Max Bell Theatre, Arts Commons
Cost: Ticket prices vary
Theatre Calgary presents Bad Jews in March. The play follows three young Jewish cousins who are reunited after the death of their grandfather. The three cousins stay together in an apartment and the result are hilarious discussions over tradition, family, religion and legacy. Bad Jews is a comedic and honest examination of religion and grieving today.