There is nothing quite like Christmastime in the mountains, leaving the busy city behind for a snowglobe world of white-capped peaks and cozy evenings in front of the fire. It's a time of year when the alpine hotels and lodges look even more charming, all done up in their seasonal finery.
Here are five mountain properties that will have you feeling holly-jolly with their well-laid baubles and boughs.
---
Banff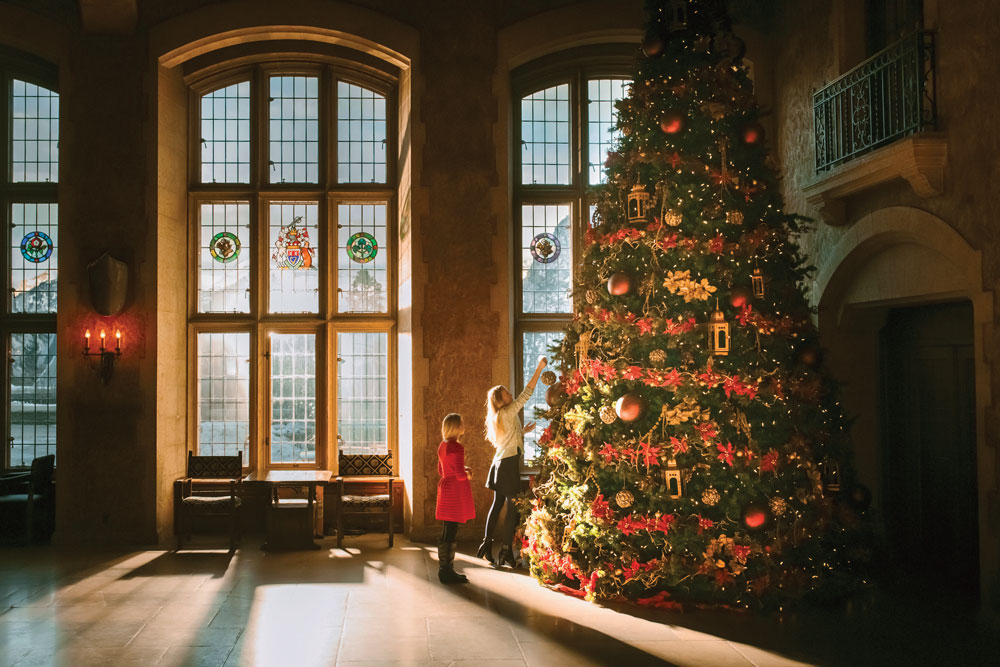 Photograph courtesy of Travel Alberta
If you've ever been fortunate enough to stay there, then you know the Fairmont Banff Springs is the epitome of alpine elegance. Paying tribute to the castle-like hotel's luxury and opulence, the holiday decor is influenced by old-world style, though it still retains its sense of fun for younger guests. Between Dec. 12 and 25, the hotel's Oak Room will be transformed into the "Santa Suite" – a home away from home for the jolly old elf, complete with toy workshop, letter-reply station and milk and cookies.
In the hotel's grandest rooms, like the Mt. Stephen Hall, the decor is dictated by the ambiance, with garlands and trees to enhance the stunning architectural beauty of the space. Alternatively, in a room like the Rundle Lounge, decorators look outside for inspiration. "The Rundle Lounge has a lot of windows, which makes it a great spot for aprs-ski," says hotel spokesperson Angela Moore. "Our Christmas tree in the lounge reflects the outdoors, maintaining a certain simplicity by bringing winter inside with decorations like snowflakes, pinecones and skis."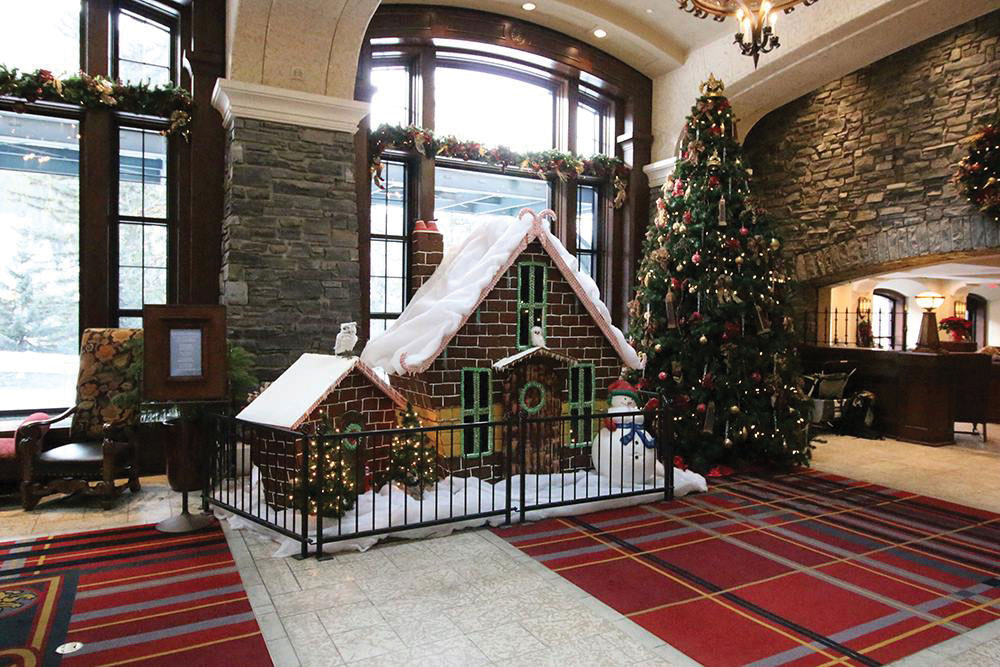 photograph courtesy of the fairmont banff springs
One of the highlights of the holiday season at the Springs is the annual unveiling of the gingerbread house in the main lobby of the hotel. Each year, the hotel's pastry team gets to dream up something new and reveals a beautiful and innovative creation.
405 Spray Ave., Banff, 403-762-2211, fairmont.com/banffsprings, @fairmontbanff
---
Lake Louise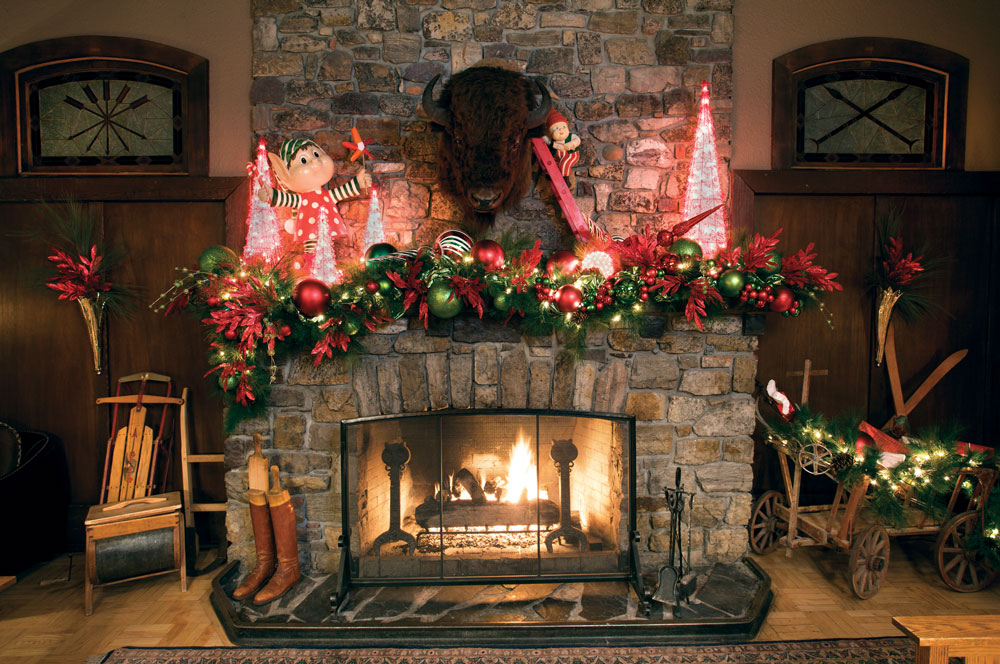 photograph courtesy of deer lodge
The holiday decor at the historic Deer Lodge in Lake Louise is traditional, but in a whimsical and playful way. Keeping a red, white and green theme throughout the lodge, the decorators add beautiful new ornaments and tree dressings every couple of years to keep things fresh. On the main Christmas tree, look for porcelain elves cheekily playing hide and seek amongst branches hung with tin ice skates, while extra-large Christmas balls are hung in the front lobby, creating a fun and joyous holiday setting.
Deer Lodge is part of the Canadian Rocky Mountain Resorts (CRMR) group, whose owner, Connie O'Connor, serves as the creative ringleader when it comes to holiday decorating, a dearly held tradition that goes back two decades.
"We start at Buffalo Mountain Lodge in early November and keep going until we have finished all seven properties," says Justine Cockx, CRMR's director of purchasing and design. "It is a ton of work, but we all have so much fun together and it really feels like we are doing something special for all the guests each holiday season.
"It is really quite something to see the properties go through the transition."
109 Lake Louise Dr., Lake Louise, 403-522-3991, deerlodgelakelouise.com, @deerlodge_ll
---
Kananaskis
This popular Kananaskis hotel will undergo renovations over the next year to update its look. This holiday season, however, the lodge will maintain traditional touches like authentic wreaths in the outdoor areas and alpine-rustic floral arrangements inside, with a Santa's Workshop area for young and young-at-heart guests to enjoy.
1 Centennial Dr., Kananaskis Village, 403-591-7711, deltalodgeatkananaskis.com, @deltalodgekan
---
Canmore
The holiday decor at this cozy boutique lodge in Canmore is inspired by all the Christmases the owners (Nordic-skiing Olympic silver medallist Sara Renner and her husband, former Canadian alpine ski team member Thomas Grandi) spent in Europe during their days on their respective competitive circuits. Renner describes her decorating approach as a mix of "upcycled, old-school, mountain-funky and Charlie Brown Christmas cheer."
Paintbox's holiday decor also has a local element; holiday wreaths are sourced from Kootenay Bough and Cone in Invermere, B.C., and beautiful blown-glass balls made by Bow Valley artists hang in the windows. The lodge is also aiming to acquire enough broken skis this year to create an outdoor "ski tree," topped with a star made from Renner's famous broken ski pole from the 2006 Winter Olympics.
629 10 St., Canmore, 403-609-0482, paintboxlodge.com, @paintboxlodge
---
Banff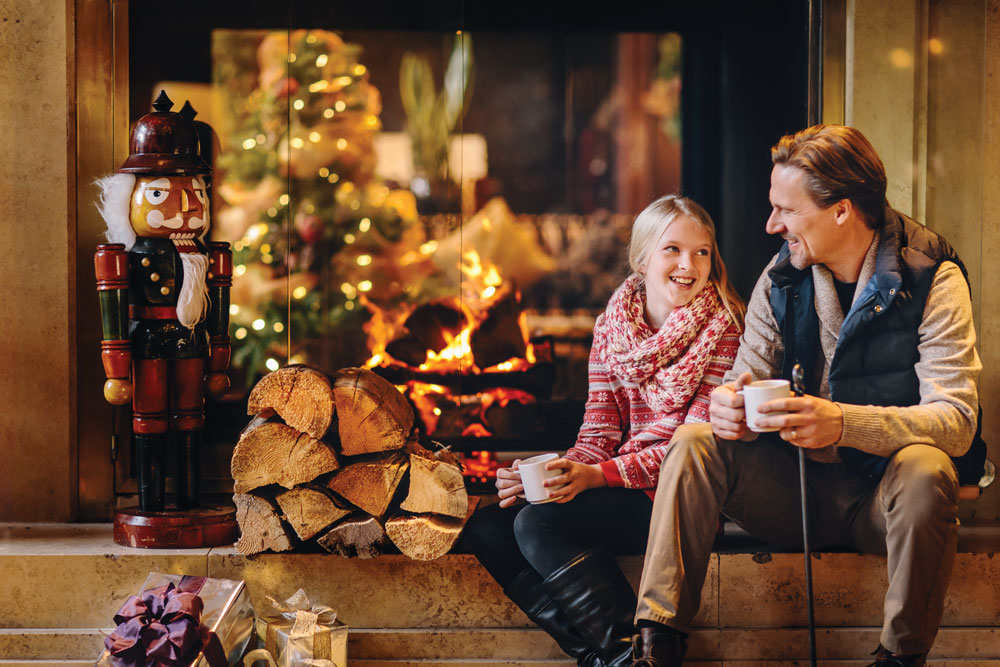 photograph courtesy of Travel Alberta
One of the classic Banff hotels, the Rimrock's holiday celebrations are focused around the Larkspur Lounge, which is done up in rich reds, golds and greens, with two 20-foot, fully decorated trees.
The Larkspur also plays a special role in the Christmas-morning celebrations at the Rimrock. On Christmas Eve, after the kids have gone to bed, staff set up the lounge as a reception centre for Santa and Mrs. Claus, decorating a chair for Santa and doing up the fireplace to look like a giant present from which the jolly old elf emerges to greet the children on Christmas morning.
The Rimrock also has a huge outdoor fireplace where families gather nightly for s'mores and hot drinks, while a projector shines massive snowflakes on the skating rink below for a magical winter-wonderland effect. The hotel also lights up the evergreens on its grounds and even stocks extra trees for guests to decorate in their rooms, for those who want a little taste of home while they're away on their mountain holiday.
300 Mountain Ave., Banff, 403-762-3356, rimrockresort.com, @rimrockresort