It's the time of year to try something different.  If you're looking for a new sport that's a little more under the radar than soccer and more "out there" than basketball, there are options in Calgary.
How it works
It's just like you think. There's a bullseye with coloured rings. Throw the axe so that it sticks to the target. Try to get as many points as you can.
The equipment you need
If you're the kind of person who has an axe to bring along, you can. (Just don't take it on the bus. That's weird.) Know that if you're planning on doing this, your axe must have a wooden handle and weigh between 0.25 pounds and 1.5 pounds. Otherwise, you can borrow axes.
Where you can play
An axe throwing facility opened in Calgary in July. Join the axe throwing league at BATL Grounds that meets once a week for eight weeks. The first season costs $109.52 and the following seasons cost $119.47.  The league is made up of 30 people. Participants take part in four matches each week.
BATL Grounds, 80, 2151 32 St. N.E., 587-747-7606, batlgrounds.com
---
Goalball
How it works
This sport was designed in the 1940s as a rehabilitation exercise to help Second World War veterans. Today, the sport is played exclusively by athletes who are visually impaired and it's the only para-sport that isn't an adapted version of another sport that already exists.
There are two teams, each made up of three players on the court at a time. Athletes roll balls that have bells inside, trying to get the ball into the opposing team's net. All athletes guard the net and dive to protect the ball from entering the goal. The team with the most goals wins the game.
The equipment you need
Every player needs to wear an eyeshade to make sure there's a level playing field.
Local connections
Parapan Am Games athletes Aron Ghebreyohannes and Tiana Knight train here in Calgary, and coach Daniel Snow and assistant coach Darren Hamilton are also both based here.
The Alberta Sports and Recreation Association for the Blind hosts regular tournaments and games. For more information, visit asrab.ab.ca
---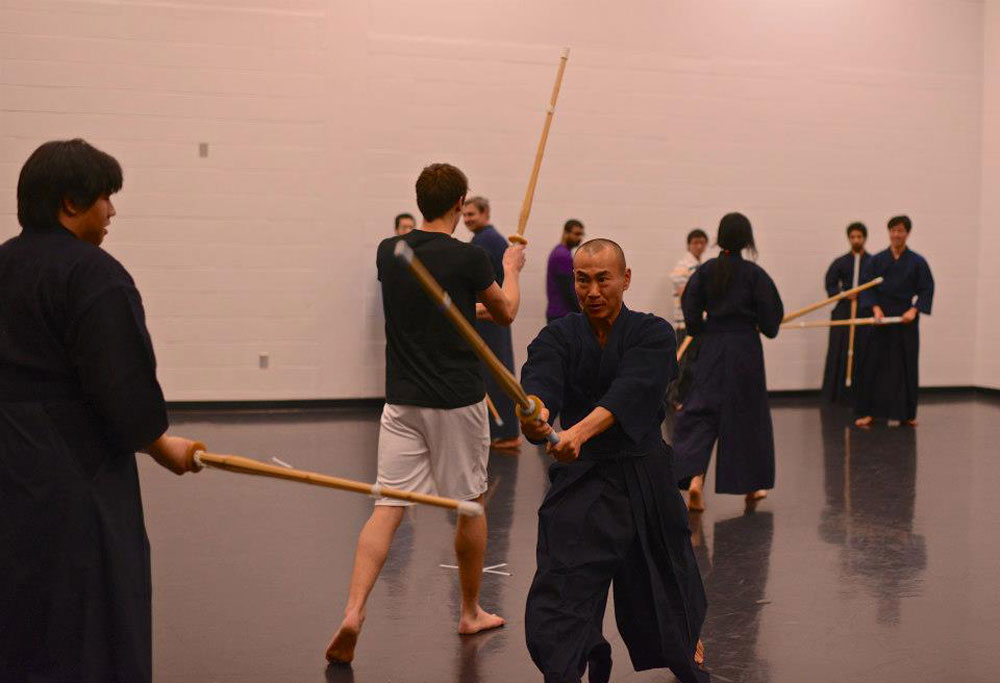 The Calgary Kendo Club practices.
How it works
Simply, kendo is Japanese fencing. As well as athleticism, kendo puts an emphasis on courtesy, etiquette and sportsmanship.
A kendo contest sees two individuals compete against each other. It begins with a bow. The goal is to strike your opponent anywhere on the body with the bamboo shinai (it's kind of like a sword). There are four strikes zones on the body and each zone has  a different point system.
The equipment you need
All beginners need are athletic clothing and an open mind. Enthusiasts can bring their own bamboo shinai.
Where you can play
The University of Calgary hosts the Calgary Kendo Club. The fall league for beginners, running from September 14 to December 3, costs $115.
University of Calgary, 403-220-7749, ucalgary.ca 
---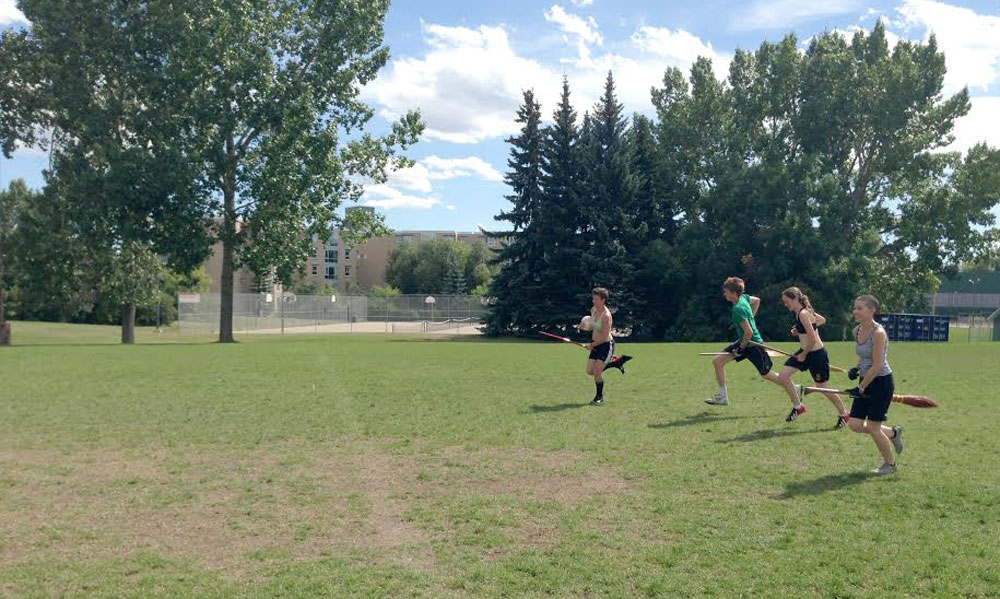 image courtesy of active living
Quidditch club at the University of Calgary.
How it works
If you've read any Harry Potter book ever, this doesn't need explaining. In a nutshell, there are three games going on at the same time: the chasers do their thing, the beaters do theirs and the seeker does something completely different.
It's complicated. To fully understand, pick up J. K. Rowling's books.
The equipment you need
The field needs to be set up with six standing hoops, three on each side. There are also three types of ball in play at any time: one quaffle (a slightly deflated volleyball), three bludgers (slightly deflated dodgeballs) and a snitch (a tennis ball in a yellow sock, placed on the back of the snitch runner's shorts like a tail). Each player must also, of course, have a broomstick.
Where you can play
The University of Calgary has a quidditch club. The club has a fall/winter stream and a spring/summer stream. The club costs anywhere from $60 to $190 depending on the season.
University of Calgary, 403-220-7749, ucalgary.ca 
---
How it works
Underwater hockey (sometimes known as octopush, by the way) was invented by the British Navy in the 1950s. It's a non-contact sport where two teams made up of 10 players need to propel a puck along the bottom of a swimming pool to the opponent's goal.  All athletes use a "pusher" to move the puck down the pool. It's played in a 25-metre pool that's between two and four metres deep.
The equipment you need
Every player wears large fins, a diving mask and snorkel and a thick glove worn on the hand that holds your pusher to protect the hand from the lead puck. You'll also need a puck and a pusher. A water polo cap is also recommended.
Where you can play
Calgary has a club dedicated to this sport. The Calgary Underwater Hockey Club has two sessions (fall and spring) each year and anyone ages seven and up can join in. The club costs between $150 to $200 per session and there's an additional $15 annual membership to the Alberta Underwater Council.