8 Great Summer Festivals in Calgary
We've put together a roundup of some of the city's best upcoming fests and how to enjoy them like a seasoned pro.
By Andrew Guilbert
June 24 to 28, various locations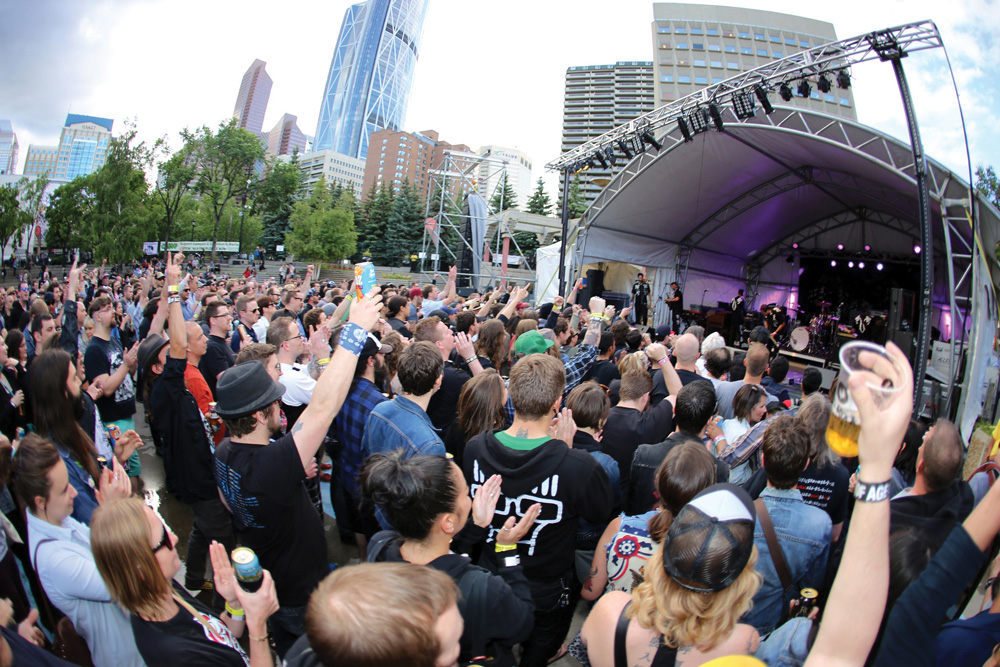 photograph by caitlind brown
More than 30 venues across Calgary will play host to the Sled Island Music and Arts Festival. Hundreds of acts, including this year's guest curators Godspeed You! Black Emperor, mean you can't do it all, but that doesn't mean you shouldn't try. Though the festival is mostly known for its headlining musical acts, there are a number of other events, ranging from comedy and film to visual art and presentations, in case you need to step away from the crowds of concert-goers. Last year saw the easing of drinking regulations during the festival as well, which means you're not confined to a beer garden away from the action anymore, but neither is the guy holding a solo cup high above your head as he head bangs to the music.
Insider Tip
With so many shows happening within walking distance of each other, it can be difficult to plan an efficient show itinerary and remember it all before heading out. Pick up a copy of the Sled Island program and keep it handy, lest you lose your way (or your sobriety) and can't figure out what to do next.
What to Eat
Of the many venues featuring Sled Island performances, only Tubby Dog offers a peanut butter and jelly hot dog topped with Cap'n Crunch, a definite recommendation for those who like things salty and sweet.
---
July 17 to 19, Calgary Olympic Plaza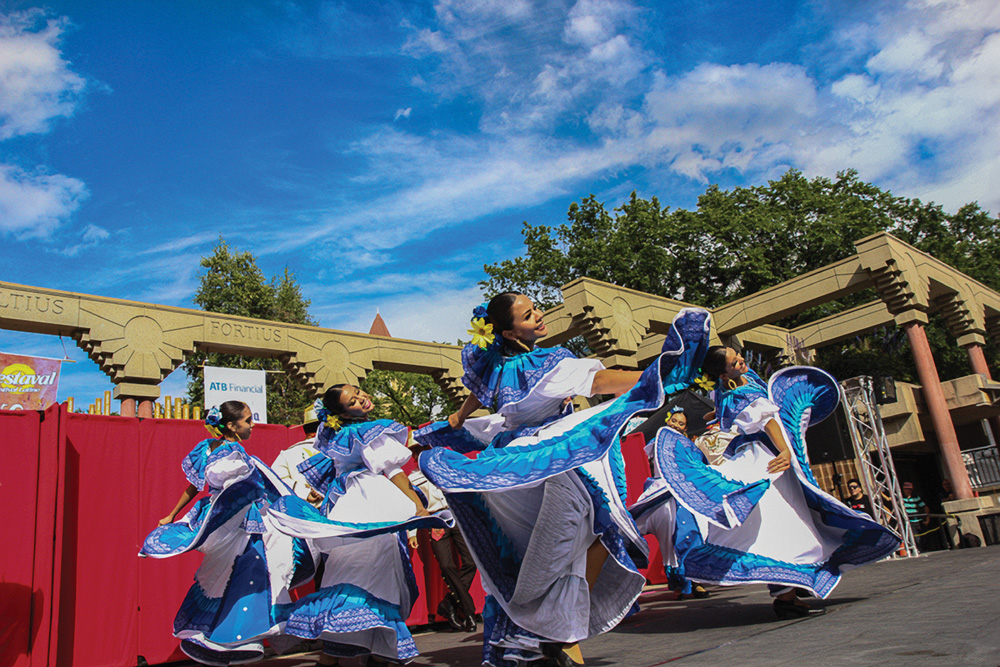 Experience a multicultural celebration of all things Latin American at Fiestaval. This free, family-friendly celebration takes place at Olympic Plaza and features traditional song and dance acts, as well as opportunities to sample Latin cuisine and browse street vendors selling authentic clothes, jewellery and baubles of all kinds. It's also a chance to learn more about Calgary's Latin community and try your hand at dancing tango, salsa, rumba and all the other passionate dances you're too shy to engage in otherwise.
Insider Tip
Fiestaval's venue is right along the downtown CTrain route, so leave the car at home and use transit to get there, preferably early so you can snag one of the prime shady spots under the trees.
What to Eat
You'll be milling around a lot of gyrating bodies and bustling festival-goers, so, if you're looking to move around the plaza, be sure to pick up some hand-held fare like the pork-and-pineapple tacos al pastor from El Mariachi Catering or an empanada from Empanada Queen. Finish it all off with some secret-recipe sangria in the beer gardens.
---
July 23 to 26, Prince's Island Park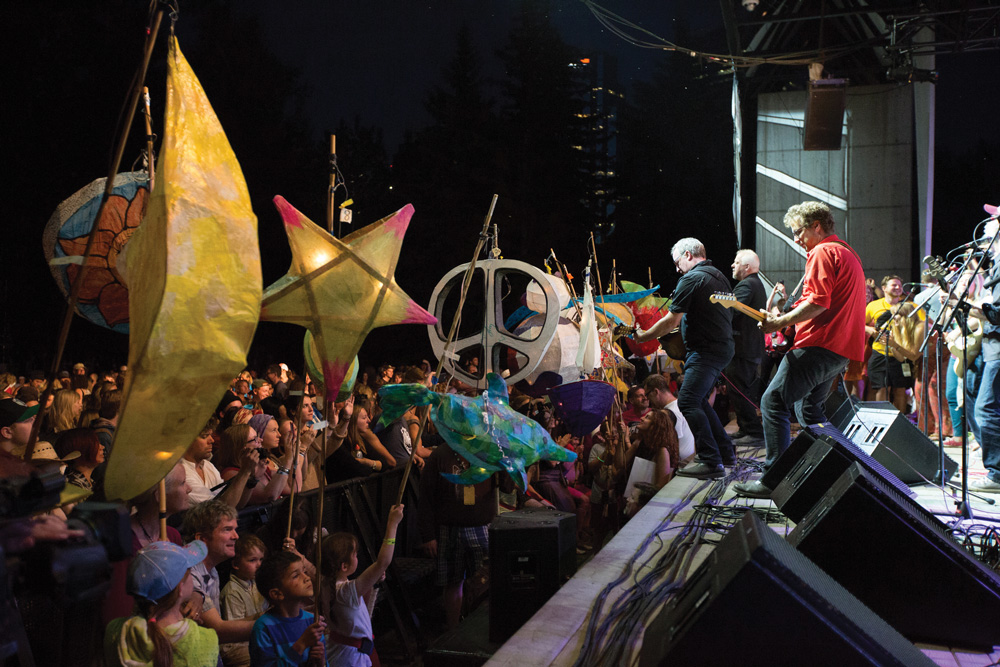 photograph by chris tait
For Folk Fest, Prince's Island Park is invaded by hundreds of music junkies looking to hear a mix of up-and-coming and established acts, check out music workshops or just kick off the post-Stampede festival season in flip-flops. Dance sections to the side of the stages and marked territory in the form of tarped ground mean you can catch any of the dozens of artists performing across six stages in whatever position suits you, as long as you plan ahead of time. Multiple acts perform at the same time, until the mainstage act starts up in the evenings. Past performers include acts like Alison Krauss, A Tribe Called Red, Bruce Cockburn and St. Vincent.
Insider Tip
The beer garden line moves at a decent pace, but it can still be a pain to have to wait for 20 people to figure out their drink order. The bigger shows tend to draw people from the gardens to the main stage, so swim against the festival-goer current for shorter wait times when the mainstage shows start.
What to Eat
You can bring your own food (but not your own booze) to Folk Fest, but, if you'd rather not lug around your grub all day, check out the many options in the food alley. Our pick for your fest-food fix based on last year's options is Nomad's Kitchen.
---
July 31 to Aug. 8, various locations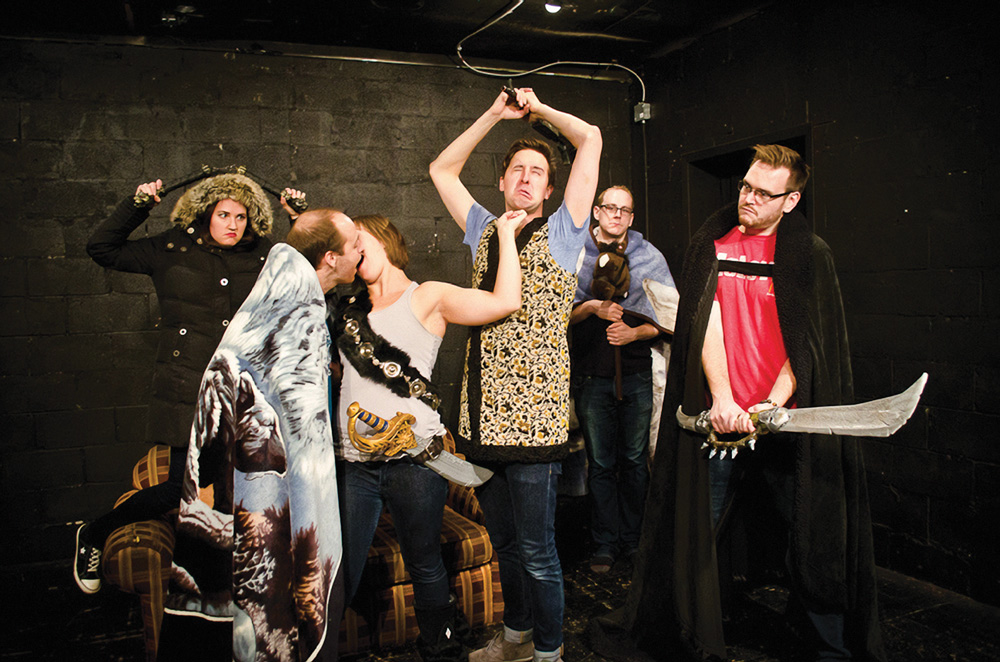 "The Late, Late Breakfast Show" by the Late, Late Breakfast Show.
For the duration of Fringe Fest, Inglewood is transformed from a hip, walkable neighbourhood to one filled with buskers and curious Calgarians darting between multiple venues for an odd assortment of film, dance, theatre, improv, puppetry and almost every type of show imaginable. Fringe Fest adheres to guidelines set forth by the Canadian Association of Fringe Festivals, which means shows are completely uncensored and 100 per cent of the profits go to the artists.
Insider Tip
To help recoup costs, Fringe Fest sells $5 buttons, which are required to get into shows in addition to a ticket. This button is also a gateway to some pretty nice discounts in certain Inglewood shops and restaurants, so be sure to take advantage of it and do some shopping between shows.
What to Buy and Eat
With so many local eateries worth visiting, including Without Papers, The Ironwood, The Nash and Gravity Espresso & Wine Bar, the hard decision isn't what to eat, but when to stop eating. Inglewood's quirky retail shops like The Uncommons, ReWorks and Riva's Eco Store, also pose a threat to your wallet and attention.
---
August 5 to 8, Prince's Island Park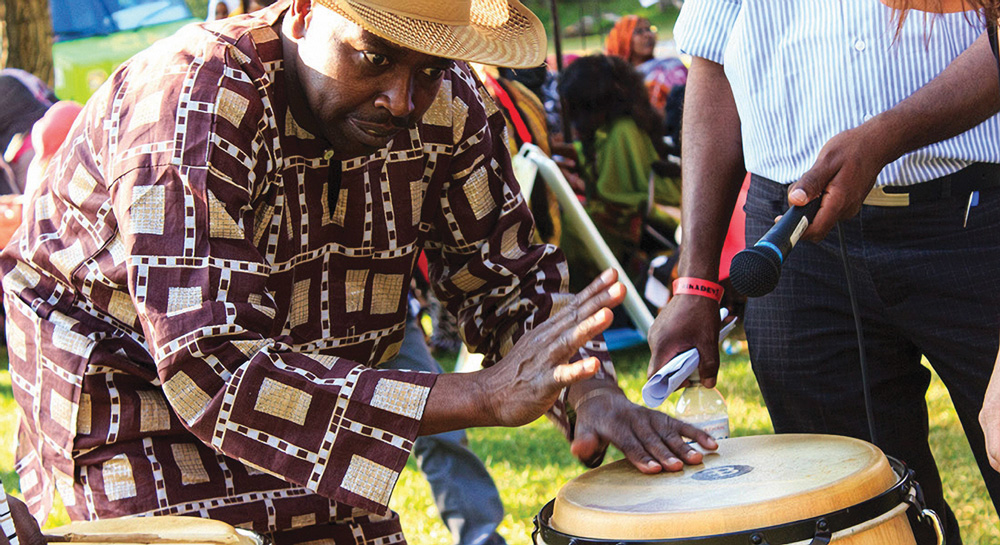 photograph by Zarif Alibhai
African culture is on full display in Calgary when Afrikadey! celebrates its 24th year by bringing together the diversity of cultures that make up the continent to various venues, including a final happening at Prince's Island Park. In addition to the art, music and dance that form the core draw of the festival, check out the booths set up around the main venue for hands-on crafts for kids of all ages, as well as cuisine from a number of the 54 countries that make up the planet's second-largest continent.
Insider Tip
Like Folk Fest, the outdoor stage at Prince's Island Park is the kind of venue you'll want to sit down at to enjoy. The grassy terrain and timing mean tarps aren't as necessary here as they are at the muddy folk music festival, so opt instead for a blanket or lawn chair to save you from lumpy ground and grass stains.
What to Eat
With a wealth of cultural cuisines to choose from, it's important to pace yourself. Start with some Nigerian dodo and ewa, add some pilau from Tanzania and follow it up with Moroccan couscous and Ethiopian injera for a continental culinary tour.
---
August 13 to 16, Eau Claire Festival Plaza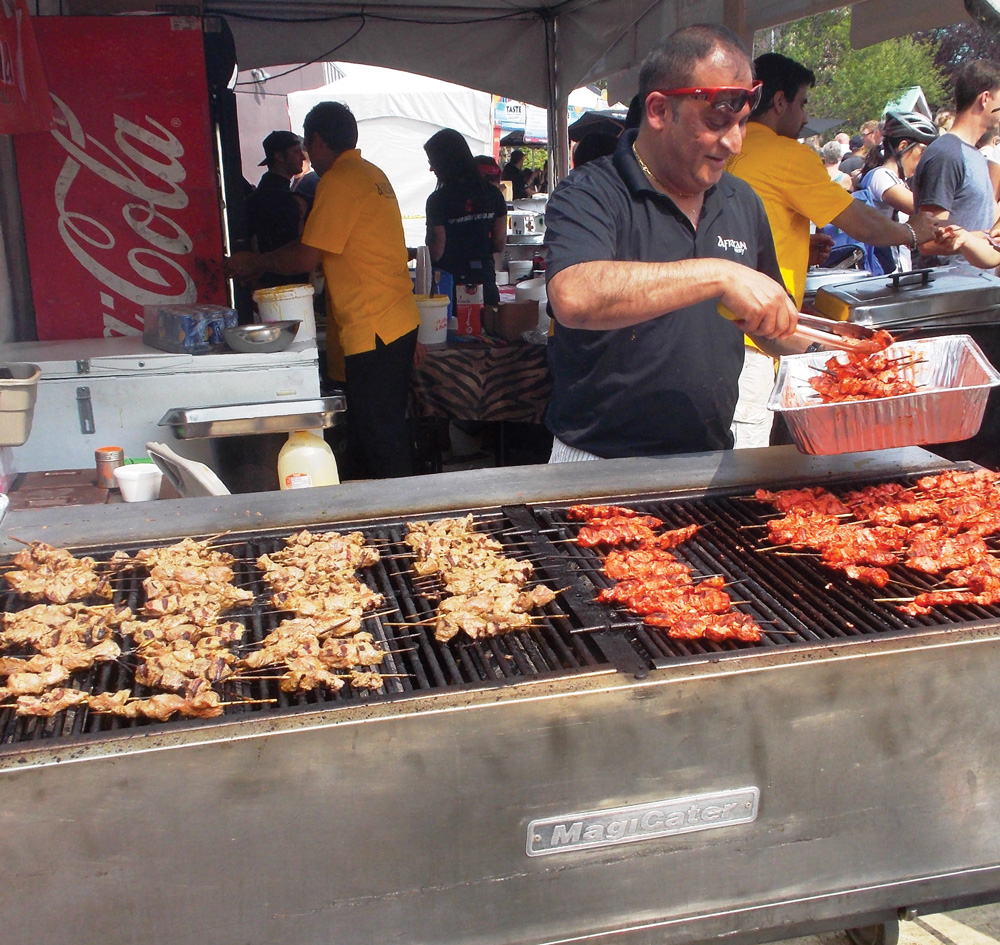 This outdoor food festival will celebrate its 19th year by bringing dozens of restaurants and food booths to the Eau Claire Festival Plaza for a foodie event unlike any other. During the course of this bustling outdoor festival, buy tickets for $1 each and use them to get sample-sized eats at the various booths spread across the plaza. Greek, Italian, Indian or Thai, whatever your tastes, there's sure to be enough variety of food here to satisfy the pickiest of palates.
Insider Tip
There are usually multiple spots to purchase tickets. If the waiting time for the nearest ticket booth seems torturously long, circle around and find another booth with a shorter line. Once you've got your tickets, keep in mind not all samples are priced equally, with many costing several tickets, so expect to spend at least $30 per person for a decent nosh.
What to Eat
Something you've never tried before! The point of this festival's small portions is to dip your toe into new food territory, so go ahead, try that unpronounceable dish you're unfamiliar with.
---
August 13 to 15, Shaw Millennium Park, plus Stephen Avenue and Cardel Theatre on the 13th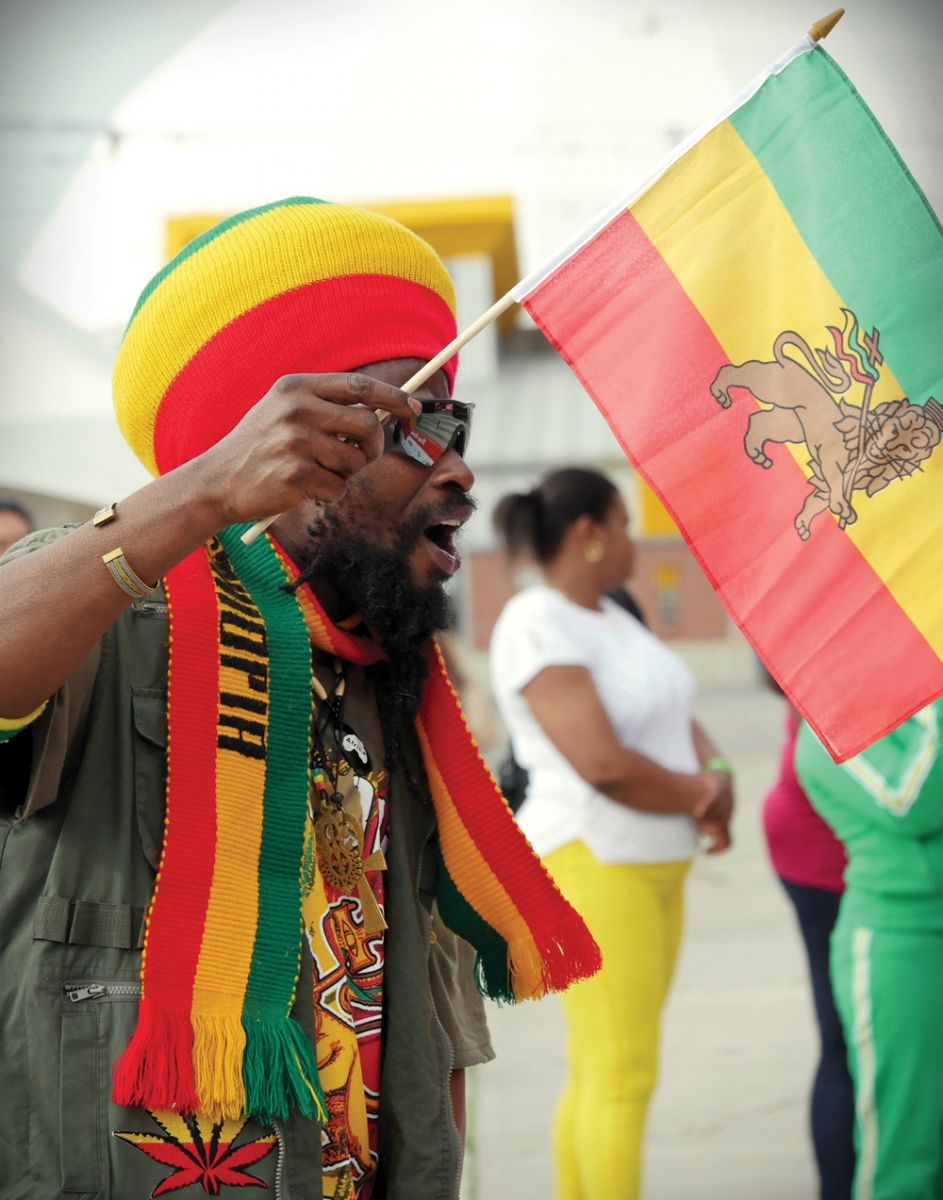 photography by ben tsui
This year will be the 12th annual Reggae Fest, a celebration of all things related to reggae music in Canada. This family-friendly event welcomes Rastagarians – Calgarians with an affinity for Caribbean culture – of all stripes to see local bands share the stage with established international performers. The festival also caters to kids with a designated youth area, and to adults with a designated adult area (a.k.a. the beer garden).
Insider Tip
This is a family-friendly event, and smart parents know that taking advantage of the Kidz Zone, with numerous activities held throughout the day, is the best bet if you want to bring your kids to the festival and still enjoy the music.
What to Buy and Eat
Some festival T-shirts are destined to be worn only when you're repainting your bedroom; not so of the Reggae Fest's minimalist "I'm a Rastagarian" tees, which you can rock in a number of fetching colours for only $10. For food, the jerk, whether chicken, fish, pork or vegetable, is the quintessential go-to favourite.
---
August 20 to 29, Elliston Park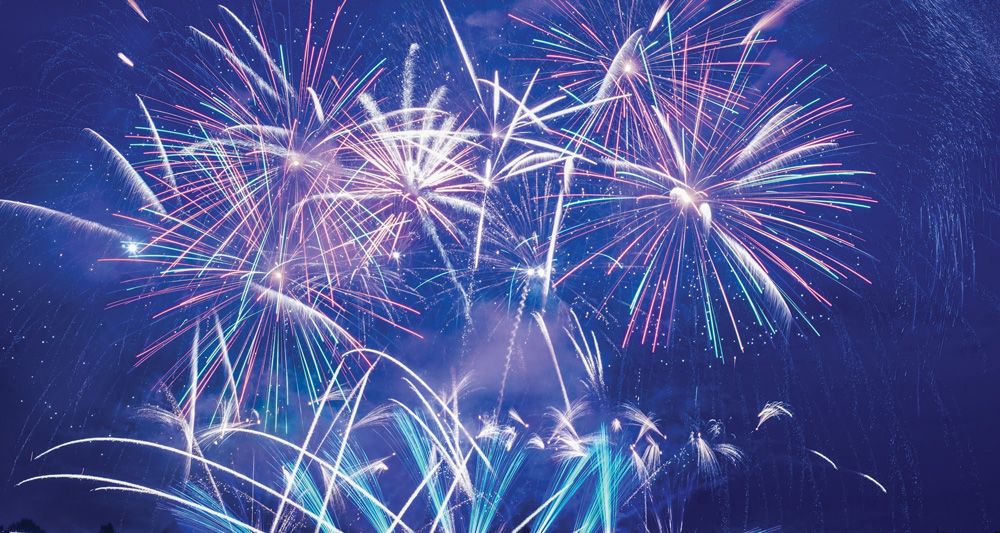 photograph by jason lawrence
This arts and culture festival celebrates Calgary's cultural diversity, offering patrons the chance to learn more about the various cultures that have come to Calgary over the years. GlobalFest at Elliston Park brings together the OneWorld Festival, which features cultural pavilions, ethnic food kiosks and vendor displays, with the Calgary Fireworks Festival Society, which is well known for its nightly firework displays choreographed to music. The festival also features a human rights forum from Aug. 17 to 21 at the John Dutton Theatre (Calgary Public Library main branch), with talks on topics such as temporary foreign workers, cultural healing, residential schools and freedom of speech.
Insider Tip
The $6 round-trip shuttle (kids five and under ride free) from Marlborough Mall is your friend. Parking around Elliston Park is tricky during the festival, and you'll be thankful for a quick ride out of the area once everyone starts to empty out of the park.
What to Eat
In the spirit of multiculturalism, GlobalFest is the place to try out new cuisine at one of a dozen food stalls offering Indonesian, Ukrainian, Thai and Indian cuisine, among others, or opt for classics like mini-donuts or corn dogs, since festivals are one of the few places to scarf them down and GlobalFest is one of the last festivals of the summer season.