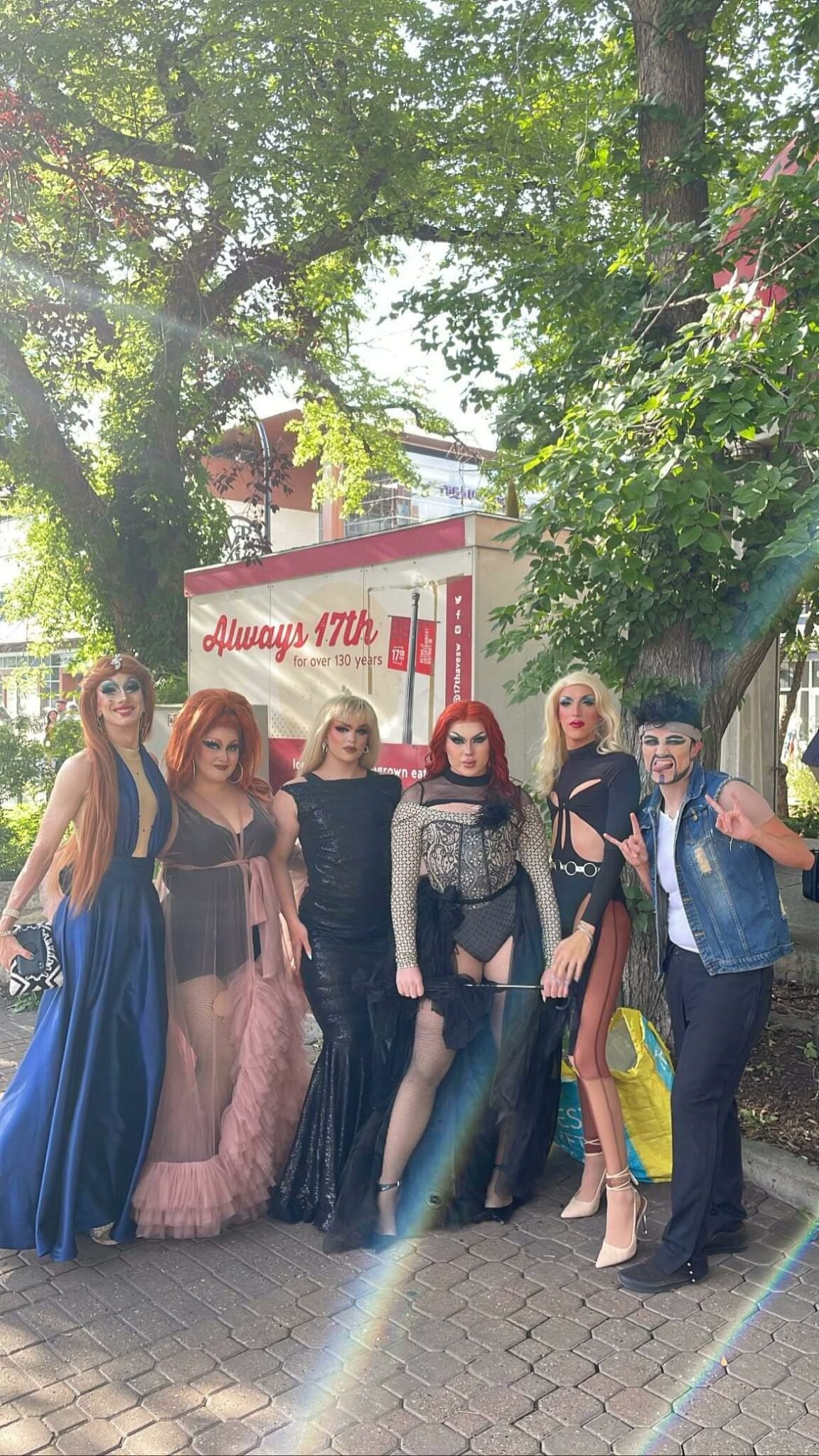 It may seem confusing that Calgary's Pride Week takes place at the end of August and beginning of September, when June is the official Pride Month (to commemorate the 1969 Stonewall Riots). But look at it this way: Calgarians get to experience an extended summer of pride, and better weather for the official festivities (yes, that's why Calgary changed the date). Here are 10 activities happening throughout the city to celebrate Pride Week.
When: August 27, 11 a.m. – 9 p.m.
Pride Week will officially kick off in Central Memorial Park with a day of free, family friendly fun. There will be local vendors, live performances and DJs followed by an outdoor screening of the movie Kiki, with Fresh Air Cinema.
Central Memorial Park, 1221 2 St. S.W., calgarypride.ca
When: August 27, 2 p.m. – 3:30 p.m.
As Kevin Allen says in his book, Our Past Matters: Stories of Gay Calgary, "We are here. We have always been here." Join Allen at Shelf Life Books for a discussion on the novel, and after the talk, 2SLGBTQIA+ writers will have the opportunity to read poetry or prose at an open mic.
Shelf Life Books, 1304 4 St. S.W., 403-265-1033, shelflifebooks.ca
When: August 29, 6 p.m. – 10 p.m.
TD Inglewood/Ramsay is hosting its annual Mingle in Inglewood Pride Patio Party at Ol' Beautiful Brewing Co. on August 29. Admission is free (but pre-reservation is required) and all donations will support the Calgary Rainbow Railroad Station, which aids 2SLGBTQIA+ refugees in Calgary.
Ol' Beautiful Brewing Co., 1103 12 St. S.E., endoftherainbow.ca
When: August 31, 6 p.m. – 7:30 p.m.
The Olympic Oval at the University of Calgary is hosting its first-ever Pride Skate. Grab your skates and helmet (or rent them at the Oval) and get out of the heat for a fun activity that is sure to get your blood pumping.
University of Calgary, 288 Collegiate Blvd. N.W., 403-220-7954, oval.ucalgary.ca
When: September 1, 5:30 p.m. – 8:30 p.m.
While Pride Week can sometimes feel like one big celebration, it's important to remember the amount of learning and growing that can still be achieved on both a personal and professional level. With this in mind, Pride at Work Canada is hosting an evening of networking and connecting with diversity, equity and inclusion leaders, 2SLGBTQIA+ professionals and Calgary job-seekers. Guests will learn how to create a welcoming environment for emerging 2SLGBTQIA+ workers through a panel discussion, followed by a non-alcoholic networking reception.
Central Library, 800 3 St. S.E., prideatwork.ca
When: September 2, 6 p.m. – 8 p.m.
Head to Tomkins Park to catch the final installment of Summer on 17th's drag competition. The remaining six drag performers will be dancing and lip-syncing their hearts out for a chance at the coveted first-place prize of $1,000 and a spot in upcoming WERK Pride Shows. Oh, and did we mention the event is free?
Tompkins Park, 17 Avenue and 8 Street S.W., 17thave.ca
When: September 3, 10:30 a.m.
Join the Centre for Sexuality at the Westin for its 10th annual Pride Brunch in support of Camp fYrefly Southern Alberta. Ticket holders can expect a delicious meal, speeches, drag performances and more. Don't be shy about treating your table to a bottle of Champagne — proceeds from the brunch go toward helping to ensure there are no cost barriers for youth who want to attend Camp fYrefly, which is an educational, social and personal learning retreat for 2SLGBTQIA+ youth.
The Westin Calgary, 320 4 Ave. S.W., centreforsexuality.ca
When: September 3, 3 p.m. – 8 p.m
Lavender Club is a new organization of Calgary-based lesbians and sapphics who want to create fun, sober, done-before-9 p.m. events in the city. The club is hosting its first-ever Queer Arts Market on September 3, which will feature 18 queer vendors. Entry is free, and who knows? You may just find that perfect item for yourself while supporting 2SLGBTQIA+ makers in the process.
Historic Firehall, 144 6 Ave. S.E., @lavendarclubyyc
When: September 4, 10:30 a.m.
Run Calgary and Calgary Pride are teaming up to deliver a new way to experience the Pride Parade route. Registrants of all genders and abilities will complete a one-mile race through the downtown route before the parade actually starts. Entry fees and donations will go back to Calgary Pride, and, if you're not keen on running the day of, you can complete the race virtually any time between August 26 and September 5.
403-264-2996, runyyc.ca
When: September 4, 11 a.m.
You didn't think we would forget to list the Pride Parade, did you? Held along 9th Avenue S.W., the parade will kick off at 5th Street S.W. and end in East Village. Grab a spot along the route and join thousands in celebrating the beauty, diversity and resilience of the 2SLGBTQIA+ community in Calgary.