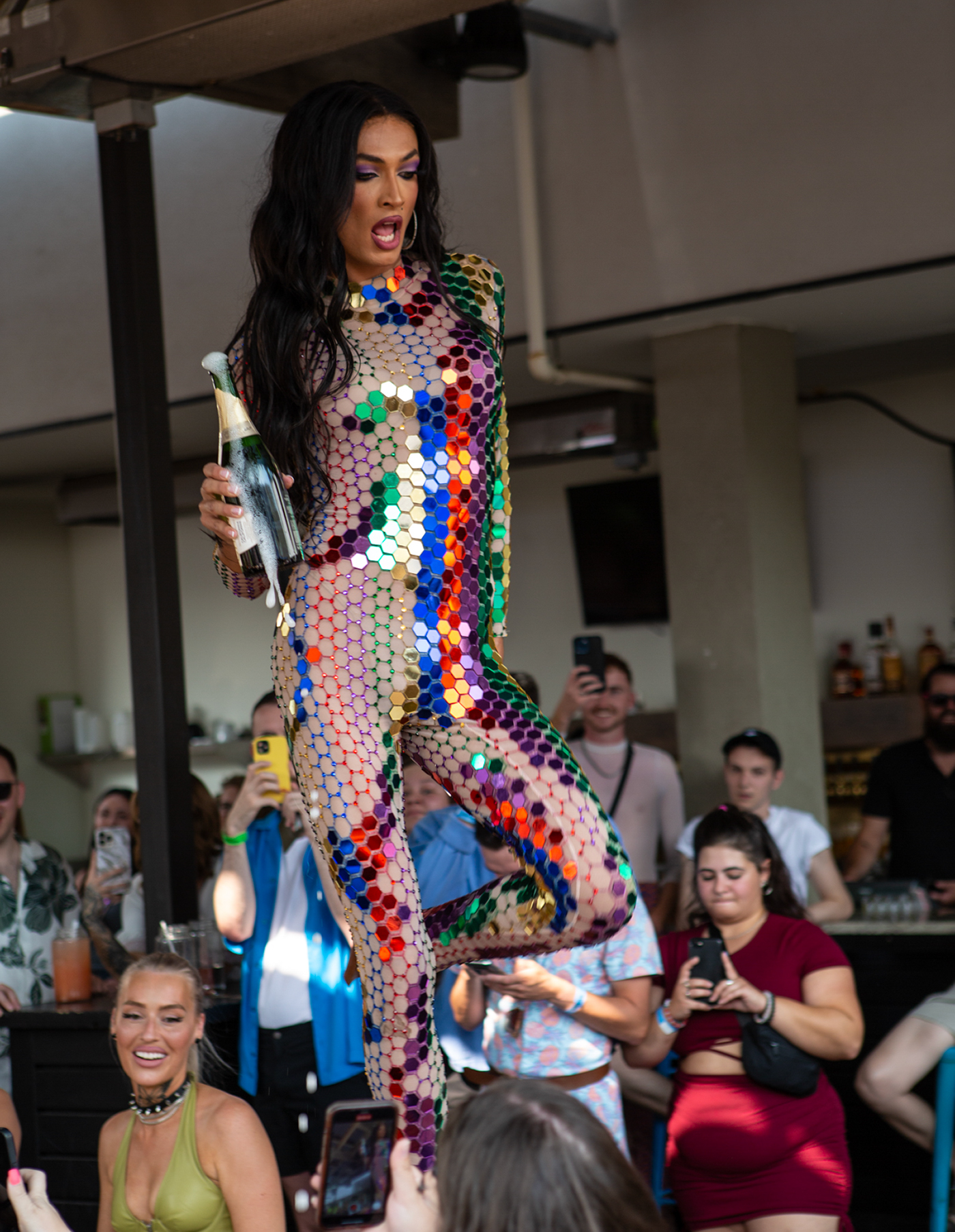 It may seem confusing that Calgary's Pride Week takes place at the end of August and beginning of September, when June is the official Pride Month (to commemorate the 1969 Stonewall Riots). But look at it this way: Calgarians get to experience an extended summer of pride, and better weather for the official festivities (yes, that's why Calgary changed the date). Here are 10 activities happening throughout the city to celebrate from August 18 to September 3, 2023.
When: August 27
This cult classic film of self-expression and extravagance has become an iconic symbol for the queer community, and you can catch an unforgettable showing this year at Central Library. Admission is free, but tickets should be reserved ahead of time since seating is limited.
Central Library, 800 3 St. S.E., 403-260-2600, calgarylibrary.ca
When: August 28
TD Inglewood/Ramsay is hosting its fifth annual Pride Patio Party at Ol' Beautiful Brewing Co. on August 28. Admission is $30 and supports the Calgary Rainbow Railroad Station (which aids 2SLGBTQIA+ refugees in Calgary) and the Centre for Newcomers. This year, admission includes a drink and access to the buffet-style dinner. Enjoy this year's extra beer stations, extended patio and celebrate the incredible 2SLGBTQIA+ community in Calgary.
Ol' Beautiful Brewing Co., 1103 12 St. S.E., endoftherainbow.ca
When: August 29
Pride Week will officially kick off at ContainR park with the fifth annual Pride Block Party, an evening of free, family friendly fun. There will be live drag performances, food trucks, DJs and music from Kue Varo and The Only Hopes. This event is open to all ages.
ContainR Park, 1020 2 Ave. N.W., calgarypride.ca
When: August 29
Presented by the University of Calgary at Central Library, this event features UCLA Department of Film, Television and Digital Media's Amy Villarejo as she examines queer narratives in today's media landscape. The event is free to attend and registration is open online.
Calgary Central Library, 800 3 St. S.E., engage.ucalgary.ca
When: August 31
During this year's Pride festivities, gather a few friends and head to the Lougheed House to test your knowledge at Trivia Night: Pride Edition. This adults-only trivia night will have a special theme just for Calgary Pride, along with drinks and snacks from Last Best. This event is free, but reservation is required. The winning team will get a gift card for Last Best.
707 13 Ave. S.W., 403-244-6333, lougheedhouse.com
When: September 1
Lavender Club is an organization of Calgary-based lesbians and sapphics who want to create fun, sober, done-before-9 p.m. events in the city. The club, in partnership with the CRBC, is hosting its Queer Care Day on September 1, which will focus on sharing resources and organizations dedicated to offering support, both mental and physical, to the 2SLGBTQIA+ community. This event will also have market vendors, vegan food trucks, live music and DJs.
ContainR Park, 1020 2 Ave. N.W., @lavendarclubyyc
When: September 1 to 3
During this year's Pride, WERK is putting on several events throughout the city. On September 1 at Palace Theatre, catch one of the biggest parties of Pride at NSFW: Pride Edition, with internationally acclaimed DJs and go-go dancers all night. On September 2, head to National 17th for a drag brunch hosted by Farrah Nuff. And, head to Sweet Loretta Bar on September 3 for WERK: Babylon, another night of music, dancing and celebration.
When: September 2
Join the Centre for Sexuality at the Hyatt Regency for its annual Pride Brunch in support of Camp fYrefly Southern Alberta. Ticket holders can expect a delicious meal, speeches, drag performances and more. Don't be shy about treating your table to a bottle of Champagne — proceeds from the brunch go towards helping to ensure there are no cost barriers for youth who want to attend Camp fYrefly, which is an educational, social and personal learning retreat for 2SLGBTQIA+ youth.
Hyatt Regency Calgary, 700 Centre St. S., centreforsexuality.ca
When: September 3
Run Calgary and Calgary Pride have teamed up to deliver a fun way to experience the Pride Parade route. Registrants will complete a one-mile race through the downtown route before the parade actually starts. Entry fees and donations will go back to Calgary Pride, and, if you're not keen on running the day of, you can complete the race virtually any time between August 25 and September 4.
When: September 3
You didn't think we would forget to list the Pride Parade, did you? The parade will kick off at 9 Avenue S.W. and 4 Street S.W. and end at Fort Calgary. Grab a spot along the route and join thousands in celebrating the beauty, diversity and resilience of the 2SLGBTQIA+ community in Calgary.