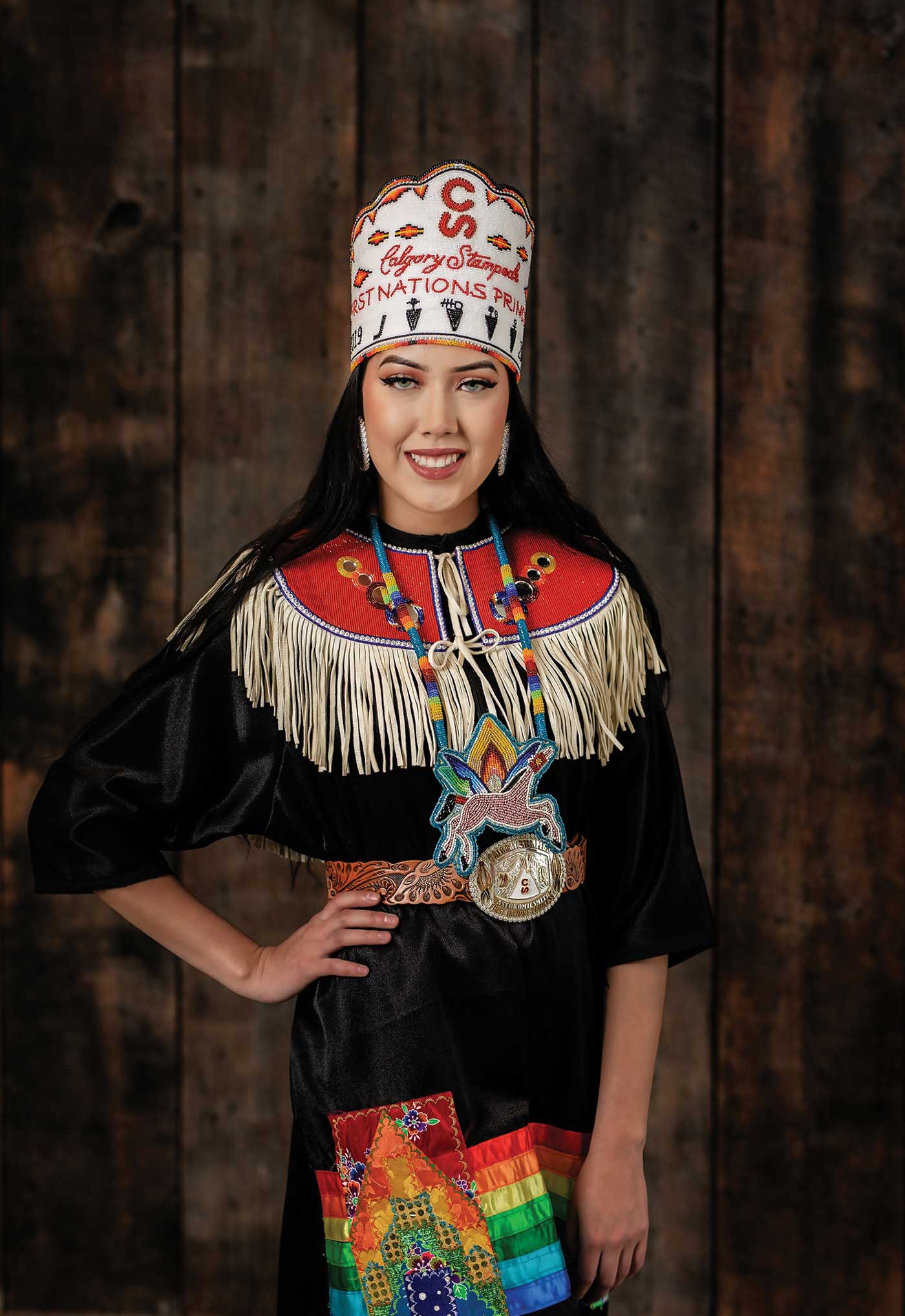 Meet Astokomii Smith, the Stampede's first First Nations Princess. The role previously known as "Indian Princess" was renamed last year. Though the title may have changed, the role itself has remained largely the same — to offer an Indigenous outlook on the rodeo and Stampede and to represent the Treaty 7 nations, the Stampede and the Elbow River Camp. "I enjoy every second of it, but it's a full-time job," says Smith, adding that she was told the first couple of months would be slow. "Then I looked at the schedule and saw that I had an event two or three times a week, sometimes twice a day, and I thought, 'that's not very slow at all!'"
Women from all over Treaty 7 territory compete for the crown. Contestants go through a rigorous pageant process that showcases their public speaking abilities, traditional dancing skills, Treaty 7 knowledge and even timing on how long it takes to get from their dressing rooms to scheduled events. In addition to all their obligations, Stampede royalty (which also includes the Stampede Queen and two Stampede Princesses) often get opportunities to travel to other countries to share information about their home country and cultures. This year the First Nations Princess flew to Australia in February to give the land down under a taste of Cowtown hospitality, with Smith outfitted in her full dance regalia during the tour. "I'm showcasing Treaty 7 culture and also giving them a little show of what Elbow River Camp [previously known as the Indian Village] is all about," says Smith.
Often, the princess is the only First Nations person a non-Canadian will have an interaction with. "They love to ask questions," says Vanessa Stiffarm, the 2016 Indian Princess, who also went to Australia during her reign. "When we tour, it's about educating [other countries] about Indigenous culture."
Besides promoting Indigeneity for the Calgary Stampede, Smith is also an advocate for mental health. Not the type to shy away from hard topics, Smith has no problem talking about her own struggles with anxiety. She wants to show other Indigenous youth that, even if they have mental health issues, they can still accomplish great things. "I want to break down the stigma that [anxiety is] a weakness and that it holds you back from things," says Smith. "Because it doesn't."
Look for Astokomii Smith in full regalia at the Elbow River Camp located at Enmax Park, July 5 to 14.