Sometimes it's about the journey and not the destination. Sometimes the destination matters. Mostly we just want a really great view along the way. That's definitely the case with these urban walks. They're tucked into some of Calgary's best urban parks for a little bit of nature in the city.
Go with friends and pair your walk with lunch, drinks or snacking to make it an extra social experience. All of these paths can be tackled at your own pace, with options for those just looking to meander as well as those looking for more of a challenge. Most of these walks can be turned into jogs or runs if you are looking for a change of scenery while training for a fall race.
There's no sugar coating it: This path is short, but steep. It goes up the side of an escarpment and down again. The 2.5 kilometre route has peek-a-boo views along the way as you maneuver through the thick forest, over tree roots, up stairs and through some muddy sections. When you get near the top, there's a lookout spot with two benches where you can catch your breath as you look down at Edworthy Park and the river below. The Douglas Fir Trail is one of the pathways that had to be restored after flooding and it just reopened this summer. Running this path is best left to experienced trail runners (you'll probably be passed by at least one). If you hike it with friends, you'll mostly have to walk single file, but it is definitely a path best appreciated with a buddy. You can stop along the way to chat, catch your breath and appreciate the trees.
Add on: Go to Avatara for pizza and beer or kombucha and a veggie platter. The menu there is all gluten-free and there are dairy-free and vegan options. It's in Parkdale near the Lazy Loaf & Kettle, which is another good option for a pre- or post-walk hangout.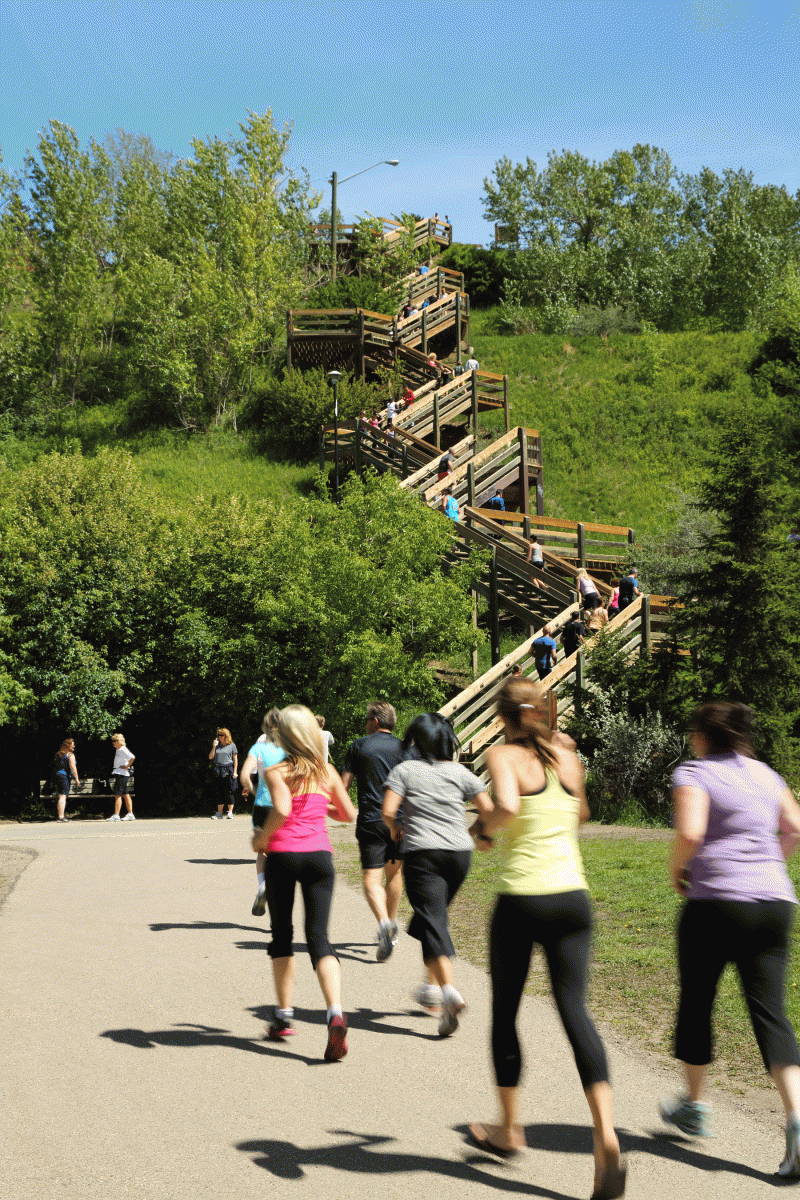 You'll want to make sure you have your phone for this walk so you can shamelessly take a selfie. Everyone does it. This bluff in Rosedale and Crescent Heights is among the most popular places to take a photo with the city skyline in the background. It's also where the notorious Memorial stairs are. The stairs are loved and hated by bootcampers running up and down the 167 steps, but you can also get to the top (or bottom) by following the pathways. The pathway has some gentle switchbacks and shady areas. If you want to extend your walk, meander through Rosedale and Crescent Heights where some of the city's most interesting houses are located.
Add on: Go to Mango Mania on Centre Street for its namesake blended drink that includes mango juice, mango jelly, mango jello, mango juicy pearls and mango mochi. It's also topped with mango chunks. Basically, all the mango.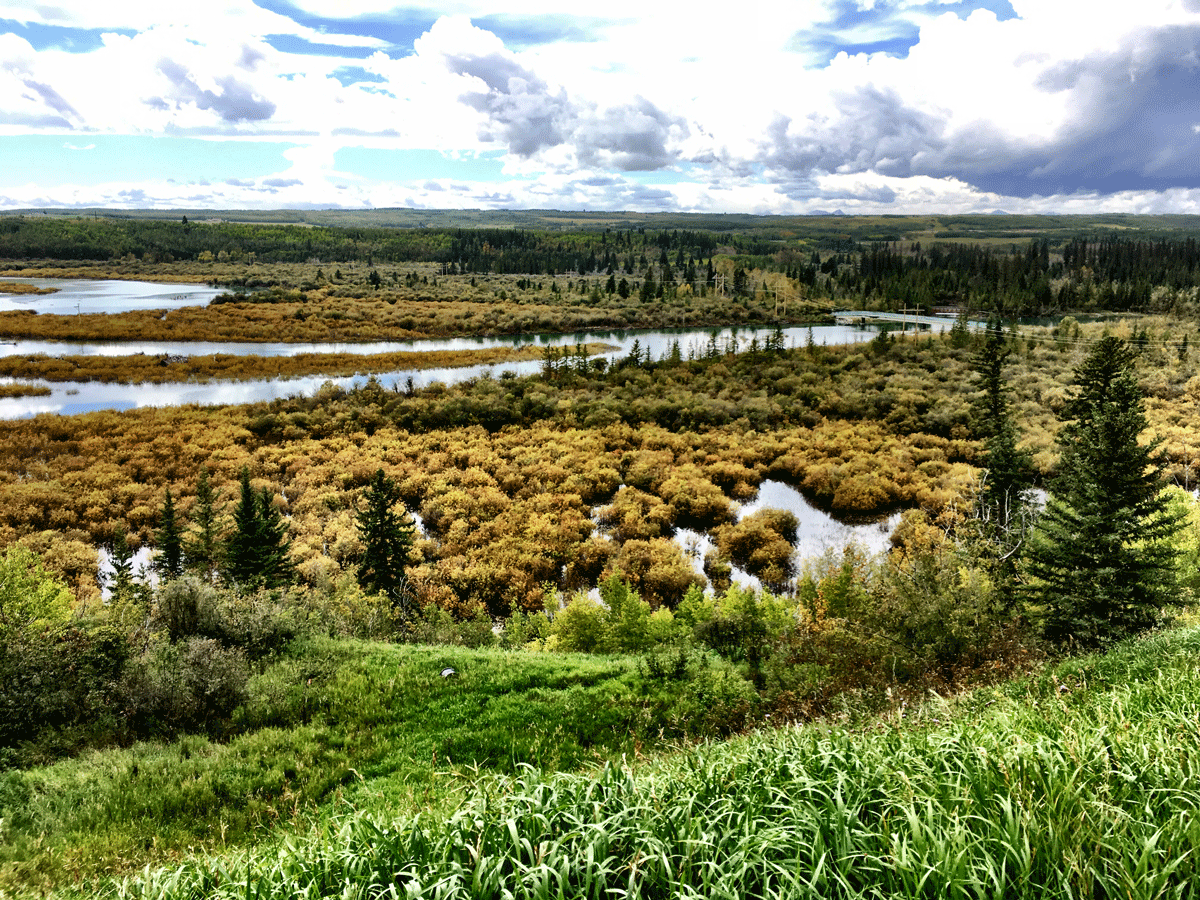 This area where the Elbow Rivers meets the Glenmore Reservoir will make you forget you are still in the city. The park is huge at about 237 acres, but the loop from the parking lot at 66 Avenue and 37 Street S.W. along the paved pathways is between four and five kilometres. You can veer off the main path to find quiet spots along the boardwalk. It's an easy walk, though the parking lot is at the top of a hill so there is a climb down and up. The views here are all about the nature. Look for birds including herons, Great Horned Owls and Trumpeter Swans. You can often spot a beaver here and it's where you are most likely to see a black bear in the city.
Add on: Stop into the Lakeview Bakery for a cookie, cupcake or tart or make it a brunch or lunch date and go to the Pfanntastic Pannenkoek Haus for a Dutch pancake.
Bowmont Park runs between Silver Springs and Bowness. There are pathways along the top near Silver Springs and at the bottom along the river in Bowness. You can see views of the city from either spot. If you start from the top at Silver Springs, you'll be at the trail head for Waterfall Valley with stairs and boardwalks that lead down to a waterfall by the Bow River. You can make your walk longer by tacking on Baker and Bowness Parks at the bottom or take a stroll through the Botanical Gardens of Silver Springs at the top.
Add on: If you extend your walk into Bowness Park, go to Seasons of Bowness for French press coffee and frittata. The restaurant overlooks the Bowness lagoon.
This park is a gem tucked in between Discovery Ridge and the Tsuut'ina Nation. There is a main paved path and several gravel pathways to detour off to. It's the kind of park that you'll want to explore and you can do it quickly — a roundtrip walk from the parking lot is four or five kilometres. Along the way, you'll see spring-fed creeks, white spruce and wildlife in the park, which has been given special protection because of its environmental sensitivity and significance.
Add on: Javino is a coffee and wine shop in Discovery Ridge. Stop in for a drink and a sandwich. If you are there closer to dinner, it also has a pizza and tapas menu.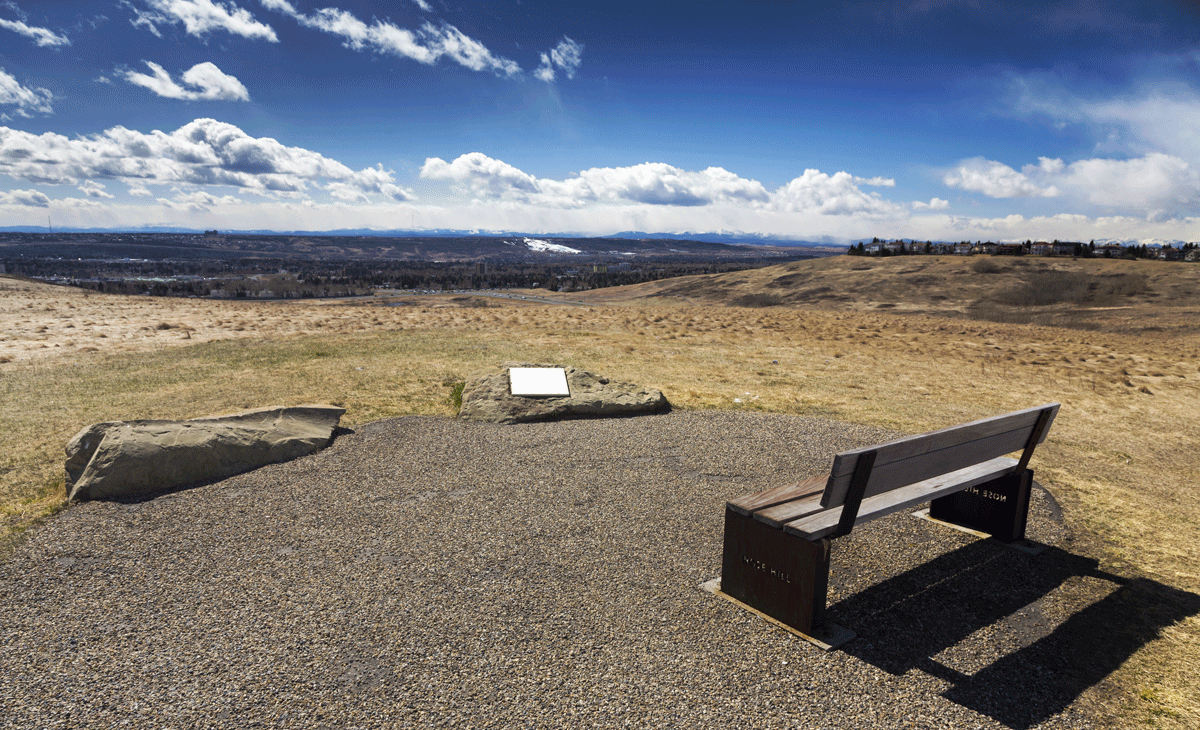 You can go for as long or as short a walk as you want at this park that covers 11 square kilometres. It used to be on the outskirts of the city and was originally slated for residential development before being purchased by the City and designated a protected area. Now it is surrounded by 12 communities and is one of the largest urban parks in Canada. At first, it doesn't seem like much more than open grasslands, but it is up on a hill so it does have great views of the city. There are wide designated paths as well as informal pathways that are narrower and more uneven.
Add on: If you are on the Rosemont side of Nose Hill Park, grab a coffee and fresh-baked muffin or cookie at The Bullet Coffee House.