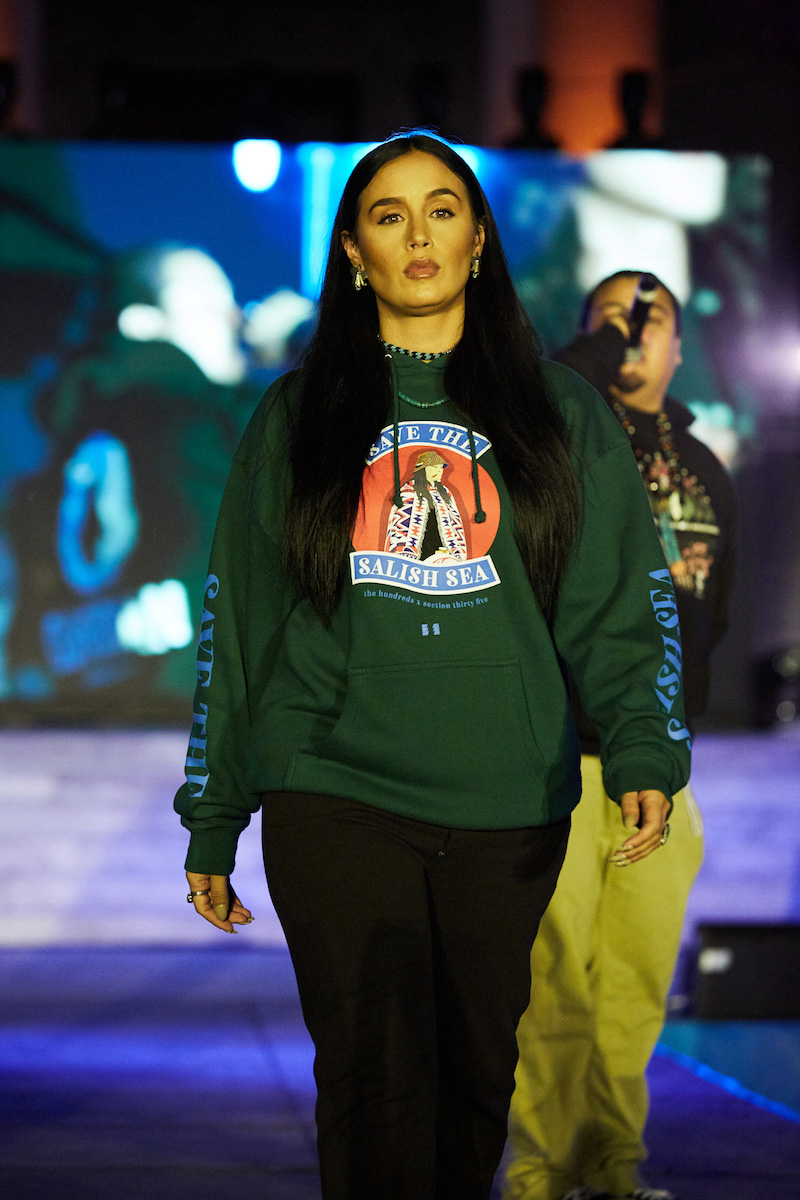 What started as a capstone project for a group of students in the senior marketing program at Mount Royal University has turned into Calgary's most anticipated Indigenous fashion show of the year.
Otahpiaaki is in its fourth iteration and Patti Derbyshire, associate faculty member in social innovation and marketing and faculty champion of Otahpiaaki, says that 2019 is the international year of Indigenous language.
"We're starting to recognize this opportunity with Indigenous fashion, artists and designers who are using those platforms to give a voice to the resurgence of Indigenous culture."
Otahpiaaki runs November 8 at the Jack Singer Concert Hall to November 9 at Studio Bell the Central Library. The November 8 event will take place in conjunction with Calgary Philharmonic Orchestra's presentation of Jeremy Dutcher, including a pre-concert fashion show and standing showcase during intermission. Notably, Dutcher wore a cape that was partly designed by Otahpiaaki showcasing brand LUXX Ready-to-Wear when he won the Indigenous Music Album of the Year award at the 2019 Junos. The event on November 9 will feature a runway show, standing showcase and performance by hoop dancer Sandra Lamouche.
Here are four Indigenous designers to watch during Otahpiaaki 2019.
View this post on Instagram
Designer: Derek Jagodzinsky, Whitefish Lake First Nation
Jagodzinksy has his master's degree in Industrial Design from the University of Alberta, and through his academic career he studied how perceptions of Indigenous culture can be impacted and redefined through contemporary design. He draws upon his Indigeneity to create modern clothing for both men and women, and his work has appeared in Native Fashion Now, Smithsonian's National Museum of the American Indian, Royal Alberta Museum and more. Jagodzinksy creates all of his garments locally in Edmonton with small quantity runs — be sure to check out Lux's website for the most up-to-date pieces available.
View this post on Instagram
Designer: Evan Ducharme, Métis, Cree, Ojibwe and Saulteaux
DuCharme's clothing line offers separates, outerwear and evening wear with contemporary Indigeneity, a reclamation of Indigenous sexuality and commitment to the environment at the forefront of his ideologies and creations. DuCharme's signature is described as "heightened utilitarianism," and includes Métis iconography to create a modern Indigenous fashion line that "demands authenticity in every aspect of life." You can find DuCharme's work featured in Discorder Magazine, National Geographic, FASHION Magazine, and Vogue.com.
View this post on Instagram
Designer: Jared Yazzie, Diné Navajo
Based out of Tempe, Arizona, OXDX is a Native American brand that focuses on graphic art, screen printed apparel and "cut'n'sew" clothing. Yazzie is an artist who uses his designs to comment on Indigenous issues and showcase the beauty of Indigenous culture. Yazzie's work has appeared in Highsnobiety, Salon, The Hundreds and others.
View this post on Instagram

Designer: Dusty LeGrande, Cree
LeGrande created MOBILIZE in 2012 when he was inspired on a family trip by a shirt that, to him, exuded pride, imagery and street style. The shirt read "Chiefin,"  a word which would appear stitched on the back of his first-ever creation, a jean jacket. Since then, LeGrande has created pieces that he describes as streetwear to represent the Indigenous. He combines his love of fashion and self to create MOBILIZE.
"I was always different, I tried to belong. I never would. Now, I never want to," reads LeGrande's.