For some, driving is simply a way to get from here to there. But for the drivers out there, the on-the-road part is just as much fun as the destination. They're the ones who go out of their way to cover a unique or interesting stretch of highway, the ones who peruse maps looking for scenic routes, the ones who would wear driving gloves unironically if they could be assured that no one would make fun of them. If this sounds like someone you know (maybe it is you), here's a must-drive road that is worthy of your wheels.
Powderface Trail/Smith Dorrien Trail, Bragg Creek to Canmore, Alberta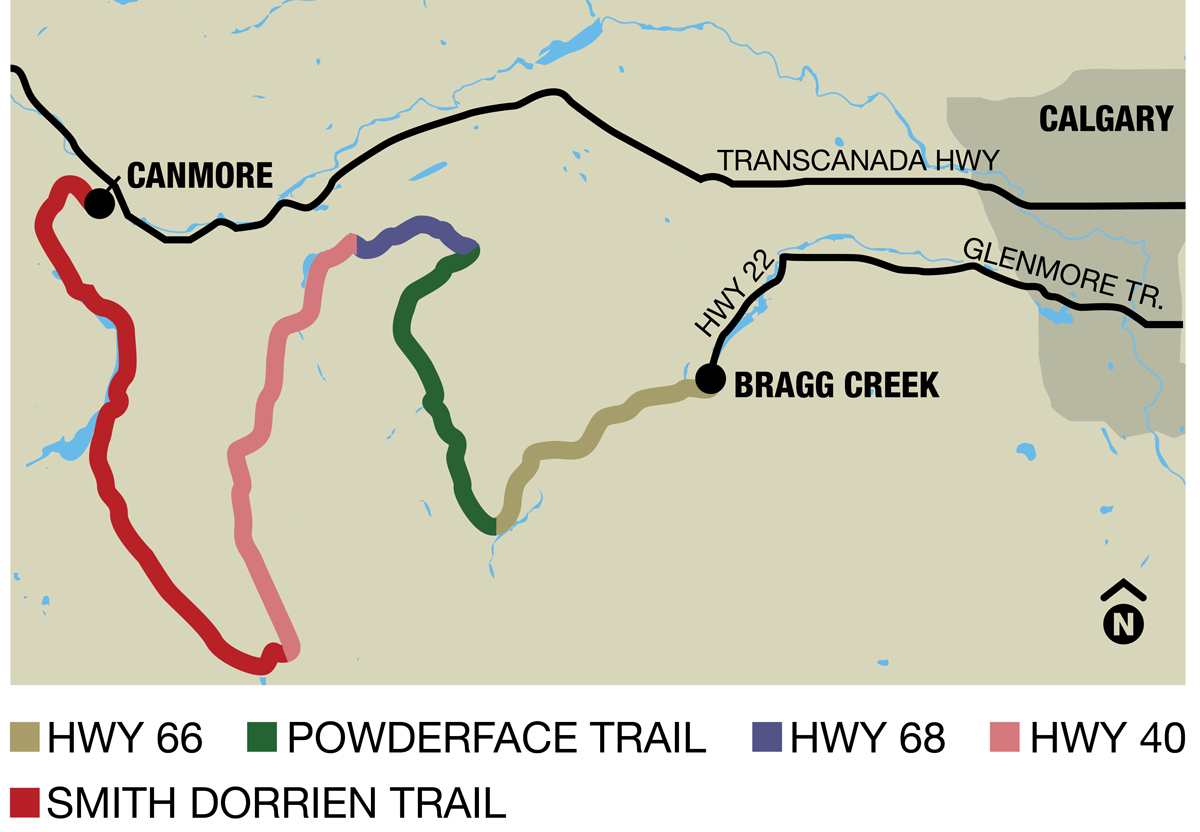 The Drive
If you want to get to Canmore quickly, take the Trans-Canada along with all the other sheep. But if you'd prefer to take your sweet time on a rugged backcountry road, Powderface Trail is your huckleberry. Closed December through May, Powderface is a tough stretch of gravel that runs north and west from a point just past Elbow Falls on Highway 66. The road cuts through remote K-Country environs, running alongside creeks and dense coniferous forests, until eventually connecting with the Sibbald Creek Trail (Highway 68). From that junction, it's approximately 15 km to Highway 40, a.k.a. the Kananaskis Trail.
If you're ready to call it a day, you can turn right and hightail it back to the city. But if you're in the mood for more adventure, turn left and follow Highway 40 into Peter Lougheed Provincial Park to connect with the Smith Dorrien Trail (Highway 742) to Canmore. This scenic stretch in majestic mountain terrain skirts the Alberta-B.C. border before heading northward through Spray Valley Provincial Park (the gravel road can get washboard bumps on it as the summer progresses, so make sure your vehicle's suspension is on point). The final stretch of the Smith Dorrien runs along the expansive Spray Lakes Reservoir to Grassi Lakes, where it transitions into the Three Sisters Parkway, descending past the entrance to the Canmore Nordic Centre and into town.
The End of the Line
The new Basecamp Resorts property, which opened last year in Canmore, is an ideal landing pad for those travelling by vehicle. With a condo-style layout and virtual check-in that provides guests with an access code to their unit via e-mail (no key cards!), arriving at Basecamp feels more like arriving at your second home in the mountains than a hotel. Decorated in a fresh, alpine-modern style, the units range from a 300-square-foot "micro-suite" up to a spacious three-bedroom suite on two levels that can sleep up to 10. All units come with tech amenities such as an iPad and wireless speaker and fully equipped kitchens.
1102 Bow Valley Tr., Canmore, 587-807-6292, basecampresorts.com
Other Mountain Roads You Should Drive This Summer
Plummers Road, Foothills County, Alberta
Duffey Lake Road, Lillooet to Whistler, B.C.