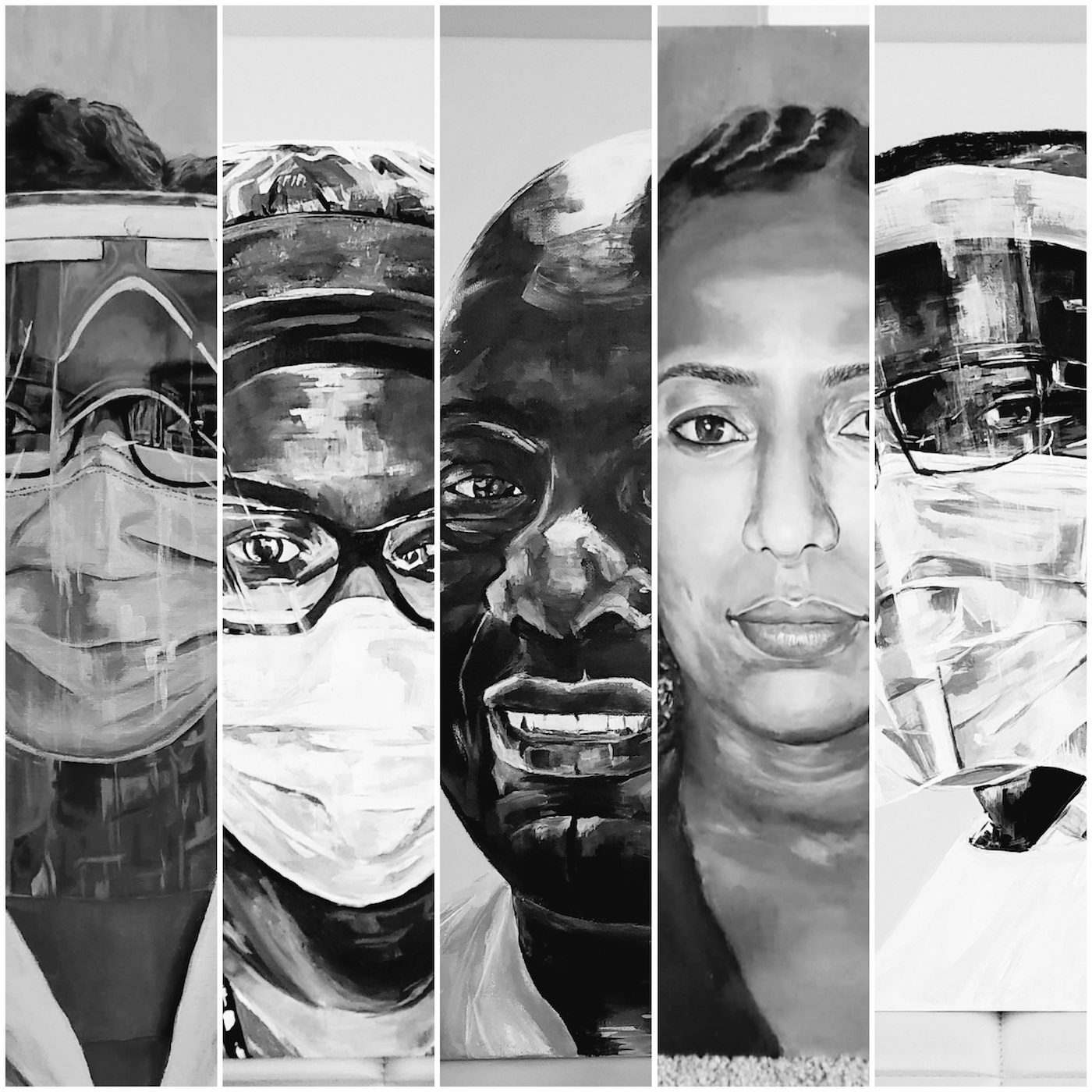 Alberta Culture Days is happening all month from September 1 to 30, and there's no shortage of ways to participate this year. The event, which is normally just one weekend long, features online and in-person activities happening all over the province. Guests can check out dance shows, visit museums, log on for online workshops and even create art themselves.
Below we've rounded up 10 events you can check out in Calgary, but make sure to visit the full roster of activities here.
When: September 1 to 21
Faces of Our Frontline: Celebrating Canadian Black Frontline Workers is an art exhibit and fundraiser recognizing the efforts of Black frontline workers during the pandemic. Each painting is accompanied by a biography of the subject, and the sales of any paintings will be going to the Black Health Alliance organization. The exhibit is on display this month in the cSpace King Edward building.
cSpace King Edward, 1721 29 Ave. S.W., frontlinefaces.wixsite.com/portraits
When: September 1 to 30
The sixth annual India Film Festival of Alberta is running all month and viewers can tune into award-winning and independent films from across Canada and India. The films are available online through September, or you can watch select films at drive-in screenings. The festival also features a short film competition, workshops and a masterclass hosted by cinematographers Ravi K. Chandran and R.D. Rajasekhar.
When: September 1 to 30
Casa Mexico is celebrating Mexico's independence with a month of events including a film screening, art exhibition and dance performances. While some events have already taken place, the Embassy of Mexico in Canada is still presenting the work of Mexican artist Jamie Lujan in a virtual exhibit until the end of the month. And don't miss the virtual MexIndependence 2020 event on September 15 from 7 p.m. to 11 p.m.
When: September 5, 12, 19 and 26
The Kiyooka Ohe Arts Centre and Sculpture Park is closed to the public during COVID-19, but will be hosting guided tours of its outdoor sculpture collection and workshops that delve into the connection between art and nature for Alberta Culture Days. Groups are limited to ten people, every Saturday in September. Interested patrons can register online or contact heidi@koartscentre.org.
Kiyooka Ohe Arts Centre, 244034 Horizon View Road, koartscentre.org
When: September 12, 19 and 26
This digital festival hosted by Woezo Africa Music & Dance Theatre Inc. will engage people of all ages in the rich tapestry of African cultures and histories. Each of the festival days, held across three Saturdays this month, promise a full day of African artistry, including drum and dance performances, vocalists, a storytelling workshop, comedians and a chance to watch the 2020 digital UNGANISHA dance theatre production.
When: September 12 and 13
Head to the containR Fest: Redux Series for a mix of music and dance. Watch The Cowtown Collection, an interdisciplinary marching band and theatre ensemble, perform on September 12 or come by at 3 p.m. on September 13 when the ensemble will be accompanied by three different dance performances — With Catastrophic Consequences – Remixed, Quadruped, and The Pecking Order — featuring dancers and composers from Calgary and abroad.
containR, 1020 2 Ave. N.W., springboardperformance.com
When: September 13
Tim Tamashiro, former radio host of Tonic on CBC Radio 2, jazz singer, speaker and entertainer, is bringing his unique blend of "story/song" cabarets to the 2020 containR Fest: Redux Series for a night of jazz.
containR, 1020 2 Ave. N.W., springboardperformance.com
When: September 23 to 24
Hosted by The Immigrant Education Society, the 10th annual #TIES2U summer festival is billed as a family-friendly event focused on bringing newcomers and locals together to celebrate multiculturalism in the city. The festival is virtual this year and will host activities like a fashion show, cultural group performances and a talent show featuring Japanese taiko drummers, a Russian choir, Chinese dragon dance and more.
When: Submissions are due September 20; the exhibit is open from September 25 to October 25
cSpace King Edward is inviting Calgarians to answer the question of "What Matters Now" by submitting visual, written, audio and video pieces to its exhibit, 20/20 Wavelength Project. Curated submissions will be displayed in the Hallway Gallery at cSpace from September 25 to October 25 for the public to view, and an online link to the exhibit will be available September 26.
cSpace King Edward, 375, 1721 29 Ave. S.W., cspacekingedward.com
When: September 26
The Colouring it Forward Reconciliation Society is hosting the second annual Pokaiks – the Children event on September 26. The day starts with a 10 a.m. walk in downtown Calgary to honour residential school survivors and Orange Shirt Day, followed by an afternoon of online Zoom activities including Elder-led storytelling, panels, music and art.
The walk starts at the corner of 3 Street and Stephen Avenue S.W., cifrs.ca