Fenway Park
Photograph courtesy of the Greater Boston Convention and Visitors Bureau
Calgary is sometimes a hockey city. And sometimes, it's a football city. Occasionally, it's a lacrosse city. What Calgary is not is a baseball city.
We haven't had a pro team since 2011, when the Calgary Vipers ceased operations. Before that, the Calgary Outlaws ball club called it quits when their league folded halfway through its first year, and, before that, the Calgary Cannons – a legitimate AAA team that was home to a pre-P.E.D. (performance-enhancing drugs) Alex Rodriguez for 32 games in 1994 – moved after several money-losing seasons.
The fact that Calgary's diehard baseball fan population (most of whom are in my fantasy league) can't support their own team is sad, because baseball is the most wonderful game ever conceived and pretty much the perfect way to spend a day.
Baseball is sunshine and home runs and Cracker Jack. It smells like fresh air and hot dogs and oiled leather. Hockey smells like feet.
Baseball does have its quirks, though. Games can be long. There's no clock, so, theoretically, it could go on for days. There's even a built-in tradition of fan stretching during the seventh inning (and a group singalong). Baseball, for all its beauty and genius, can drag a bit. Despite the quirks, it's definitely worth the trip to see a live game.
But not all baseball tickets are created equal. Atmosphere matters and some baseball trips are more worth it than others.
5 Places to Watch a Game
Fenway Park, Boston
There are few walls in history that deserve to be named – Wikipedia names about 71 on its "List of Walls" page. Of those walls, the Green Monster is my favourite.
Opened in 1912, Fenway Park is the oldest stadium in Major League Baseball and was designed by a crazy person who decided to make up for the short distance to left field by adding the most infamous wall in sports. It makes no sense and has caused more doubles, when a batter reaches second base on one hit, than any piece of architecture realistically should. And, as of 10 years ago, you could buy tickets to sit on top of it, which is kind of awesome. Fenway Park also happens to be home to the Boston Red Sox, who, I will begrudgingly admit, are an okay baseball team, having just won the World Series and all.
Wrigley Field, Chicago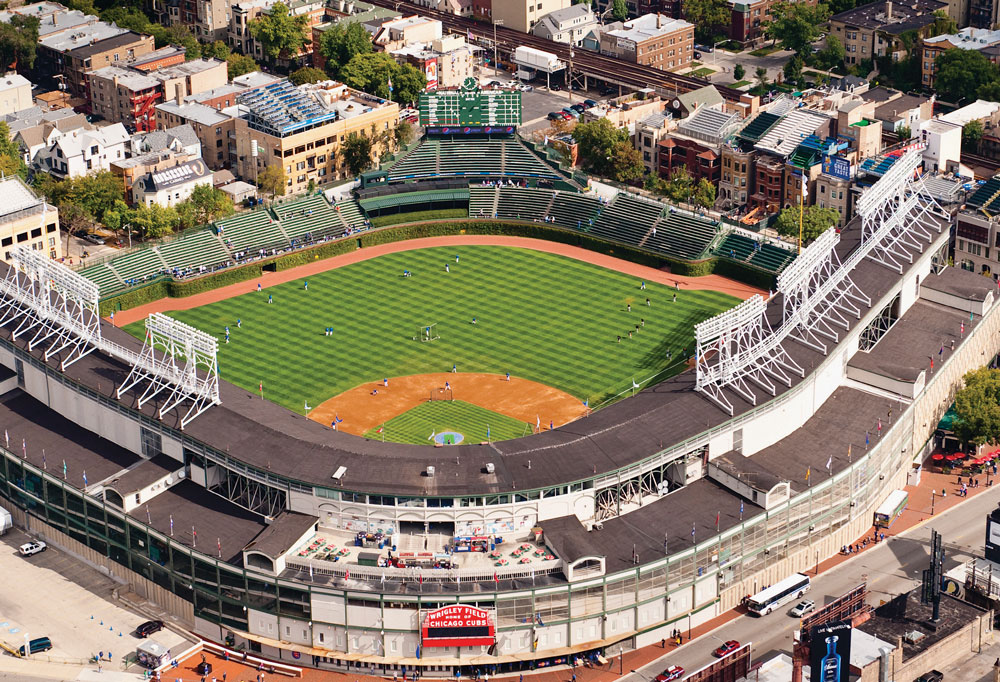 Photograph courtesy of the City of Chicago
The Red Sox are good, but some people (including me) prefer bad baseball teams. Sports thrive on underdog stories and there is no loser more loveble than the Chicago Cubs, who have been without a championship for more than a century.
Their park, Wrigley Field, is almost as old as Fenway and every bit as iconic, with an outfield wall made of brick and covered in ivy that's been known to swallow baseballs whole, turning singles into stand-up triples.
But even better than scoring a seat in the actual park is buying a ticket to the Lakeview Baseball Club, which is on the rooftop of an apartment building across the road with a spectacular history in its own right.
Spring Training, Florida and Arizona
(Various stadiums across both states)
When -40C days hit Calgary in mid-to-late February, baseball players start reporting to camp in Arizona and Florida. Those sound like fantastic vacation destinations for a Calgarian at that time of year, and, while there are a lot of minor-league players eating up innings, spring training makes up for quality with quantity. There are six to 10 games every day, and you get a chance to see a dozen teams if you're committed.
To be fair, it's not a trip you take to see a city and maybe catch a game. Going to spring training is a baseball trip for people who love baseball.
AT&T Park, San Francisco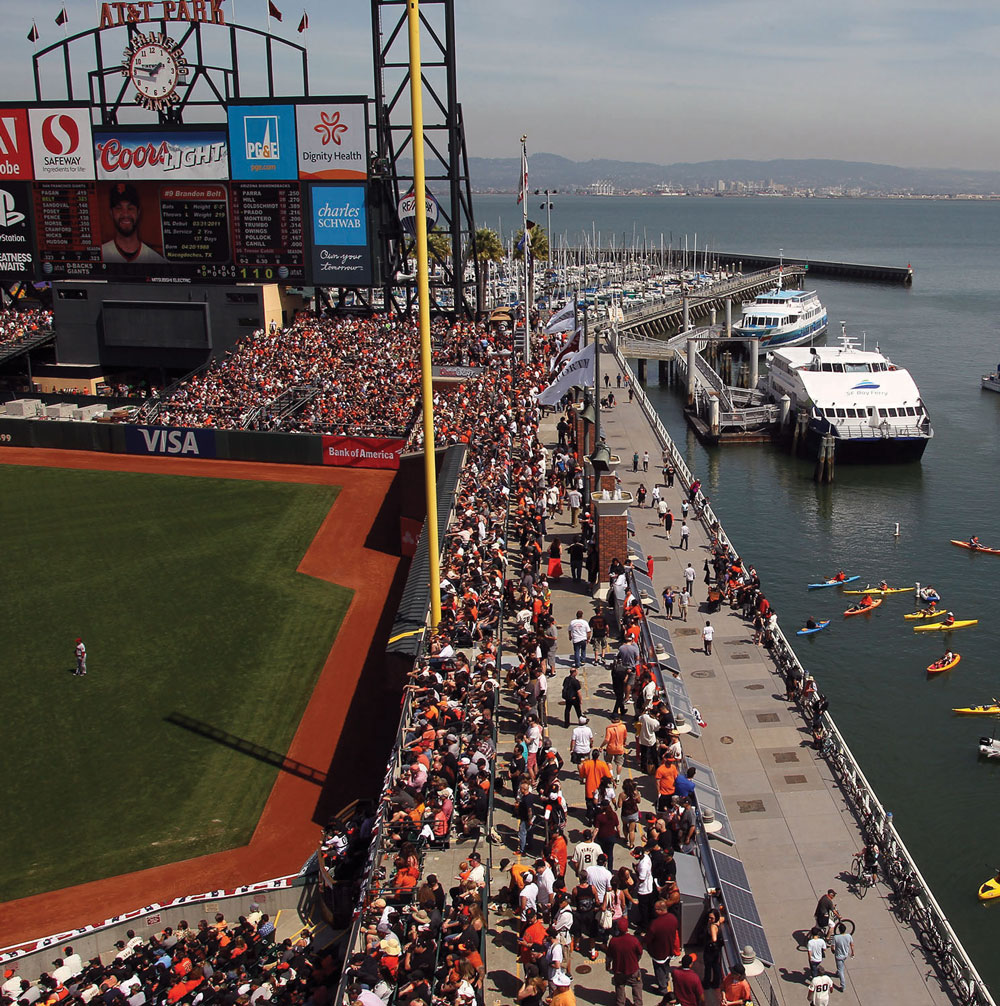 I've never met anybody who doesn't love San Francisco, and the Giants are a team steeped in history (granted, half that history happened in New York, but still). They are also a pretty good team, just two (and four) years removed from being World Series champions, with some exciting players worth watching and the ageless wonder that is Marco Scutaro.
But none of that is important.
When you're taking in a ball game at AT&T Park, there is only one thing that matters: the view. The park looks out into San Francisco Bay, making it the only stadium in Major League Baseball where players can hit home runs into the Pacific Ocean.
Seaman Stadium, Okotoks
When Okotoks coaxed the Dawgs (which is, admittedly, a terrible name for a baseball team) away from Calgary, they did everything right to create an amazing baseball experience for the fans. The Western Major Baseball League is a summer collegiate league and has some really good ball. More importantly, Seaman Stadium is possibly the best small park in the country. It oozes all the charm of Bull Durham and Field of Dreams, with hot dogs and peanuts and the occasional brass band (seriously), and is absolutely worth the 35-minute drive south. Many times, all summer.
Must-Try Stadium Snacks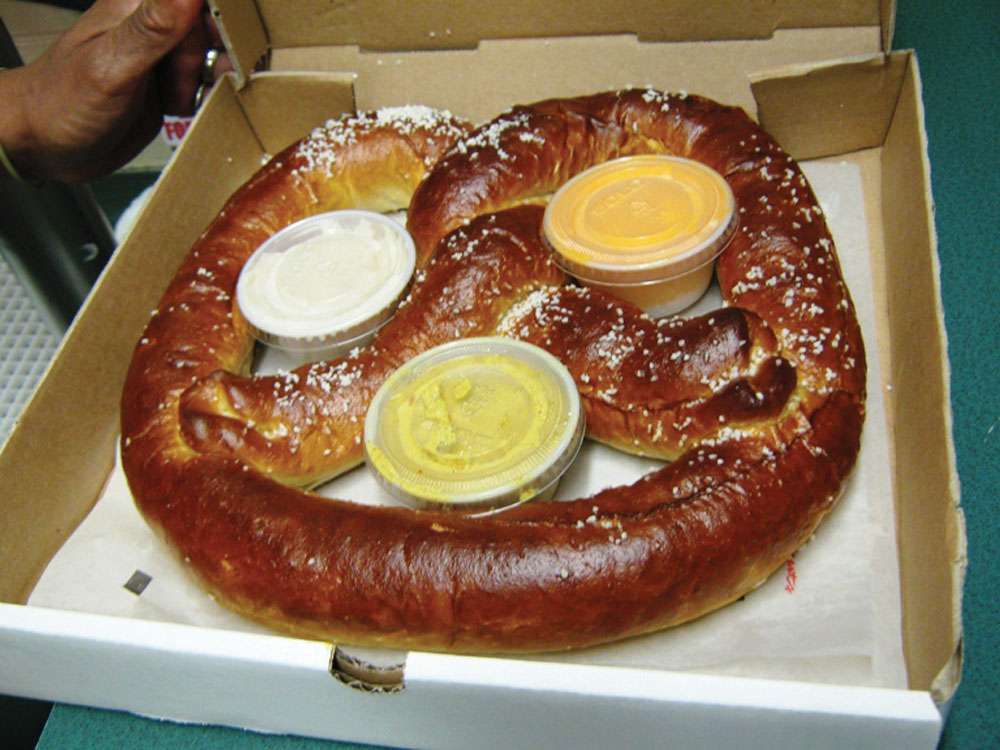 North Side Twist, Chicago Cubs
A pretzel so big, it's served in a pizza box with multiple dipping sauces. The twist has about 4,000 per cent of your recommended daily intake of carbs and salt.
The Hammer, Atlanta Braves
The Hammer is Southern-fried chicken and smoked bacon served sandwich-style between two waffles. It's not so much comfort food as culinary achievement.
Rocky Mountain Oysters, Colorado Rockies
Balls. Specifically, bull calf testicles that are peeled, battered and deep-fried. Some consider this a delicacy; others consider it balls.
Oyster Po'Boy, Seattle Mariners
Unlike in Denver, here, when they say "oyster," they are referring to actual oysters, fried and served as the messiest po'boy sub you could hope for.
The Schmitter, Philadelphia Phillies
Originally named after a regular of a local tavern who only drank Schmidt's beer, the Schmitter is a traditional Philly cheesesteak so good, locals come to the games and line up for an hour to get one.
5 Players to Watch this Season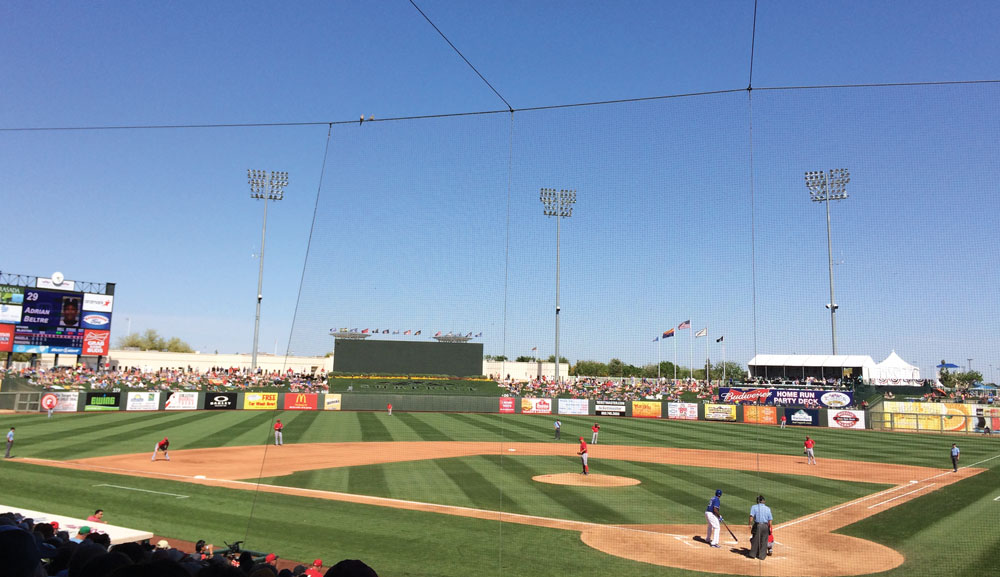 Spring training. Photo by Tyler Hellard
The subtitle to the 2014 Major League Baseball season will be "Jeter's Farewell Tour." After 20 seasons, five championships and more than 3,000 hits, the Yankees' shortstop is hanging up his cleats.
Mike Trout, Los Angeles Angels
While Jeter is on his way out, the man named, by consensus, "Best Player in Baseball," is just getting started. At 22 years old, Mike Trout is a human highlight reel of diving catches, headfirst slides and laser-beam line drives.
R.A. Dickey, Toronto Blue Jays
He's coming off a tough year, but R.A. Dickey is MLB's only knuckleball pitcher, so, basically, he's a magician. The greying long hair and beard does nothing to dispel this notion.
Aroldis Chapman, Cincinnati Reds
Relief pitcher Aroldis Chapman routinely throws fastballs into the triple digits and once topped out at a record-setting 105 miles per hour, which is probably fast enough to put a hole through a person.
Miguel Cabrera, Detroit Tigers
Mike Trout may be the best overall player, but Miguel Cabrera is one of the best pure hitters in the world. He's also your best bet to see a home run, since he hit more of them than any other right-handed hitter in 2013.