Not so long ago, Ed Zoller would usually opt to stay home whenever his partner Hope Bishop headed out on her bike. "I couldn't keep up with Hope anymore," Zoller says. But that all changed when he took the advice of a friend who suggested he try an e-bike. Also known among industry insiders as pedalec bikes (a hybrid of "pedal" and "electric"), e-bikes provide battery-powered assistance as you pedal, up to a maximum assisted speed of 32 kilometres per hour. The more you pedal, the more the bike helps you. "You can go wherever you want and you don't need to get off and push up hills. It got me out exercising a lot more, seeing scenery and enjoying fresh air," Zoller says.
Mostly, he enjoys being back on the road with Bishop. "It's a sport you can do together," he says.
The fact that e-bikes are an athletic equalizer among mismatched riders is one of the reasons sales are surging — with an e-bike, cyclists who are less fit, or those who have health issues or disability challenges, don't have to worry about hills or headwinds preventing them from keeping up.
Sean Carter and Nadia Smiley, partners in life and in business at Inglewood-based cycling store BikeBike, say their e-bike sales more than doubled between 2016 and 2017, then doubled again in 2018. The store also retails cargo e-bikes, which can be equipped with racks and baskets for extra carrying capacity and seating for kids. This more functional style of e-bike is popular with families for running errands as well as for going on longer rides with kids who can't keep up individually.
Smiley, who suffers from ulcerative colitis, has also embraced e-biking. Her medical issues had previously made her apprehensive about riding beyond very short distances. She tried out an e-bike after undergoing surgery. "It gave me the confidence to tackle longer and harder bike rides," she says. "I've ridden more post-op than I did before the surgery."
Through BikeBike, Smiley has also witnessed other cyclists turning to e-bikes on account of health or disability issues. "One of our customers who's missing part of a leg has a recumbent e-bike," she says. "People with multiple sclerosis [who are] weak on one side find e-bikes allow them to bike with their friends again."
Multigenerational families are also using e-bikes to ride together. Calgarian Carol Meibock first tried e-biking while on holiday in Austria with her husband Tony and their daughter. Though Carol had once been ranked fifth in long jumping in Canada, she had let sports fall to the wayside in her life. Nagging back pain from a car accident also kept her on the sidelines. When the Meibocks' daughter suggested a family bike ride during their vacation, the thought of cycling the hilly alpine roads seemed daunting to Carol. It was Tony who suggested she rent an e-bike. "It was the best experience," Carol says, "for the visual pleasure and the feeling that I can do it."
Back in Calgary, the Meibocks have continued biking (in Carol's case, e-biking) together. "It's nice to feel athletic again," she says. "On an e-bike, I'm able to blow past Tony — he's an ex-Olympian speed skater and I could never do that before on a regular bike. I didn't expect to get into such good shape [with an e-bike] but you're always working. Now, on the weekend, we have our coffee and plan a bike ride; all of a sudden we have this whole new dimension to our relationship."
Bishop is also glad to have revived this part of her relationship with Zoller. As a former 1,500- and 3,000-metre runner who competed at the international level, Bishop still has a competitive fire in her that naturally extends to her cycling. "I love the fact we can go out together," she says. "It has provided a challenge to both of us. We'll be on a hill and Ed's right beside me and it pushes me to work harder."
Beyond working out together, e-bikes can enhance a relationship in other ways. Carter recalls a date night with Smiley and their cargo e-bike, which has a front carrier with room for a couple kids — or, in this case, one adult.
"Nadia rode in the front and partied away while I cycled her to a restaurant," Carter says. "We wore our best clothes!"
Going Green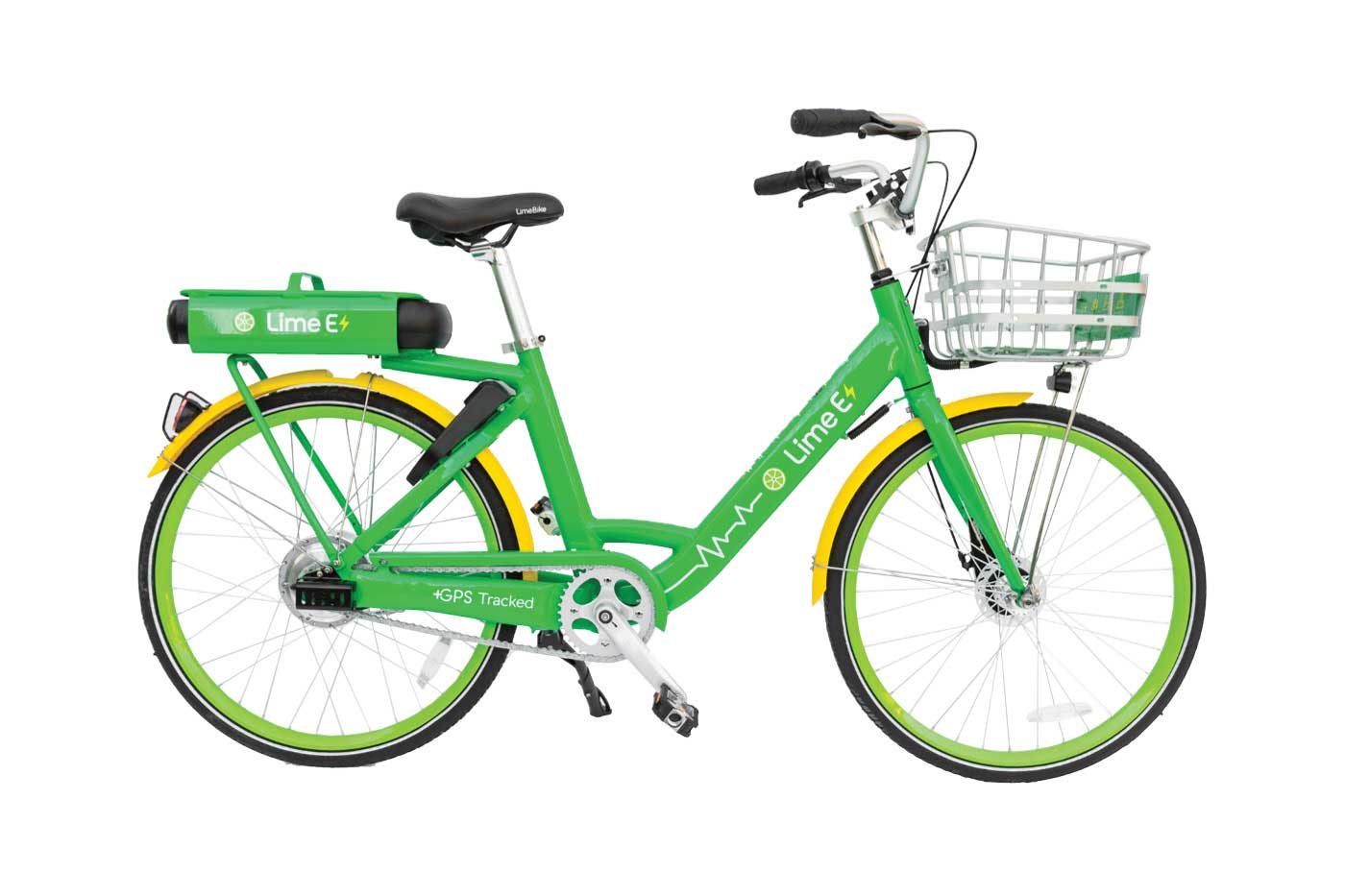 One easy way to try out an e-bike is to go downtown and give a Lime Bike a spin. Operating in the city since last fall, bright-green Lime Bikes are by-the-minute-rental e-assist bikes that users check in and out of using a smartphone app. The bikes are equipped with GPS, wireless technology and electronic locks, as well as Neoprene hand-warmers for chilly rides. —Shelley Arnusch