Giacomo Puccini's La Bohème will open Calgary Opera's 2019-20 season on November 9, 13 and 15 at the Southern Alberta Jubilee Auditorium. Translating to The Bohemians, the Italian-language opera is commonly considered Puccini's finest and has proven to be one of the most popular operas of all time. The show follows a foursome of bohemian 20-something artists in 19th Century Paris. The group is filled with optimism and inspiration but, as in any grand tale, have no idea what challenges lie ahead — namely, heartbreak, disease and death.
The show will be performed in Italian with English subtitles and stars Peter Barrett as Marcello, Antoine Bélanger as Rodolfo, Miriam Khalil as Mimi and Joanna Latini as Musetta. It is directed by Brenna Corner and conducted by Jonathan Brandani.
This is the first of three productions making up Calgary Opera's main stage season, with Vincenzo Bellini's Norma (Feb. 1 to 7) and Richard Strauss's Ariadne auf Naxos (April 25 to May 1) to follow. Here are nine fun facts to learn before seeing the show.
La Bohème's premiere in 1896 was a race to the finish — kind of
La Bohème is based largely on the book Scènes de la vie de bohème by Henri Murger (1851). Unbeknownst to him, Puccini began composing his adaptation simultaneously with Ruggero Leoncavallo's attempt, resulting in a reported tiff between the two. Puccini brought his to stage first and it is widely considered the superior show — based on merit, of course, but surely the head start didn't hurt.
There's no more drama between Canadian opera companies
Calgary Opera finds itself in a parallel but inverse situation to that of Puccini and Leoncavallo. Against the Grain Theatre (AtG) just toured its take on La Bohème through Canada at unconventional venues like bars and legions, including a stop at Wordfest HQ in Calgary. The two shows couldn't be farther from competition for one another: not only is AtG's modernized take night-and-day different from Calgary Opera's classic production, but AtG artistic director Joel Ivany is actually married to Miriam Khalil (pictured below), who will play Mimi in Calgary Opera's Bohème.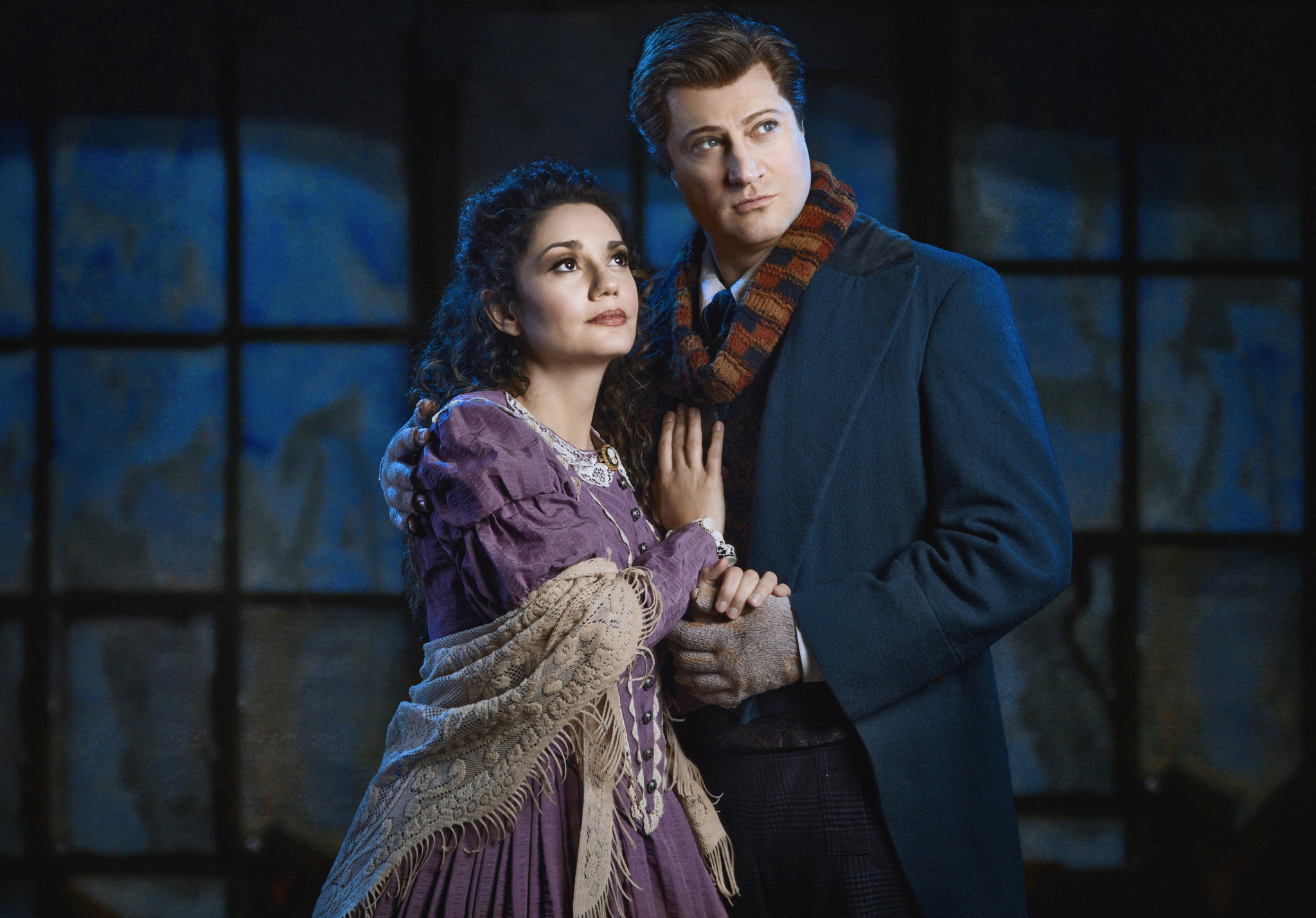 It's raining Bohème
Based partly on La Bohème, Broadway sensation Rent opened in 1996 and ran until 2008. In 2002, a modernized La Bohème helmed by show-stopping director Bar Luhrmann opened on Broadway, meaning two Bohème-inspired shows ran concurrently in the historic theatre district.
The highest note of flattery
Rent isn't the only pop cultural work to pay tribute to La Bohème. Luhrmann's love for the show ran so deep that his film Moulin Rouge! drew directly from Puccini's plot, Homer played Rodolfo in an episode of The Simpsons, and Calgary Opera artistic director Bramwell Tovey even posits that the sitcom smash Friends is inspired in part by La Bohème.
A warm welcome and a welcome home
While the 2020-21 season will be first programmed by Tovey, this is the first Calgary Opera show to take the stage since he was hired as its new artistic director. Meanwhile, Brenna Corner, a born-and-raised Calgarian, now lives in Atlanta and has made a special homecoming of her directorial duties for La Bohème.
Past, present and Puccini
Both Tovey and Corner have significant encounters with another Puccini work in their backgrounds. Tovey's first time conducting for an opera was in 1984 for Cape Town Opera's production of Tosca. Corner played a small role in Calgary Opera's production of Tosca when she was around 6 or 7 year old.
Pre-teen-ccini
Speaking of kids, Corner will be directing 16 of them — all from the Cantaré Children's Choir — during the show. They will be playing characters of a variety of backgrounds in Act I, from "street urchins" (Tovey's joking words) to the wealthy elite.
The greatest opera show on Earth
Other special guests in the show include the Calgary Stampede Showband Colour Guard. Its members will act as supernumerary actors, essentially the opera equivalent of non-speaking roles in movies.
Pun-ccini
The Calgary Philharmonic Orchestra (CPO) plays live with Calgary Opera for La Bohème. The CPO is an Arts Commons resident company, a facility which until recently featured the on-site cafe Capuccini. Get it?