Name of hike: Prairie Mountain
The area: Kananaskis Country
Elevation gain: 700 metres
Difficulty: Moderate to difficult
Things to keep in mind before you leave
Your safety is up to you when you're out hiking. Before you leave on your hike, check the weather, check the roads and check whether there are any new bear warnings. Always let someone know where you're going and when you expect to be back. And, be honest about your fitness level.
How to get there
66 kilometres from the Calgary Tower
Take either Highway 8 or the Trans-Canada Highway west out of Calgary and take the Highway 22 exit. Continue on Highway 22 past Bragg Creek, then turn right at Highway 66. Park beside the road a little ways past Elbow Falls but not as far as the Powderface parking lot – at this time of year, the winter gate west of Elbow Falls will be open.
What to bring
Layers of clothing
You'll warm up quickly during the ascent but it can be chilly at the top. And Prairie Mountain in particular can be very windy at the peak.
Long pants and shirt
Early season hiking means you need to think about ticks. (Usually you don't need to worry about them come July.) Try to wear lightweight clothes and cover up as much skin as you can. It's a good idea to bring along bug spray, too.
Bear spray
You're going to be in bear country. Even though this is a popular hike, bringing bear spray is just smart.
Hiking poles
The descent is steep, especially once you're back in the tree line and descending the mountain. Bring poles to take some of the pressure off your knees and to have better stability as you descend.
Water and snacks
Make sure you have enough water and food for three to five hours of hiking.
The hike
The first challenge is finding the trailhead. There isn't a big sign telling you where this hike starts, but you will see a well-worn trail to the north of the highway.
Don't expect to be eased into this hike. It starts steep and you gain elevation quickly. There are switchbacks with a few breaks in the trees where you can admire the view and see how high you've climbed.
Once you're above the tree line, your legs will get a bit of a break. The trail isn't as steep there and you'll see the summit. At the peak, you'll be rewarded with two, distinctive views. On one side, you'll look out toward Calgary and (if it's clear) see the Calgary skyline and prairie views. Make a 180-degree turn and you'll be treated to spectacular mountain views. Take a photo at the Canada flag and head down the mountain for a lunch break – you'll get more of a break from the wind if you don't stay right at the peak.
Take it easy on the descent. Sections are steep so be careful with your footing.
Depending on your hiking intensity and your fitness, this hike will likely take you anywhere from three hours to five hours to complete.
If you still have some energy left, head to Elbow Falls after the hike. You'll be passing it on your drive back anyway and the whole loop to see the waterfall is less than one mile in length.
Editor's note: The following photos were taken on May 13, 2017.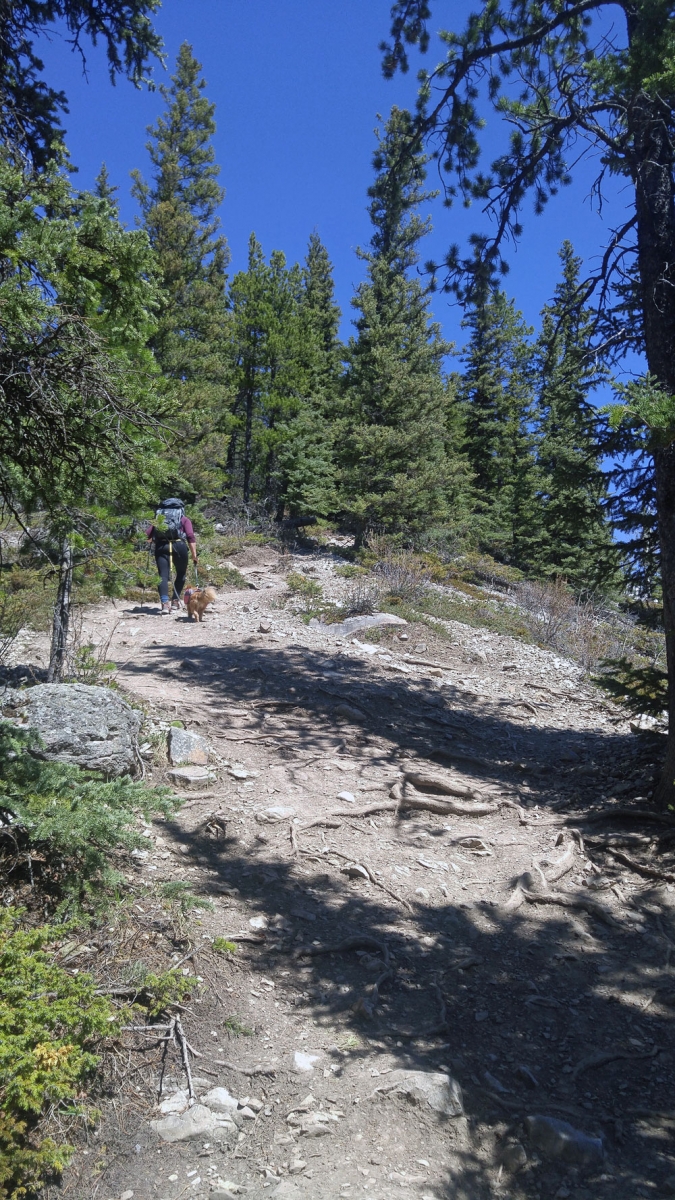 Bring lots of water. You'll be climbing from the very start of this hike.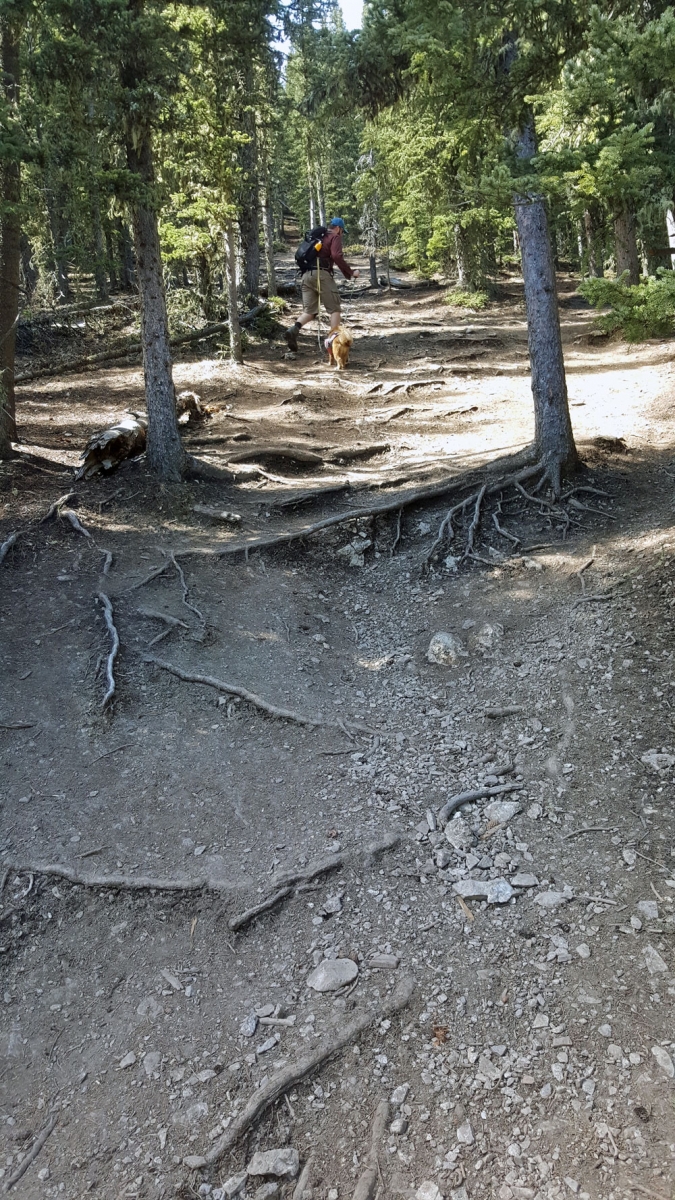 In the middle of the hike, the gradient is still steep. But by now you're well into the forest, so the shade will help keep you cool.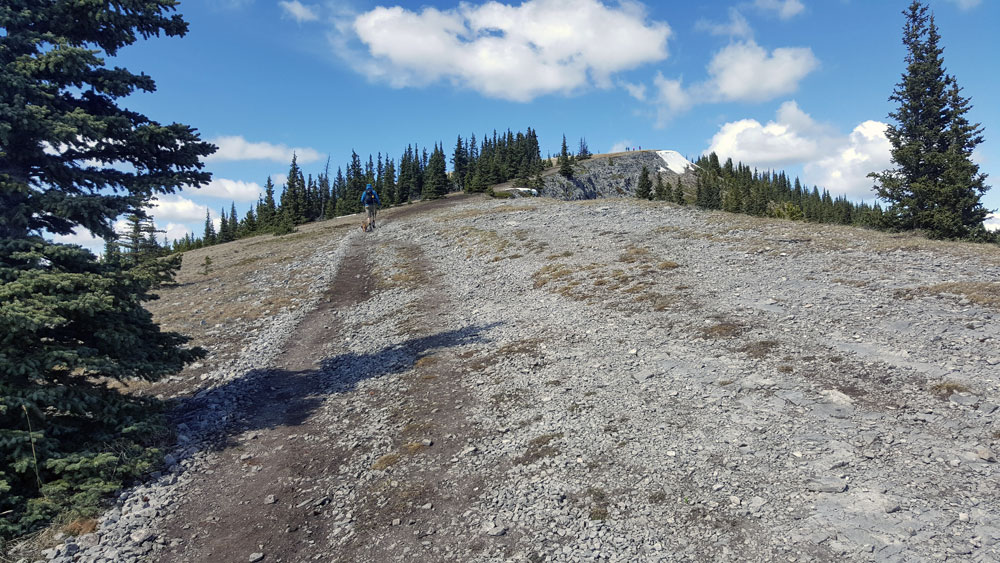 The final ascent to the summit isn't as steep as what you've already climbed. You can see all the way to the summit from this part of the hike. The trees just before the summit is a good place to have lunch if the summit is really windy.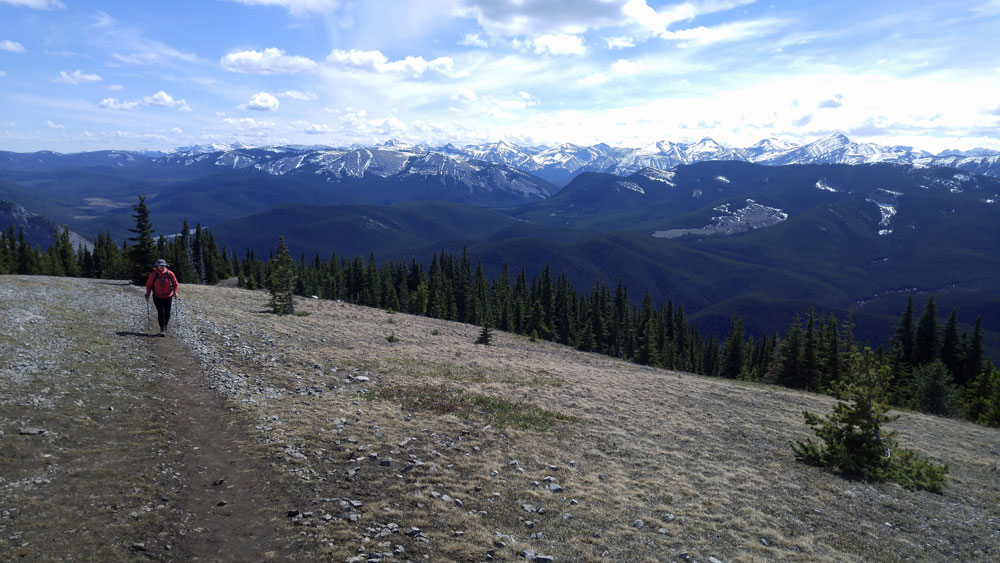 You'll be rewarded to two very different views at the top. As you climb, you'll see mountains to your left and the prairie and Calgary skyline to your right. 
Eat here after
The base of Prairie Mountain is only about a 20-minute drive from Bragg Creek. After your hike, take Highway 66 then Highway 22 into Bragg Creek. Change into different shoes and a non-muddy, non-sweaty shirt and head to the casual PowderHorn Saloon. The Western-style bar in the heart of Bragg Creek is decorated with old posters and Western trinkets, and is a popular spot for both locals and motorcyclists riding in the area. There's an extensive menu with dishes that will satisfy your post-hike cravings and appetite. Opt for the poutine.
The PowderHorn Saloon, 7 Balsalm Ave., Bragg Creek, 403-949-3946, powderhornsaloon.ca 
Another casual, post-hike spot in the heart of Bragg Creek is Snack Mania. Located a few doors down from the PowderHorn Saloon, Snack Mania is the place to find carnival-like, summer treats such as twist potatoes and fusion hot dogs.
7 Balsam Ave., Bragg Creek, 403-949-3021, facebook.com