Name of hike: Rawson Lake
The area: Kananaskis Country
Elevation gain: 300 metres
Distance: 7 kilometres round trip
Difficulty: Easy
Turn around after reaching the lake or continue past Rawson Lake and up the ridge:
Name of hike: Sarrail Ridge
The area: Kananaskis Country
Elevation gain: 667 metres
Distance: 12km round trip
Difficulty: Difficult
Things to keep in mind before you leave
Your safety is up to you when out hiking. Before you leave on your hike, check the weather, check the roads and check whether there are any new bear warnings. Always let someone know where you're going and when you expect to be back. And, be honest about your fitness level.
How to get there
Take the Trans-Canada Highway west out of Calgary and continue until the Highway 40 exit. You'll continue along Highway 40 and then take the Kananaskis Trail exit. After this, you'll continue along that road until you come to the intersection between Upper and Lower Kananaskis Lakes. Park in the Upper Kananaskis Lake parking lot, away from the boat launch side.
What to bring
As well as ample food and water, make sure you have a few extra layers of clothing in your backpack. Weather in the mountains is changeable, so be prepared for anything. (Yup, it still snows in the summer.) Also remember that you're going to be in bear country so be sure to bring along bear spray. This is especially important if you're planning on hiking up to the ridge since you'll be passing thick forest. And the trail to the ridge isn't quite as busy as the trail to Rawson Lake.
The descent from the ridge is steep, so it's also a good idea to bring poles if you're going up past Rawson Lake.
The hike
The trail starts at Upper Kananaskis Lake. You'll pass a waterfall and a creek and you'll be walking in thick forest. When you turn onto Rawson Lake trail, the forest is still pretty thick and you'll begin the ascent to Rawson Lake. The climb to the pristine mountain lake isn't too long or too strenuous. You could reach the north side of the lake in as little as one hour. Follow the trail around the lake and, even if you're not tired, stop for a break here. The views of the lake and Mount Sarrail make for an impressive and picturesque lunch stop.
If you're up for a challenge, don't turn around yet. Continue along the lake and then follow the trail up to Sarrail Ridge. This section of the hike involves scrambling and there is significant elevation gain, but the reward is panoramic views of Rawson Lake and Upper Kananaskis Lake. The descent from the ridge is steep, so take it slowly and make use of your poles.
Depending on your hiking intensity and your fitness, the round trip to Sarrail Ridge and back could take you up to six hours to complete.
Editor's note: These photos were taken in mid-June, 2016.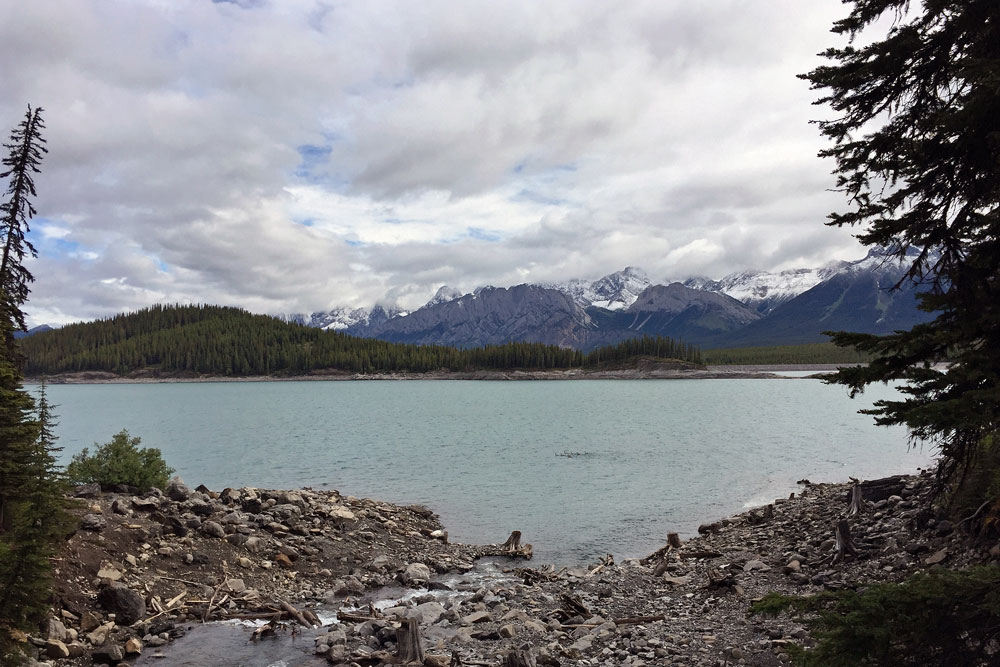 The hike begins around Upper Kananaskis Lake. Around here, you'll also see a creek and a small waterfall.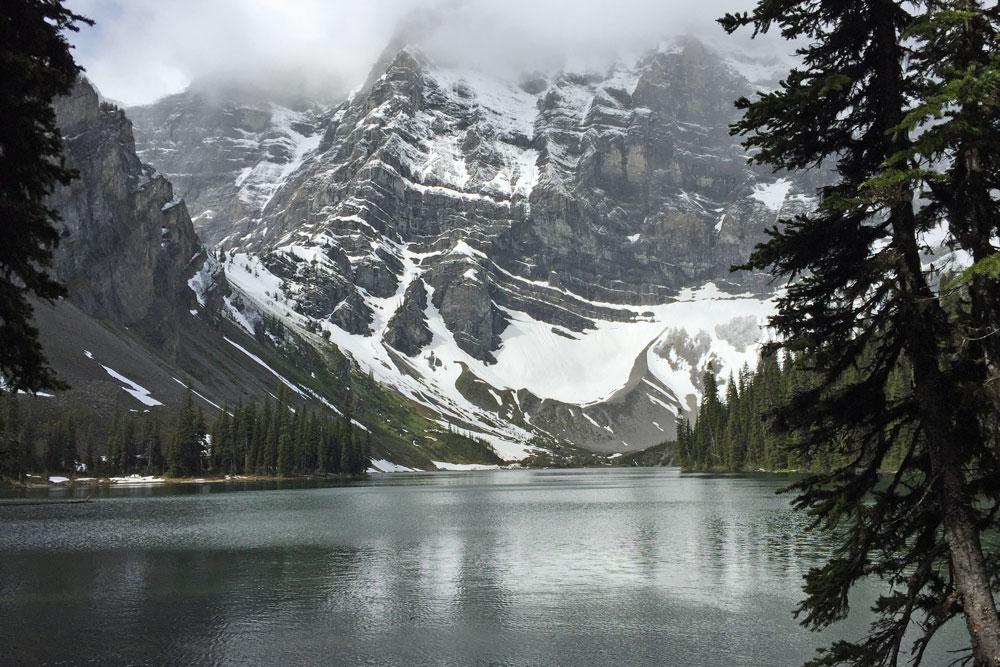 The hike to Rawson Lake isn't very long or too strenuous. The pristine mountain lake is a good place to stop for lunch or a snack.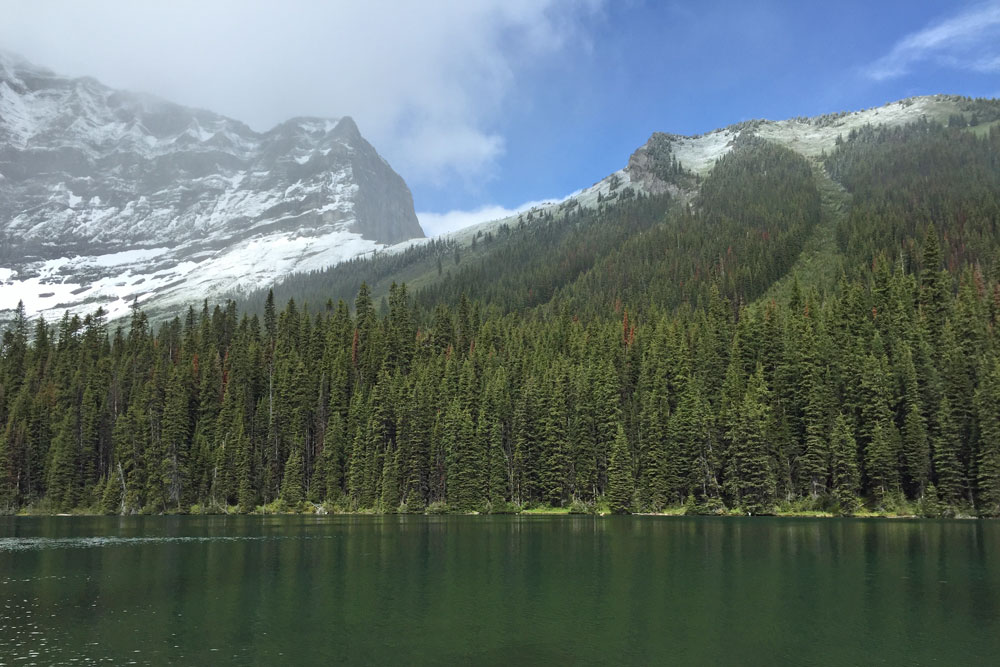 If you continue up to Sarrail Ridge (in the centre of this photograph), you'll be following a trail that goes through thick forest. It's a steep climb and you'll probably want poles.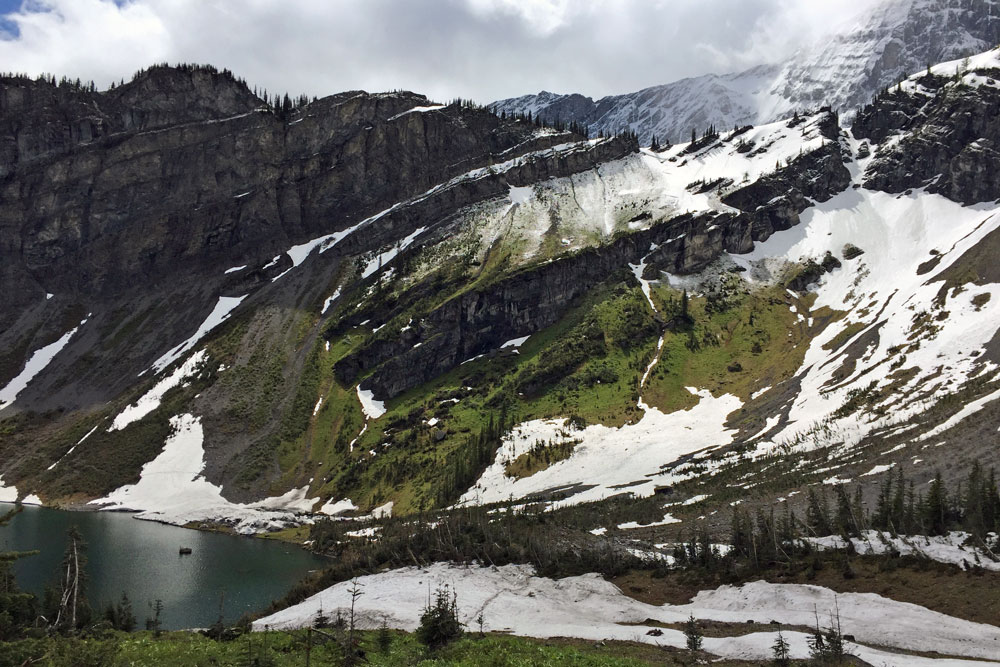 The view from Sarrail Ridge down to Rawson Lake. Mount Sarrail is to the right and Upper Kananaskis Lake is behind.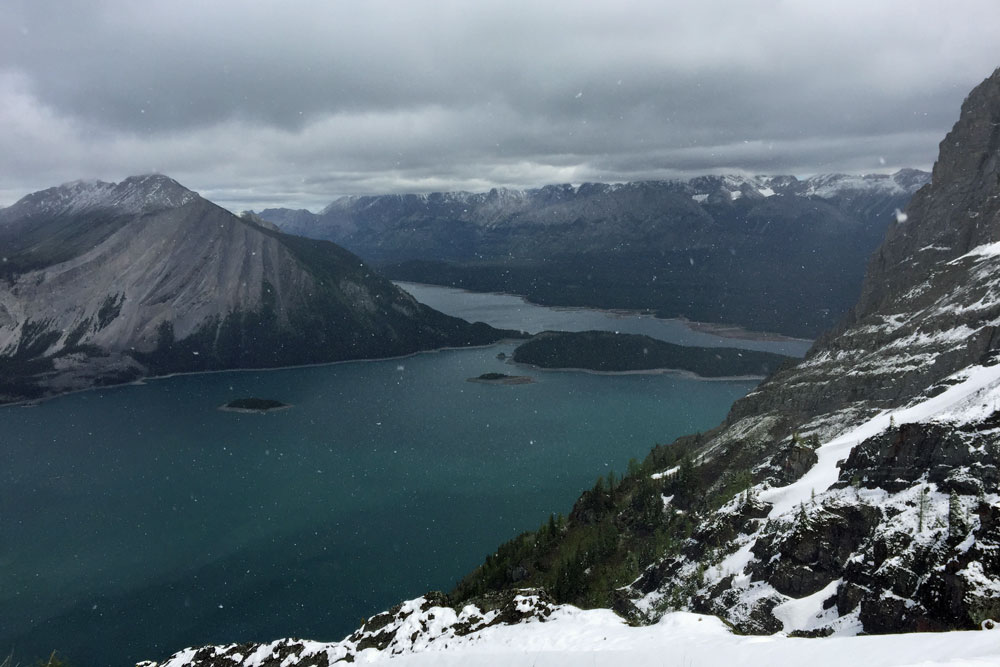 The weather in the mountains is changeable, so be prepared for anything – even snow. Once you've made it to the ridge, you'll be rewarded with views of Upper Kananaskis Lake (pictured) and Rawson Lake. 
Eat here after
After the hike, instead of driving back the way you came, continue south down Highway 40. (Keep in mind that the Highwood Pass is closed December 1 until June 14.) Stop in Turner Valley for an after-hike meal. We recommend the Chuckwagon Caf, but you need to be done your hike early if you want to eat here. The restaurant is only open until 3:30 p.m. on weekends. The cozy restaurant is located in a big red barn and is known for its hearty burgers and all-day breakfast. Then, drive through Okotoks to get back to Calgary.
If you're not the kind of hiker to start early and finish early, still drive south along the Highwood Pass for the incredible views but make a stop in Longview instead. Pick up a pack of jerky from the Longview Jerky Shop – you can't go wrong with its original flavour.