Come wintertime, you head west to play outside, right? We Calgarians rarely venture in the opposite direction, but if you're up for an offbeat adventure, drive five hours east to find a hidden pocket of alpine paradise.
Located just southeast of Medicine Hat, Cypress Hills Interprovincial Park straddles the Alberta-Saskatchewan border, Canada's first and only interprovincial park. Rising from the prairie like an island from the ocean, the ancient mountains are the highest point in mainland Canada between the Rocky Mountains and Labrador. The park's tiny townsite, Elkwater, sits at nearly the same altitude as Banff.
This high country was formed by layer upon layer of sedimentary deposits, followed by millions of years of erosion. Later, during the Ice Age, glaciers flowed around the Cypress Hills, but never swallowed them. Today, the park is a geographical anomaly with a cooler, wetter microclimate and unique ecosystem of evergreen forests, aspen woodlands, wetlands, lakes and grasslands. In summer, it's a magnet for nature-lovers. In winter, it's a hushed, magical realm of snow, ice and skies forever.
What to do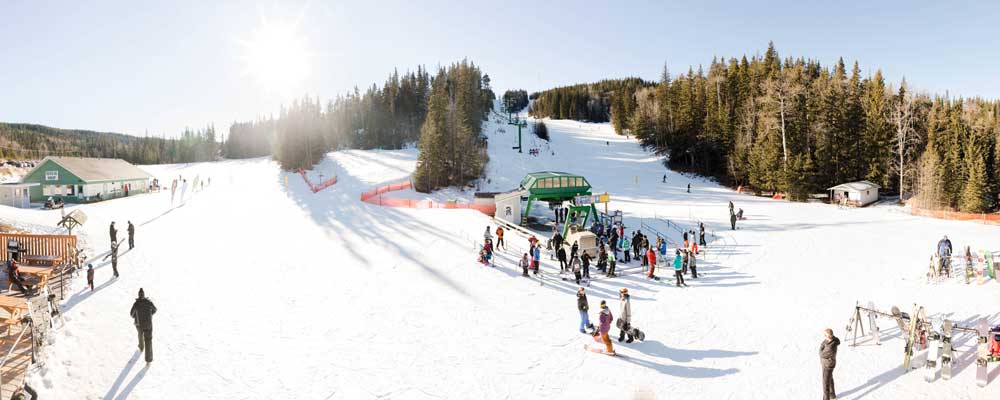 Hidden Valley Ski Resort.
From the beginning of December to the end of March, Hidden Valley Ski Resort returns you to the blissed-out days of small-hill skiing from when you were a kid. The vibe recalls former family-friendly ski areas such as Wintergreen near Bragg Creek or Pigeon Mountain at Dead Man's Flats, however, the snow at Hidden Valley is consistently better. It's not uncommon to see a dump of thick, fluffy powder in early March – and there are practically no line-ups. With 656 vertical feet (200 metres), the resort offers gentle beginner slopes, some good intermediate cruisers and a couple of more challenging runs, plus a terrain park that's great fun for boarders and two-plankers alike.
Started by locals in the 1960s, Hidden Valley is now run by Alberta Parks, which took it over in 2015. "People don't think about coming from west to east to ski, but it's an affordable way to have a weekend away," says Mike Ractliffe, head of visitor services for Alberta Parks in Cypress Hills. Lift tickets are $40 for adults, $35 for youth and $30 for children. The resort's Mountainside Caf in the day lodge serves good salads, soups, burgers and, of course, fries, while the upstairs Snowflake Lounge is a cozy spot for an aprs-ski beverage.
More Winter Activities in the Hills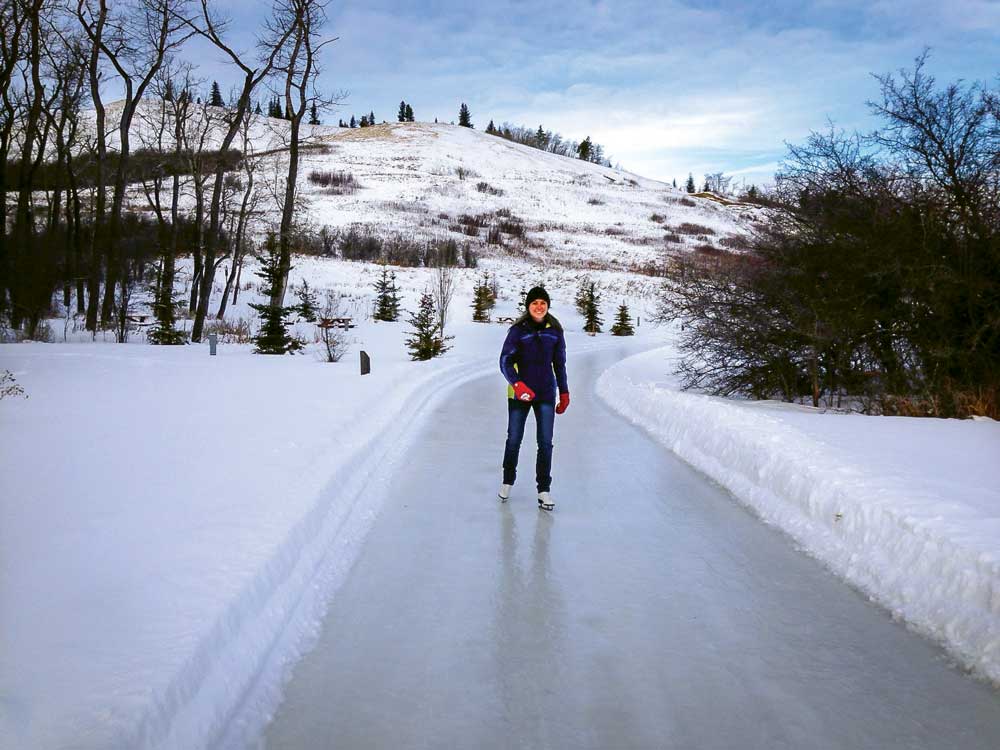 Skating at Old Baldy campground loop.
In addition to downhill skiing, Cypress Hills has a good variety of other winter recreation activities as well. There are more than 30 kilometres of groomed Nordic ski trails in the area. Spring Creek Cross-Country Ski Trail System, a 10-km loop located just a short drive from Elkwater, is one of the most popular Nordic-skiing destinations in the region and fat biking is permitted on all groomed and track-set ski trails in the system, with the exception of the Spring Creek loop.
Ice skaters can take a twirl or play hockey on Elkwater's outdoor skating rink or glide along the Old Baldy Campground loop, a 1.5-km skating trail that is flooded and groomed during the winter months.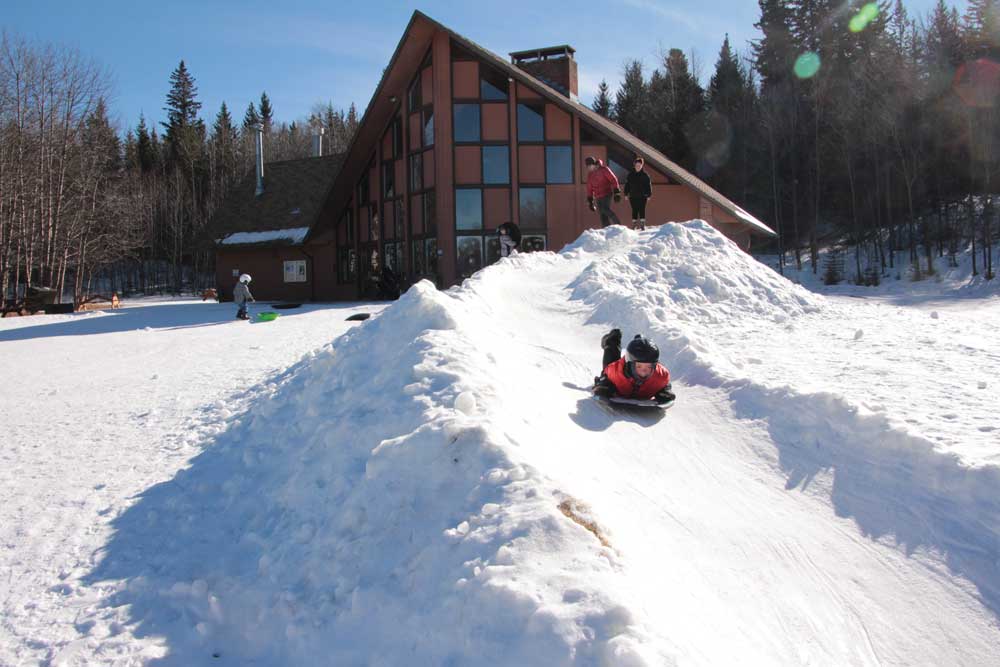 The Alberta Parks' Learning Centre grounds feature a banked snow slide during the winter months.
Kids will love the luge, a banked snow slide in front of Alberta Parks' Learning Centre, which serves as a warming centre in winter with free hot chocolate on weekends. The nearby Visitor's Centre also rents skis, skates, snowshoes and kick sleds.
If you've got a sport-fishing license, you can ice fish for rainbow trout at Reesor Lake, Arctic grayling, walleye and brook trout at Spruce Coulee Reservoir and northern pike and yellow perch at Elkwater Lake. Or, try your luck with Battle Creek's brown trout.
Where to Eat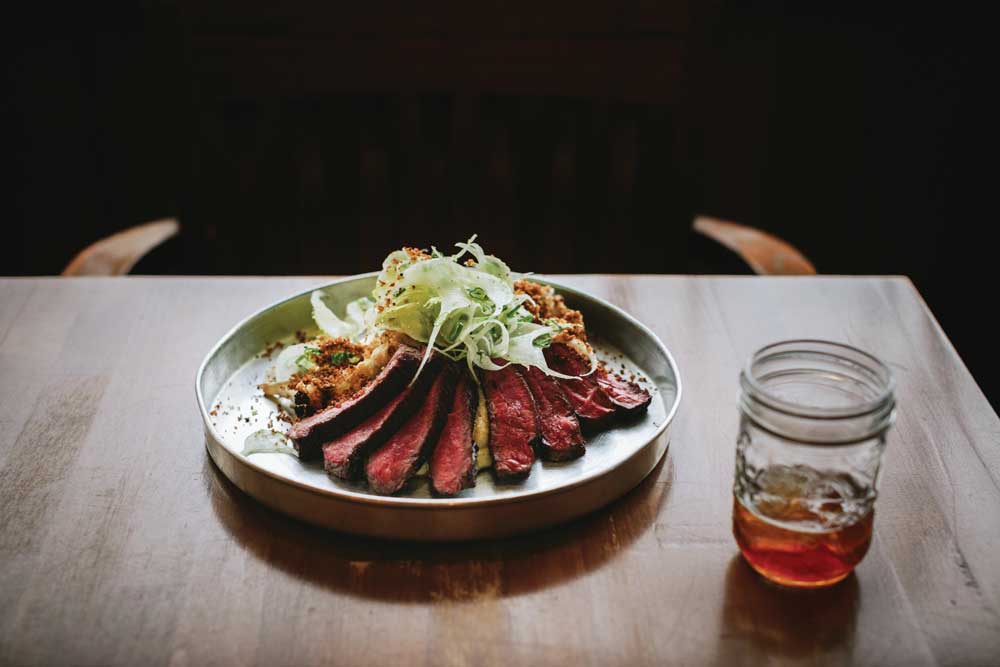 Smoked chuck steak on cheesy grits with roasted cauliflower and shaved fennel salad at Camp Cookhouse. 
This licensed restaurant, grocery/liquor store and gift shop-cum catering operation is run by Top Chef Canada alumnus Becky Ross and her partner Alexander Bruveris, who purport to be committed to old-school food preparation "even if it kills us." Ross and Bruveris pickle and can local produce, bake bread and cure meat. The lunch and dinner menus are changed up every two to three weeks, though you can always count on finding some take on comfort food with an imaginative spin (think confit-style chicken leg on a bed of mash along with ratatouille, smoked beets with feta and arugula dressed with vinaigrette). Camp also pours an inspired selection of seasonal craft beer, cider, mead and fruit wine from B.C. and Alberta.
40 Lakeview Dr., Elkwater, Alta., 403-893-3930, campcookhouseandgeneralstore.com
Named for the bull elk's call in mating season, Buglers at Elkwater Lake Lodge and Resort serves breakfast, lunch and dinner seven days a week. Splash out with a 10-ounce rib-eye steak of local AAA beef or tuck into the pan-seared pork tenderloin served with apple chutney, scalloped potatoes and seasonal veggies. Breakfast is classic: two eggs as you like 'em, with ham, bacon and sausage, potatoes and toast or pancakes slathered with berries and whipped cream – not to mention generous coffee refills.
401 4 St., Elkwater, Alta., 403-893-3811, elkwaterlakelodge.com 
Where to Stay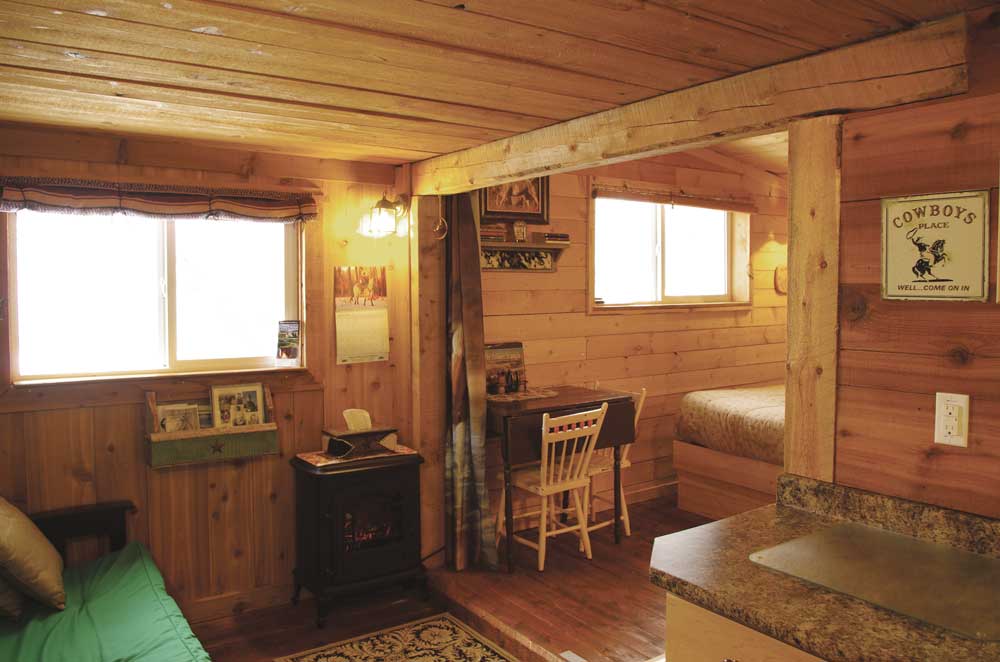 The cowboy cabin at Historic Reesor Ranch.
It doesn't get more authentic than Historic Reesor Ranch, located within the park just a coyote's whisker over the Alberta-Saskatchewan border. The Reesor family has been cattle ranching here since 1904.
The 100-year-old ranch house's B&B isn't open to visitors during the winter but you can stay in the ranch's cowboy cabin or bunkhouse. The latter once housed hired hands and now sleeps six, while the rustic cowboy cabin, nestled in the trees to one side of the ranch yard, is perfect for two. Finished inside with rough-hewn, fragrant Cypress Hills spruce planks and decorated with all things horsey, there's even a two-person jetted tub. Bring your own dinner fixings to cook on the hot plate in the tidy kitchenette, or barbecue on the covered porch. The Reesors also provide items for a self-catered power breakfast: bacon, eggs, hash browns, bread, jam, peanut butter, juice, coffee, tea, yogurt and hot cereals, as well as fresh and canned fruit.
The two hardy ranch dogs, Justice and Dolly, will greet you when you arrive and essentially lead you on a three-km snowshoe loop. Kinnikinik Kliff Trail climbs up through an enchanted forest to a wide plateau affording spectacular views of the Battle Creek Valley below and the Cypress Hills rolling south and west. Aim to catch a glorious sunrise or sunset.
One thing to keep in mind is that even though it's only 30 km through the park from Elkwater to Reesor Ranch, it's serious winter mountain driving, and an all-wheel- or four-wheel-drive vehicle is recommended.
306-662-3498, reesorranch.com
If you want a more conventional stay, Elkwater Lake Lodge is the premier destination in the Cypress Hills. Situated near the lake and only five minutes from Hidden Valley Ski Resort, it has 38 rooms (some with fireplaces), three cabins open during the winter (six during the summer) and 12 well-appointed condominium units. The rooms are spotless, spacious and contemporary. Request one with a Jacuzzi tub, or go for a soak in the lodge's indoor salt-water pool and hot tub – you'll need it after all those ski runs.
401 4 St., Elkwater, Alta., 403-893-3811, elkwaterlakelodge.com