There's much ado about the abbreviated summer season here in Calgary, but what people forget is what this latitude-endowed city lacks in the number of summer days it makes up for in the number of hours in those days. The first two and a half weeks in July see day lengths (the amount of time between sunrise and sunset) of over 16 hours. And if you include "civil twilight" (the time when the sun is just below the horizon so there's usually enough natural light to do outdoor activities) you get about 17-and-a-half hours. Even Labour Day, the spiritual end of summer, which falls this year on Sept. 3, will log just under 13-and-a-half hours of daylight before sunset at 8:17 p.m. The best thing about having daylight until 9 p.m. is that a world of possibility opens up in the way of evening recreation. Ever heard the saying "there are not enough hours in the day?" Calgary's summer days offer the opposite. With that in mind, here are five things you can do to make the most of it.
Go for an Evening Swim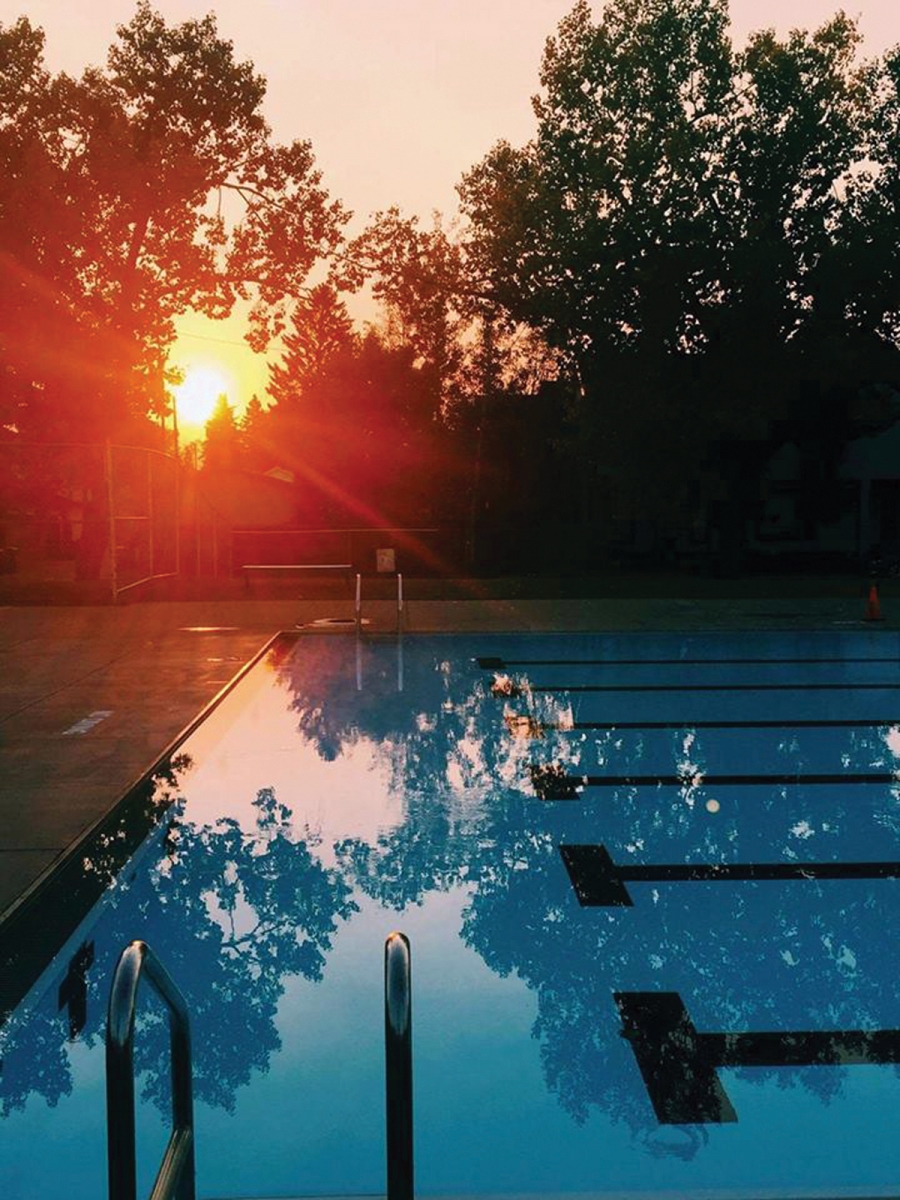 Bowview outdoor pool.
Most of the outdoor pools in the city stay open until 7 or 8 p.m. during July and August so an after-work swim is totally doable. One of the best things about evening swimming? No crowds (all the wee kiddies have gone home for din-din by then), which means lots of free lounger chairs and less chance of getting bopped on the head with a pool noodle (at least by a stranger). All the city's outdoor pools have their charms, but the South Calgary pool is particularly charming, with a grove of trees along the south fence creating an urban-oasis effect. It's also just across the field from the Giuffre Family branch of the Calgary Public Library, so you can pop in and check out some magazines if you need poolside reading material. Most of Calgary's outdoor pools are run by the Calgary Outdoor Swimming Pools Association (COSPA), so visit calgaryoutdoorpools.ca if you're looking for schedules and other information.
Take in the Super-touristy Parts of Banff National Park
There's a reason why natural attractions in Banff National Park such as Johnston Canyon, Moraine Lake and Lake Louise draw busloads of tourists during the summer months – they're amazing. What's not amazing is trying to take in the wonder of your surroundings amidst selfie-stick-bearing throngs. Rather than becoming jaded about going at all, just go later in the day. Time your arrival for around 6 p.m. and you'll still have two-to-three solid hours of daylight to enjoy your surroundings, but with ample room to breathe.
Take Up Photography
Photographers refer to the time when the sun begins to lower in the sky as the "golden hour" or "magic hour." Technically speaking, having longer days doesn't mean a longer magic hour, but that said, the extended evenings of Calgary summers mean you can take your sweet time driving out to find beautiful things to capture. The mountains are always a reliable source of photographic grandeur, but try heading east instead and opening your lens to the amazing lemon-yellow canola fields just beyond the city limits that take on an otherworldly glow in the evening sun. If you want to up your game beyond point-and-shoot, the Camera Store presents a monthly Intro to Photography seminar. Catch the next one on the evening of Thursday, July 26, from 6:30 to 8:30 p.m.
Tennis, Everyone!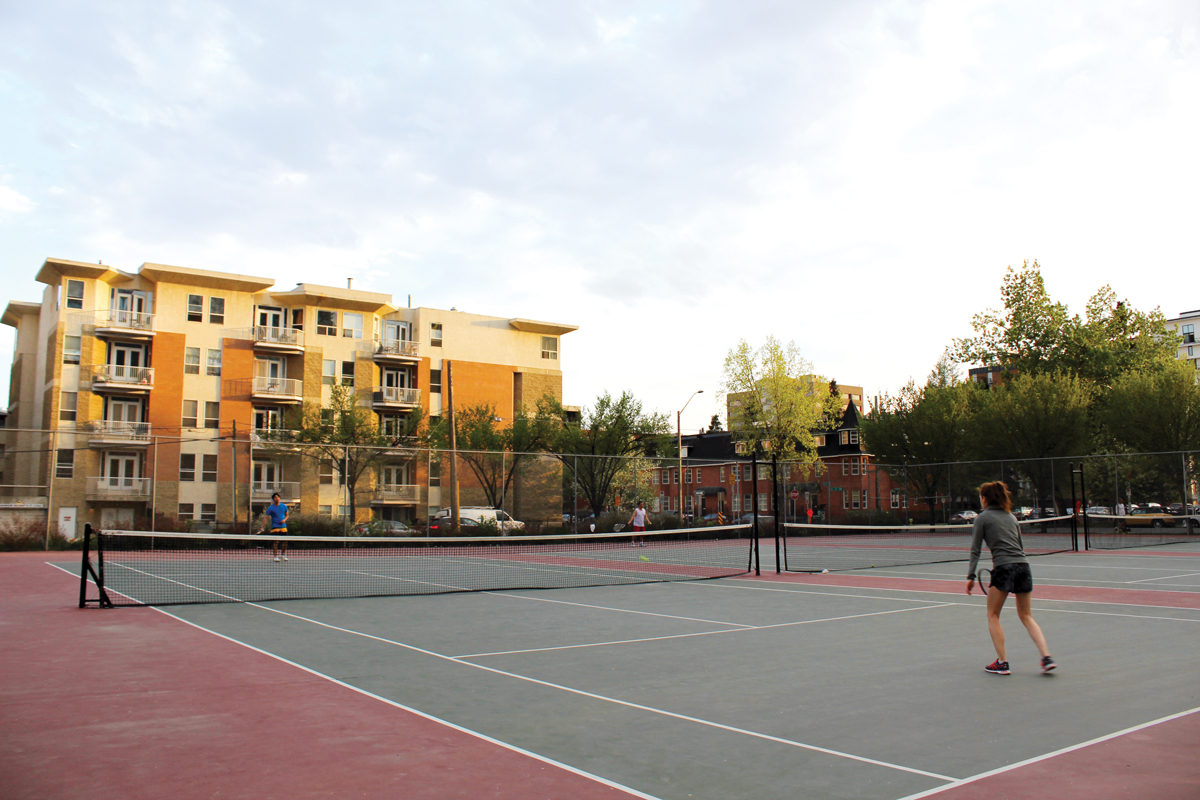 Evening tennis at Haultain Park outdoor courts.
You don't have to be part of a fancy private club to play tennis in Calgary. There are decent community courts in neighbourhoods throughout the city, providing myriad options for an evening game. The endless twilight means that even if you have to wait a half-hour or so for a court to open up, you'll still be able to get in a good rally before sundown. Ace your evening of tennis by heading to a patio for post-game gin and tonics – you can't do much better than the "Super Sonic" version served up at Joey Restaurants, which is enhanced with thirst-quenching citrus slush. (And check out our patio guide for more aprs-tennis ideas.)
Folkin' Eh
The Calgary Folk Music Festival, which runs for four days starting on the Thursday before the last weekend in July, has been around for 38 years now, and a big part of the reason for its longevity is that there's nothing quite so lovely as a peak-summer evening at Prince's Island Park. The tarpie set might insist that you have to get there early to stake your claim to stage-front real estate, but that's only one way to Folk Fest. The other is to show up in the late afternoon and meander the grounds, maybe catching a late-day set on one of the side stages and browsing the boho jewellery offerings in the market tents, before ordering up something from a food truck and taking it back with you into the beer gardens. There, you can down pitchers of sangria under the trees until it gets dark – that's when you'll know it's time to get off the island.