There's a new fitness centre in northeast Calgary. You'll get a great workout, but it will remind you of the days when you played on the school playground during recess. InjaNation is a ninja warrior- and obstacle race-inspired facility suited for competitive athletes, Calgarians looking for a workout and families.
The 55,000-square-foot space officially opened on October 29, 2016. InjaNation's three co-founders, Tim Ritchie, Mike West and John Kennedy, wanted to open a fitness centre that offered something fun and something different. And InjaNation delivers. The venue has several obstacle areas inspired by American Ninja Warrior and military obstacle course racing. There are also climbing walls, trampolines and weights for dryland training.
It caters to all abilities and ages. There is a play area for toddlers, a course for kids and courses for adults. When designing the courses, there was input from local athletes and Olympians including Jessica Zelinka and Faye Stenning to make sure the courses were challenging, but also doable. And, the co-founders visited 60 similar locations across North American to learn what works well and what doesn't.
The venue can fit up to 375 active participants. There's also seating for up to 100 people, which will be used when competitions are held here. Leslie Stempfle, the Manager of People and Performance at InjaNation, says there are plans to hold monthly, community competitions starting in December and larger scale competitions in the future.
It's about the training (and the fun) at InjaNation, but safety comes first. Currently, InjaNation has more than 100 staff. Depending on how busy the facility is, there will be between 20 and 40 staff supervising the obstacles. Staff do all the harnessing for climbing obstacles, and offer advice and coaching tips. By March, there will also be training programs, dryland programs and multi-week development programs offered by staff for kids and adults.
One-hour general admission during peak hours (all day Fridays, Saturdays, Sundays and public holidays) is $19.95. Grippy socks for the trampolines cost an extra $2.95, but they're yours to keep. There's also plenty of free parking close by.
InjaNation celebrates its grand opening on Saturday, November 19. As well as a celebratory event, this is a charity event. Big Brothers Big Sisters volunteers will be able to visit the facility for a free, VIP experience before the centre opens up to public at 10 a.m. Also, $5 from every guest's admission on Saturday will be donated to Big Brothers Big Sisters. Special, grand opening activities include competitions every hour, gifts and draw prizes. The special event runs from 10 a.m. until 3 p.m.
102, 52 Aero Dr. N.E., 587-353-4652, injanation.com
---
See what it's like inside InjaNation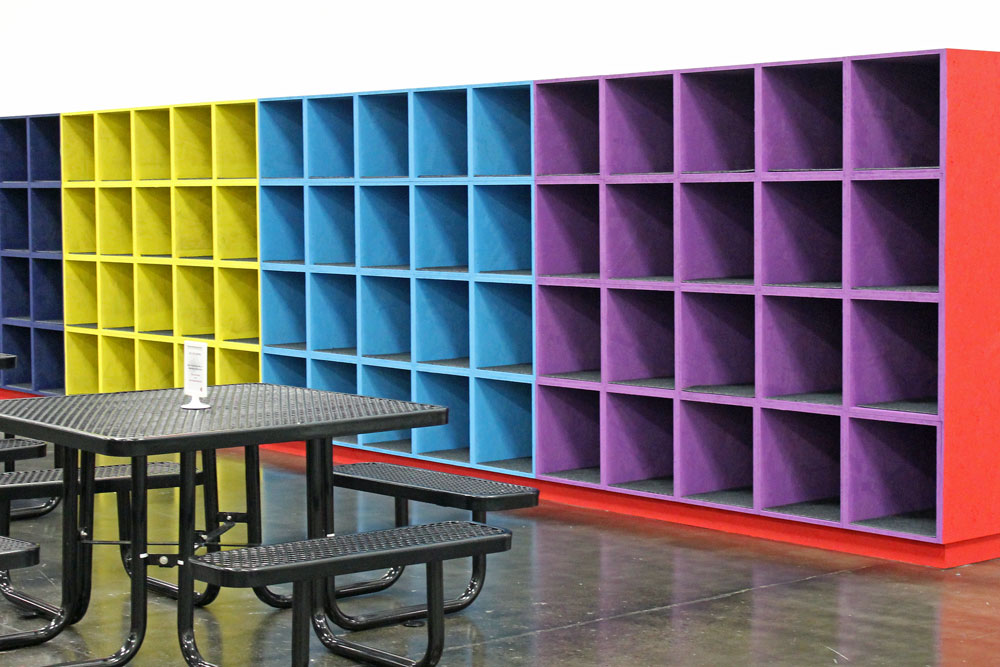 After paying admission, you'll find colourful cubby holes for your boots, coats and bags.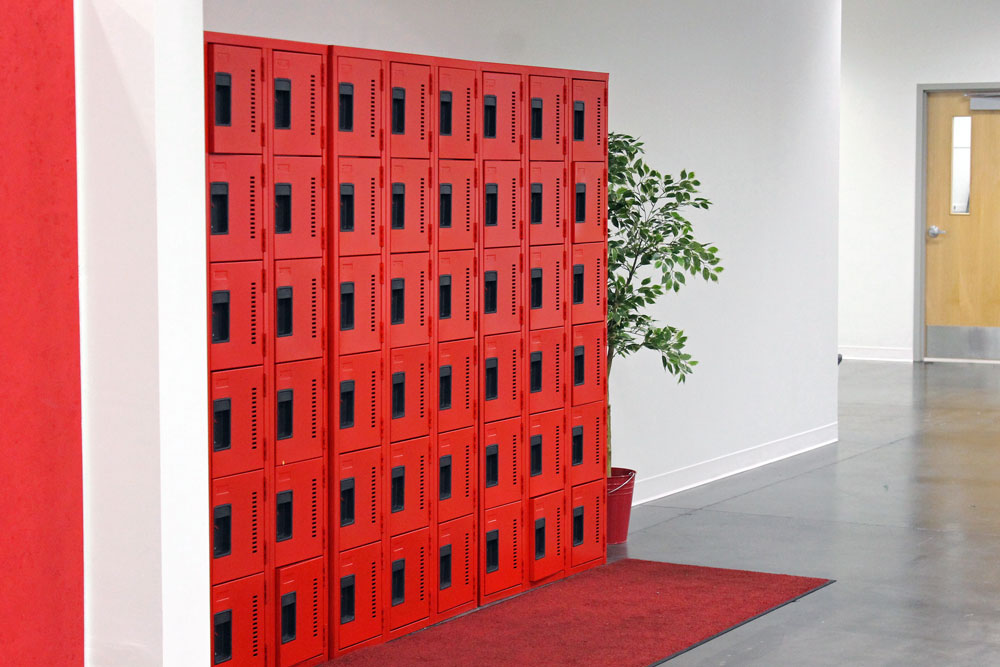 There are also lockers available for your gear.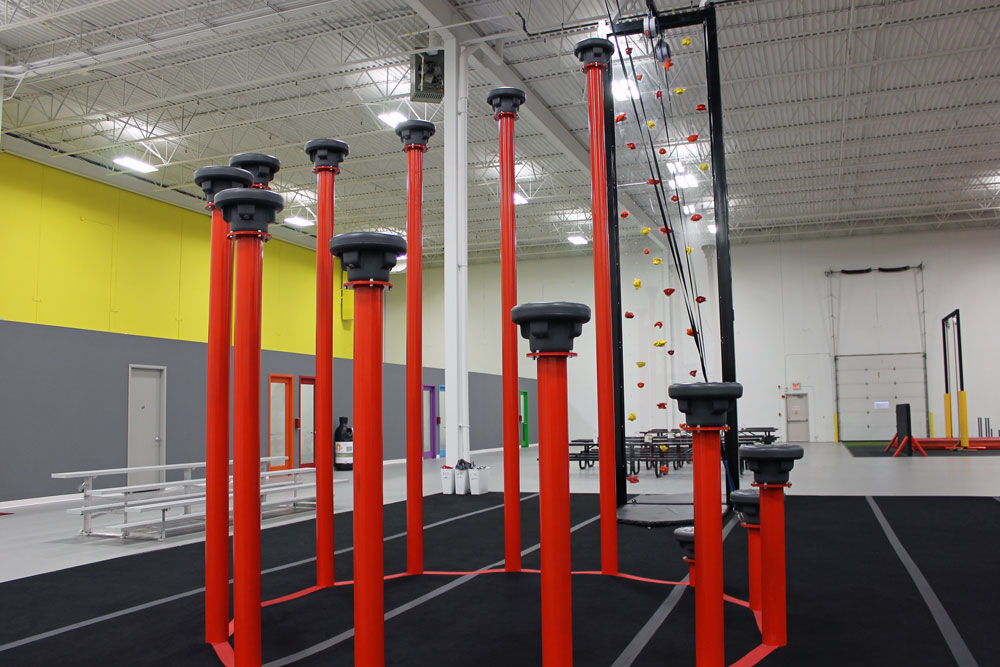 There are six main training areas in InjaNation: the Ninja Obstacle Course, the Mini Ninja Course, the Micro Ninja Area, the Military Obstacle Course, the Trampoline Park and the Climbing Walls. When you first enter the facility, you'll see the climbing apparatus. The section is made up of climbing walls (there's even a speed wall where you can time yourself and race a friend to the top) and a cargo climb (it's a big, vertical net).
This obstacle is called the Pole Climb. If you're afraid of heights, this is a good place to start. All obstacles in this area require that you wear a harness, clipped on by an InjaNation staff member.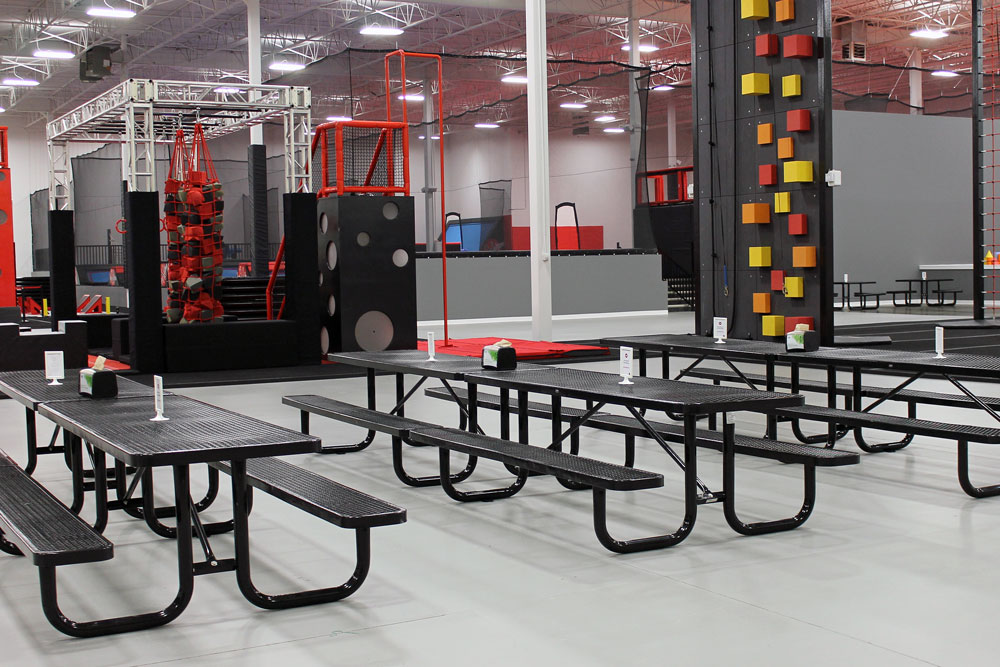 You can bring along your lunch or some snacks to eat at these picnic tables. You'll also get a good view of the Climbing Walls (left) and the Mini Ninja Course (centre) while you take a break from training.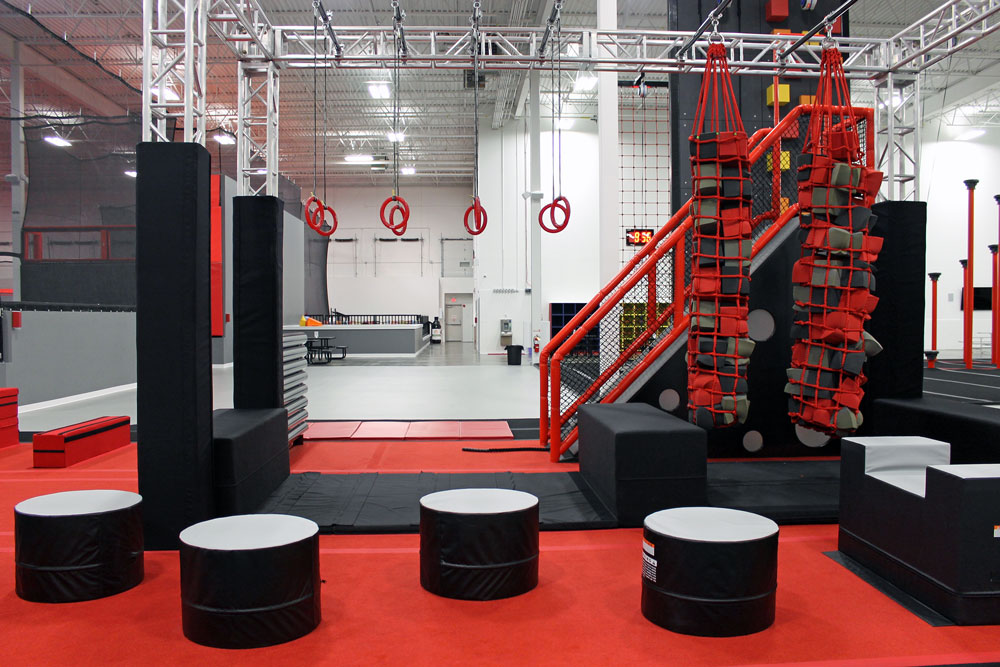 This is the facility's Mini Ninja Course. It's designed for kids ages five to 11, with obstacles that are achievable for kids. But it's not only for them – adults can also use this course if they are new to obstacle courses and want to try it out before moving onto the other, larger courses.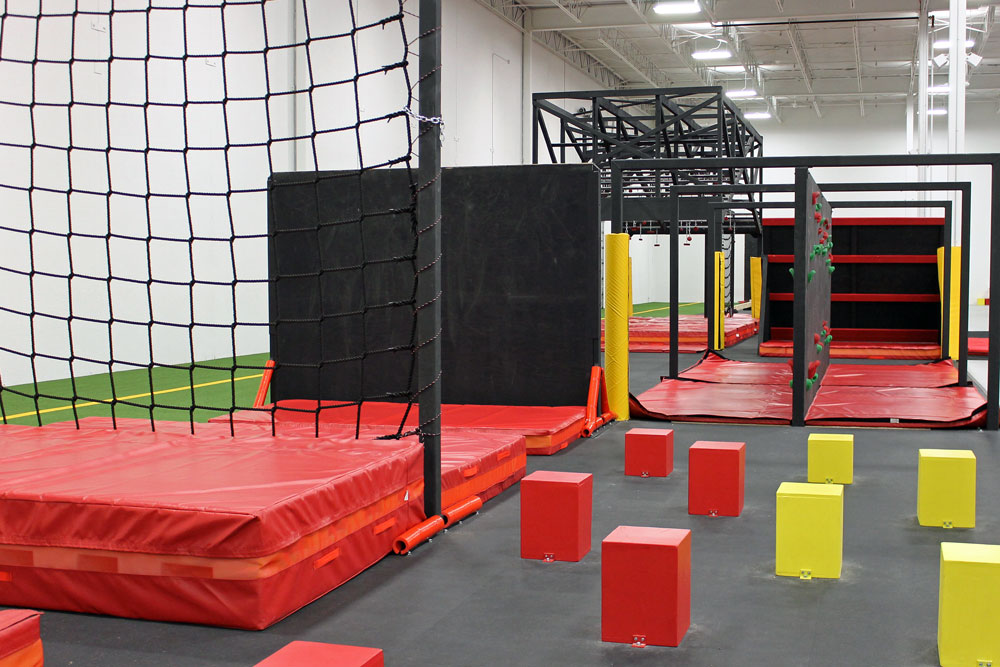 If you're interested in Reebok Spartan Races or Tough Mudder events, you'll want to try out the Military Obstacle Course. It's 200 feet long and was designed with input from high-performing local Spartan competitors and Olympic athletes. There was also design input from Craig Nadeau, InjaNation's general contractor who formerly worked in the military.
This photo shows a few of the course's obstacles, including the stepping stones, a horizontal climbing wall, the reverse climb, the eight-foot wall and the vertical cargo climb.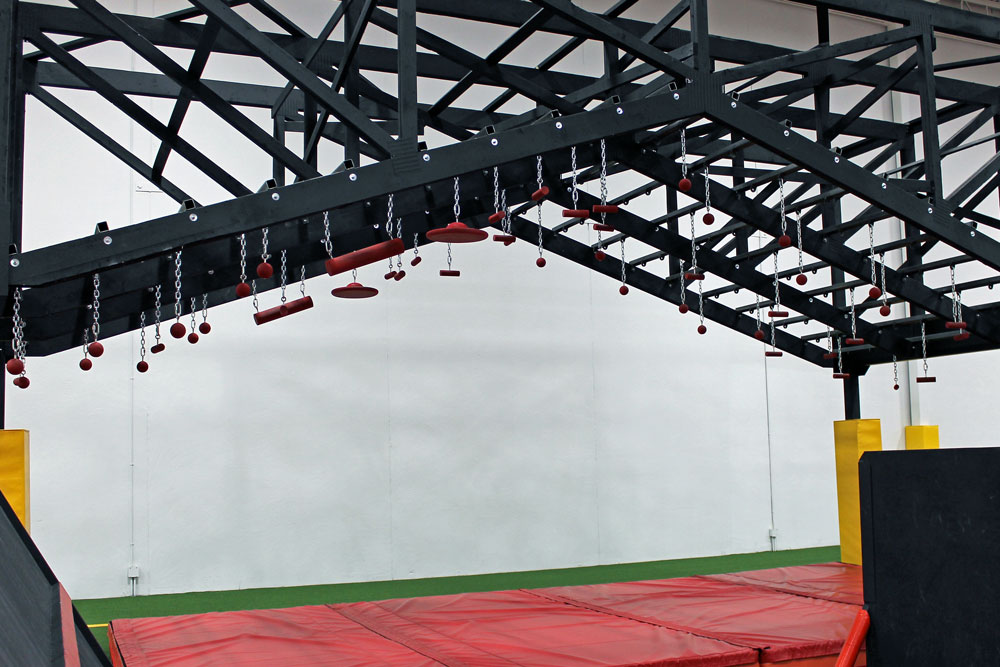 The Behemoth is another one of the obstacles in the Military Obstacle Course. It's like monkey bars, but harder – each hold is a different shape, some are harder to hold onto than others, and some require both your hands. At its peak, this obstacle is 13 feet tall. According to Stempfle, this is the hardest obstacle in the facility.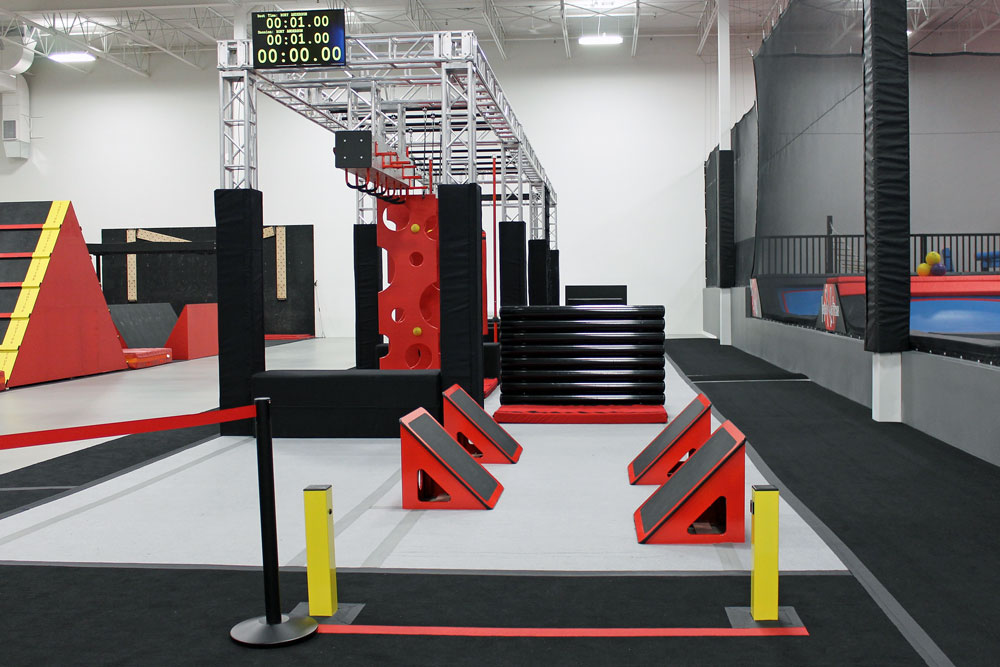 The Ninja Obstacle Course is set up between the Military Obstacle Course (left) and the Trampoline Park (right). And it's very similar to the courses you've seen on television on American Ninja Warrior. This course is even set up with sensors so you can race a friend or see if you've beat your own best time. Pass through the yellow bars, activate the sensor and the digital timing device on the course will start running.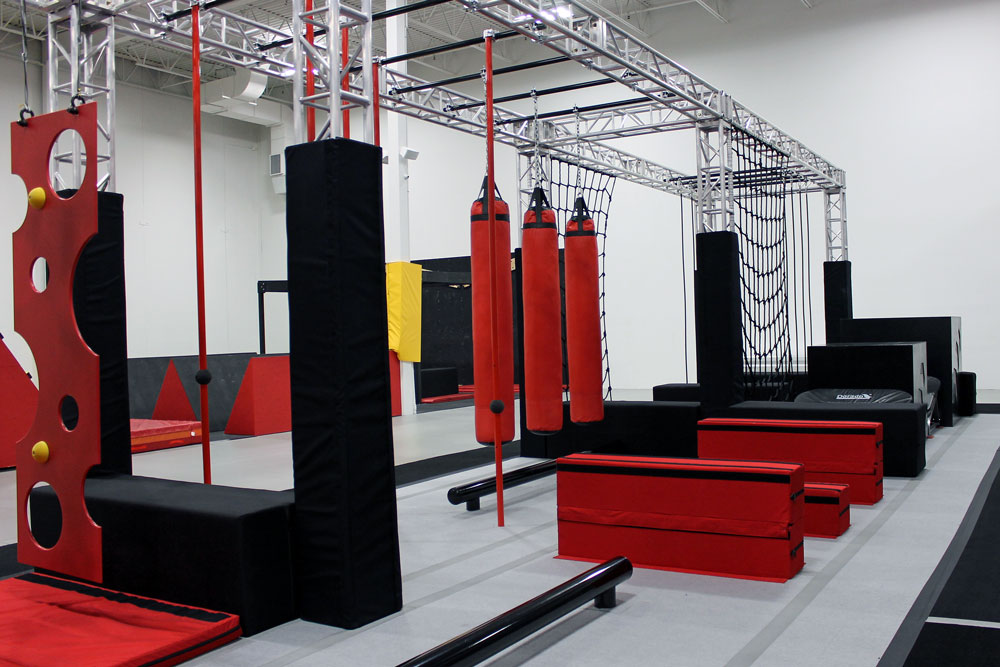 The course has obstacles like a rounded balance beam, trampolines and monkey bars. According to Stempfle, obstacles can be added and built onto what's already here to change it up and make it more challenging.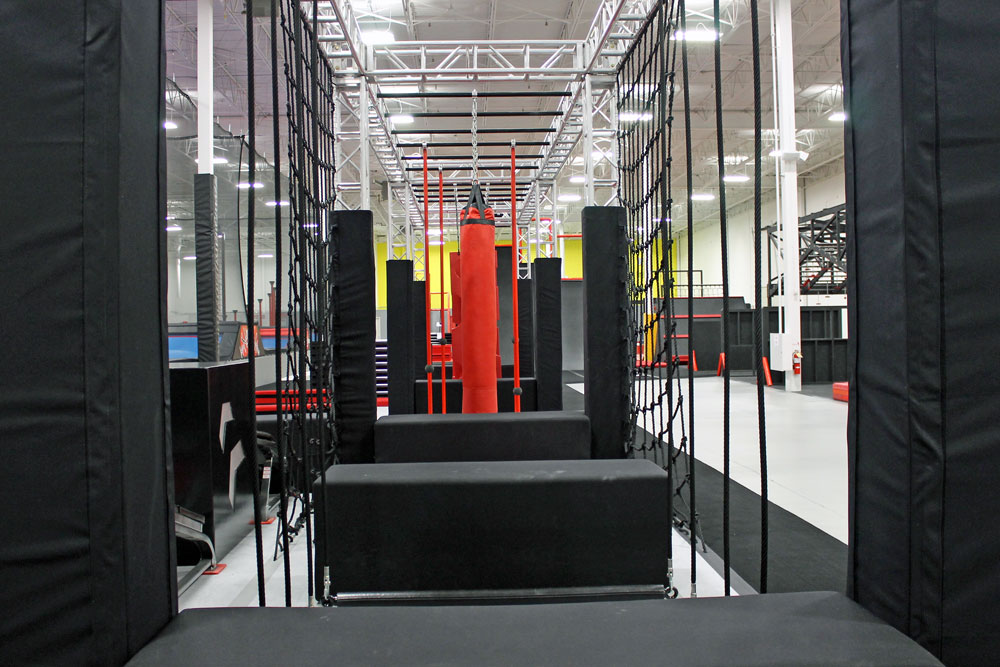 The view an athlete will get when they are halfway through the Ninja Obstacle Course.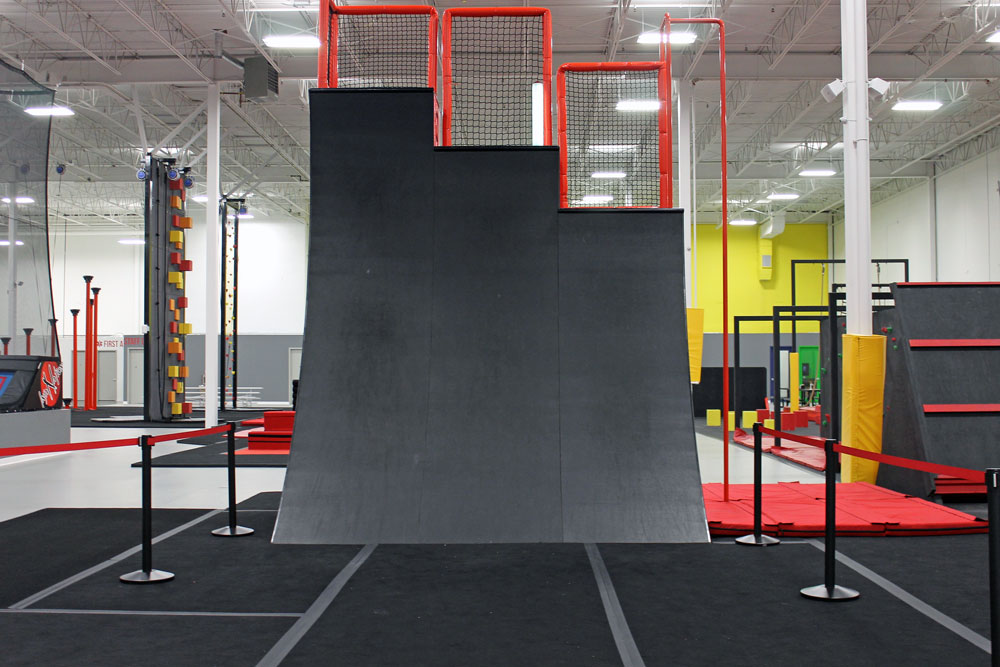 Of course, the Ninja Obstacle Course has to have a Warped Wall. There are three heights to choose from, depending on skill and experience. The shortest is 10 feet tall (right) and the tallest is 14 feet tall (left). This is the final obstacle in this course.
Stempfle says there are InjaNation staff members nearby offering tips and technique advice to help athletes through this difficult obstacle.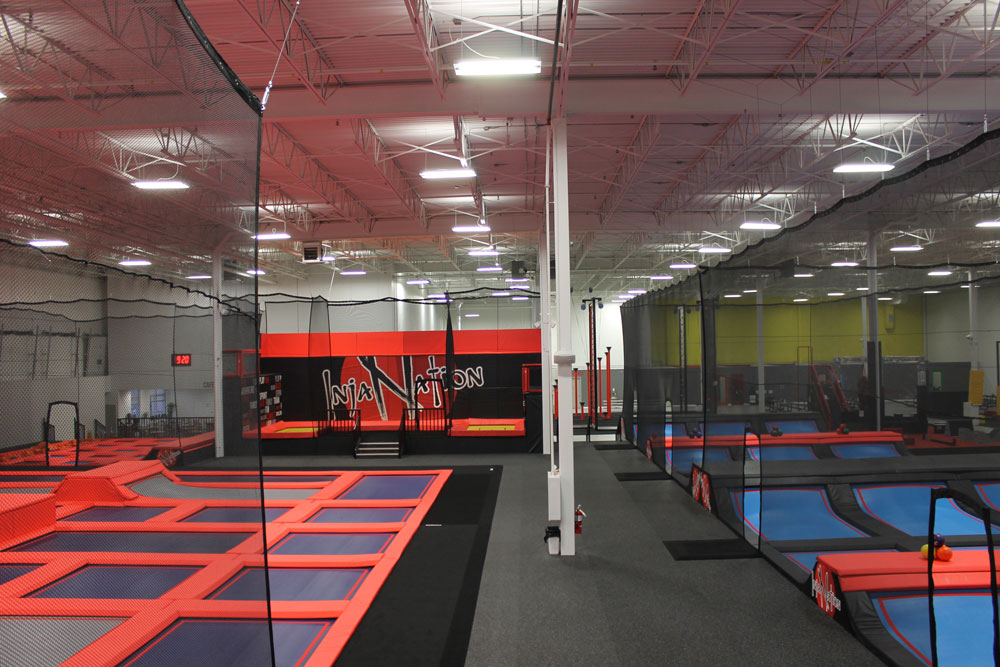 The facility also has a Trampoline Park, and this section is split up into sections too. Visitors can play trampoline dodgeball (right) or warm-up on the trampolines (right). This section also has trampolines and a foam pit just for kids, a high-performance trampoline section and a foam pit section.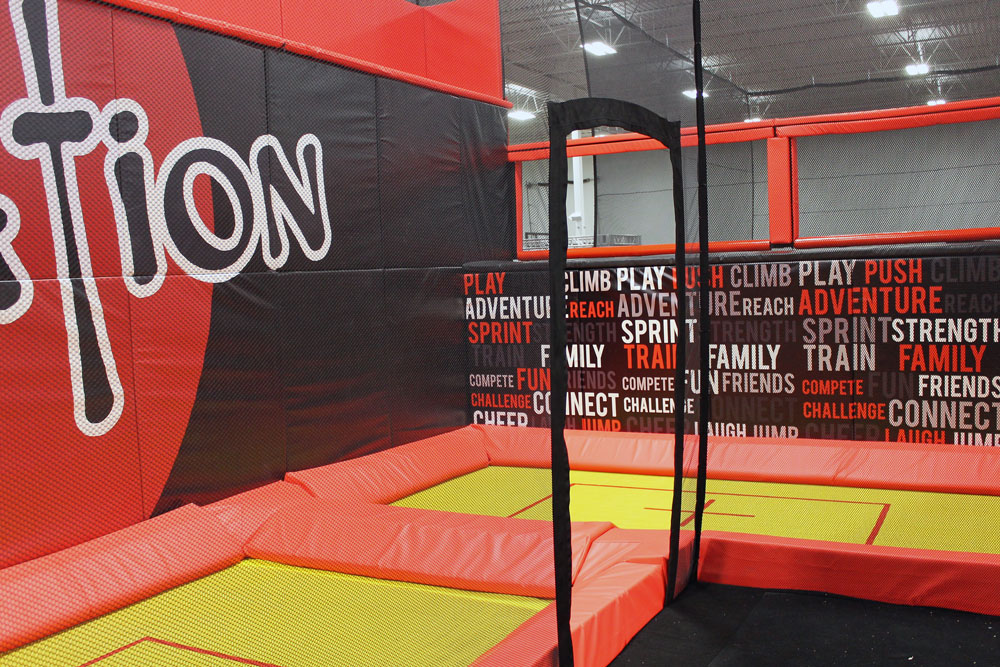 The trampolines in the high-performance section are a different kind of trampoline. You'll find athletes doing advanced moves here.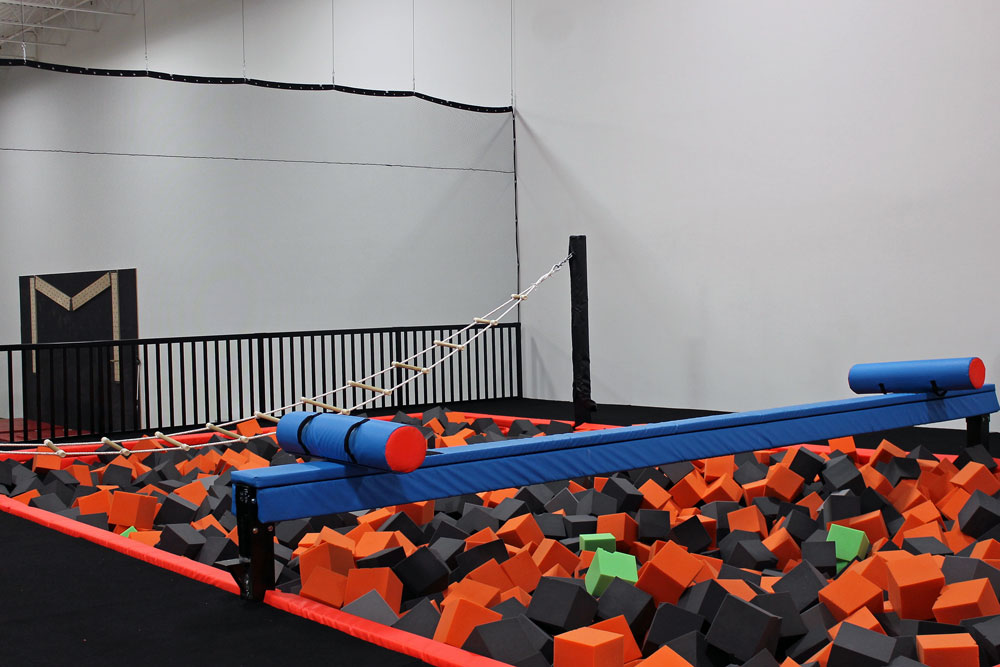 The foam pit section is just for fun. As well as the ladder and the battle beam over the foam pit (above), there's a diving board and even more trampolines.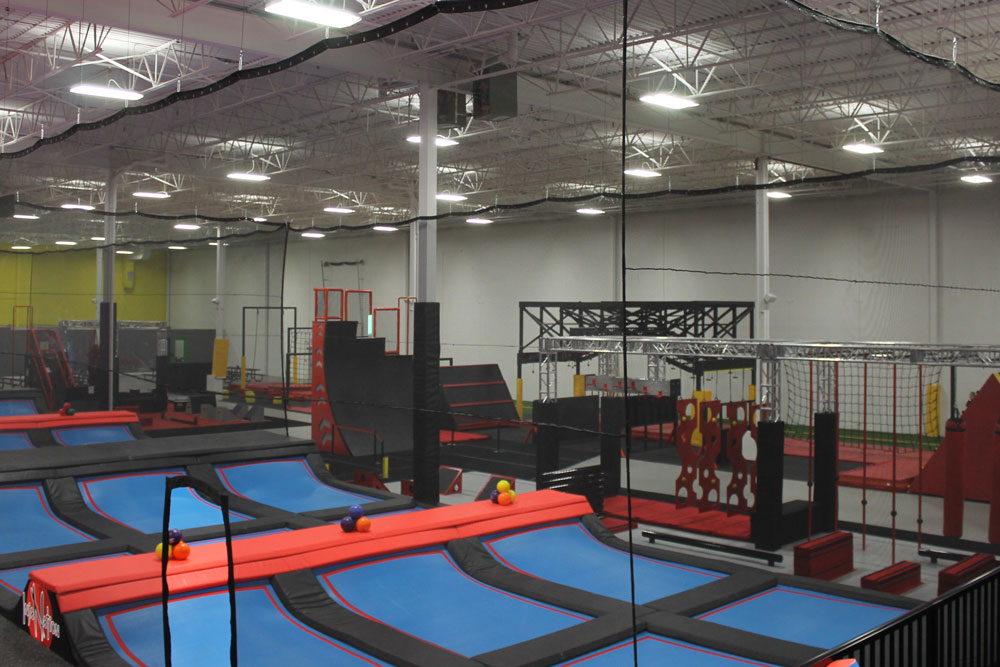 You'll get a good view of the various obstacle courses from the foam pit in the Trampoline Park.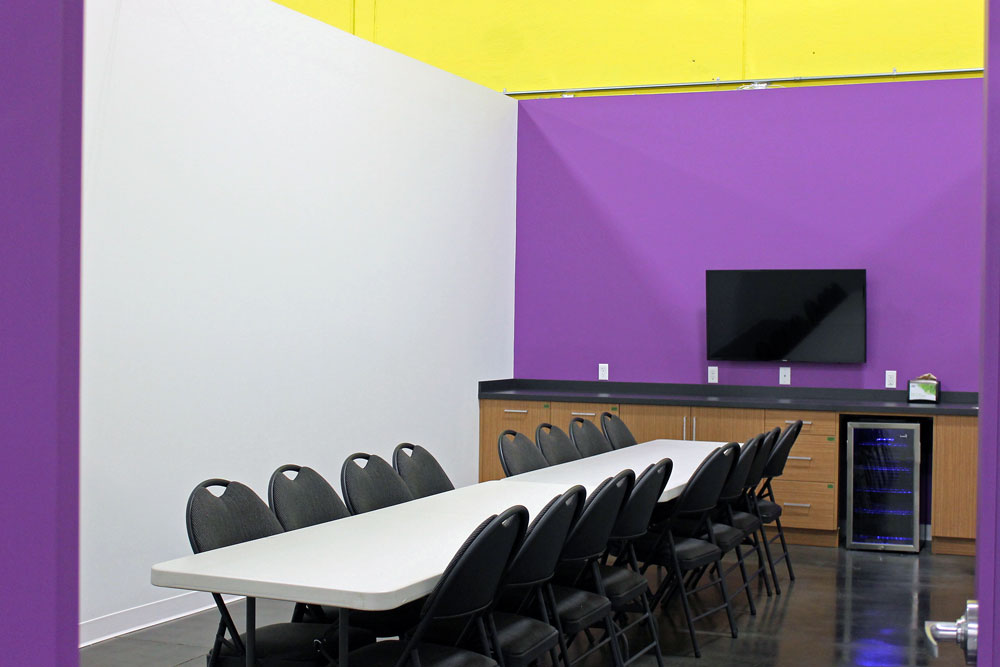 There are multiple private rooms in the facility that can be used as boardrooms or for private parties or gatherings. These rooms can already be booked for private events.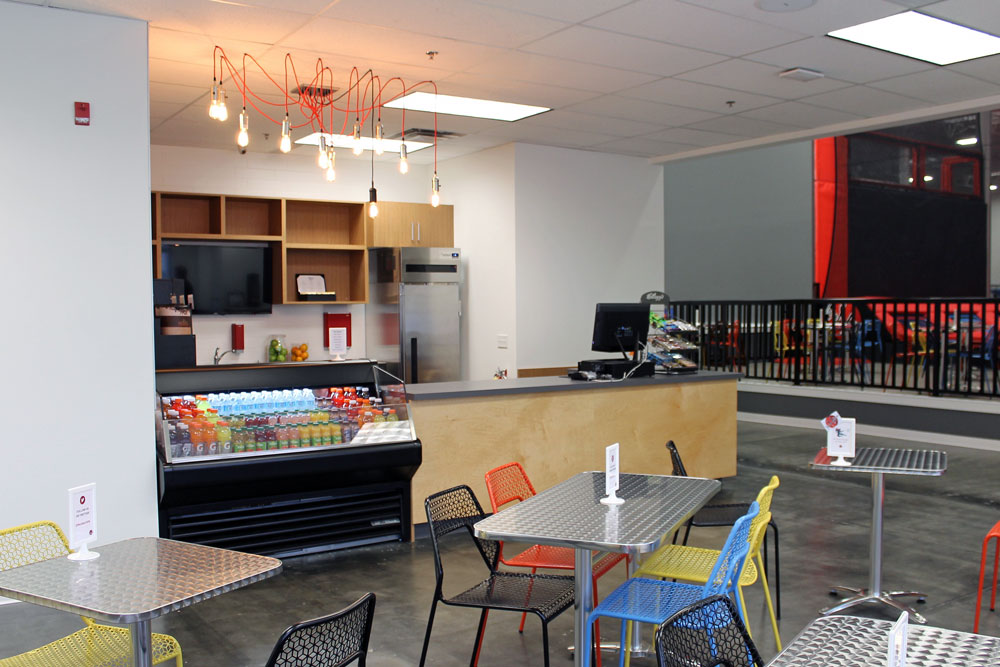 The Food N Fuel Cafe sells a range of drinks, like water, Gatorade and juices, as well as sandwiches, granola bars and other snacks. It's located right by the Micro Ninja Area and several seating areas.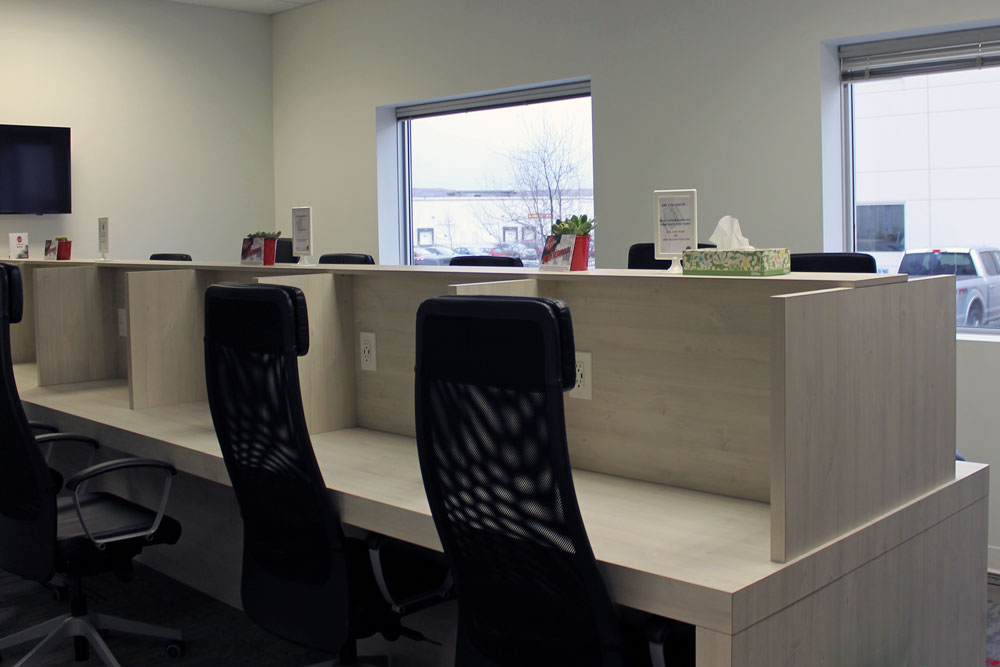 There are areas and obstacles suitable for all ages and abilities, but sometimes work just has to get done. InjaNation also has a room filled with work stations.