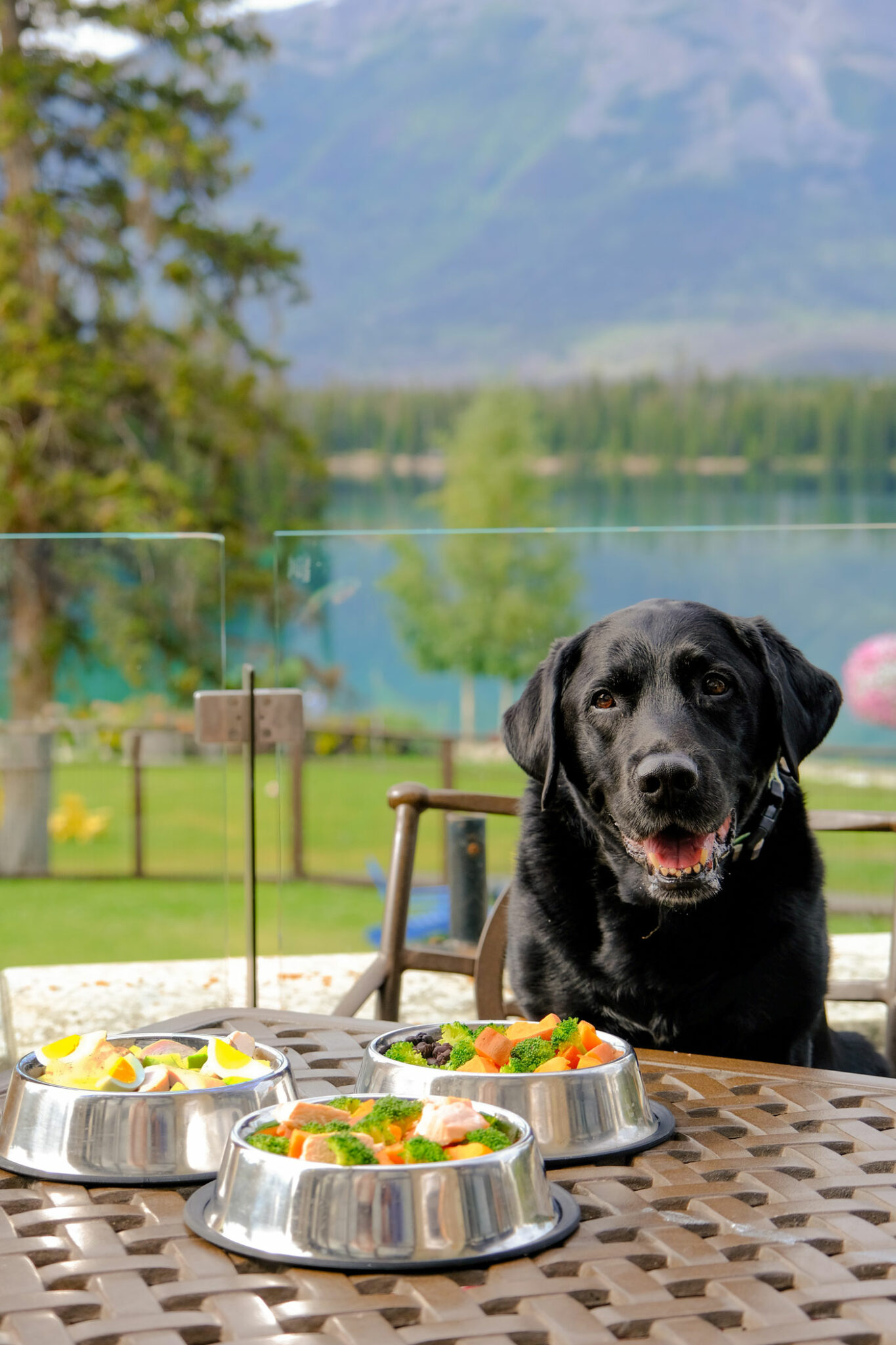 Instead of leaving your dogs behind when heading out of town on your next mountain escape, bring them along to one of these pet-friendly hotels in Alberta and British Columbia. From dog-friendly patios and take-home doggie treats to plush dog beds and great off-leash parks, these hotels provide extra-special pet perks to make your dog's weekend getaway as special as yours. Be sure to check with the hotel in advance for the latest information on bringing your dog.
Additional fee: $25 per pet, per night
In addition to its noteworthy spa amenities, the Caribou also offers pet-friendly standard rooms that include a dog bed, bowls, toys and treats to take home after your stay. The lodge's on-site restaurant, the Keg Steakhouse and Bar, also has a dog-friendly patio, so your furry friend can enjoy dinner by your side.
521 Banff Ave., Banff, 1-800-563-8764, banffcariboulodge.com 
Additional fee: $25 per pet, per night (max. two dogs allowed per room)
At Castle Mountain Chalets, located in Banff National Park, dogs are welcome in 90 per cent of the rooms. The chalets include dog beds, food and water bowls, and a special treat for your pooch. Castle Mountain Chalets asks that guests notify staff on whether or not they plan on bringing a dog before arrival.
Banff-Windermere Hwy, 403-762-3868, castlemountain.com
Additional fee: $25 per night
Located five minutes away from downtown Canmore, Copperstone Resort provides plenty of hospitality to its four-legged guests. Upon arrival, pets are greeted with a "special puppy package" that is left in their family's reserved room. The package includes a doggy-bag holder and clip and a freshly baked cookie from the Mut Hut Emporium, Canmore's boutique-style pet speciality store. The Copperstone Resort's website also provides a list of off-leash dog parks in Canmore.
250 2 Ave., Dead Man's Flats, 403-678-0303, copperstoneresort.com
Additional fee: $50 per room, per night
Jasper Park Lodge recently expanded its pet amenities: each "Furmont" guest can now expect a plush dog bed, food, water bowls, doggy bags, a welcome treat and a Jasper Park Lodge-branded dog tag as a souvenir upon arrival. In addition, the lodge has its very own "pet menu," which includes dog-tailored dishes from The Great Hound, Jasper Park Lodge's pet-friendly eating area. Dogs can also join in on activities such as paddle boarding and canoeing, or they can hang out with the lodge's trained canine ambassadors.
1 Old Lodge Rd., Jasper, 780-852-3301, jasper-park-lodge.com
Additional fee: $25 per pet, per night
The Georgetown Inn in Canmore has three designated pet-friendly rooms. With availability being limited, the inn suggests contacting the front desk in advance to make reservations with your pet. Dogs of any size are welcome, as long as they're well-behaved. Two pets maximum are allowed per room, and the inn's website includes information on walking areas and off-leash parks.
1101 Bow Valley Trail, Canmore, 403-678-3439, georgetowninn.ca 
Additional fee: $20 for one pet, $40 for two pets
The Invermere Inn & Suites offers a variety of pet-friendly rooms, and guests can find a list of nearby dog-friendly activities on the hotel's website. Among the suggestions are a visit to Ray Brydon Park (which is an off-leash dog park) and pet-friendly hikes at Floe Lake, Stanley Glacier and Juniper Trail.
Box 1080, 1310 7 Ave., Invermere, B.C., 250-342-9246, invermereinn.com
Additional fee: N/A (max. two dogs of any size per room)
Located in rural Golden, Moberly Lodge is a handcrafted log building that offers ensuite accommodations with a luxurious mountain lodge feel. All rooms are pet-friendly, but pets can only be accommodated with advance notice. There is plenty of outdoor green space surrounding the property, and dog bags are available at the front desk. Situated between the Rocky and Columbia mountain ranges, Moberly Lodge is surrounded by five national parks (Banff, Glacier, Kootenay, Mount Revelstoke and Yoho), making it the perfect base for exploring the mountains with your pet.
1402 Adolph Johnson Rd., Golden, B.C., 250-344-6676, moberlylodge.com
Additional fee: N/A
Located in the thick of the wilderness near Radium, Nipika is an off-grid resort with plenty of pet-friendly accommodations. There are more than 100 kilometres of nearby trails you can explore with your dog, as well as an open meadow right out the doors of the resort. Nipika also has three companion dogs that are often seen around the resort. Note: guests are told to bring their dog beds from home, as the resort does not provide them. Nipika also has stables on-site for horse owners who want to bring their larger four-legged companions along.
9200 Settler's Rd., Radium Hot Springs, B.C., 250-342-6516, nipika.com
Additional fee: $40 per pet, per night, plus taxes. $20 extra per day for another dog.
The Rimrock Resort, located in Banff, has a variety of dog-friendly rooms on the seventh floor of the hotel. Each of these rooms includes a dog bed, water and food bowls, dog biscuits and dog bags. A maximum of two dogs are allowed per room, and guests can reserve their dog-friendly room before arrival.
300 Mountain Ave., Banff, 403-762-3356, rimrockresort.com