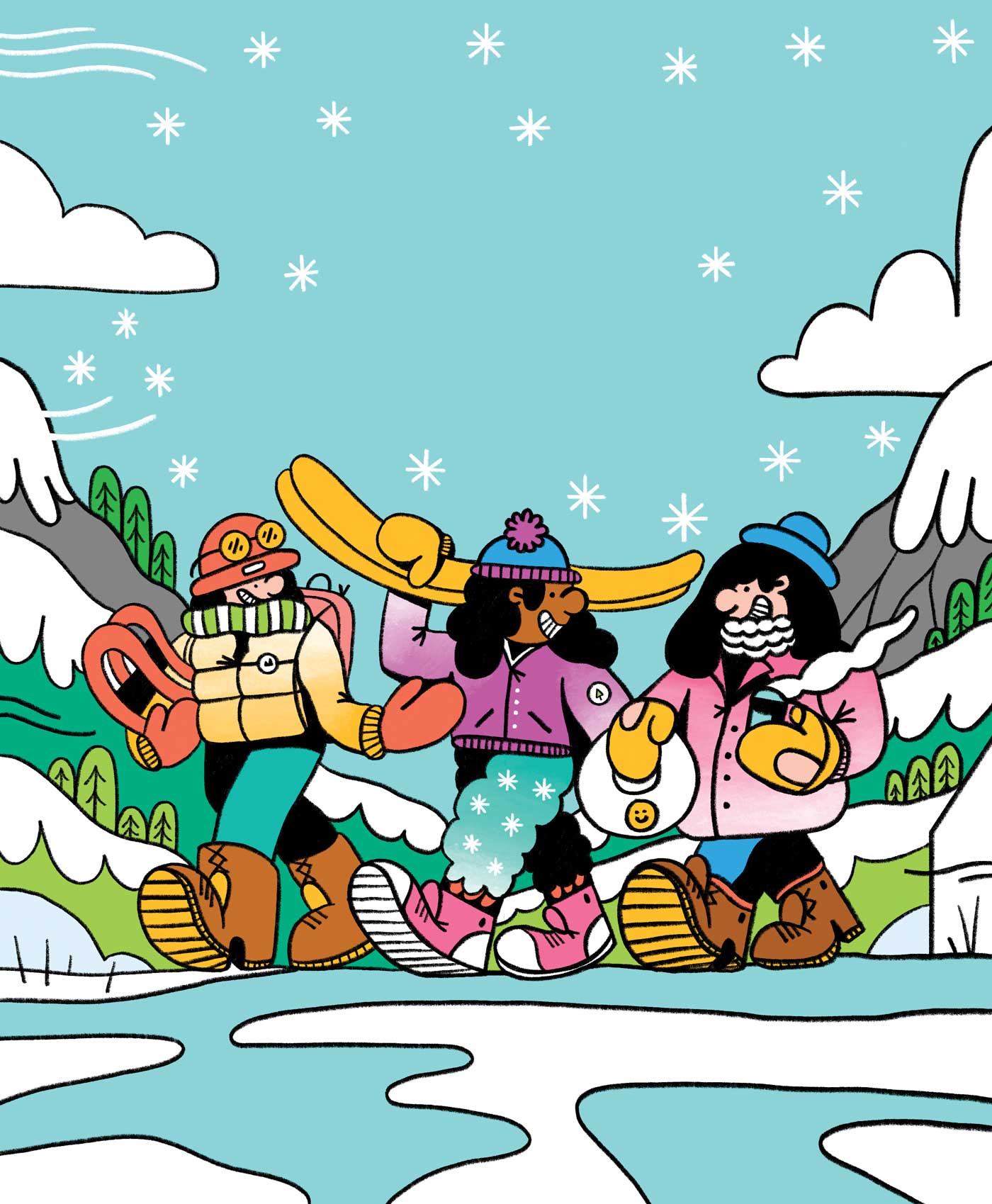 Whether you like it or not, winter is coming, and if you're new to Calgary, you may be hearing some things that leave you feeling a little uneasy about our hemisphere tilting away from the sun. So, to be upfront: Yes, winter here is long. It usually snows in October and April (and at least once in May). Yes, winter here is cold. You will experience the pinch — nay frosty burn — of -30 degrees Celsius at one time or another in the coming months.
But here's the good news: with the right clothing, you'll be good to tackle whatever winter throws at you. And, if you're willing to get dressed and get out there, you'll be enchanted by winter's pristine, quiet beauty.
Calgarians are lucky to be just a short drive away from an alpine wonderland. As the Scandinavian adage goes there is no bad weather, only bad clothes. So with that in mind, here are three winter mountain experiences to try this season and tips on what to wear so you can have the most fun.
Day Trip To Banff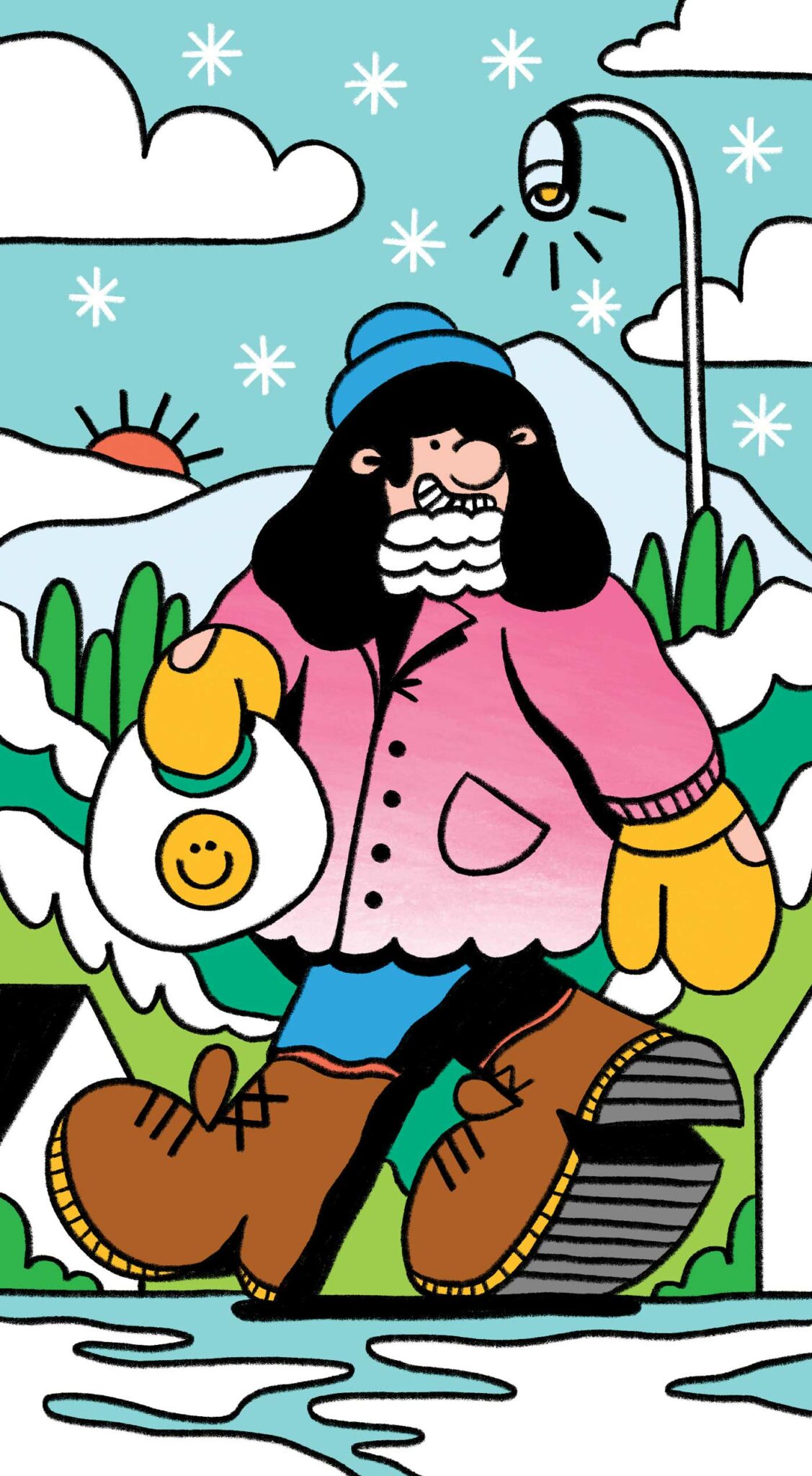 An excursion to Banff is something you can do in any season, but there's something exceptionally pretty about this mountain town in the wintertime. You can walk up Tunnel Mountain, take a dip in the Banff Upper Hot Springs and stroll the shops and eateries on Banff Avenue.
For walking around the town of Banff in the winter, you're going to need a warm and practical winter coat. Since you'll be wearing it a lot this winter, it's worth investing in one that not only keeps you cozy on bitterly cold days, but that you truly love to wear.
There are a few things to consider when shopping for a winter coat. First, go long — a coat that falls below the waist to at least your knees (or longer) makes a big difference warmth-wise. And keep materials in mind. Synthetic-fill coats are usually less expensive but wool or down coats are your best defense against the cold. Whatever you choose, always check the temperature rating — your primary winter coat should be rated for at least -20 C.
Next up, winter boots. You'll want to protect your toes from ice, snow and winter temperatures, by wearing insulated, waterproof boots with good treads. Fortunately, you don't have to sacrifice on style these days, as boot brands such as Sorel and Canadian-based Pajar (among others) make footwear that is both fashionable and practical.
Don't forget wool socks, a knit hat (known around here as a "toque") and warm gloves or mittens. A scarf helps lock in heat, too. For just walking around Banff there's probably no need for insulated snow pants, but if it's -5 C or below, you'll want to layer long underwear or tights under your trousers.
Snowshoe Walk at Lake Louise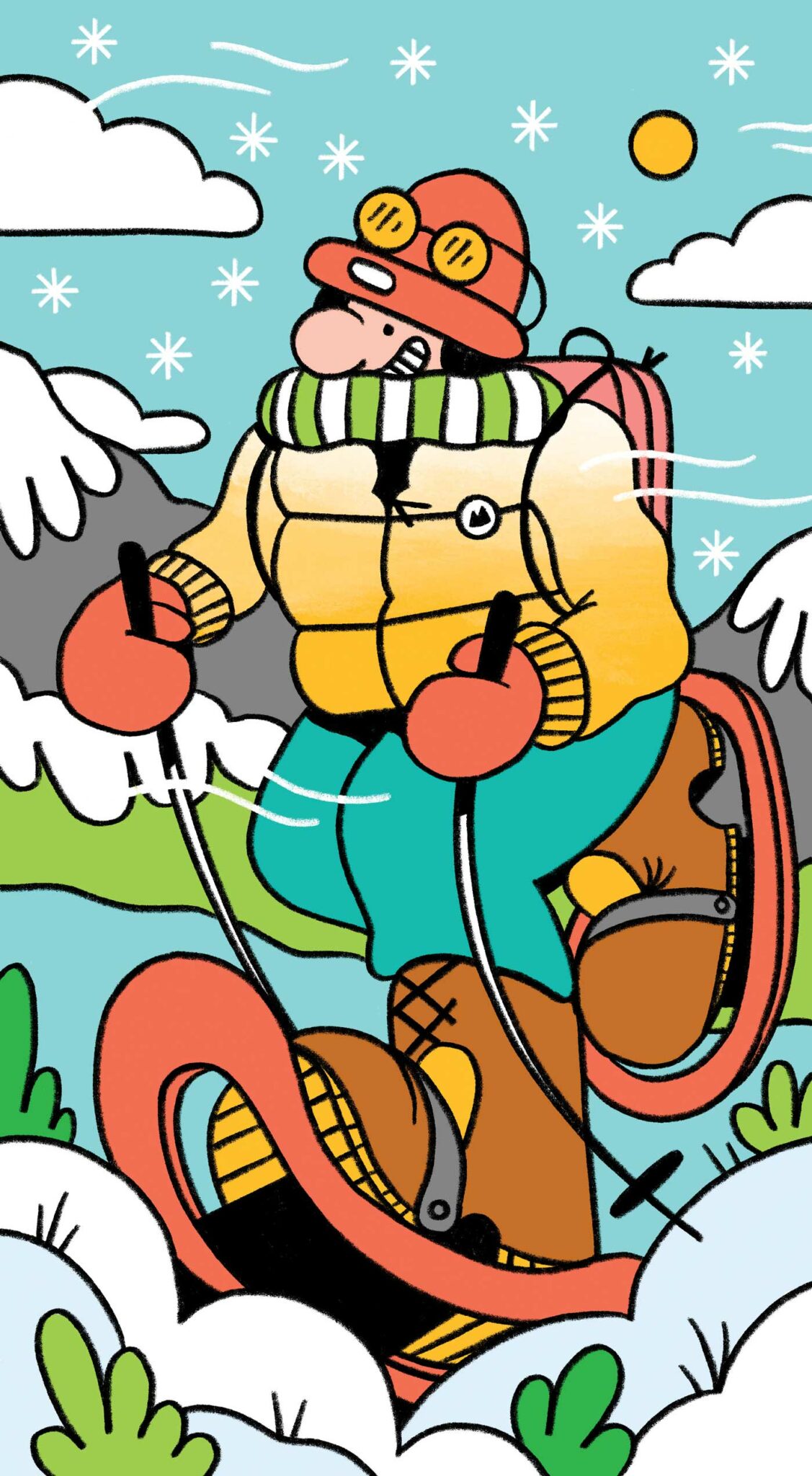 A snowshoe walk is a great introduction to winter recreation in the mountains, and Lake Louise has some of the most scenic snowshoe trails out there. Lake Louise Ski Resort offers guided snowshoeing experiences, as does the Fairmont Chateau Lake Louise as part of its mountain-adventure programming. Each year, the Chateau also clears a section of Lake Louise for ice-skating (complete with an ice castle) if you want to give "wild skating" a try.
As far as the clothing you'll need for a lower-intensity winter activity like snowshoeing, start by investing in a good base layer (long underwear set) in a synthetic or wool fabric — Icebreaker makes some of the best base layers out there.
On your feet, you'll need wool socks and a solid pair of well-treaded, waterproof boots rated for -25 C or lower. Leave your heeled boots at home if you're traversing snowy trails, regardless of how warm they are.
Top your ensemble with an insulated jacket and a pair of waterproof snow pants. Avoid non-breathable rain pants, which lock in moisture that can freeze on your skin and make you colder. This is not to say that you need to go out and spend $800-plus on highly technical outerwear — a salesperson at any outdoor gear store should be able to point you in the direction of functional items at several price points.
Complete your snowshoeing ensemble with a neck warmer, waterproof gloves or mittens and a toque. It's also crucial if you're going to be out in the snow on a sunny day in the mountains to protect your skin and eyes, as prolonged exposure to the sun reflecting off the snow can cause sunburn and snow blindness (essentially a sunburn on your corneas — temporary, but painful).
Nordic Skiing Lessons in Canmore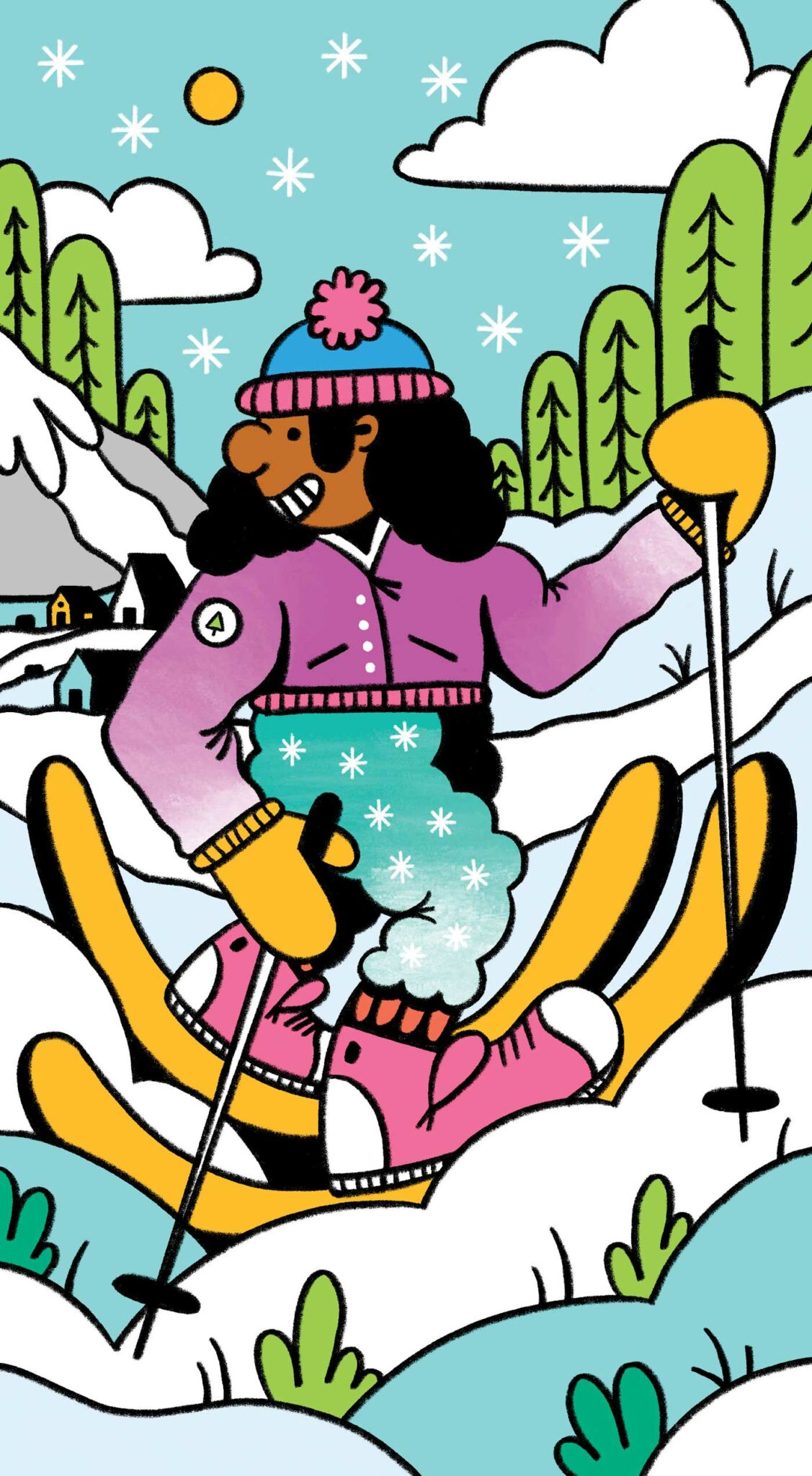 Nordic (a.k.a. cross-country) skiing is a great full-body workout and a popular winter activity. If you want to learn in the mountains this winter, Trail Sports offers a range of beginner lessons up at the Canmore Nordic Centre, a world-class cross-country ski facility just a short drive up from the town of Canmore.
When you move into more high-intensity winter adventuring, you'll want to think about layering. Your body temperature will rise with activity and you have to find the balance between staying warm and not sweating so much that you risk getting hypothermic when you stop moving. Breathable fabrics are key.
Once again, start with your synthetic or wool base layer and a pair of wool socks. On top, add a mid-layer, such as a fleece or a lightweight puffy jacket. Your outer layer should be a breathable, waterproof shell. Most high-quality shells will have armpit vents that can be zipped open to help regulate your temperature while you move. Gore-Tex items are pricey, but worth it.
For your legs, wind-resistant and breathable pants that allow for a good range of motion are ideal for cross-country skiing. You can buy cross-country-ski-specific pants, but a good pair of winter running pants or tights will also work. Bring your insulated snow pants along with you, in case the temperature drops. Even if you check the forecast, the weather in the mountains can take an unexpected turn, so always err on the side of caution.
The layering technique applies to your head and hands, too. Wear lightweight gloves with a waterproof mitten shell on top to keep your hands from getting sweaty. A lightweight tube of fabric, known as a "buff," is an ideal piece of gear for cross-country skiing, as you can wear it as a neck warmer if you're chilly or as a headband if your toque gets too hot and you need something covering your ears. Always have a toque with you out on the trails to protect your head and keep you warm when you stop for a break.
Gazing at snowcapped mountains, comfy-cozy in the proper clothing, you'll see that winter isn't scary after all. In fact, it's pretty wonderful.