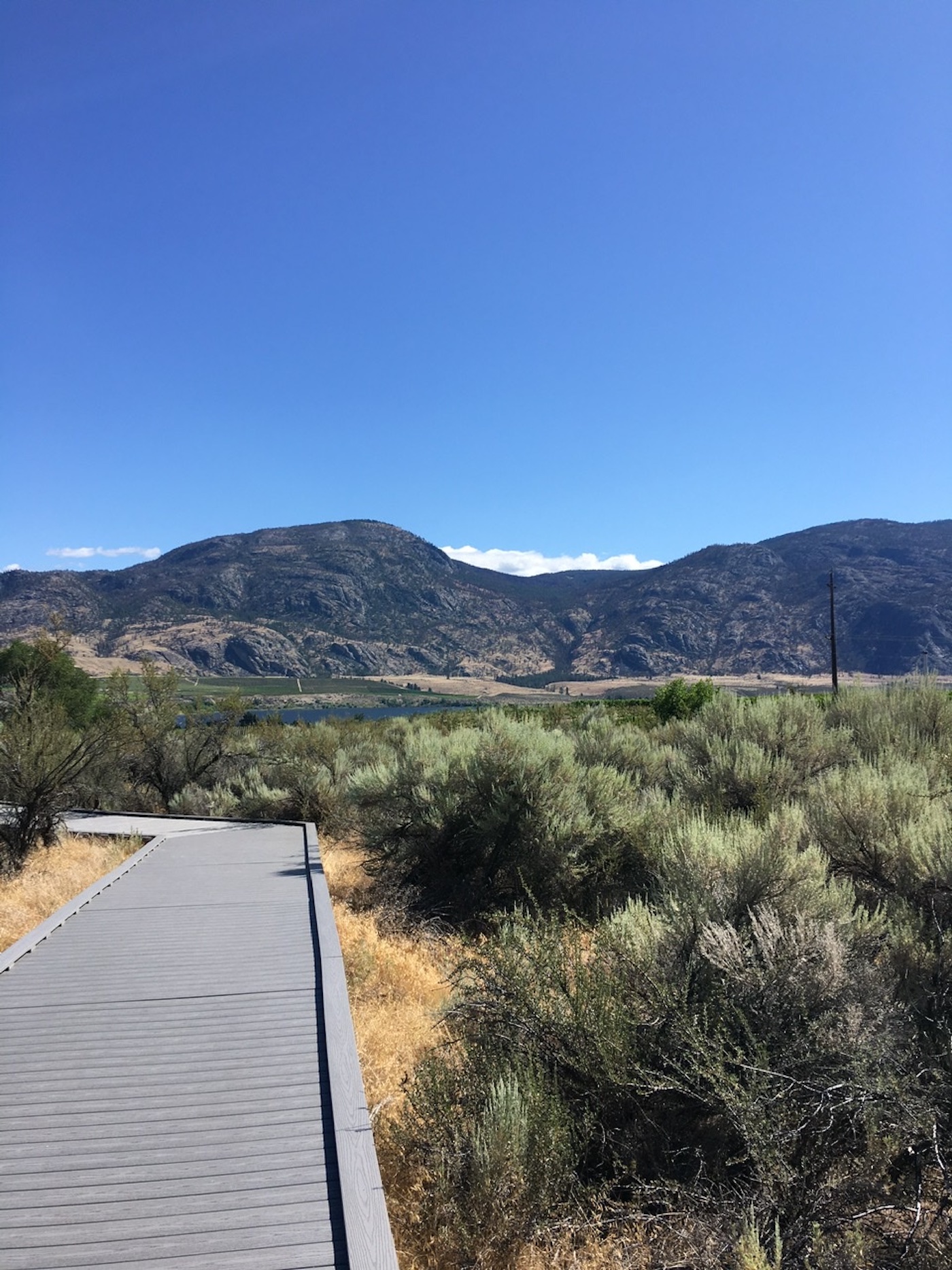 The Okanagan Valley is a mecca for many Calgarians. In fact, that trek along the TransCanada Highway is probably one of the top summer road trips for Calgary folks searching for some lake time.
Now, I'm no stranger to the Okanagan, having visited many times in the past. But I'd be lying if I said I wasn't feeling a bit gun shy and anxious, post-pandemic, about visiting popular tourist destinations that tend to be crowded and busy. I also feel like I've kind of forgotten how to travel and road trip, after a few years of not doing it. So, I decided to re-insert myself slowly to places in the Okanagan, particularly in the southern part, that are quieter and off the beaten path. Especially in light of the recent wildfires, visiting unaffected areas, particularly lesser-known (and therefore less busy) destinations in the Okanagan, could better serve both visitors and residents.
Here are some hidden (and not-so hidden) gems worth checking out in Penticton, Oliver and Osoyoos.
Unwind at Penticton's Sudbury Beach
Partake in Penticton's summer culture of beach and water fun at this relatively quiet beach located on Skaha Lake at Skaha Lake Road. Penticton is one of just two cities in the world situated between two lakes (Okanagan and Skaha), and Sudbury Beach is the perfect place to soak up some Okanagan sunshine without having to jostle your way to a good beach spot. Midweek, we rolled into the nearly empty parking lot and easily grabbed a lakefront spot away from others on the huge sandy beach area. The water is calm, cool and refreshing — and also shallow for a good stretch, making it great for kiddos. There's also volleyball courts, washrooms, a concession and a fire pit.
View this post on Instagram
It may seem a bit hokey to hop aboard a family cart bike and tootle about town, but it's a fun and easy way to explore. Plus, I dare you not to smile while you're doing it. It's a perfect fit with Penticton's fuel-free initiative, aimed at encouraging both visitors and residents to park their cars and explore via foot, pedal and paddle. My family loved going for a quick bike along the Okanagan Lake boardwalk and exploring nearby neighbourhoods — we could pedal away from the crowds onto quiet side streets. If you want to go further and faster, opt for trail bikes, e-bikes or e-scooters. You can also rent kayaks and paddle boards. To learn more about Penticton's local bike paths and trails, visit visitpenticton.com/leisure-cycling-in-penticton.
Fuel up with great Penticton eats
View this post on Instagram
Drawing upon the cornucopia that the Okanagan possesses in its orchards and farms, Penticton's food scene offers a variety of delicious eats. Loki's Garage takes full advantage of the best locally sourced ingredients, making much of its offerings from scratch. Known for its delectable brunch menu, Loki's favourites include its house-cured pastrami, pickled sauerkraut and fresh-baked focaccia.
And if you're hankering for pizza, you can't go wrong with Pizzeria Tratto. Sink your teeth into soft yet charred Neapolitan pizza, fresh out of the traditional domed forno. The Caesar salad made with kale and house dressing is also the perfect starter. Pair with an Italian wine, classic Italian cocktails or local craft beer. Tratto doesn't take reservations, so go early or prepare to wait.
View this post on Instagram
This drive-up motel in Penticton serves as a throwback to old family vacations, where you'd spend the day at the nearby beach, then relax each evening, lounging poolside and barbecuing dinner in the private courtyard. Suites are well equipped with kitchenettes and fridges. Conveniently located only a block from Okanagan Beach and boardwalk, the Bowmont is also an easy walk to Penticton's downtown shops and restaurants.
View this post on Instagram
Located just outside Osoyoos, this 67-acre nature interpretive facility offers the chance to get up close and personal with one of Canada's most rare, fragile and endangered ecosystems. Check out hands-on exhibits and the 1.5-kilometre elevated boardwalk (each piece had to be helicoptered in so as not to compromise the delicate habitat). You can take a self-guided tour, but going with a guide means discovering so many more interesting morsels of knowledge about things like the biocrust — a soil layer made up of a broad and complex collection of living organisms — and spadefoots, unique frog-like amphibians.
Learn about the lands, legends and peoples of the Okanagan Nation
View this post on Instagram
The state-of-the-art Nk'Mip Desert Cultural Centre (pronounced in-ka-meep) in Osoyoos is an architectural marvel, constructed into a hillside. We meandered through the centre, checking out the variety of indoor and outdoor exhibits including hands-on displays, education stations such as Critter Corner with live creatures, and two theatre experiences. It's a well-curated learning space to see how the desert ecology shaped and continues to shape the rich culture of the Okanagan people.
View this post on Instagram
Tucked away in Oliver, Covert Farms offers a picturesque and absolutely charming farm and winery escape — for the whole family. Take the kids on a mini walking tour to meet and feed resident farm animals including heritage chickens, ducks, sheep, llamas and adorable Mangalitsa pigs (including massive resident patriarch, Mr. Pickles). Afterwards, relax with a tasting flight of Covert's certified organic, regeneratively farmed wines, paired with a farm-fresh charcuterie board complete with local artisanal cheese and charcuterie, as well as edible flowers and produce grown right on the farm. My kids enjoyed their own kid-friendly versions with locally made apple and cherry juices. When they were done, they bounced on the giant jumping pillow and slid down the huge slip and slide, while my husband and I chilled under the covered patio. Bliss.