With fewer opportunities for international travel these days, this is a perfect time for Albertans to explore their own backyard. Why not treat yourself to a memorable winter getaway, and discover the peace, calm and enchantment of the Rocky Mountains in winter?
The Rockies and the foothills feature an abundance of boutique lodges and independent inns in addition to the larger resorts you may already know.
The Charming Inns and Small Hotels of Alberta formed in 2000 to draw attention to some of the best independent operators. Member hotels — located from Waterton to Drumheller and around the mountain area — all have a minimum three-star rating from the Canadian Automobile Association, and typically receive a TripAdvisor Certificate of Excellence year after year. All are accessible by car.
"All [our] properties are spectacular and one-of-a-kind," says Gair Fryers, Charming Inns and Small Hotels of Alberta president. "The beauty of this collective is there is something for everyone — everything from quiet backcountry lodges and private cabins, to romantic getaways with spa, and pet-friendly hotels. The locations are extraordinary, whether you want to stay in a luxury cabin or a glamping tent with a full bathroom and fireplace, or in a mountain town."
To mark the Charming Inns and Small Hotels of Alberta 20th anniversary, member hotels are offering a 15 per cent credit on gift certificates purchased through the group website charminginnsofalberta.com.
In addition to the three inns explored here, Charming Inns member hotels also include Mount Engadine Lodge, Georgetown Inn, Juniper Hotel, Riverside Chateau, The Crossing at Ghost River, The Prairie Creek Inn, Crandell Mountain Lodge, and Heartwood Inn & Spa.
The mountains beckon. Your adventure awaits. So don't delay!
Near Jasper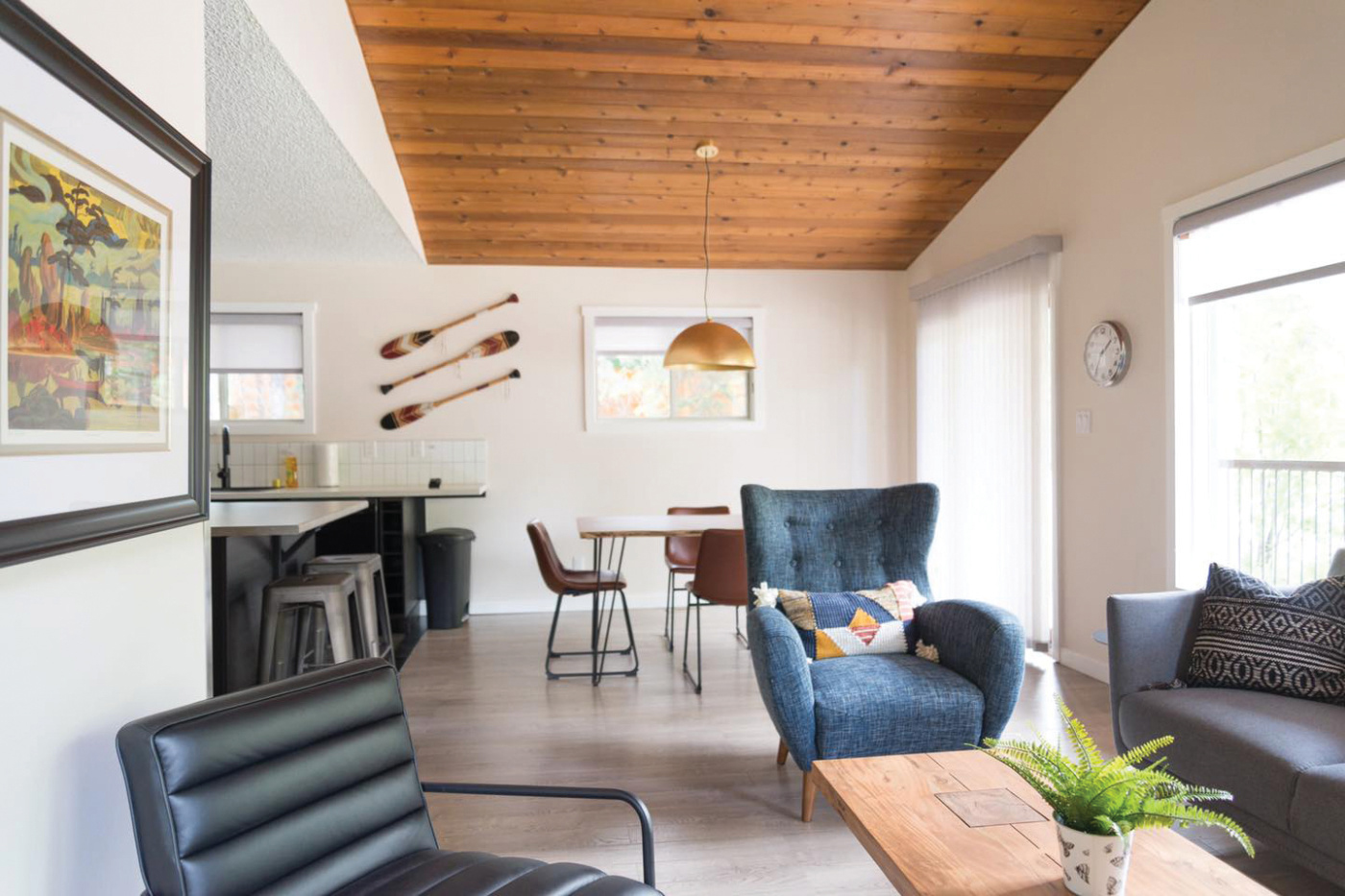 Situated just outside Jasper National Park's east gate, an approximately 35-minute drive from the Jasper townsite, Overlander Mountain Lodge is a 40-room getaway offering superlative mountain views. Built in 1963, the Lodge features cozy, comfortable guest rooms, as well as two-bedroom chalets and three-bedroom chalets complete with full kitchen. Not that you'll need your kitchen, what with the Wine Spectator-awarded on-site restaurant, Stone Peak, dishing up farm-to-table fine dining.
"From November until April, this place is so quiet that you have a good chance of getting most of the lodge to yourself," says lodge owner-operator, Clint Griffiths. "It's such a unique and special experience." Curl up near the wood-burning fireplace with a book and a glass of wine, explore the area by snowshoe, head to Jasper for ice skating and boutique shopping, go cross-country skiing at nearby William A. Switzer Provincial Park or explore the trails in Jasper National Park. There is a world-class ice walk at Maligne Canyon — suitable for anyone who can walk and is equipped with ice cleats. Hard-core winter adventurers also enjoy ice climbing in the area.
Canmore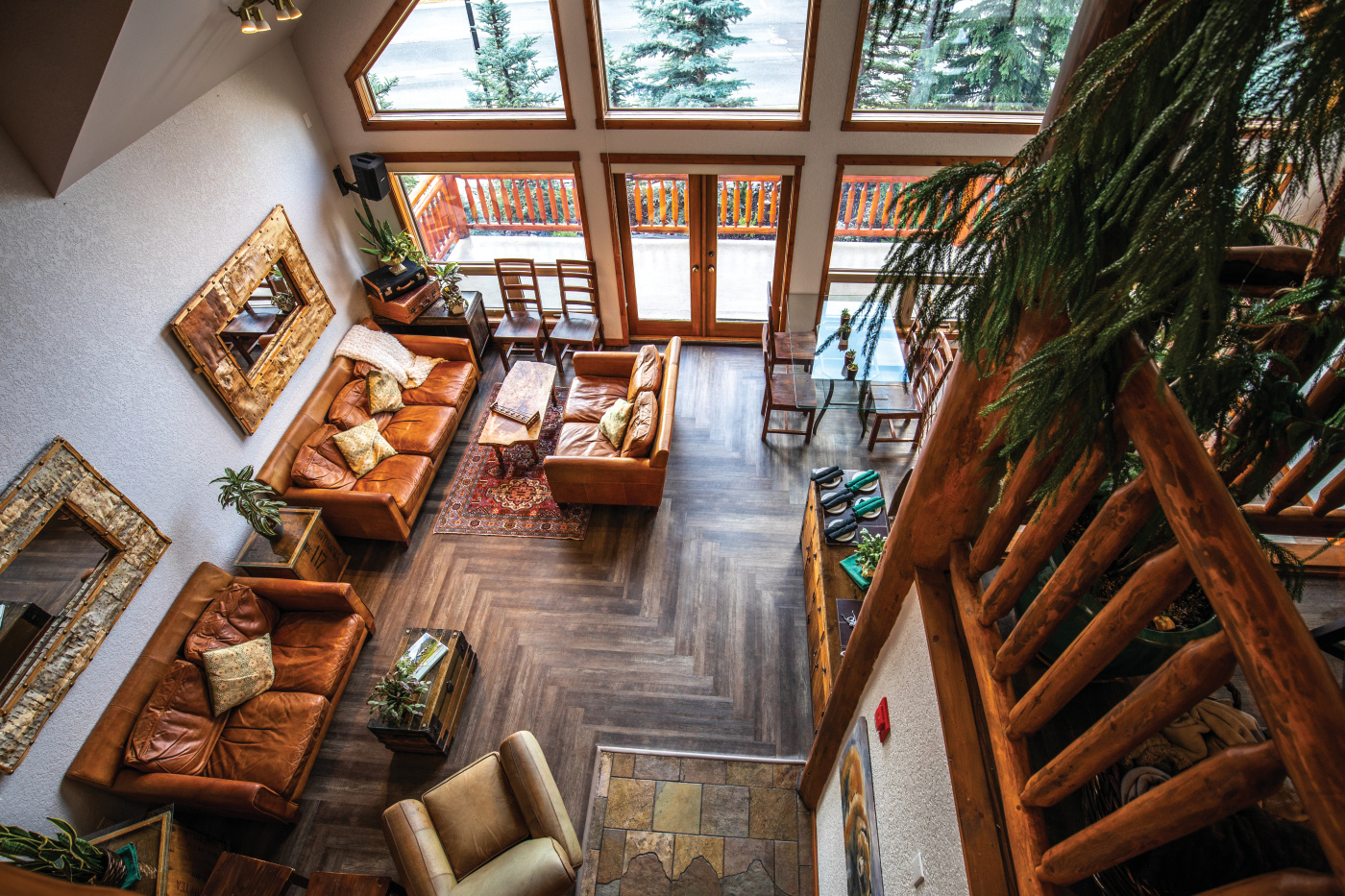 Relax, unwind and drink in the beauty all around you at A Bear & Bison Inn, an elegant alpine oasis in Canmore offering sweeping views of the Bow Valley. Each room features a fireplace, rain shower and soaker tub along with a king-sized bed. A gourmet three-course breakfast served on crystal and china, delivered to your room and bursting with fresh flavors, will fuel your day no matter what is on your agenda. Attention to detail is top of mind for A Bear & Bison Inn owner Lonny Middleton, a chef who has worked at some of the world's best hotels over his career.
This is an ideal destination for couples and anyone needing some self-care who is looking for a blissful retreat. With 10 guest rooms, A Bear & Bison Inn is tucked away in Canmore's Benchlands community, so it's away from the town's hustle and bustle, yet close enough that you can be downtown in five minutes by car for lunch, dinner or shopping.
Near Lake Louise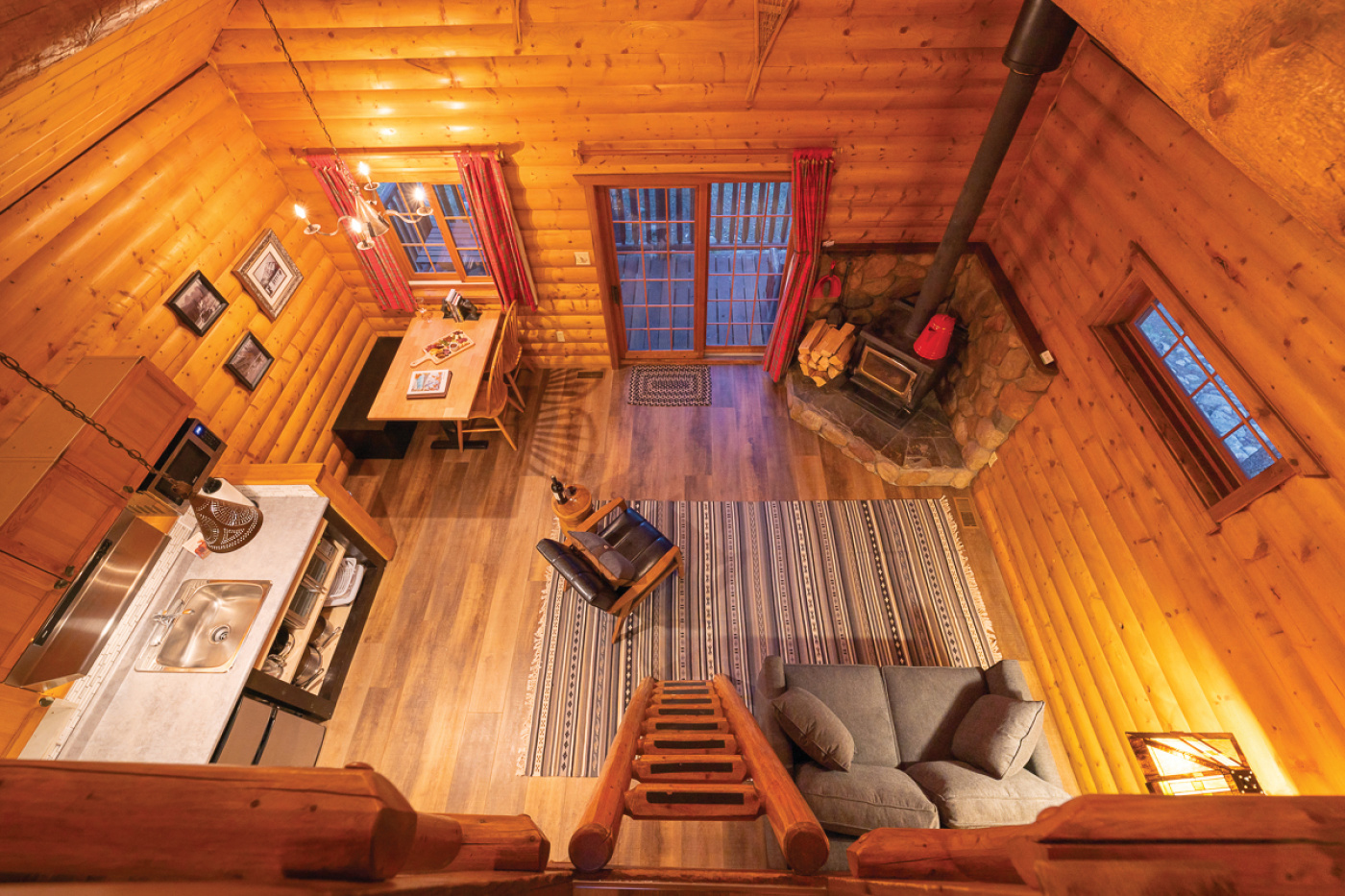 Unplug from the world and reconnect with each other in your own private log cabin in the woods. Baker Creek Mountain Resort — winner of the Banff Heritage Tourism Award — is located approximately 15 minutes from Lake Louise in Banff National Park, just off the Bow Valley Parkway. The resort features a total of 35 guest rooms including 16 lodge suites and 19 standalone cabins. Nearly half of the rooms feature a Jacuzzi, the majority include kitchenettes. Each room includes both a French press and Chemex, with artisanal freshly ground coffee from Calgary's Devils Head Coffee, as well as a river rock fireplace.
The Baker Creek Bistro serves authentic Canadian cuisine highlighting local and regional ingredients. This year the bistro offers a new online ordering option for guests.
When conditions permit, outdoor activities include skating, snowshoeing (snowshoe rentals are complimentary for guests), cross-country skiing on track-set trails, and downhill skiing at Lake Louise Ski Resort. For an added treat, you can roast marshmallows over a firepit outdoors.
Baker Creek Mountain Resort is also pet-friendly.
Avenue's writers and editors are occasionally invited to experience dining or adventure experiences as a guest, including some of the experiences in this story. Neither complimentary experiences nor advertising are required for coverage in Avenue. Neither companies that advertise nor those that provide other incentives are promised editorial coverage, nor do they have the opportunity to review or approve stories before publication.