While undeniably retro, there's still something timeless about fondue. Skewering a morsel on a long fork and plunging it into a pot of something hot and bubbly is such a fun and social way to eat — and, if you go to a place that does it right, delicious, too. With après-ski rituals and Swiss alpine traditions, there's no better place to fondue than the regional mountains. Whether you're looking for cheese, meat or chocolate, these Bow Valley restaurants are all worth dipping into.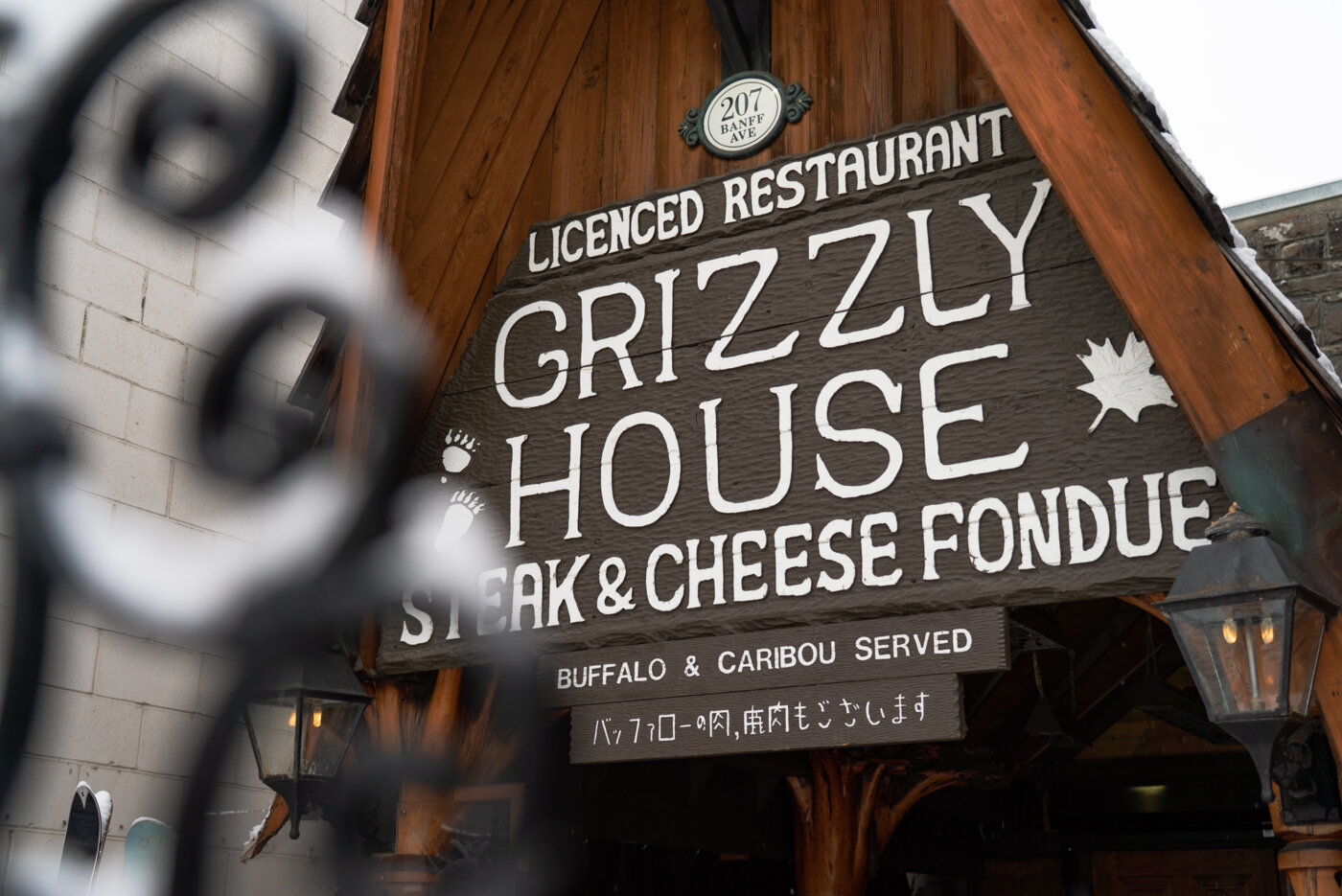 For the last 55 years, fondue in Banff has been synonymous with Grizzly House. Located on one of the busiest blocks on Banff Avenue, the chalet-style restaurant is a blast from the past — complete with phones at each table (to converse and possibly make plans to canoodle with fellow diners) from the restaurant's previous life as a disco and go-go club. Original owners Barbara and Peter Steiner introduced fondue as a way to comply with liquor laws that forced them to serve food. The restaurant still has that swinging '70s sexy ski-lodge vibe, but it's now run by Peter's daughter and her spouse and has evolved considerably.
Grizzly House offers a full slate of oil and hot-stone fondue entrees, which admittedly lend a sticky air quality and pungent smell to the place (pro tip: leave your coat in the car). But it is more than worth it. It's best to go all-in and get the complete fondue dinner, which includes four courses: soup or salad, followed by either cheese or bangna cauda (garlic and butter fondue served with vegetables) fondue, a fondue entree, and a chocolate fondue with fruit. The quality of the ingredients is impeccable, with exotic options like ostrich, rattlesnake and alligator.
207 Banff Ave., Banff, 403-762-4055, banffgrizzlyhouse.com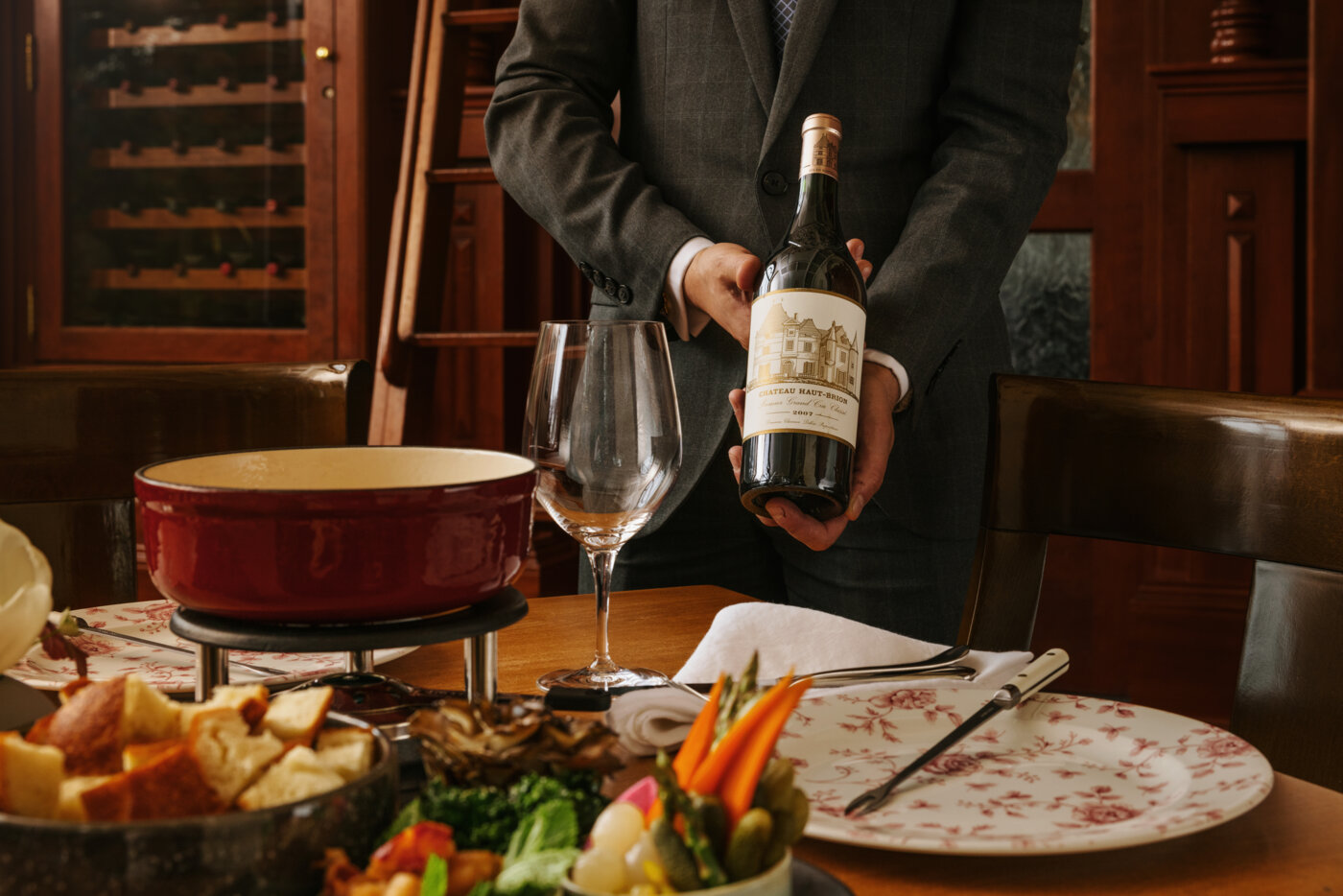 This grand restaurant inside the Fairmont Chateau Lake Louise is the place to go for an old-fashioned après-ski or hike experience, paying homage to the famed Swiss guides that pioneered the Bow Valley's European alpine mountaineering culture. There's plenty of non-fondue fare that changes up seasonally, but fondue is definitely the focus, with the option of cheese fondue or meat cooked in a rich bouillon made by simmering caramelized veal bones for 72 hours. The 'Stube is a more upscale affair, with luxurious flourishes like the option of adding black truffle or lobster to the cheese fondue and beef tenderloin, bison rib-eye, giant scallops and tiger prawns to dunk in the hot broth.
Walliser Stube features an elegant bar and diners are encouraged to enhance their meal with selections from more than 500 wines, or something from the cocktail menu developed by Sam Clark, Fairmont's regional manager of bars and mixology. The Carte Blanche (a play on the Vesper martini) pairs well with the lobster-cheese fondue, while the Chai Tai is recommended to sip with dessert.
111 Lake Louise Dr., Lake Louise, 403-522-3511, chateau-lake-louise.com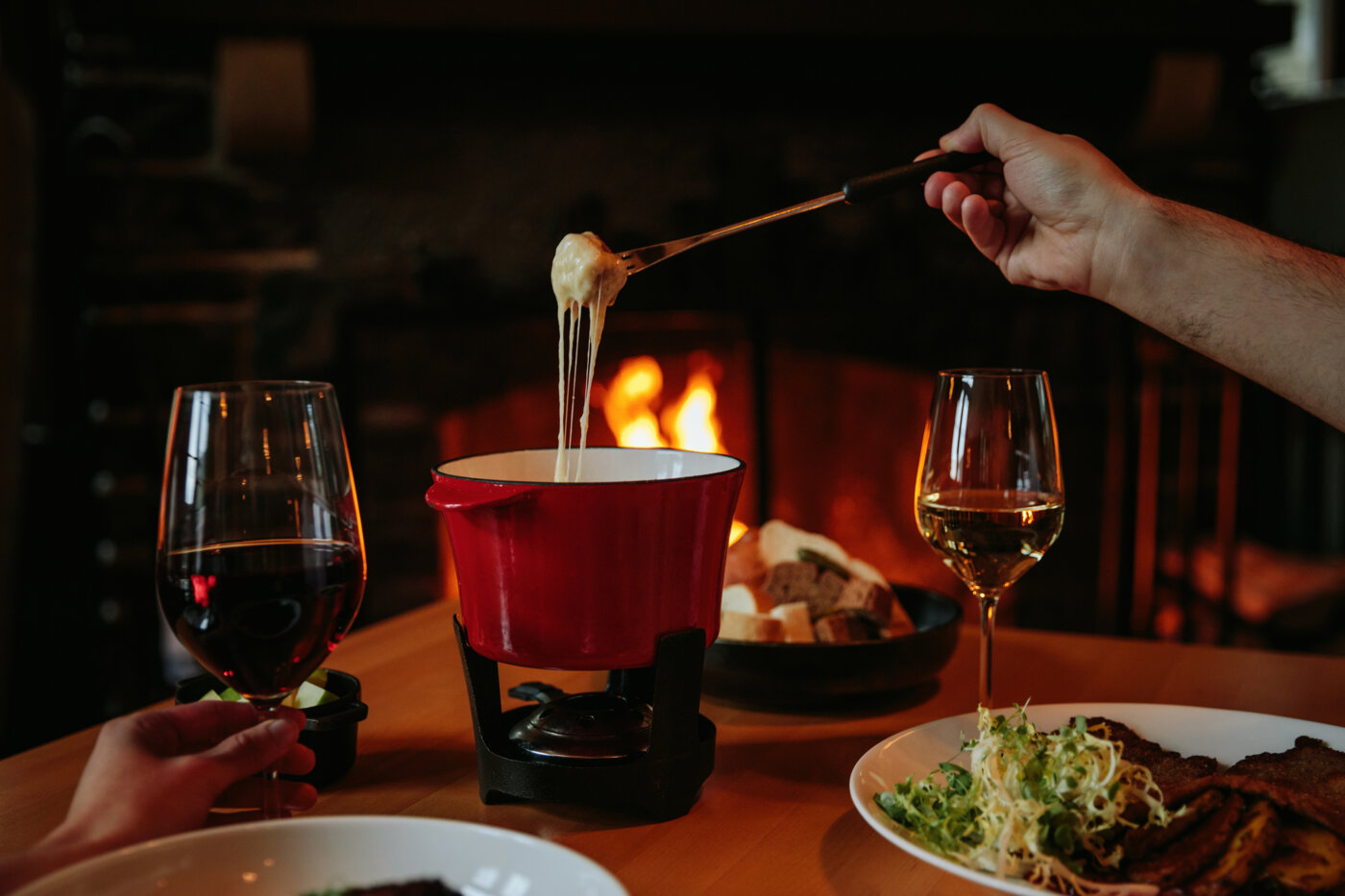 Fairmont Banff Springs' fondue restaurant is set in the forest, which is a considerable part of its appeal. Hidden downhill from the hotel proper, the restaurant occupies what used to be the original golf clubhouse, with the more casual Waldhaus Pub tucked below. Both venues, upstairs and down, have a retro-Bavarian vibe, but it's in the upstairs dining room that you'll find the fondue experience.
Rather than often messy raw-meat fondues, the Waldhaus specializes in appetizer-sized cheese fondue, serving pots of bubbling Emmental and Gruyère, spiked with white wine, garlic, kirsch and nutmeg and served with the traditional apples, gherkins and baguette pieces for dipping. Guests have the option to add roasted mushrooms and truffles to the cheese mixture, or cured meats to plunge into the cheese. Dessert is an indulgent Valrhona chocolate fondue, served with strawberries, pistachio financiers and other pastries, along with house-made marshmallows.
405 Spray Ave., Banff, 403-762-2221, fairmont.com/banff-springs
It's common to see Swiss- or Bavarian-themed restaurants in the Rockies, but this Banff restaurant adds some Italian flavour to the mix. Inspired by the Italian-speaking Swiss canton (the Swiss equivalent of a province) that gives the restaurant its name, Ticino has been a Banff institution since 1979. The menu is a true mix of Italian and Swiss cuisines with a dash of local influence — examples being the elk osso bucco served with spaetzle, and veal with a wild mushroom sauce and rösti potatoes, with all meat coming from local ranches and producers. On the fondue front, Ticino does Alberta beef, venison or bison in hot oil; or, for a lighter choice, thinly sliced beef strip loin and shrimp in broth; both served with sauces and baby potatoes. Classic cheese and chocolate fondues are also on offer.
415 Banff Ave., Banff, 403-762-3848, ticinorestaurant.com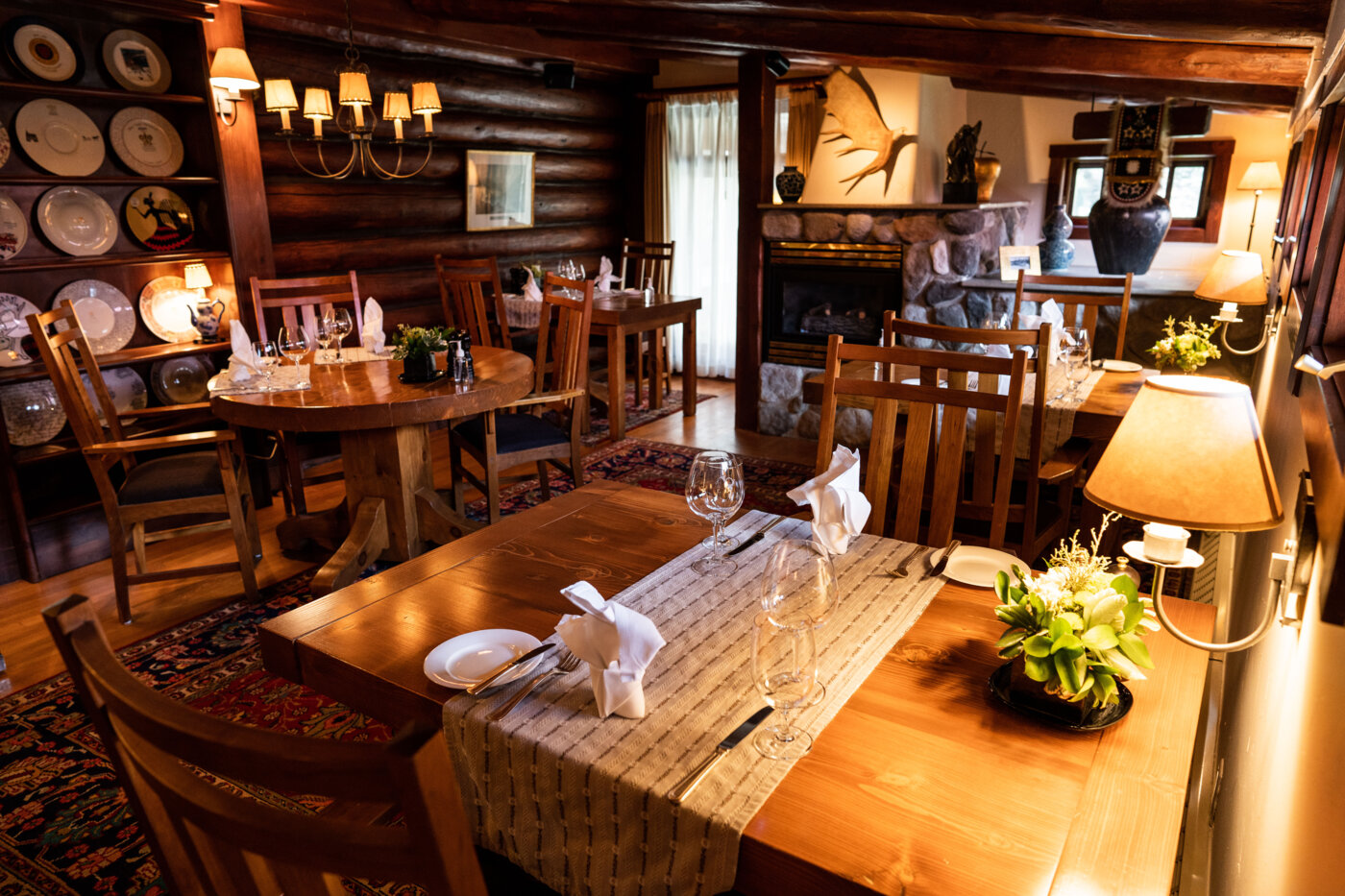 This tiny restaurant in Lake Louise's Post Hotel and Spa is adorably cozy and the perfect après-ski treat. Filled with traditional Swiss decor, including cowbells, knick-knacks and artwork, the restaurant has only 24 seats, with hotel guests getting first dibs (non-guests can call day-of to see if there are any tables to spare). Every night, chef Hans Sauter puts together a four-course fondue-centric table d'hôte (fixed price, with limited choice) menu, with the option of Swiss-style cheese fondue, fondue bourguignonne (hot-oil) and fondue Chinoise (a hot-broth fondue named for its similarity to Chinese hot pot).
200 Pipestone Rd., Lake Louise, 403-522-3989, posthotel.com
Moonlight & Eli is a whimsical little Champagne and fondue bar in Calgary, but visitors to Canmore can also get a taste of the Moonlight & Eli experience in the comfort of their hotel rooms or glamping tents. The restaurant has partnered with both Sundance Lodges and Lodges at Canmore, providing fondue kits that can be pre-ordered and enjoyed at any time. The experience includes a pot and fondue forks, along with cheese, bread and other dipables. There's also the option of adding on Champagne or other beverages, as well as indoor s'mores kits and truffles from Canmore's Le Chocolatier.
Even though it's a franchise of a Montreal-based chain, the Canmore location of Cacao 70 has its own distinctly mountain-inspired feel. All of Cacao 70's fondues are chocolate-focused and the offerings at this brunch café in Canmore follow suit. Cacao 70 serves up 70-per cent dark chocolate, 46-per cent milk chocolate, white chocolate and peanut butter-chocolate fondues, with fruit, brownies and waffle bites to dip. These decadent dishes come in two sizes: the single is perfect for a pair of people, while the double size works well for groups of four.
302 Old Canmore Rd., Unit 109, Canmore, 403-675-7669, cacao70.com