Stand-up paddleboarding, or SUP, may be a fairly new pastime at your favourite local lake, but it has been around for thousands of years in some form or another. Ancient cultures in Africa, Polynesia, Asia and South America used rudimentary boards and dug-out canoes — propelled by very fit people wielding long sticks — to catch fish and wage nautical battles, long before Princess Alberta was even a twinkle in her father's royal eye.
But even though Albertans have no claim whatsoever when it comes to being originators of stand-up paddleboarding, we've certainly latched onto it. And why wouldn't we? SUP is super fun and a great way to be active in the outdoors. Even though you can SUP on pretty much any pond or stream, having a backdrop of mountain scenery as you float along certainly enhances the experience. Whether you're a wobbly kneed beginner looking for a peaceful shoreline float or a SUP superstar seeking river rapids, here are some amazing excursions in the mountains not far from Calgary to try this summer if we are able, or to dream about for the times we can return to mountain towns, rivers and lakes.
Invermere on the Lake to Radium Hot Springs, B.C., on the Columbia River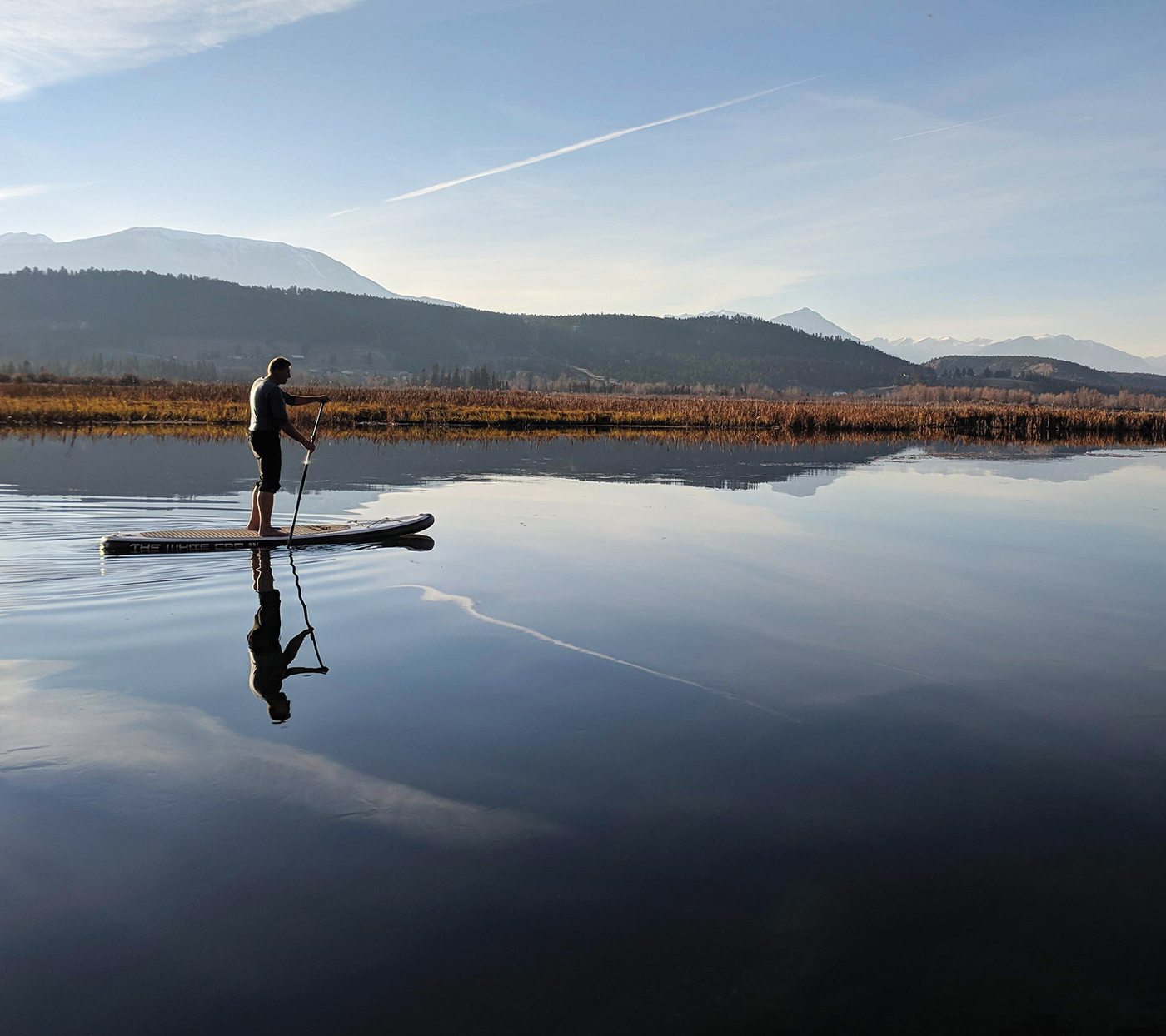 The easy-going Columbia River, especially the stretch of wildlife-rich wetland between Invermere on the Lake and Radium Hot Springs, B.C., is the perfect trip for shaky stand-up paddleboarders who want to develop their skills. Expect to be on the water for three-to-four hours for this little gem of an adventure, which delivers gorgeous mountain views the entire way, an impressive display of bird life (great blue herons, bald eagles, osprey, grebes, loons and swans are all common sightings) and some tucked-away sandbar stops to stretch the legs. Most importantly, there are no surly surprises as far as rapids or whitewater gnarliness.
The Logistics A guide is not necessary for this trip, but you will need transportation back to the launch site in Invermere from the end point in Radium Hot Springs. Columbia River Paddle, conveniently located at the launch near Pete's Marina, offers an $85 trip that includes paddleboard and paddle rentals, PFD and shuttle service. Reservations are recommended.
Two Jack Lake, Banff National Park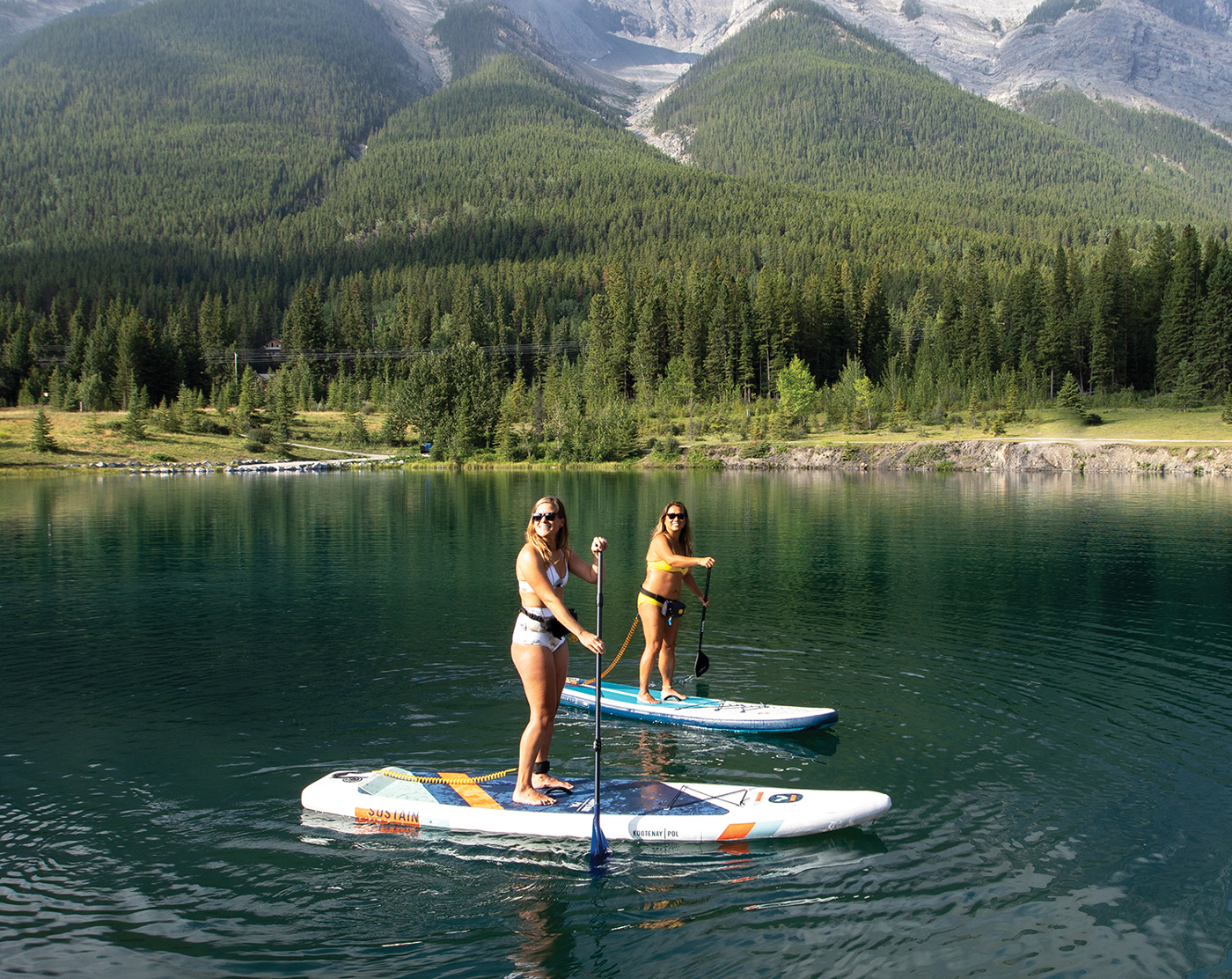 Mountain lakes don't get much prettier than Two Jack. Gracefully slicing through the pristine reflections of Mount Rundle and Cascade Mountain atop the smooth surface is a soul-soothing experience for beginners and experts alike. Located just a 15-minute drive from the Banff townsite on the Lake Minnewanka Loop, Two Jack is more sheltered (and quieter) than the loop's namesake lake. Cap off your cruise with a picnic at one of the lakeside sites.
The Logistics Bow Valley Stand Up Paddleboarding in downtown Canmore does daily guided tours to Two Jack. The tour is $69 per person and includes all your equipment. Bow Valley SUP also offers board rentals, learn-to-SUP and intro-to-river-SUP (fast-flowing water) instruction, morning and sunset SUP tours, yoga SUP and camps. Yes, you could say this popular outfitter definitely knows what's SUP.
Elk River, Fernie, B.C.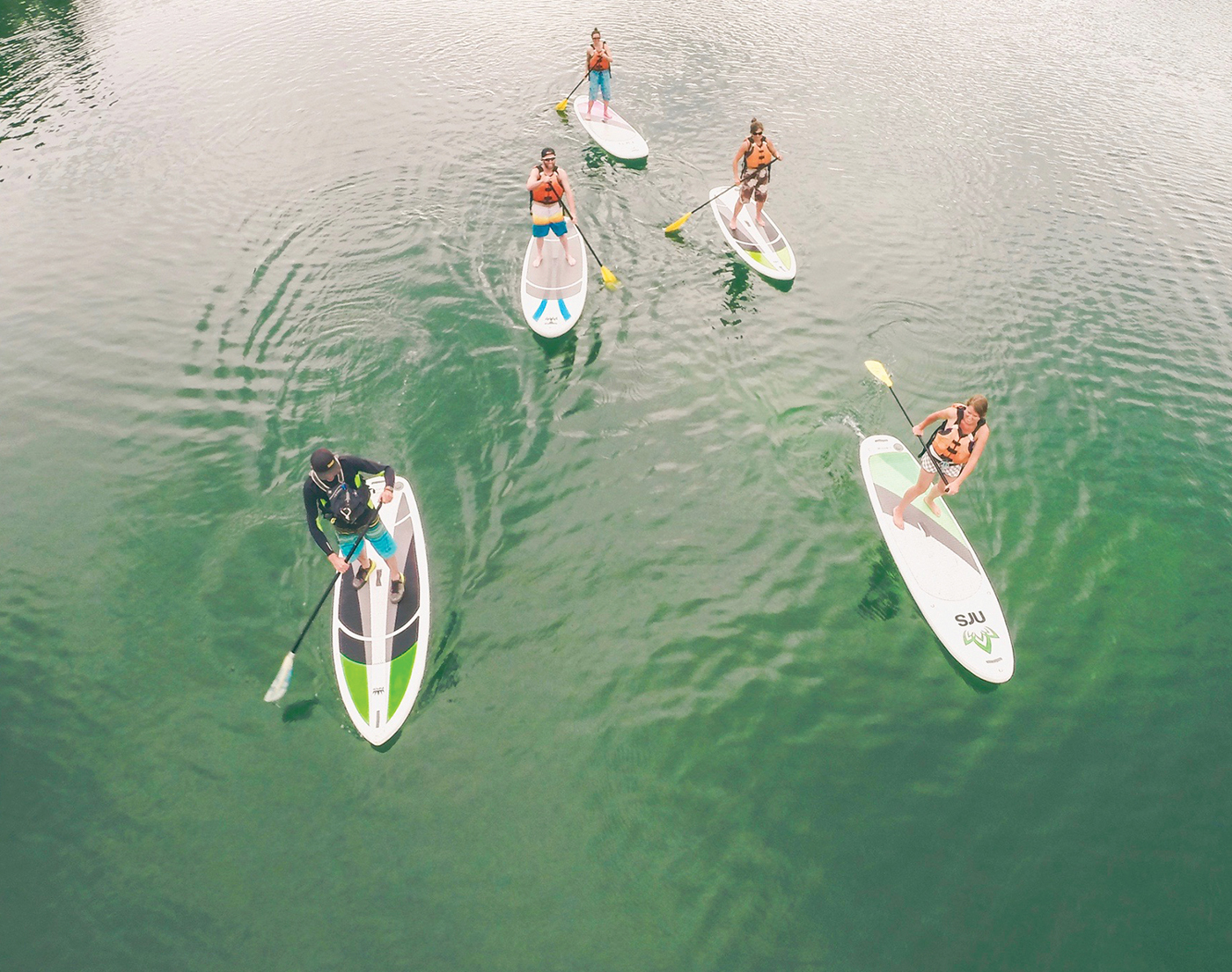 Mountain High Adventures in Fernie offers solo SUP tours during the summer months on the Elk River and to nearby Lake Koocanusa. They have also turned the idea of SUP being an individual pursuit upside down with their Supsquatch adventure. Supsquatch is a 17-foot super-sized inflatable paddleboard that holds up to eight people, making it a fun option for adventurous families, bachelor or bachelorette parties, or corporate team-building. You and your Supsquatch mates will splash through class I and II rapids on the Elk River as you try (emphasis on try) to stay upright. Expect to have fun. Also expect to get wet.
The Logistics The Supsquatch group trip is two hours long, with daily departures at 9 a.m. and 1 p.m. from the Mountain High Adventures office at the Fernie RV Resort. A minimum of four people is required to book this experience, which is offered seven days a week through the end of September. The cost is $99 for adults, $89 for youth (ages six to 15), including gear and transportation to and from the river. An additional solo SUP tour can easily be added on if you want a full-day adventure.
Have SUP Will Travel
If you haven't embraced SUP life because you don't have a vehicle that can transport a board, an inflatable stand-up paddleboard may be just what you need. Inflatables may not be as fast or manoeuvrable as solid boards, but they get the job done just fine for anyone who doesn't count themselves among the expert division, with the bonus of being compact enough in their uninflated state to stash in the trunk of most cars. As with any water sport, safety is of the utmost priority when stand-up paddleboarding. Even on a serene mountain lake like Two Jack, winds can come up quickly and inexperienced paddlers can find themselves in trouble in mere seconds. Wearing a lifejacket is a no-brainer; it can save your life. Getting hypothermia in cold water is also a distinct possibility while stand-up paddleboarding, so consider investing in a wetsuit, especially if your go-to SUP spots tend to be frigid. Warm water or cold, always wear your ankle leash to keep your board close by if you happen to fall in. SUP smart and have fun out there.