A walk in the mountains on a crisp winter day can really raise your spirits, and you can keep the feeling alive with an incredible photo of the alpine scenery. Whether on a sunlit blue-sky day or under star-studded skies on a dark, winter night, these five winter walks all offer amazing photo opportunities. Some are best at sunset, others at sunrise — both at mercifully civilized hours during the winter. If you decide to go, dress in layers, starting with a base layer of long underwear. Pack a Thermos of hot chocolate and some snacks and bring a couple of handwarmers to keep your camera batteries and your fingers warm. You shouldn't need snowshoes on these walks — unless there has been a recent massive snowfall. However, with the combination of freeze-thaw cycles and foot traffic, a pair of slip-on ice cleats (a.k.a. "icers") just might save the day.
Peyto Lake Viewpoint – Banff National Park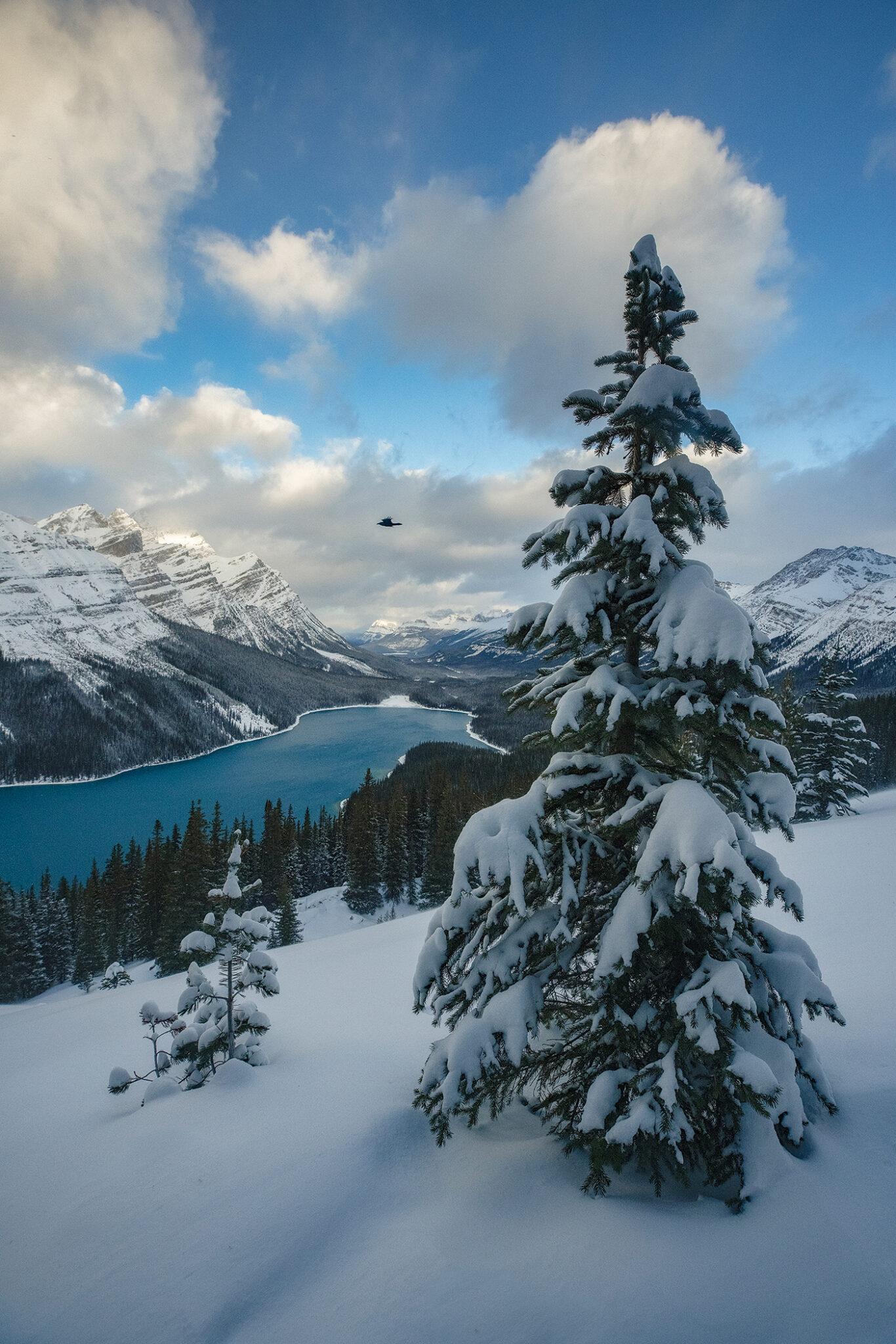 For a mind-blowing photo of a starry night, renowned Banff-based landscape and adventure photographer Paul Zizka says head to the Peyto Lake Viewpoint after dark. "It's a short, easy winter walk from the parking lot to the viewing platforms, where you'll enjoy inky-dark skies thanks to a lack of light pollution," Zizka says. The sheer number of stars you can see at Peyto makes for fantastic astrophotography, plus, "you can get your shot by 7 p.m. and be back in Banff in time for a late dinner." The elevated viewpoint is a premier spot to see the northern lights. To help time your trip for when the aurora borealis is flashing, download aurora-forecasting app SpaceWeatherLive — "the best one out there," according to Zizka. Peyto Lake is also a great spot for a sunrise photo — around 8:30 or 9 a.m. in the depths of winter.
Maiden Lake – Fernie, B.C.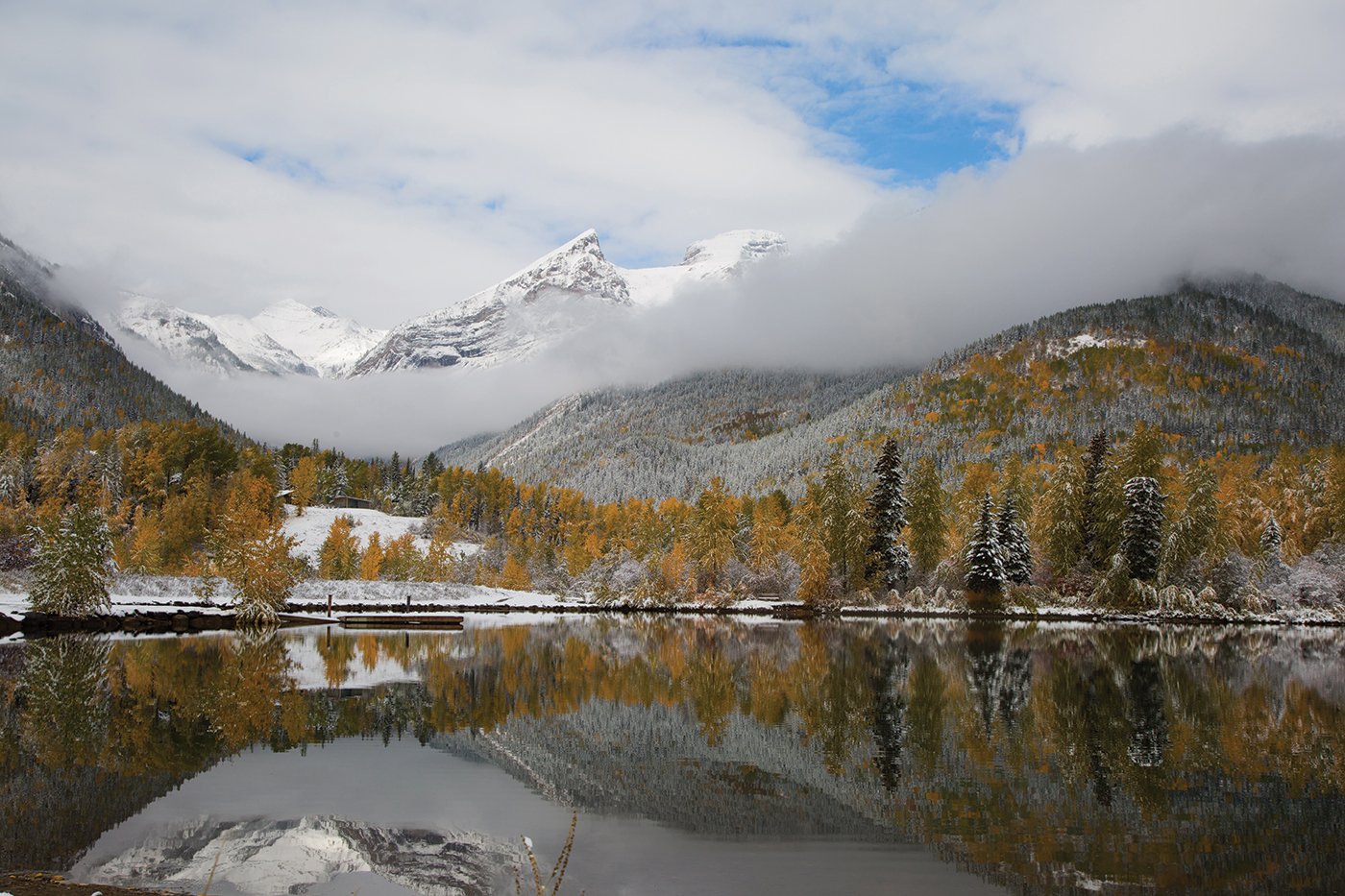 The short hiking loop around Maiden Lake is right in the town of Fernie. You'll find the trailhead behind Canadian Tire near the intersection of 9th Avenue and 19th Street, just a few blocks east of the Crowsnest Highway. It's an ideal "stretch your legs" kind of easy winter hike, especially if you've been driving for some time. But it also connects to a huge network of community trails, so you can hike for hours, if you're so inclined. Maiden Lake is popular with birdwatching and dog-walking crowds, so the trail is usually well-packed. As a photo location, it's also superb. Former Fernie resident Mike Cotton of Mike Cotton Photography says it provides "a great shot of Fernie's Three Sisters and Mount Proctor, as well as Mount Hosmer and Mount Fernie, particularly at sunrise." By early December, the lake is usually fully frozen, so you might get ice-skaters against your mountain backdrop, as well.
Rawson Lake – Kananaskis Country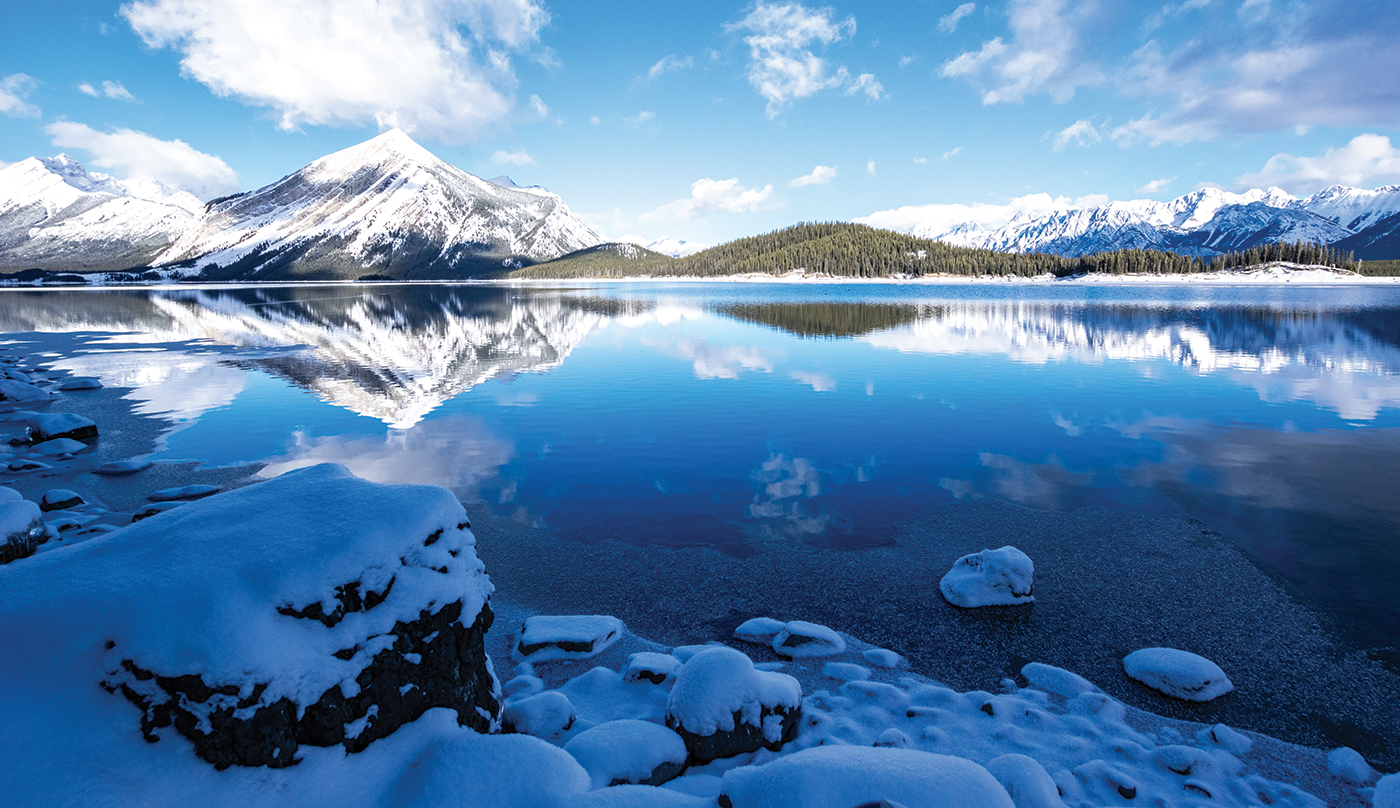 To start your 3.9-kilometre (one-way) hike to Rawson Lake, head for the Upper Kananaskis Lakes day-use area via Kananaskis Lakes Trail off Highway 40 South. Laura Dowling, owner of Canadian Rockies Experience, a boutique tour outfitter that opened last season, describes this winter hike as a perennial favourite. "Almost everyone can do it if they take their time, especially since the trail is usually packed down," Dowling says. On the 300-metre climb to the lake, you get an invigorating winter workout with a heart-stopping mountain scene on arrival, especially on a bluebird (blue-sky) day. In early December, before Upper Kananaskis Lake has fully frozen, you might get the added bonus of seeing the snowclad mountains reflected in open water — stunningly beautiful in the morning light.
Wapta Falls – Yoho National Park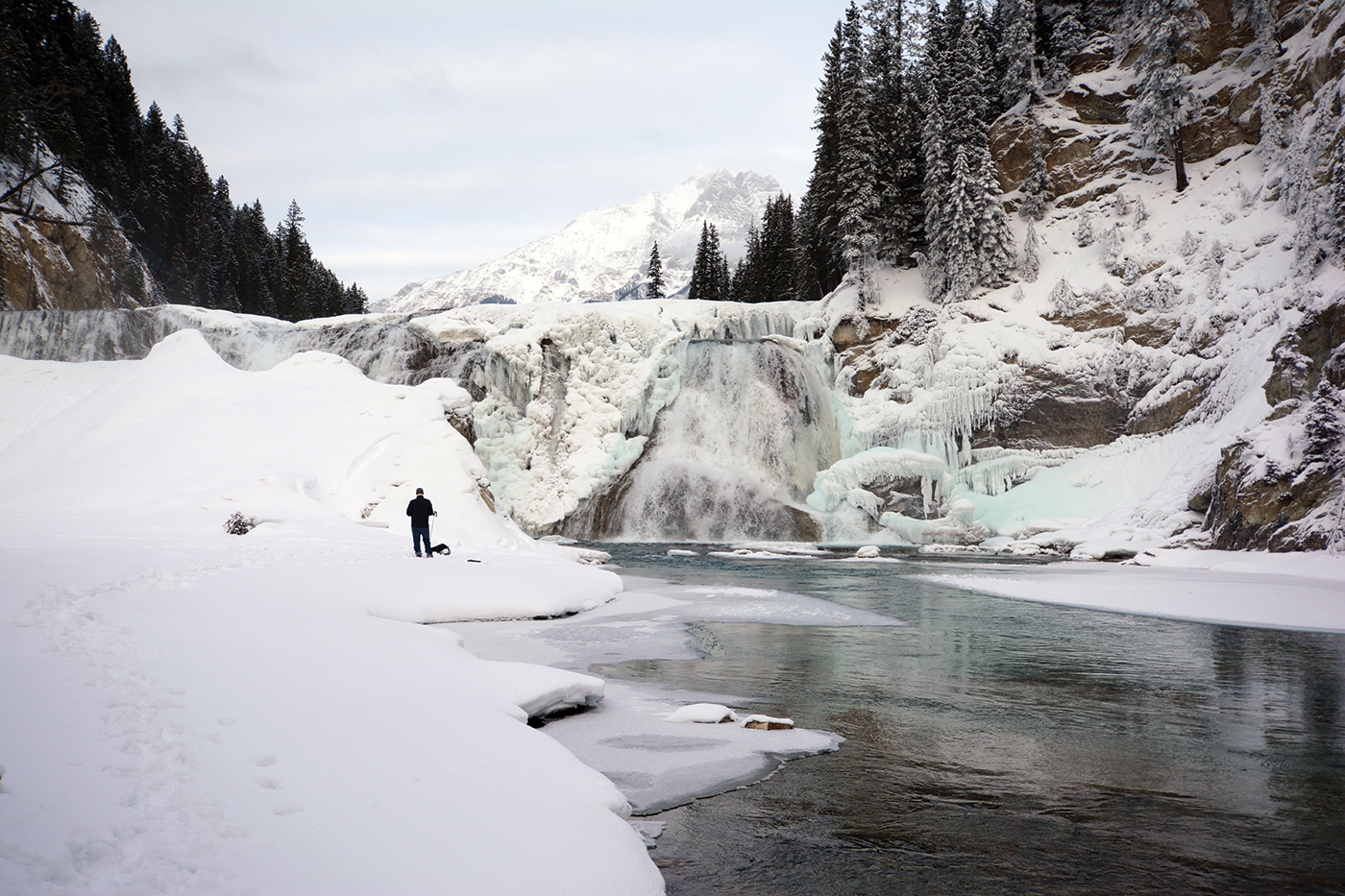 Wapta Falls is the largest waterfall on the Kicking Horse River, spanning 107 m and falling 18 m. In winter, it's a frozen wonder to see and photograph: a dynamic mix of running water and ice with Mount Vaux and Chancellor Peaks as a backdrop. Access to the falls is 26 km west of Field, B.C., on the south side of the highway, but, with no left-hand-turn lane, it's safer to continue three km to the western Yoho National Park boundary, do a U-turn and then backtrack to the trailhead. The road into the Wapta Falls parking lot is closed in winter, requiring a walk in of about eight km (return). Although the trail is usually packed down, count on icy sections as you drop down to the viewpoint. Photographer Viktoria North of Canmore-based North Grove Creative recommends timing your visit for the afternoon, "when the sun is on the south-facing falls, the sky shows up as a magnificent blue and there's beautiful light filtering through the trees."
Bear's Hump – Waterton Lakes National Park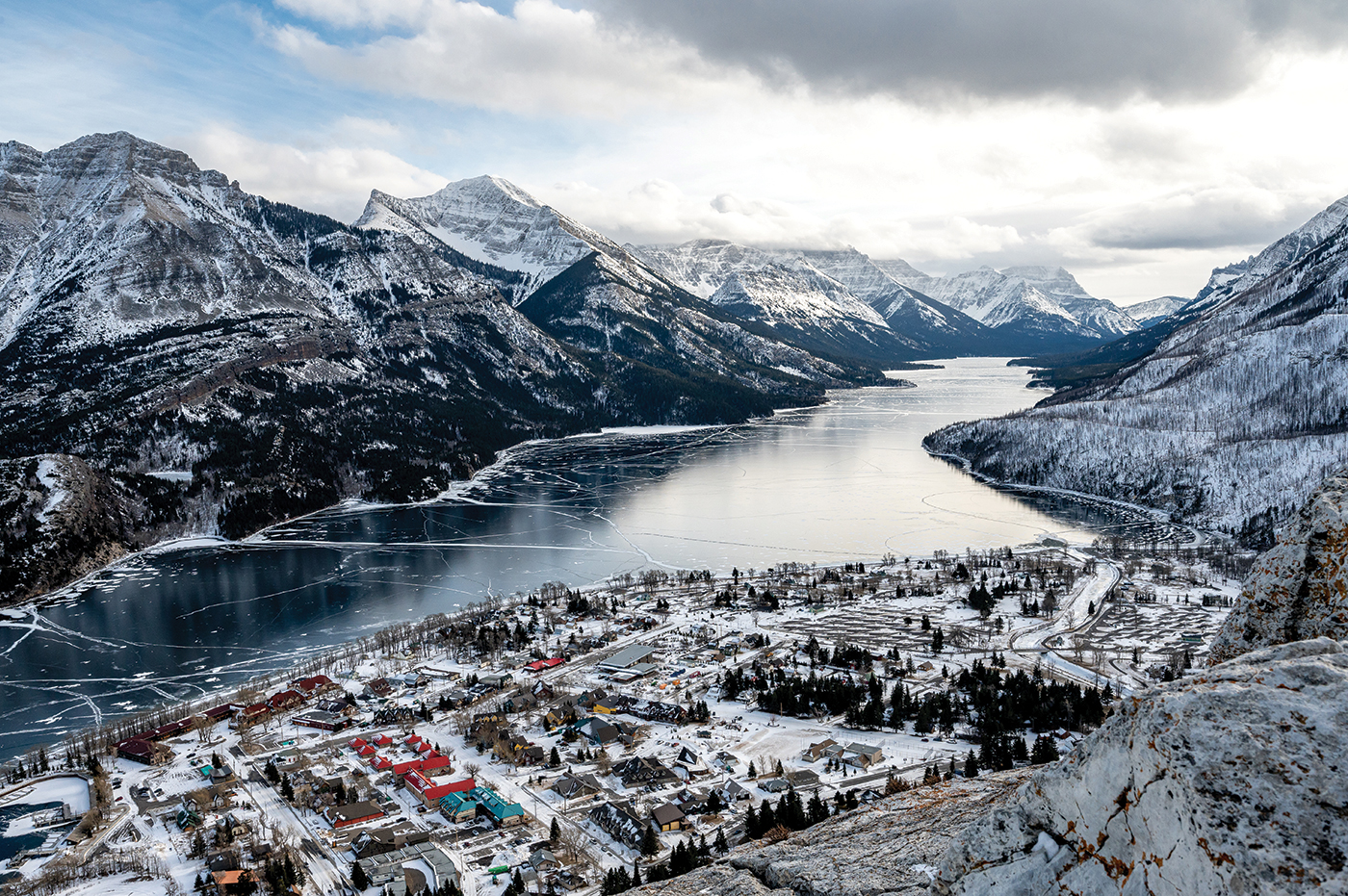 For some of the best views in Waterton Lakes National Park, hike up the Bear's Hump, a flat outcropping on the side of Mount Crandell that's easy to access via the trail constructed in the wake of the 2017 Kenow wildfire. The trailhead is across the street from the entrance to the Prince of Wales Hotel on the road to the Waterton townsite. The trail to the "hump" climbs 225 m over 1.4 km. For safety's sake, it's best done with icers, and be prepared for Waterton's notoriously fierce winds at the top. Gales aside, you'll enjoy sweeping views of prairie ranchland to the north, Glacier National Park (Montana) to the south, the full length of Upper and Middle Waterton Lakes and Linnet Lake, along with the striking Prince of Wales Hotel and the Waterton townsite. According to Carey Tetzlaff of Waterton-based Tamarack Outdoors, who led "breakfast on the hump" tours for several years, "winter sunrises can be incredible, and the sunsets are terrific, too."
Amazing Photo Books by Regional Photographers
If you'd rather look at photos by professionals, here are three books to put out on the coffee table.
Aloft: Canadian Rockies Aerial Photography by Paul Zizka  (Rocky Mountain Books, 2021)
A breathtaking collection of Rocky Mountain photos taken from the air.
Where Rivers Meet: Photographs and Stories from the Bow Valley and Kananaskis Country by Stephen Legault (Rocky Mountain Books, 2018)
Kananaskis Country and the Bow Valley in a collection of 200-plus photos and short essays.
The Canadian Rockies: Banff, Jasper & Beyond by John E. Marriott (Café Books, 2009)
Wildlife and backcountry captures, along with classic Rocky Mountain scenes, by the Canmore-based nature photographer.