Not a fan of the whole ski-resort scene? Not a problem. There are plenty of ways to enjoy winter in the mountains that don't require chairlifts. Grab your mittens and try your hand at one of these cold-weather pastimes instead.
Go dogsledding and ski-joring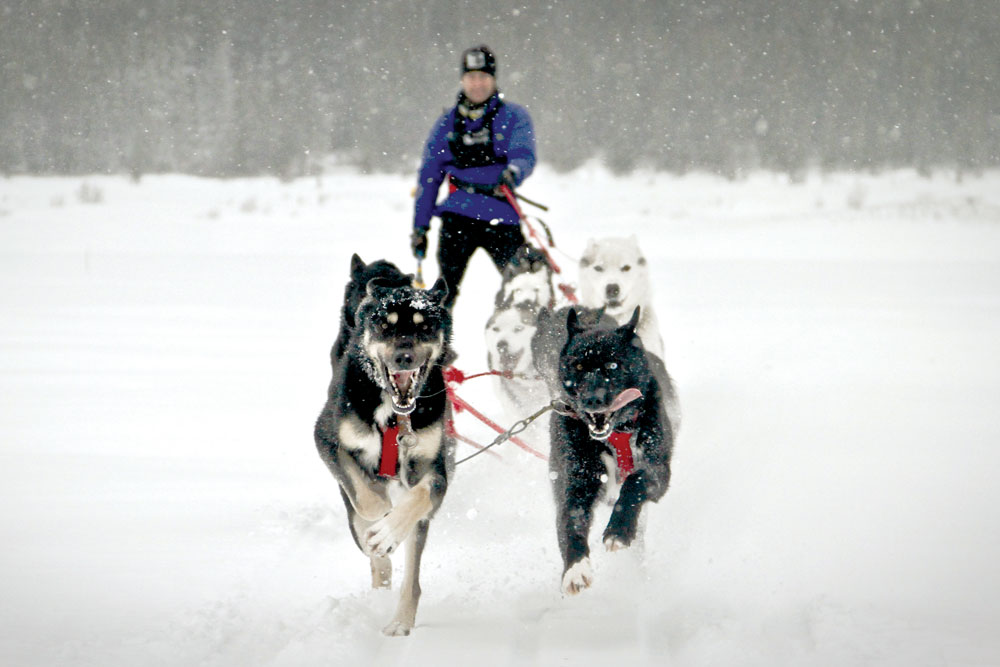 photograph courtesy of mad dogs & Englishmen Sled Dog Expeditions
Dog sledding with Mad Dogs & Englishmen Sled Dog Expeditions.
Dogsledding is an increasingly popular, family-friendly activity, with tour companies in Canmore, Banff and Lake Louise offering it. In skijoring (Norwegian for "ski driving") you're essentially the sled as you slap on cross-country skis and get pulled by an enthusiastic canine. Mad Dogs & Englishmen Sled Dog Expeditions offers lessons and tours at Spray Lakes near Canmore and Boundary Ranch in Kananaskis. For enthusiasts, the city of Whitefish, Mont., hosts a world invitational ski-joring competition every January as part of the Whitefish Winter Carnival.
Go backcountry camping
The Alpine Club of Canada operates backcountry huts in the Rockies, many of which are open all year. In fact, the family-friendly Cameron Lake Cabin in Waterton Lakes National Park is only open between December and April. Bring your own sleeping bags and food and be prepared to ski or snowshoe in. Less-experienced explorers can book backcountry ski-training courses through Yamnuska Mountain Adventures in Canmore or obtain multi-day trip-planning assistance from White Mountain Adventures in Banff.
Go for a soak
Tricky to access – even in the summer – Lussier Hot Springs are a remote natural hot springs at the tip of Whiteswan Lake Provincial Park in the Kootenay Range of the Rockies, a little more than an hour south of Radium, B.C. To reach them, turn onto the Whiteswan Forest Service Road south of Canal Flats, and, 17.5 km later, you'll find steaming rock pools, snowy pines and turquoise waters. For undeveloped natural pools, Lussier Hot Springs is pretty civilized, with a washroom and change room nearby.
Climb a frozen waterfall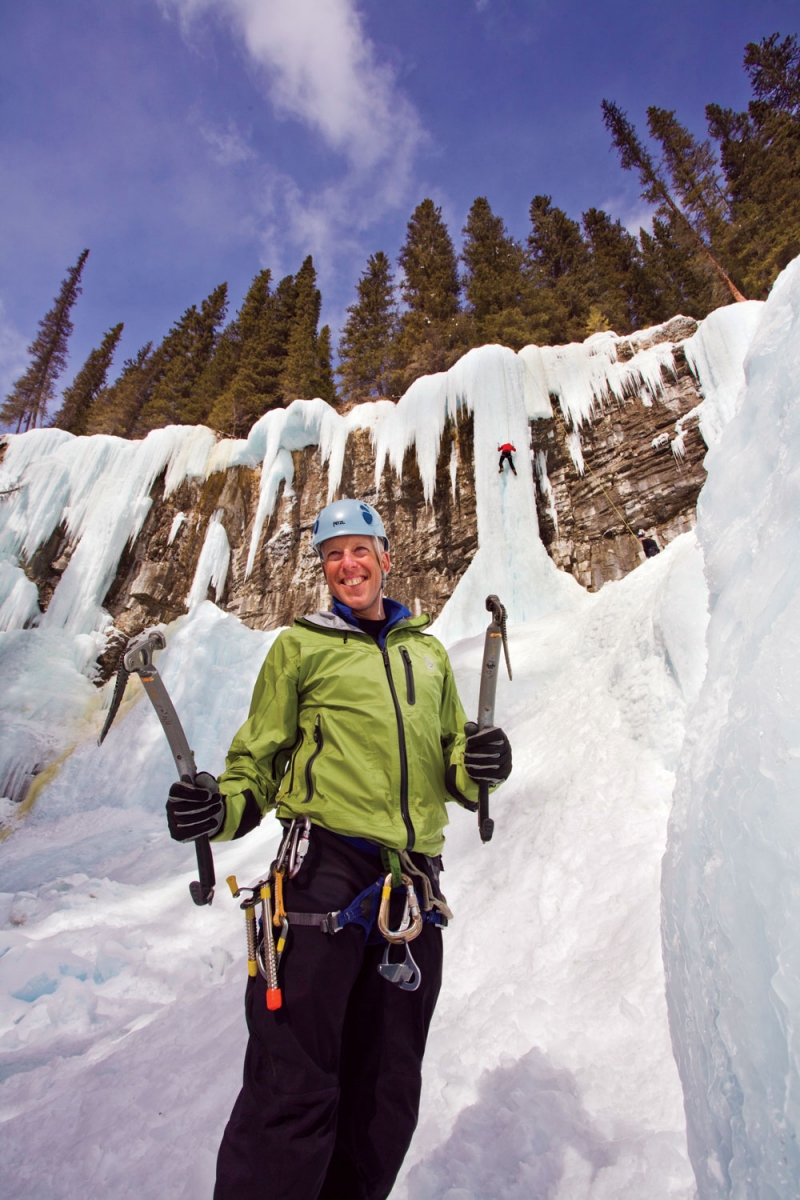 photograph courtesy of banff lake louise tourism
Ice Climbing at Johnston Canyon.
From November until April (weather permitting), the waterfalls in the Rockies are frozen solid. When this happens, it's ice-climbing season! True, ice climbing can be a technical, demanding sport, but that's not to say beginners can't do it. It's actually not that hard to find a pitch that isn't much more difficult (but is considerably more beautiful) than climbing a ladder. Lessons, equipment rentals and guided climbs are widely available. Canadian Rockies Alpine Guides is a good place to get started, with a variety of skills clinics and trips from Canmore, Banff, Nordegg, Lake Louise and Jasper.
Go fly a snowkite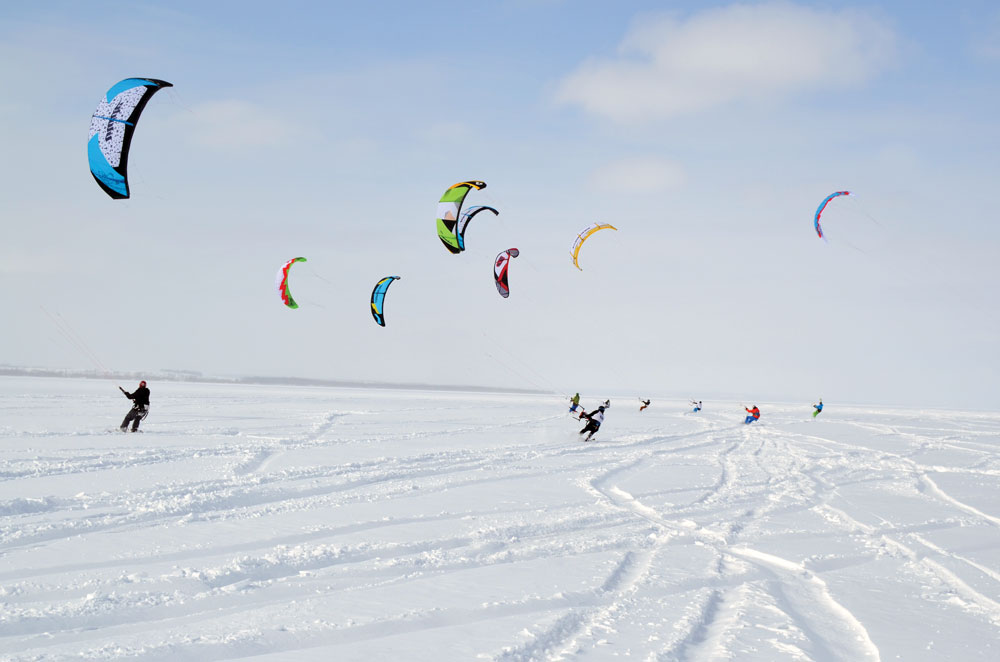 photograph by Patrick Sulatisky
Glory Kiteboarding.
A cousin of ski-joring (with the option of getting air), snowkiting requires an open space with plenty of snow and wind – such as a frozen lake. Steady winds at Spray Lakes near Canmore make this a popular spot for advanced riders and the kite-curious. Learning to control the kite and your balance simultaneously is challenging, but there are companies that offer training courses, including Rocky Mountain Snowkite in Canmore and Glory Kiteboarding in Calgary.
Join the pack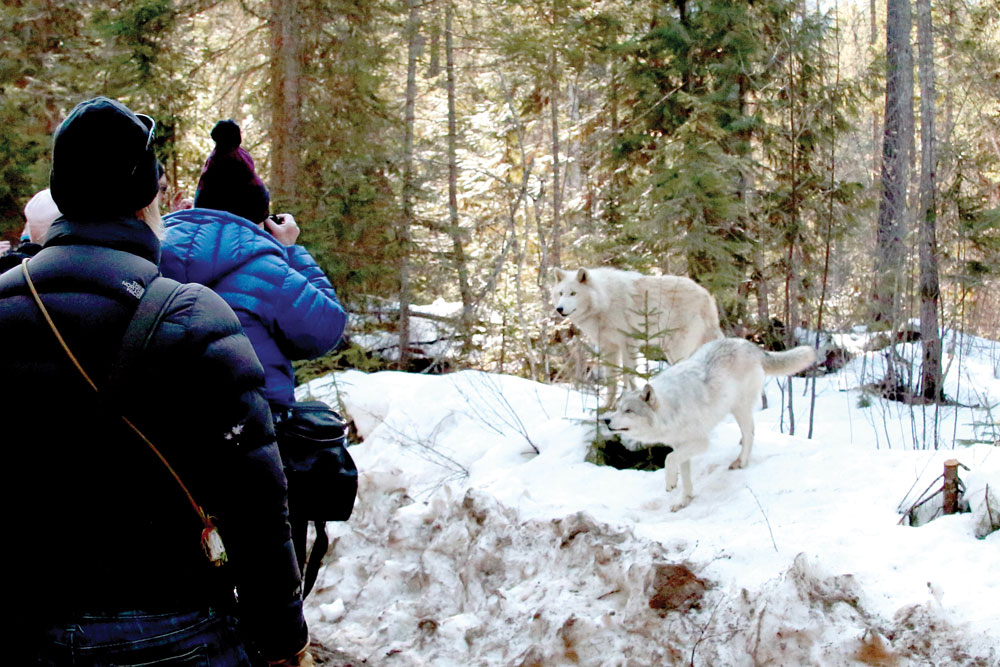 photograph by diane bolt
Northern Lights Wolf Centre.
The Northern Lights Wolf Centre is a conservation- and awareness-raising facility that is home to a small pack of resident wolves, all of them rescues, zoo refugees or retirees from the film and television industry. Visit for an interpretive talk or sign up for a Blackwolf Photography walk, which takes you on a mountain hike with the pack. Find the facility just north of the town of Golden, B.C., near the Yoho National Park boundary.
Ride a bike
Fat biking is an increasingly popular way to explore snowy trails on two very wide wheels. Several mountain resorts offer fat biking, including Fernie Alpine Resort and Kimberley Alpine Resort. Closer to Calgary, the Canmore Nordic Centre welcomes fat bikers to marked trails, and the network of trails in West Bragg Creek is a must-ride for more experienced cyclists.
Go fish
You can ice-fish in lakes all over Alberta, including Gull Lake and Pine Coulee Reservoir, but for an unusual winter angling experience, book a full day guided ice-fishing trip with Ice Fishing Alberta (a division of Bow River Fly Fishing Adventures) and snowshoe up a mountain to the company's secret fishing spot. Tour guides provide fishing equipment, augers and sonar equipment – you provide the fishing licence (and a really warm coat).
Ride a horse
Moose Mountain Horseback Adventures, operating about 13 km south of Bragg Creek in Kananaskis Country, offers horseback tours year-round through the famously lovely region where The Revenant and Brokeback Mountain were filmed. Owner Neil Maclaine, who guides many of the tours himself, describes winter horseback riding as "magical." The tours are open to beginner riders, or, for a more passive equine experience, book a horse-drawn sleigh ride to a frozen lake where you can roast wieners and marshmallows and play pond hockey.
Go underground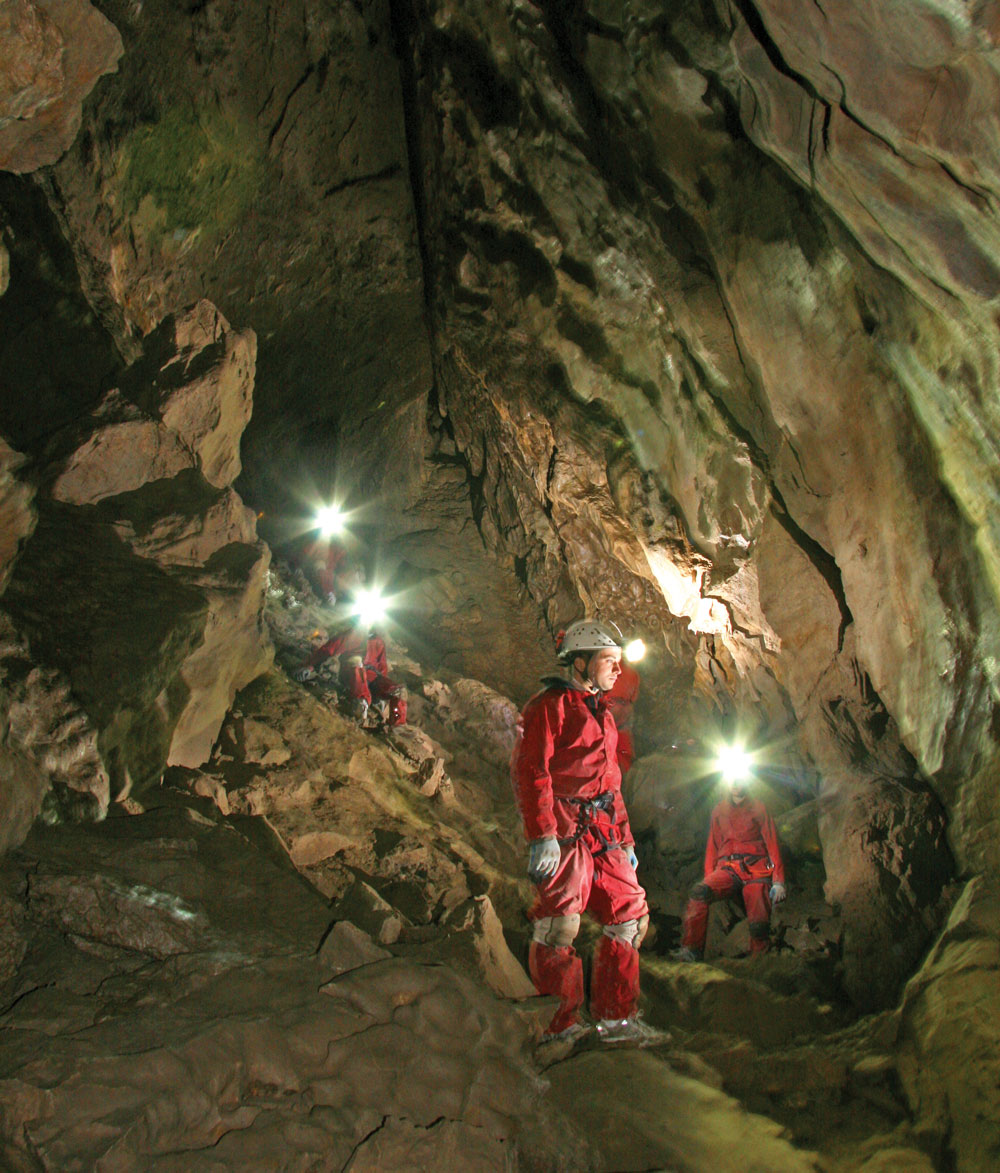 photograph by Dan Hudson
Bow Valley Rat's Nest Cave near Canmore.
There are no lights or walkways in the Bow Valley's Rat's Nest Cave, but there's no snow, either. Natural history tours of this wild cave under Grotto Mountain near Canmore are available year-round and offer the opportunity to hike, crawl, slide, rappel and squeeze your way through ancient cave formations.
Go snowshoeing
Cumbersome in the backyard, snowshoes are indispensable in the deep mountain snow. Try the easily accessible trails near the Canmore Nordic Centre and in West Bragg Creek, or go deeper into the backcountry with OnTop Mountaineering. The Canmore-based guiding service offers single- and multi-day snowshoe tours from Kananaskis to the Kootenay Rockies, and from Yoho to Glacier national parks.
Ride the rails
SunDog Tour Co. runs a half-day train trip that starts in Jasper and follows the Fraser River through the Robson Valley to Dunster, B.C., with a return trip to Jasper by vehicle shuttle. With scenic stops at Rearguard Falls and Mount Robson, this is a relaxing off-road way to experience one of the most spectacular stretches of the Rockies.