Fortress Mountain in Kananaskis Country wasn't always one of Alberta's best-kept secrets. Located along Highway 40 just an hour or so's drive from Calgary (depending on the weather), the former Fortress Ski Resort was a go-to for Calgary skiers and snowboarders for more than three decades, until its closure in 2004.
Since then, the 2,000-plus acres of stunning alpine terrain has become an in-demand location for big budget Hollywood films — Inception, The Revenant and The Bourne Legacy, most notably. And while the chairlifts aren't running anymore, the arrival of cat-skiing in the area in the 2011-2012 winter season has allowed skiers and snowboarders to continue to enjoy the slopes and glades of Fortress. Since the winter of 2015-2016, non-skier-snowboarders have also enjoyed this winter wonderland with snowcat snowshoe tours by White Mountain Adventures.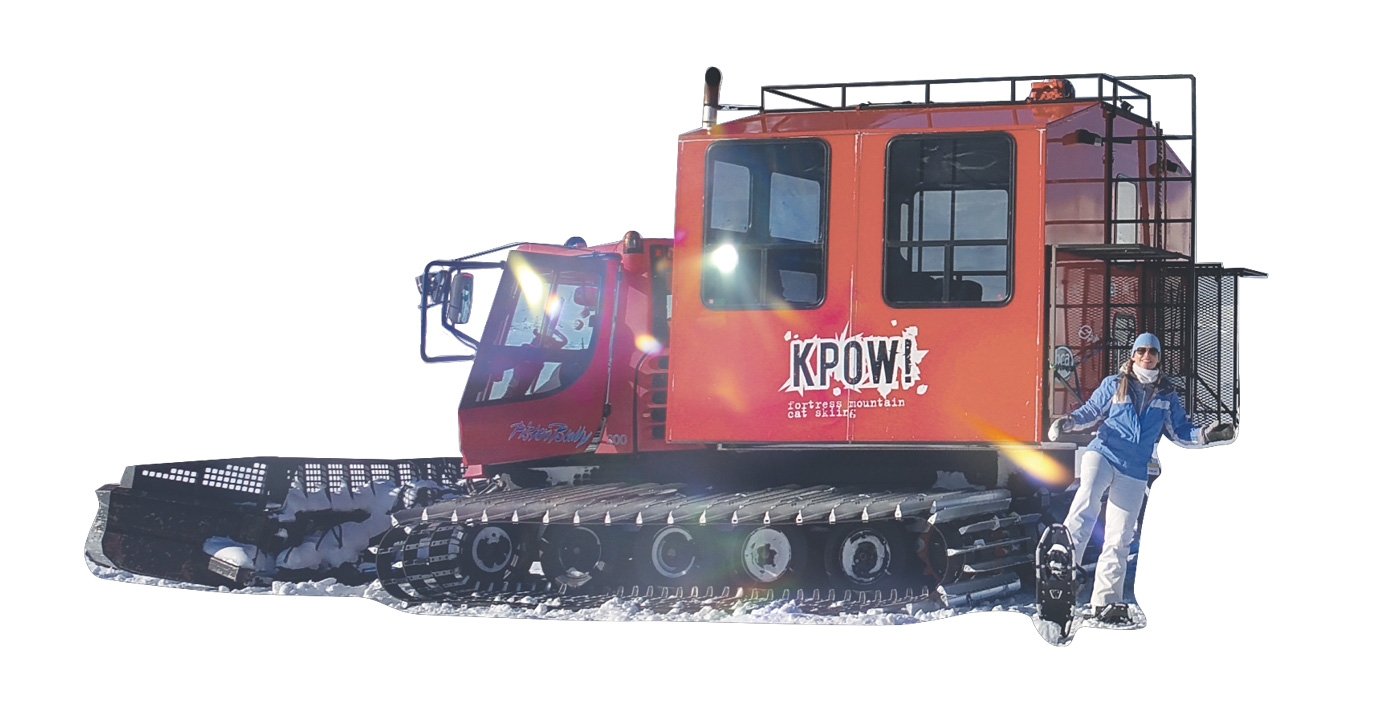 With this cat-skiing-meets-snowshoeing hybrid, getting up the mountain is half the fun (if you ask nicely they may let you ride shotgun). The snowshoeing route includes access to some of the locations from the aforementioned blockbuster films so you can walk, ahem, snowshoe in the footsteps of Leonardo DiCaprio through the serene landscape surrounded by towering mountain peaks. The only thing more satisfying than crunching along the trail of freshly packed snow is the fresh-baked cookies and hot chocolate enjoyed mountainside.
The snowshoe adventures are offered on Saturdays from mid-December through the end of March and depart with a minimum of four registered guests. You'll need to come dressed for the elements in winter boots or waterproof hiking boots, a winter jacket, snow pants, toque and warm gloves (ski goggles or sunglasses are also highly recommended). White Mountain Adventures has everything else covered: snowshoes and trekking poles, professional hiking guide and transportation up and down the Fortress Mountain Road to and from the starting point. Total trip duration is 4.5 hours (excluding transfers). The difficulty level is considered moderate to strenuous and as such is not suitable for kids under 12. If needed, White Mountain Adventures also offers a round-trip shuttle from Canmore and Banff.
Avenue's writers and editors are occasionally invited to experience dining or adventure activities as a guest, including some experiences in this story. Neither complementary experiences nor advertising are required for coverage in Avenue. Neither companies that advertise nor those that provide other incentives are promised editorial coverage, nor do they have the opportunity to review or approve stories before publication.