For the uninitiated, the thought of a winter hike might have all the appeal of a root canal. But those in the know will tell you there's a palpable thrill to heading out on foot on snow-covered trails. Imagine a world where the air is crisp, noises are muffled and trees covered in hoar frost stand out against an impossibly blue sky. Then there's the feeling you get deep inside — that sense of satisfaction that you got your butt up off the couch and are out doing something wonderful for both body and soul.
Winter hikes do take some planning. You need to dress properly from top to bottom. Lose the cotton and layer up starting with clothes that wick moisture away from your skin — lightweight layers can be removed as you start to heat up. Top off with a warm, insulating layer (down or a synthetic equivalent) and add a windproof jacket if conditions warrant. Include a warm hat, a neck warmer and mitts. And don't cheap out on footwear; a good pair of insulated boots can mean the difference between a great day and a miserable experience. Ditto the socks; wear wool or synthetic hiking socks and pack an extra pair in case the first pair gets wet. Prevent a potentially injurious fall by bringing along a pair of ice cleats (outdoor brand Kahtoola's slip-on Microspikes are popular) and a set of hiking poles — both are invaluable after a stretch of freeze-thaw cycles.
Come December, the sun in Calgary is out of the picture by 4:30 p.m. so plan accordingly. Get an early start, factoring in driving time so you're not coming off the trail in the dark. And always pack along a headlamp and extra batteries.
You'll also need to keep your body fuelled and hydrated while you're hiking, no matter what the temperature. Carry a Thermos of something hot like soup, tea or hot chocolate. Keep energy bars handy and eat often if you're working hard. Don't forget sunscreen, lip balm and a first-aid kit stocked with basics like alcohol wipes, Band-Aids and ibuprofen. In winter, it's also not a bad idea to throw in a couple of hand or toe warmers as they can emit heat for up to eight hours.
As for snowshoes, while all the trails described here can be done without them, there are times after a big dump of snow that snowshoes will be the way to go. Current models are compact, lightweight and easy to strap to a day-pack. Rent a pair, or better yet, invest in some, as they'll last you for decades.
---
5 Great Winter Hikes Near Calgary
Glenbow Ranch, Rocky View County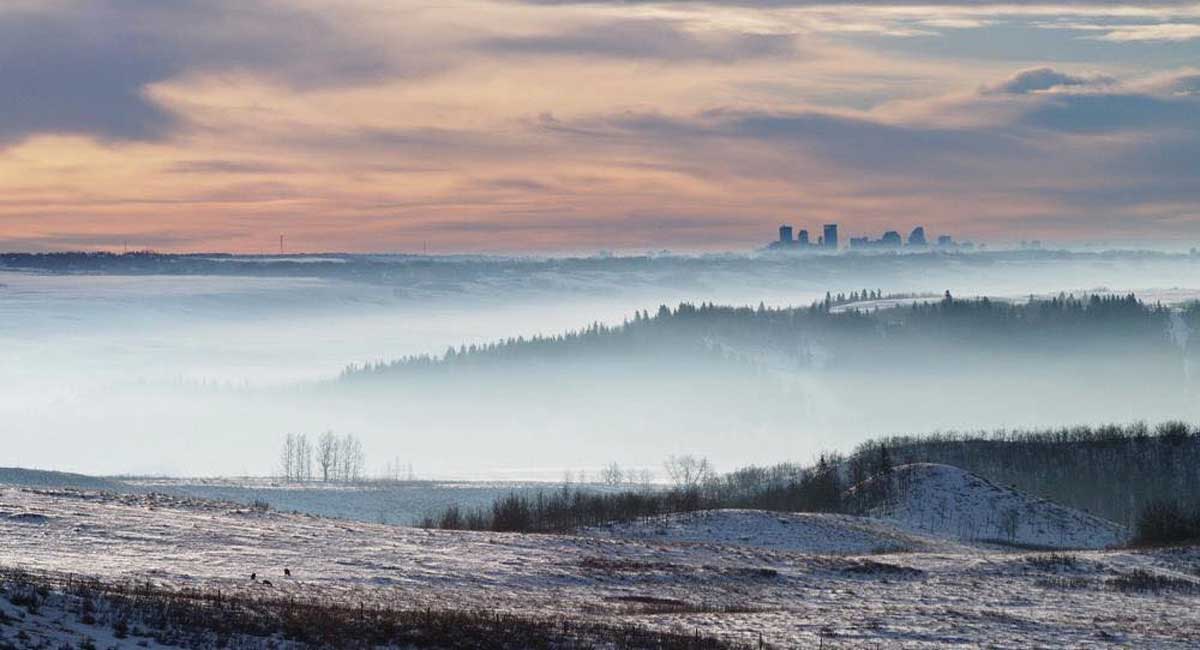 Historic Glenbow Ranch is only 30 minutes by car from Calgary, but this landscape of rolling grasslands along the banks of the Bow River feels a world away. To get your bearings before you set out, have a look at the detailed trail map at the Visitor Centre and choose the right route based on how much time you have. With around 30 kilometres of paved and gravel trails, you can spend an hour or take the whole day exploring the prairie landscape. Whether you're on a loop trail that weaves through stands of aspen and up quiet coulees or on out-and-back section of the Trans-Canada Trail that runs from the fringes of Calgary to the Gleneagles neighbourhood in Cochrane, the only company you might have is a couple of deer.
Johnston Canyon, Banff National Park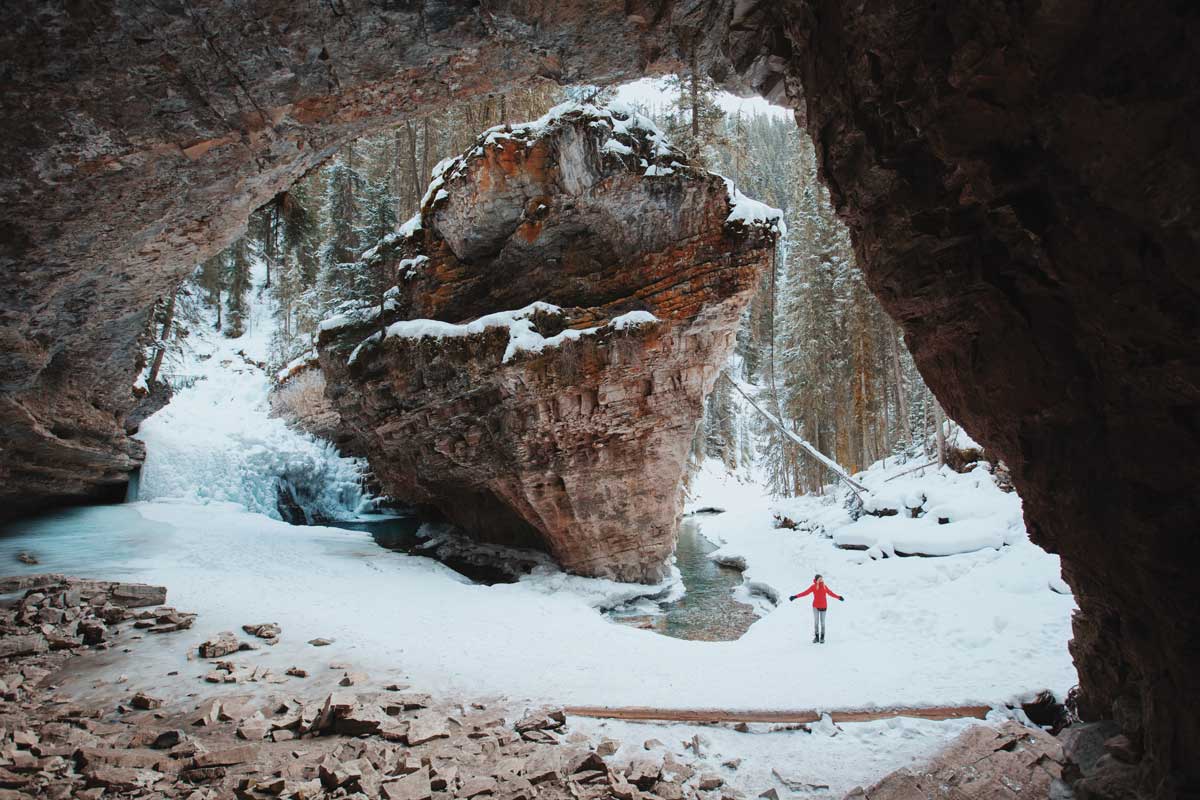 The icy but easy hike up through Johnston Canyon ticks all the boxes for a beautiful outdoor winter experience — a cantilevered catwalk in a spectacular canyon setting with up-close views of frozen icefalls, airy lookouts and ice-climbers in action. To get the full experience, plan to hike the extra 2.7 km (one way) to the second and most awe-inspiring icefall. Though Johnston Canyon doesn't draw the same volume of crowds during the winter as it does during the summer, it's still a popular attraction, so go early if you want some elbow room at the lookout points. And this is definitely one hike where you'll want to have your ice cleats with you.
Troll Falls, Kananaskis Country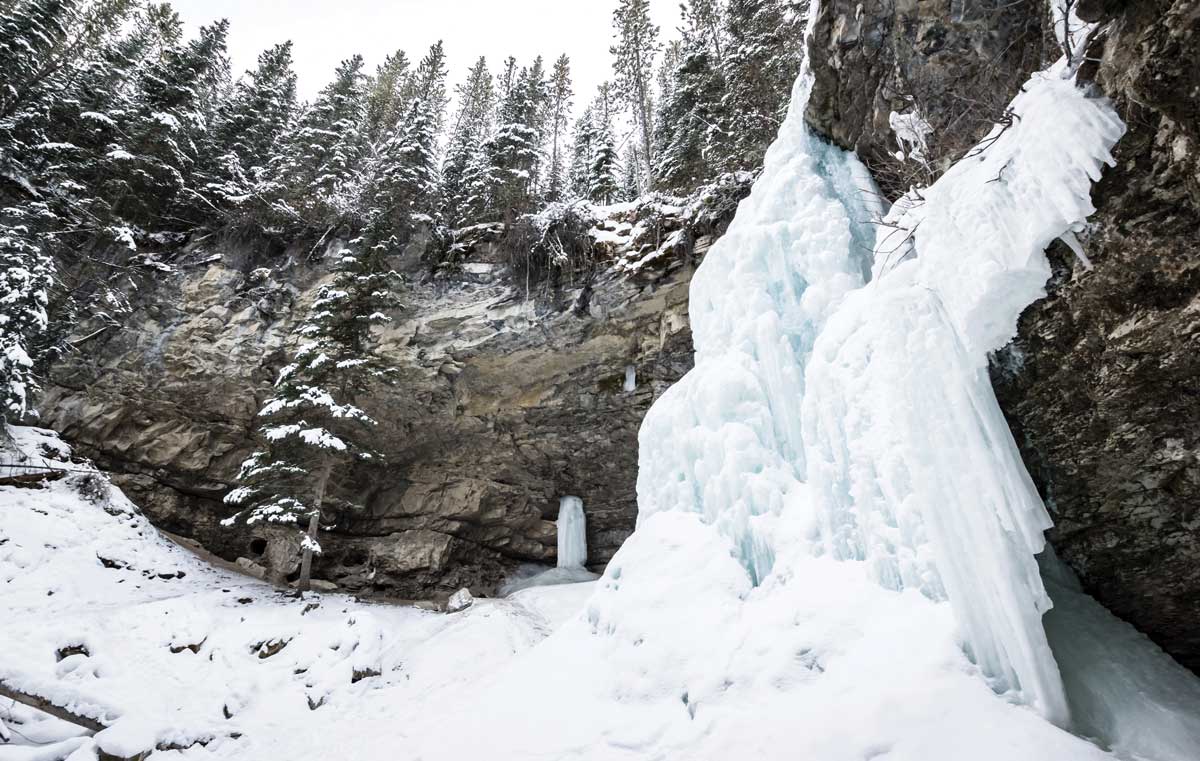 Need an easy, family-friendly outing you can knock off in an hour or two? Troll Falls near Kananaskis Village is an out-and-back hike to a stunning icefall ringed by small cliffs. Over the 1.7 km it takes to get to the eponymous falls, you'll enjoy an interesting mix of scenery including evergreen forests and classic K-Country views. Bring a pair of ice cleats if you want the otherworldly experience of walking behind the frozen falls. As for the troll? Use your imagination when you look at the large holes in the cliff walls.
Prairie Mountain, Kananaskis Country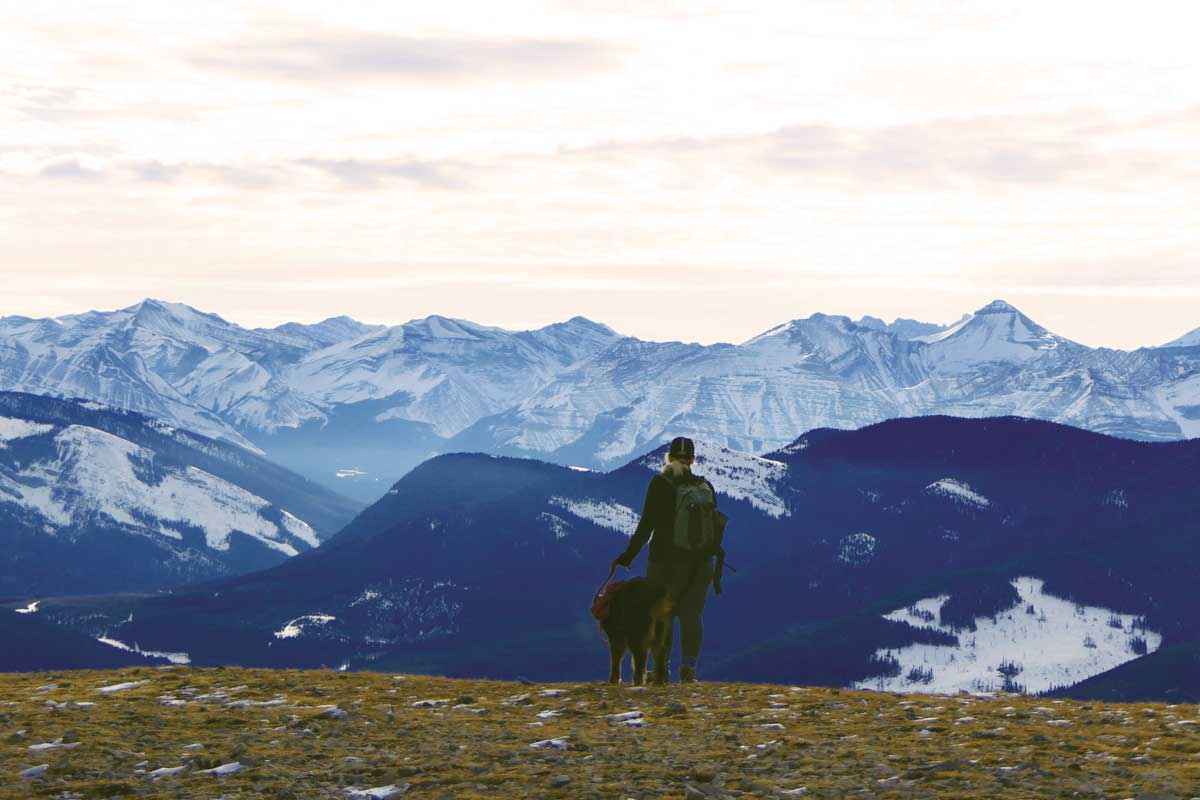 If you're craving a winter hike in the mountains that delivers a workout without fear of avalanche danger, head up Prairie Mountain near Bragg Creek. While it may feel like you're on a never-ending stair climber as you gain 726 metres over 3.8 km, you'll be rewarded with an endorphin rush and glorious mountain views from the summit. On a clear day, you can even see downtown Calgary. The hike is a popular one and dog-friendly, too, so you're bound to be sharing the trail with others, which can be comforting if you're new to winter hiking (as in the other seasons, dogs must be on a leash). Pack warm gear as it's typically cold and windy once you reach the treeline. Fit hikers can be up and down Prairie in three hours or less.
Badlands Interpretive Trail, Drumheller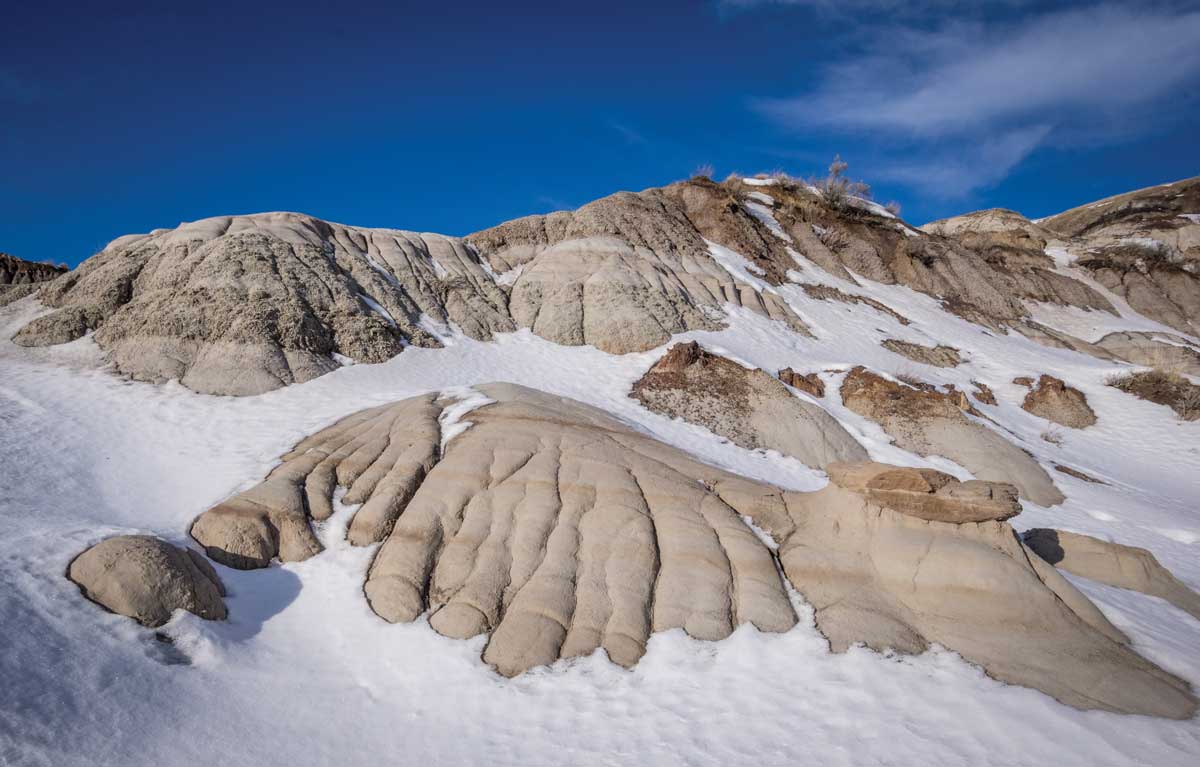 Choose a bluebird day when the sun is shining and the snow is sparkling to hike the stunning Badlands Interpretive Trail. Pick up the 1.4-km trail behind the Royal Tyrrell Museum and see for yourself the appeal of the Badlands in winter; coulee landscapes, hoodoos robed in snow and gorgeous, multicoloured rock formations showcase the remarkable seasonal beauty of the area. While the interpretive trail is short, there are options for keen hikers to continue on via an easily recognizable spur trail that links to the extensive Drumheller River Parks System. From there, you can continue in either direction along the scenic Red Deer River, retracing your steps to finish the hike.