For those who want to get away from the Stampede crowds, or to extend the giddy-up feeling even longer, guest ranches offer a little taste of home on the range. Along with horseback riding and other unique experiences, these eight ranch destinations in Alberta, B.C. and Montana all offer stunning mountain settings. Whether you're a city slicker living out your ranching fantasy or a seasoned cowpoke with your own horses in tow, you can check in, saddle-up and enjoy the view.
Strathmore, Alta.
65 km from Calgary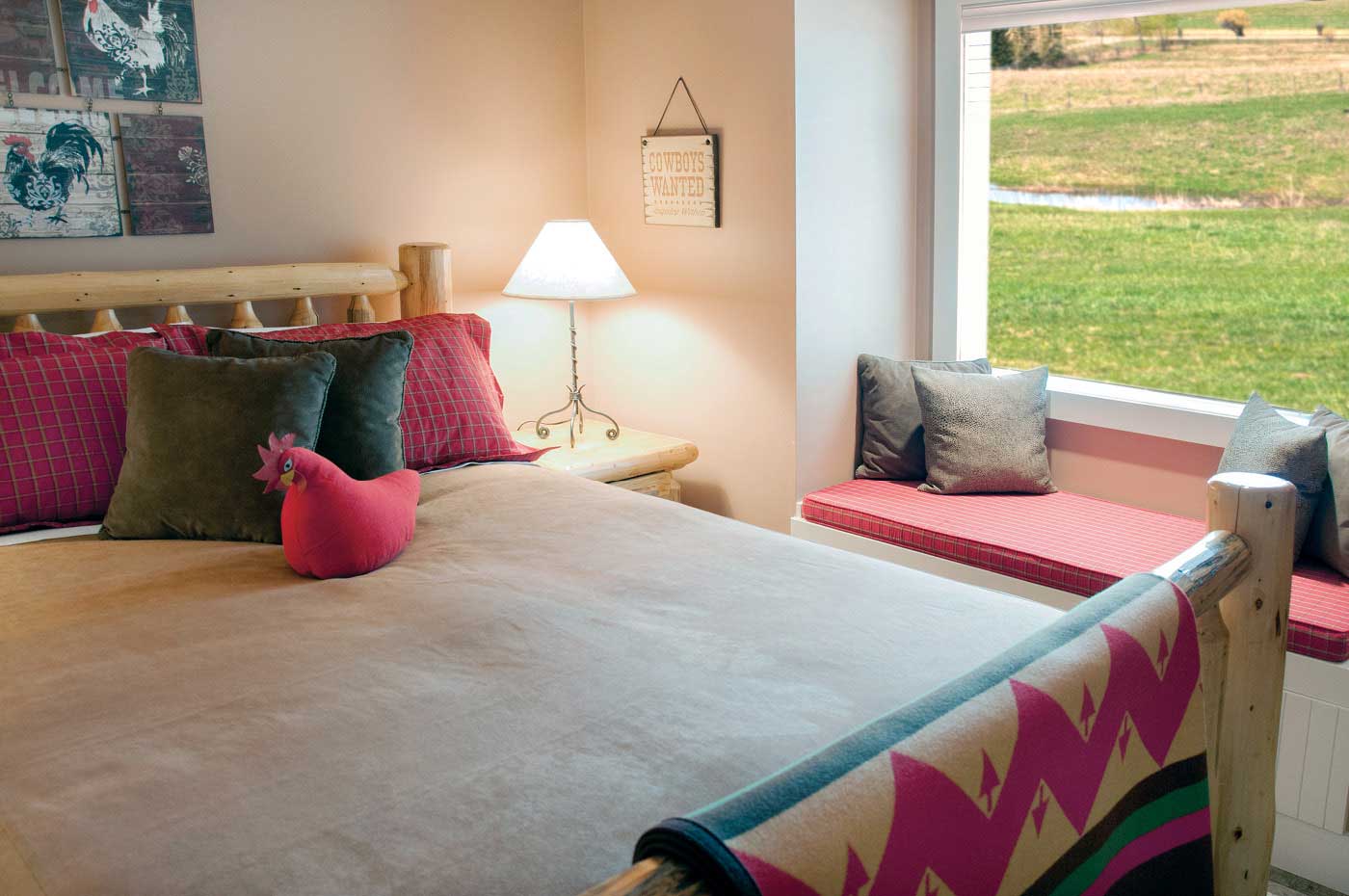 You can drive to Rocking R Guest Ranch from downtown Calgary in just under an hour, making it an easy escape for city folk looking for rural rest and relaxation with a view of the Rockies. The charming guest cabins are comfortably appointed right down to the complimentary robes and slippers, and in-room spa treatments can be booked on request. Rocking R also accommodates equine guests with its Bale & Breakfast program; horses can be put up either inside the eight-stall barn or in outdoor paddocks and receive daily fresh bedding and alfalfa hay.
Lundbreck, Alta.
167 km from Calgary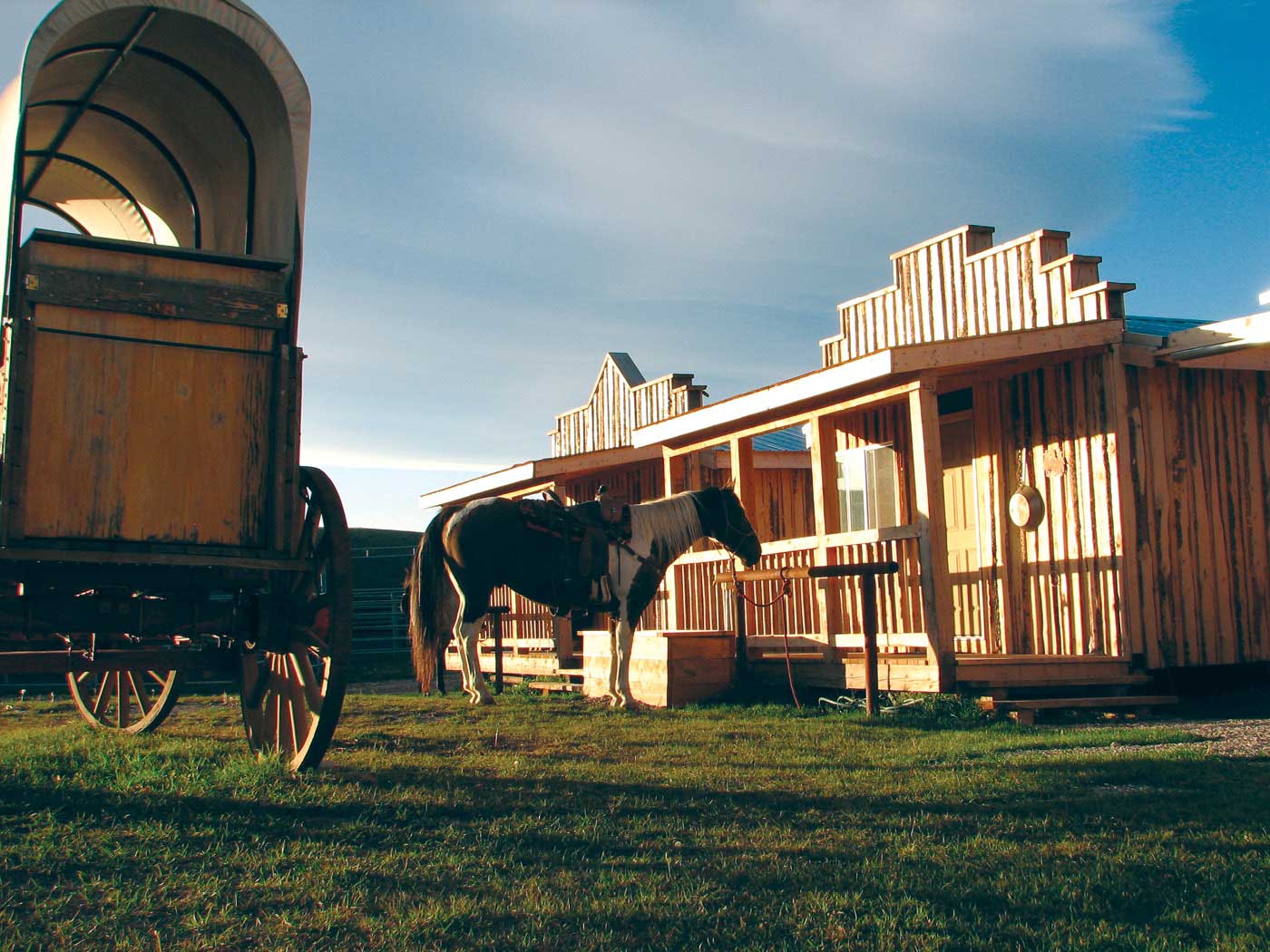 This working cattle ranch and guest ranch in southwestern Alberta is currently up for sale, so its famous frontier cattle drive ride-along experience won't be offered this summer. But you can still cowboy up with a variety of trail rides, including the scenic High Country day ride. Accommodations at Sierra West are arranged as a mini frontier town and include bunkhouses and self-catering log cabins — mostly modern builds, with the exception of the Homesteader, which dates back to 1905 and has serious heritage cred.
Lundbreck, Alta.
191 km from Calgary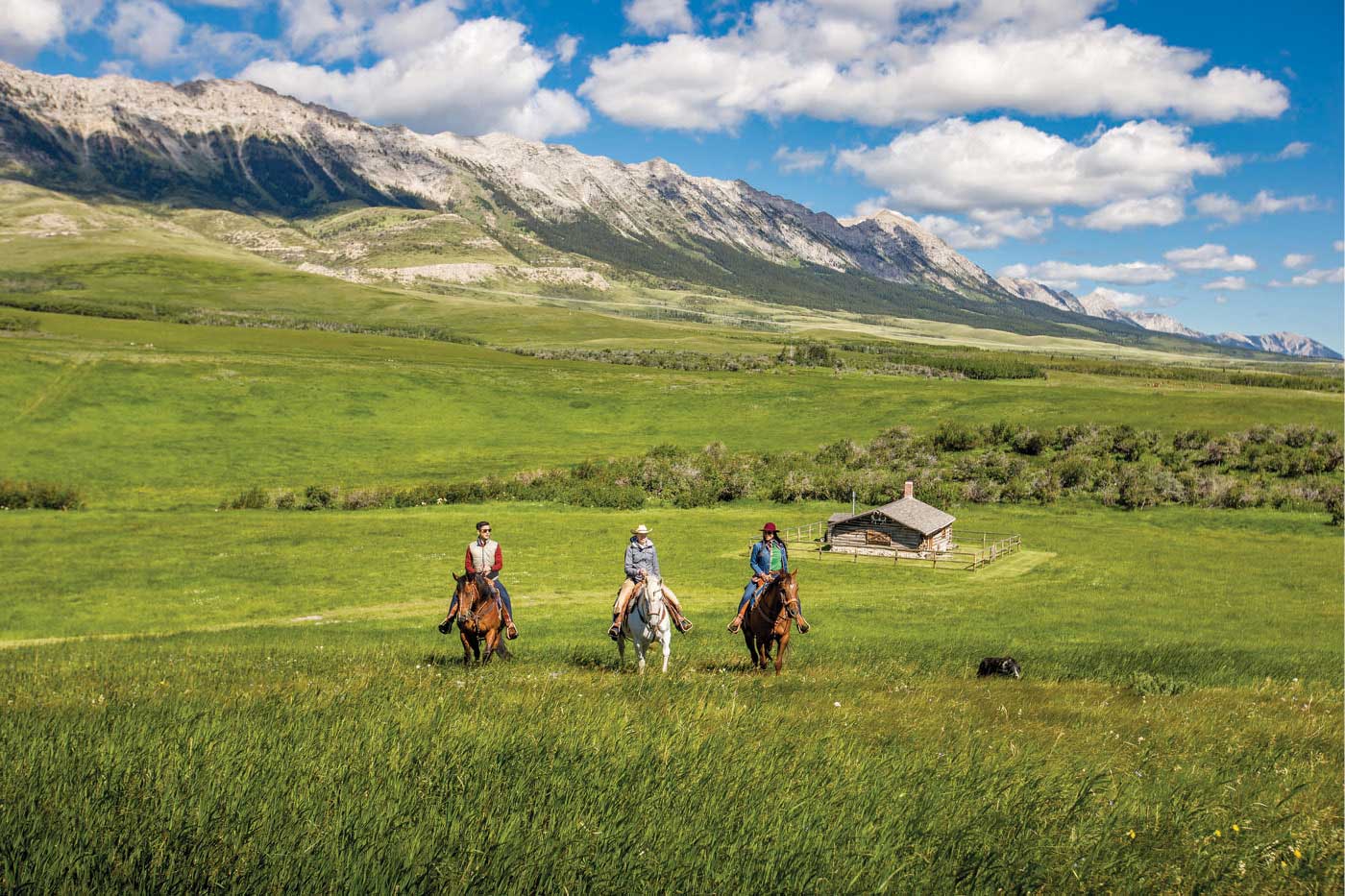 Situated on the eastern slopes of the Livingstone Mountain range in the southwestern corner of Alberta, DU Ranch is a family-owned working cattle ranch with the third generation of the family running Centre Peak High Country Adventures guest ranch. Now in its eighth year of operation as a guest ranch, Centre Peak's signature experience is the Ranch Hand Getaway, which offers private trail-riding outings on working horses paired with accommodation in a private house. Centre Peak will also launch a "Pioneer Getaway" this summer, with accommodations in an original homesteader cabin built more than 100 years ago — though the cabin will be equipped with comfy beds, it doesn't have running water or indoor plumbing, so "adventurous" types only need apply.
centrepeakhighcountryadventures.com
Montana, U.S.A.
272 km from Calgary
Just outside the east entrance to Glacier National Park in Montana, about an hour's drive from Waterton Lakes National Park, Paul Ranch Montana has a variety of lodgings for those seeking a temporary home on the range. The guest accommodations are a bit quirky, but the ranch is particularly great if you're travelling with animals — pets are welcome in three of the accommodations (for a fee of $10 per-pet per-night) and there's also an outdoor dog pen and water and pasture for horses. But the coolest thing about Paul Ranch Montana is that it's home to a free-roaming herd of seven alpacas (Pistol, Deanno, High Beam, JJ, Reboot, Growler and Backspin), plus a "guard llama" named Tattoo, who protects the more meek-mannered alpacas from predators.
Wardner, B.C.
322 km from Calgary
This family-owned-and-operated guest ranch southeast of Cranbrook, B.C., is on a 200-acre spread of land adjacent to several thousand acres of Crown land. The ranch dates back to the 1890s, and you can get a feel for what it might have been like back then (while still enjoying all the conveniences of modern times) by staying in the "honeymoon suite," a completely refurbished 100-year-old cabin. Other accommodations here include seven self-contained log cabins equipped with full kitchens and river-rock fireplaces and a log bunkhouse that sleeps eight upstairs in separate motel-style rooms and 16 more downstairs in nine rooms. There's no horseback riding at Bull River, but guests can still go riding from a guide outfitter's camp located approximately an hour's drive from the ranch. Non-horse activities include guided hiking, fly fishing and wildlife photography excursions, as well as the nearby Fort Steele Heritage Town attraction.
Invermere, B.C.
322 km from Calgary
House of the Friesians is an equestrian facility that raises and trains Friesian horses for the film industry and English dressage. Tucked into the mountains near Panorama, B.C., the ranch and event venue is owned and operated by the Paagman family — matriarch Caio Paagman is something of a Renaissance woman who also does artisan concrete design and holistic life-coaching. House of the Friesians has two different guest accommodations: "the best cozy barn" and "the best cozy log cabin." The barn is a nine-bedroom lodge that sleeps up to 24, with four full bathrooms, as well as kitchen facilities and dining tables where everyone can sit down for a meal together, making it a great option for extended families or multi-family groups. The cabin is smaller, with capacity for 13. There's also a guest hot tub and bonfire pits.
Blaeberry Valley, B.C.
339 km from Calgary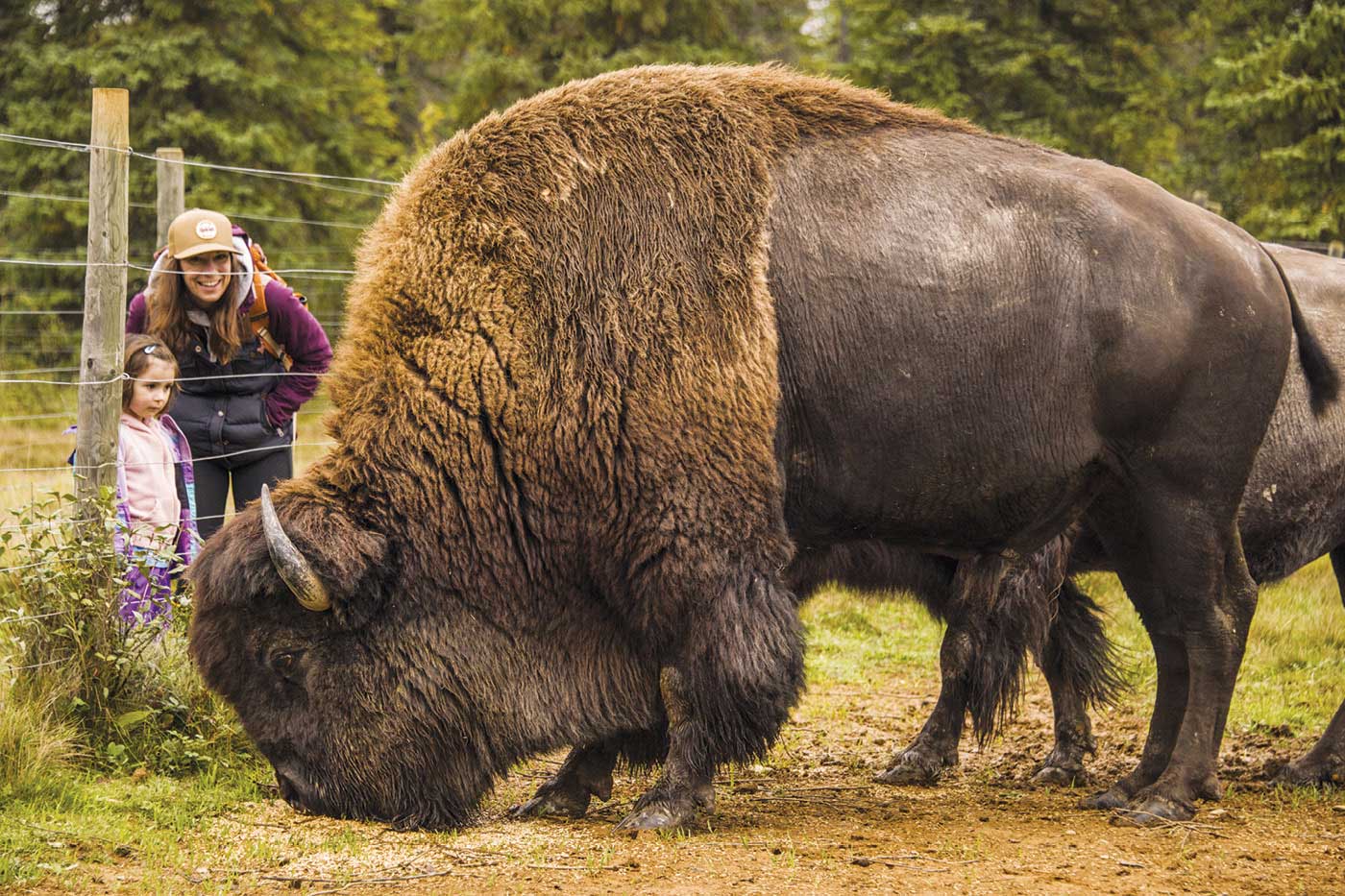 If you've always wanted to go where the buffalo roam, head for this scenic ranch in the Blaeberry area just north of Golden, B.C. Guests can get up-close and personal with the resident herd of North American bison by joining one of ranch-owner Leo Downey's daily scheduled tours. As for accommodations, the ranch has four unique options in varying degrees of rustic-ness, from a self-contained three-bedroom guest house to an off-the-grid cabin by a creek, a timber-frame barn loft and a cabin in the woods that resembles a covered wagon.
leodowney.com/rocky-mountain-buffalo-ranch
Cranbrook, B.C.
378 km from Calgary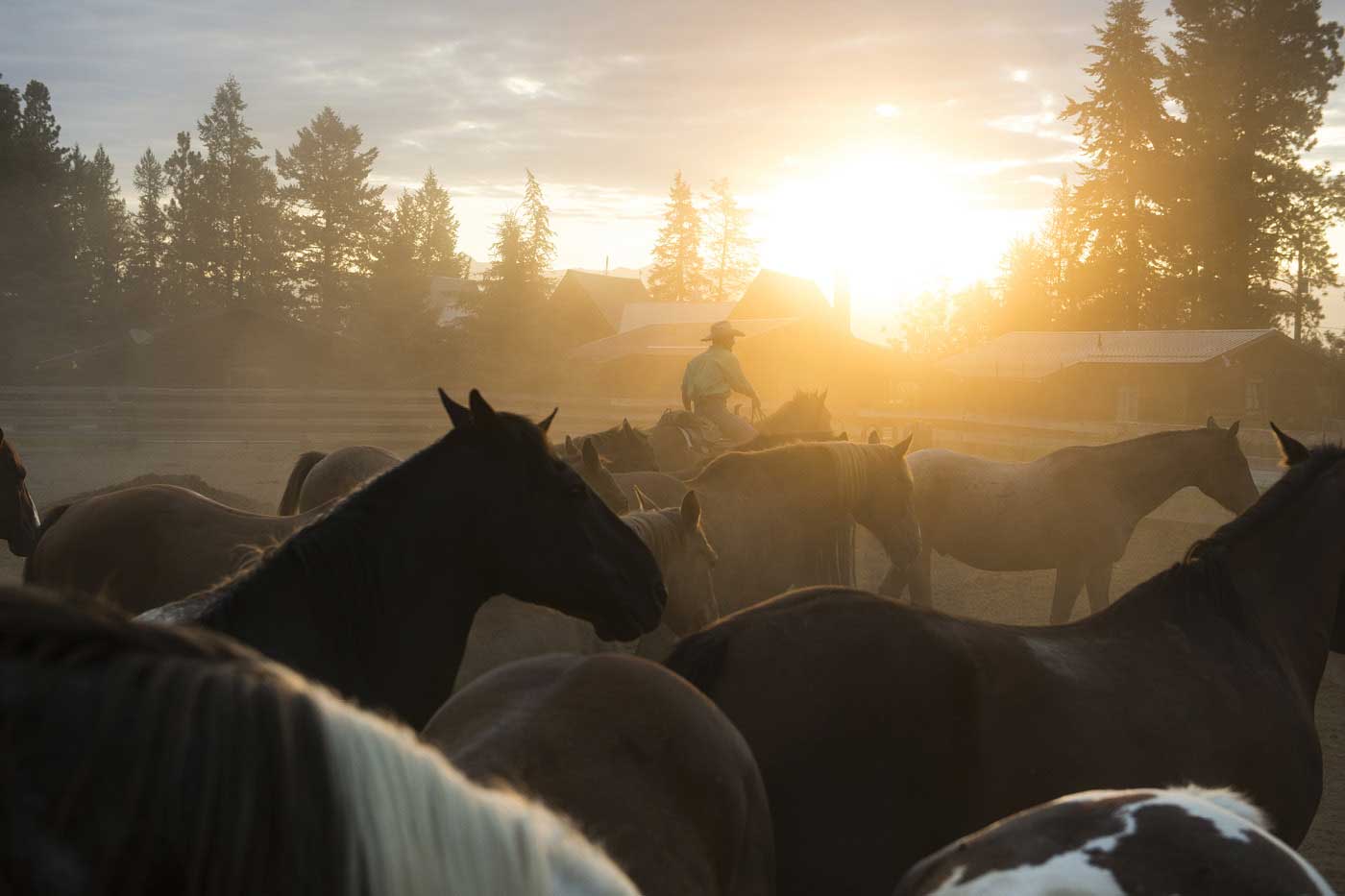 Unlike some of the heritage ranch properties on this list, Three Bars Ranch near Cranbrook was designed and built in 1989 as a "modern vacation ranch." Run by the Beckley family, the 35,000-acre ranch property features a 7,500-square-foot main guesthouse (with saloon), 21 log cabins, an indoor heated swimming pool and outdoor hot tub, a two-acre manicured grass courtyard and even a tennis court. The ranch is home to around 120 head of horses, which works out to a horse-to-guest ratio of approximately two-to-one. The ranch also encompasses Beckley Reining, a 1,000-acre performance-horse training and riding facility. And for guests who prefer admiring horses to riding them, Three Bars offers equine photography clinics.
An Alpine Resort with Frontier Flair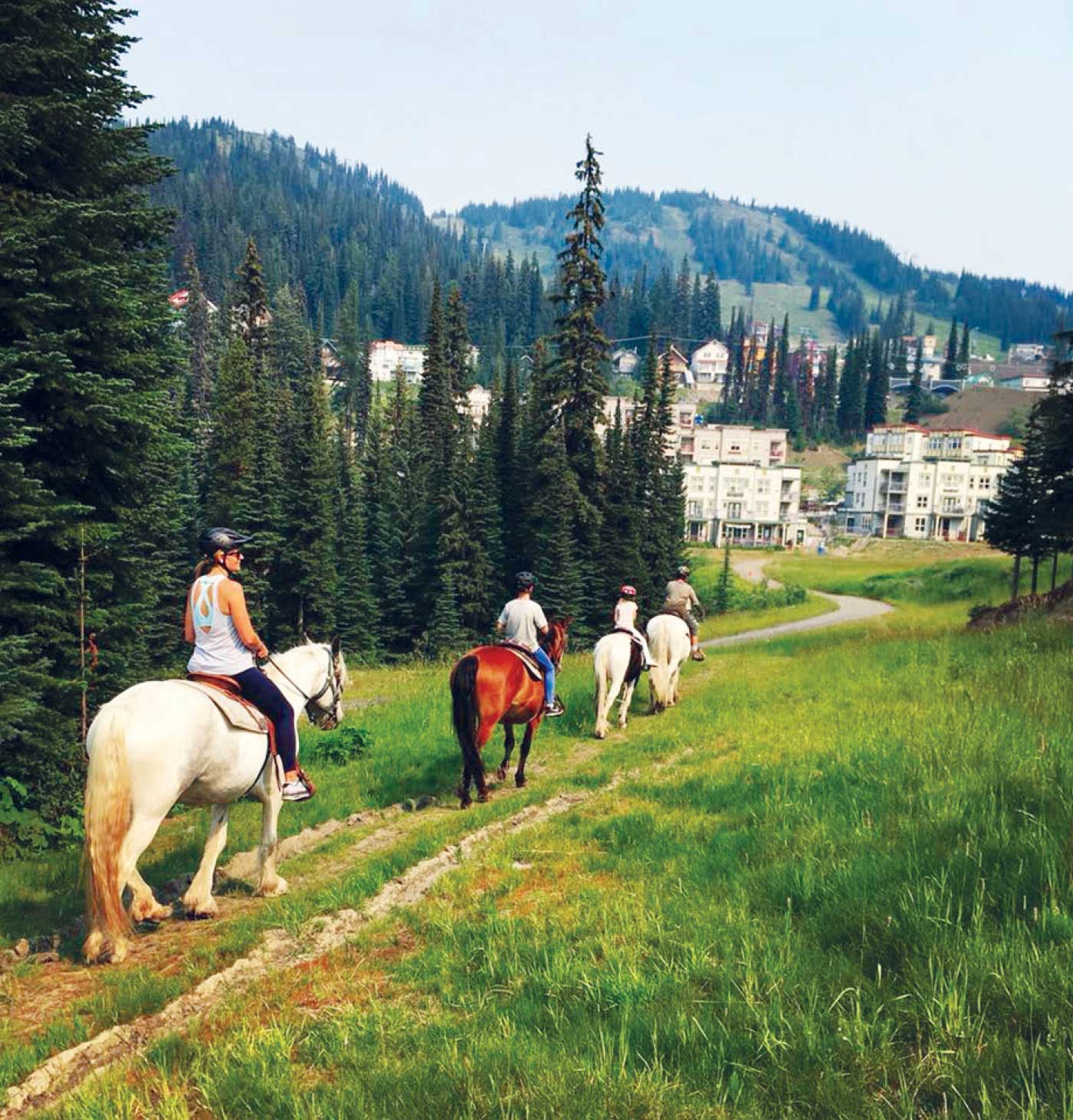 SilverStar Mountain Resort in Vernon, B.C., is a well-loved winter-skiing/snowboarding-cum-summer-mountain-biking destination. But it's also famous for its eye-catching resort village, with buildings painted bright colours and frontier-era design elements. "The village architecture resembles an early 1900s mining town," says Chantelle Deacon, SilverStar's communications and sponsorship manager. "It really takes you back in time." This design ethos is most apparent in SilverStar's main pub: originally built in the style of a saloon, the current incarnation The Red Antler still features Western throwbacks such as antler decor and barn-wood walls.
Of course, the mountain terrain remains SilverStar's premier attraction. In the summer, you can cowboy up for a horse or pony mountain trail ride, though if you prefer wheels over hooves, the downhill bike park has 60-plus kilometres of trails over 1,600 vertical feet and 60-plus km of cross-country biking trails. For a slower pace, hike the mountain-top trails, or ride the shiny new gondola to the peak and enjoy the views from the top. Lower down on the mountain, grab a map and do the Gnome Roam, a hunt for tiny creatures tucked in the trees. —Colleen Seto