Backcountry camping in the winter is not a totally crazy thing to do. Though it might seem like the daunting preserve of hard-core adventurers, with the right preparations, it can be an unforgettable (in a good way) experience — even for the minimally outdoorsy.
Kananaskis Country's Point Backcountry Campground in Peter Lougheed Provincial Park is an ideal first foray into winter camping. Situated on the northwest edge of Upper Kananaskis Lake, the campground is only about 3.5 kilometres from the trailhead at the North Interlakes day-use area. Waterproof winter boots and Microspikes (slip-on devices that add spiky grips to regular footwear) are recommended for the scenic-but-snowy walk in.
Aim to get to the campground in the early afternoon so you have enough time to set up camp and explore a little bit before it gets dark. The advantage of cold-weather camping is instantly noticeable upon arrival; you'll have your pick of the 20 sites and can secure a lakeside site of your choice. The lack of people makes the pristine natural environment all the more peaceful; trails and campgrounds that are usually bustling in the summer become your own private winter wilderness.
Forest fires are also less of a concern and it's pretty much guaranteed there won't be a fire ban. The campground is supplied with a giant pile of firewood allowing for a bonfire big enough to keep you warm all evening. As night falls, the snow-covered landscape stays surprisingly bright and combines with the stars and surrounding mountains to create a beautiful, slightly eerie tableaux.
While braving the cold is part of the fun, it's still better to pick a night when temperatures aren't too extreme. Instead of planning for a specific weekend and hoping the weather cooperates, it's better to have a few weekends in mind and keep an eye on the forecast for milder conditions.
Having the right equipment is essential: a solid four-season tent, thick sleeping mat, sleeping bag rated to well-below freezing and fire-starting materials are all crucial. An extra tarp to lay under your tent, a small shovel, flashlights, camp stove and hand warmers are also worth bringing. As with most outdoor winter activities, layers are your friend; since the hike in is only a few kms you can err on the side of caution and bring more warm clothes than you think you'll need.
When you are ready to crawl into your sleeping bag, be sure to change into fresh clothing as any dampness will make it hard to stay warm. You can sleep soundly knowing that the bears in the area are doing the same and that the rumbling and cracking outside your tent is just shifting lake ice.
While you're unlikely to have the most comfortable sleep of your life, braving the elements provides a satisfying feeling of accomplishment — think of it as one small way of sticking it to winter.
The Must-have Bag for the Season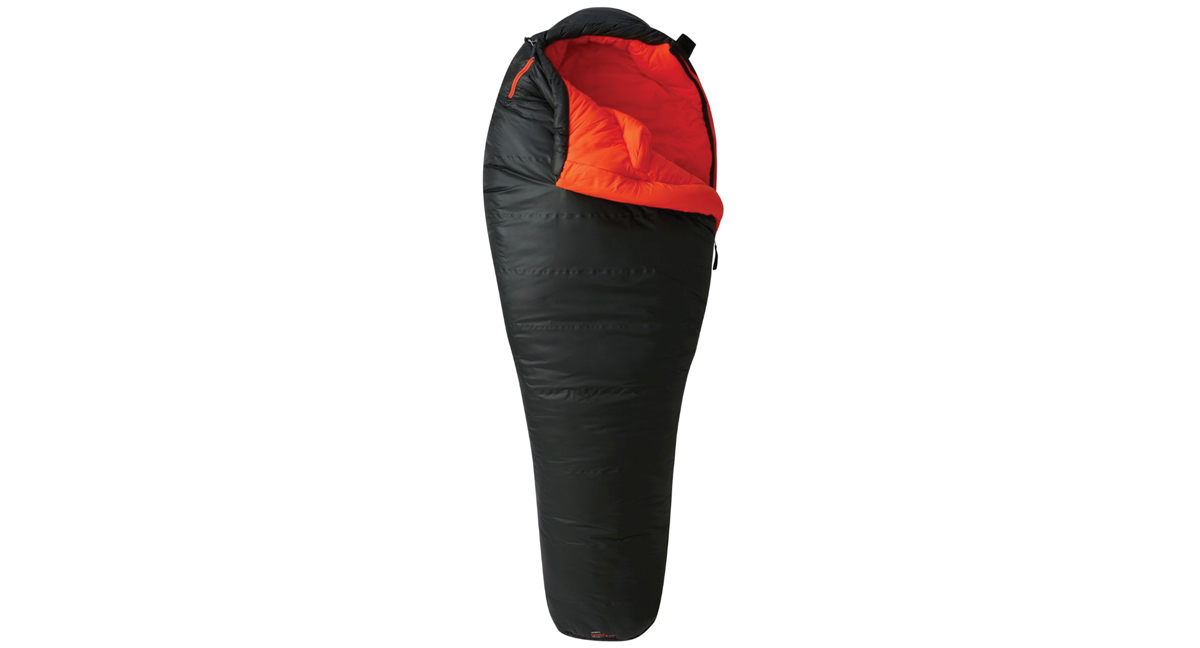 With winter camping, the right sleeping bag is going to be the difference between a good time and a terrible time. If you don't want to invest in a bag that will keep your toes toasty when the temperature drops, you can rent one from the Outdoor Centre at the University of Calgary. The OC's gear program includes Mountain Hardwear Lamina Z Bonfire bags that are rated to -30 C and are water-repellent to keep you dry when condensation builds up in the tent during the course of the night. —Shelley Arnusch
This article appears in the October 2018 issue of Avenue Calgary. Subscribe here.