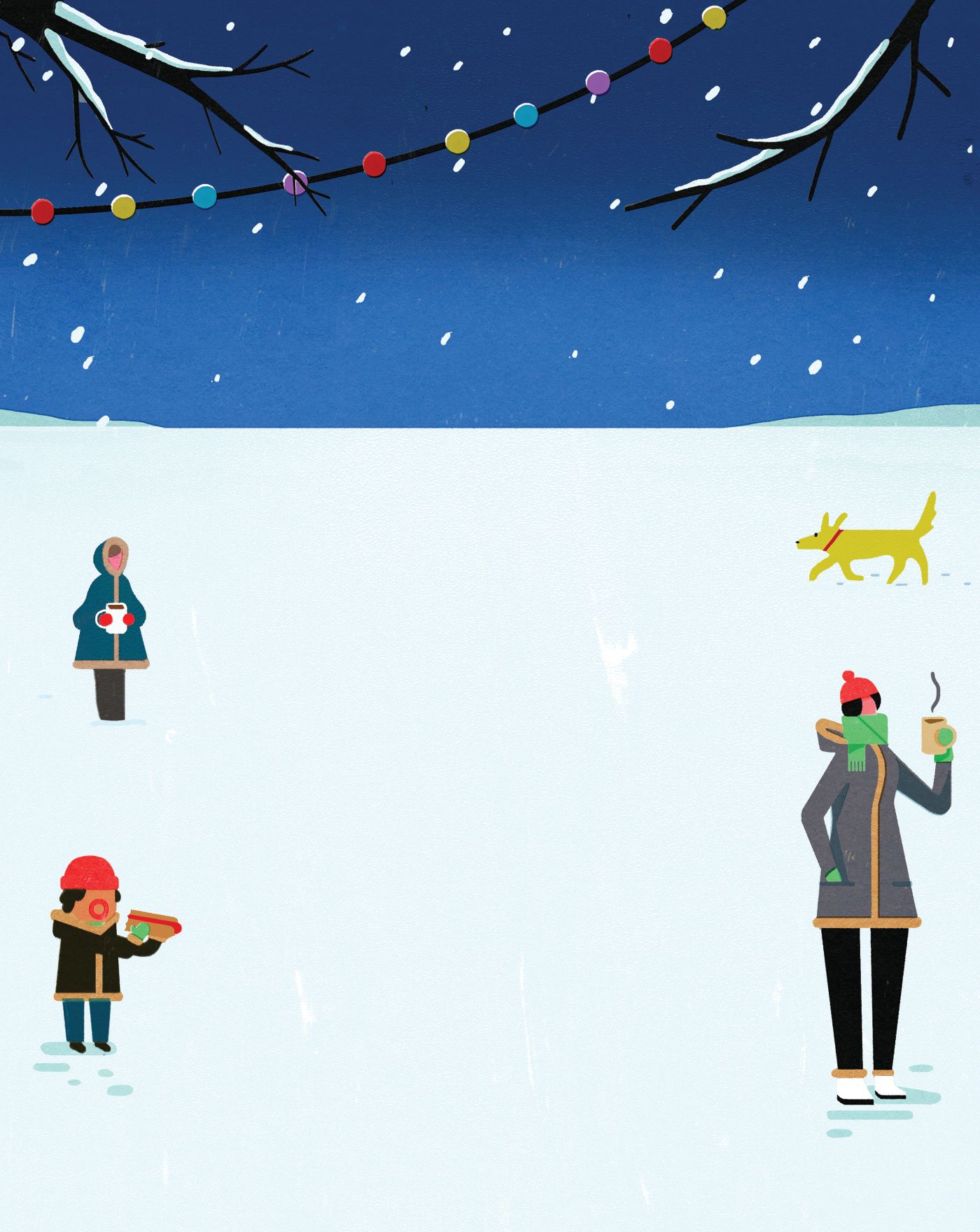 During the warm-weather months of this past year, outdoor gatherings with guest lists carefully compiled to observe COVID-related restrictions helped open up our social lives. But the advent of winter doesn't mean we have to close them again. Calgary winters are harsh, no doubt, and outdoor "wintertaining" can be a challenge, but Calgarians are a tough bunch and more than up to it. Just remember, an outdoor gathering is only lower risk than an indoor gathering, so be vigilant when it comes to safety. Make sure to keep your guest count in line with current regulations and with physical distancing measures — just because the government says you can have 10 people in your yard, if you really only have enough space for five to gather safely, then that's your number.
If it's -40ºC outside you'll have to admit defeat and postpone your get-together. Otherwise, proper attire is the key to wintertaining success. "There is no such thing as bad weather," says Victor Jutras, director of resort activities at Fairmont Chateau Lake Louise, "just people not wearing appropriate gear." Make sure your cohort are all aware of the forecast in advance and have spare scarves, mitts, toques, personal hand warmers and blankets on hand as people tend to get cold regardless of how prepared they are.
Heat and light are the key elements for successful wintertaining. For heat, it can be as easy as tiki torches and a firepit. If you want to make things more official, install patio-heating fixtures like those offered by Calcana Industries, or consider renting a deluxe patio heater from a local party rental company such as Modern Rentals, Party Rental Depot or Radar's Rentals. Heat and light often go hand-in-hand, so if you've got flames you don't have to work too hard on lighting (although if you've got flames you do have to be more aware of wind). For something permanent, The Outdoor Lighting Company has great options.
People who have something to do tend not to complain about the cold as much. Backyard games like ring toss and cornhole still work in the winter and have the benefit of allowing players to maintain appropriate physical distancing. A backyard skating rink is more ambitious. You could indulge your inner hockey dad and flood the backyard, but a better option is to pick up some Hockeyshot Revolution Skate-Able Synthetic Ice Tiles from Canadian company Pro Hockey Life (available in packs of 10), so your "ice" won't melt if a Chinook blows in.
Hot drinks are essential for cold-weather socializing, so set up a station with self-serve coffee or hot chocolate, complete with sanitizer. Spiked apple cider, hot toddies or mulled wine are all great options if your cohort wants something with a bit more of a kick. As far as food, you don't want to get too fancy: hot dogs cooked over the fire is a classic for a reason.
Ultimately, you need to remember that wintertaining, like any kind of entertaining, is supposed to be fun. Enjoy yourself and everyone else will, too.
8 Tips for an Outdoor Winter Gathering
Dress for the Weather
Inform your cohort of the forecast on the day of your get-together and make suggestions on appropriate clothing choices (especially for those who aren't accustomed to Calgary winters). Have spare scarves, mitts, toques, etc. on hand if needed.
Light it Up
Daylight is in limited supply in the winter so lighting is essential for wintertaining. Keep things simple with outdoor Christmas lights or fairy lights, or go all out with curtain lights, outdoor lamps, hanging lanterns or permanent light fixtures and sconces.
Feel the Heat
Outdoor socializing in the winter requires some kind of heat source. Options run from cheap (tiki torches and DIY firepits) to luxury (patio heaters and fire tables with wind guards). Have individual hand warmers on hand for guests and mind the wind around open flames.
Hot Drinks Necessary
Hot beverages are essential for a wintertime get-together. Set out a self-serve station (complete with hand-sanitizer) offering hot chocolate or coffee, or do up a bulk batch of spiked apple cider, hot toddies or mulled wine if you want something with a kick.
Cook Over the Fire
When it comes to food, simple is best. There's a reason why cooking hotdogs over an open fire is an all-time classic, while a grate over the firepit allows for a wider range of options, such as roasting chestnuts. Single-serving bags of chips or cookies allow people to snack safely. As with the drinks, make sure you have hand sanitizer readily on hand.
Set up Backyard Games
A little activity helps increase heart rates and keeps minds off the cold. Ring toss, cornhole and other backyard games are still fun in the snow and allow participants to maintain appropriate physical distancing.
Install a Backyard Skating Rink
You could flood the backyard, but synthetic ice is easier, plus, it doesn't melt in the event of a temperature spike. Check out Hockeyshot Revolution Skate-Able Synthetic Ice Tiles by Pro Hockey Life.
Let the Music Play
Don't let falling snow kill your tunes: if you plan to host a lot of outdoor gatherings this season you'll want to invest in a Weatherproof sound system, available at retailers like K&W Audio.
[This story has been updated from its original print version to take the latest Alberta COVID-19 restrictions at the time of online publication into account. For the latest information on COVID-19 restrictions in Alberta, please visit alberta.ca.]