Sara Renner's 5 Favourite Places to Cross-Country Ski in the Bow Valley
The Olympic silver medallist and Canmore mom tells us which trails to try.
As told to Joanne Elves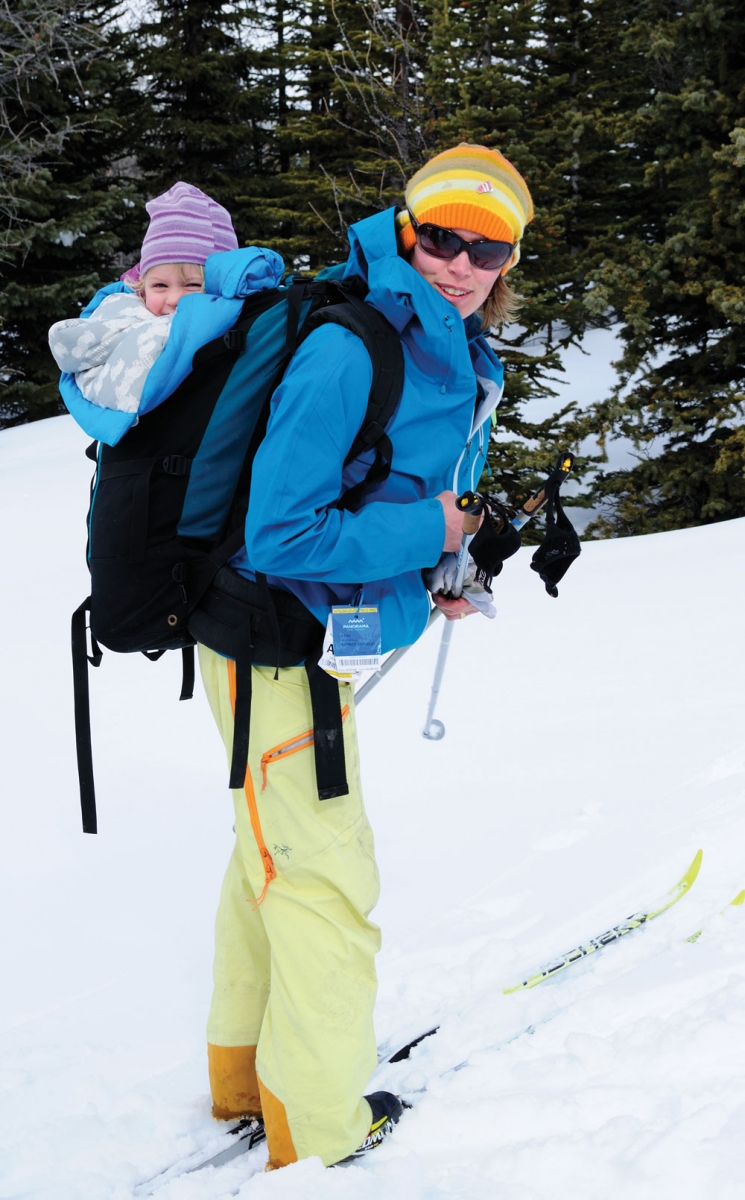 photograph by diane diaconu
Sara Renner and her daughter Gabi.
For Sara Renner, who won silver in Nordic team sprint at the 2006 Winter Olympic Games in Turin, the days of elite competitive racing are in the past. Now, when she clicks into her skis, it's purely for fun. As co-owner of Paintbox Lodge in Canmore with her husband, two-time World Cup giant slalom winner Thomas Grandi, and with three children under the age of nine, Renner says she has a new appreciation for the local trails.
"All the urban trails through town and along the river that they don't plow in the winter are great for basic cross-country skiing. Any level of cross-country skier can handle them. They're not manicured – since there is no snow-making, you can only use them when there is natural snow – but they're rustic and beautiful. People can come and enjoy the trails for as long as they want and never be too far from the coffee shops or the car."
Distance: As long as you want.
Skill level: Easy.
"I think I appreciate the Canmore Nordic Centre more as a retired athlete and as a mom than I did as an Olympic athlete. It is such a jewel for our community. It has heart-pumping cross-country skiing and it is perfectly groomed.
"We have an all-day event we do with the kids. We put the little ones in the chariot and ski to the top of the trails. We bring a stove and cook soup while we make a snow fort, and then we eat our soup in there. We play for a few hours and then ski down."
Distance: More than 65 kilometres of groomed, machine-made and natural trails.
Skill level: All abilities.
"This trail to the Fairmont Banff Springs hotel is one of our favourites. It's such a beautiful ski. You are truly in the wilderness, with so many animal tracks to see. At nearly 20 km, it is pretty long for an out-and-back, so we do it one way and take the ROAM [Banff to Canmore bus] back to Canmore. We bring our swimsuits – for $20 you can swim in the outdoor pool, then follow that with sushi at the hotel before heading back to Canmore. You can take the Hike and Bike Shuttle or a quick taxi up to retrieve the car at the trailhead."
Distance: 19.3 km one way (elevation gain 150 metres).
Skill level: Intermediate.
"I love the Pocaterra area in Kananaskis Country. It's old-school single-track skiing. Whenever I go there, I get lost in the experience, so I make sure I've got provisions and an extra chocolate bar for energy to get back to the car."
Distance: Pocaterra Trail 15.8 km return, linking to additional trails.
Skill level: Some experience required (due to remoteness).
"This trail near Lake Minnewanka transports you to a very special place. A few summers ago, the bridge over the Cascade River was swept away, but I believe it has now been fixed, so it's likely this year we will be able to go the entire distance again, which will be interesting because the animals will have assumed no one will be there, so sightings will be increased."
Distance: 6.4 km one way to the Cascade River Bridge, 14.6 km one way to the Stoney Creek Bridge.
Skill level: Easy, with some gentle hills.