March can be a wonderful time to head up to the mountains if you're a skier, or if you've decided to become one. There's still a lot of snow on the slopes, the temperatures are warmer and the longer days make for perfect sun-kissed aprs-ski sessions. Scoop up one of these spring-season deals to make your March mountain getaway even better.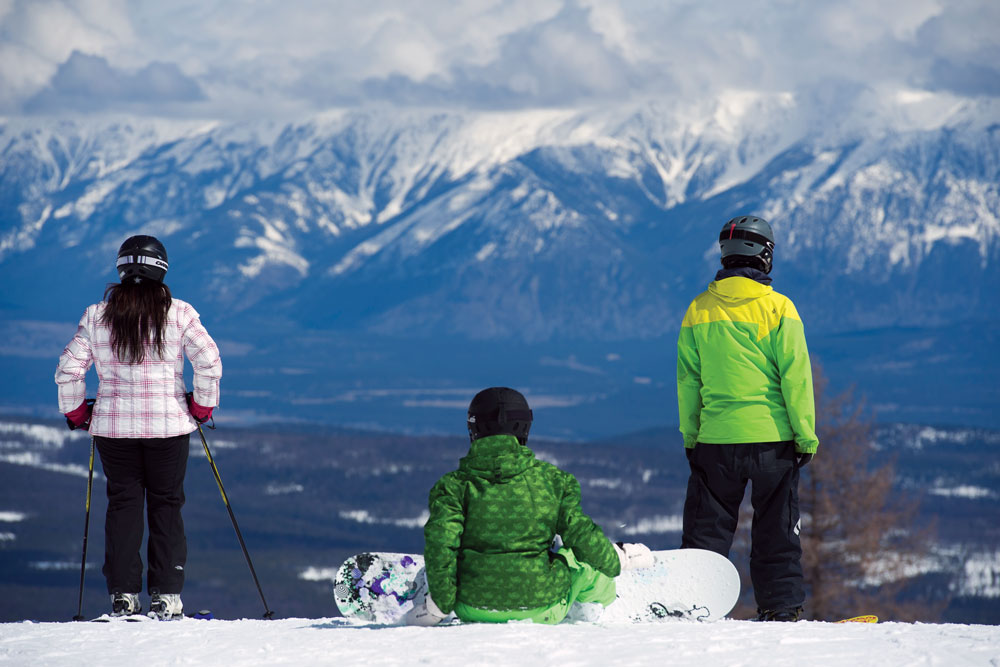 Photograph courtesy of RCR by Mark Eleven Photography
Kimberley Alpine Resort.
The Resorts of the Canadian Rockies (RCR), a group that includes Fernie Alpine Resort, Kicking Horse Mountain Resort and Kimberley Alpine Resort, has a Spring on Sale deal throughout the month of March. Those who book a three-night stay receive a discount of 50 per cent off the third night, with free skiing for kids 12 and under. (The complimentary child pass requires an accompanying adult with a minimum two-day lift pass to claim it.) This family-friendly deal is valid March 1 to 31 at all RCR properties.
403-254-7669 (Calgary office), skircr.com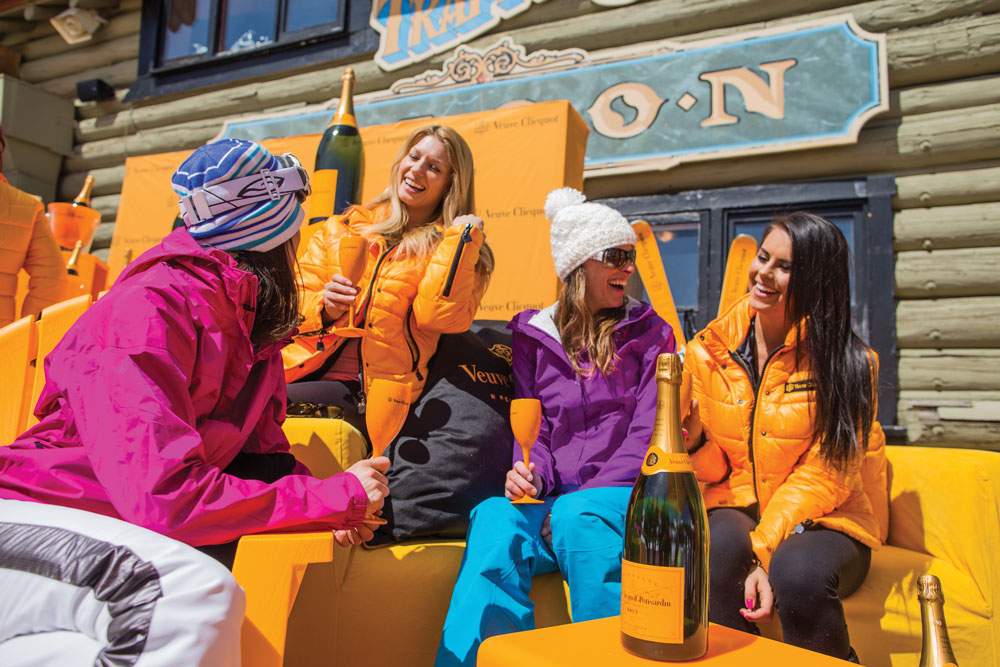 photograph by Paul Zizka
Springtime at Sunshine Village means the return of the outdoor champagne bar.
The gondola-accessed ski-in-ski-out lodge at Sunshine Village Ski & Snowboard Resort extends its Ski Week package deal into March and April. Starting at $999 per person, the package includes five nights accommodation, five days of skiing or snowboarding at the resort and four, two-hour lessons from the Sunshine Village Ski and Snowboard School. Guests are greeted with a welcome reception on the first night and a farewell reception on the last night. The package also includes a tobogganing-and-bonfire party on the second night and a wine-and-cheese on the third night. For those who want a shorter stay, the lodge also offers springtime ski-and-stay packages starting from $150 per person per night, including an adult lift ticket, which retails for $99 on its own.
403-705-4000 (or toll free 1-877-542-2633), sunshinemountainlodge.com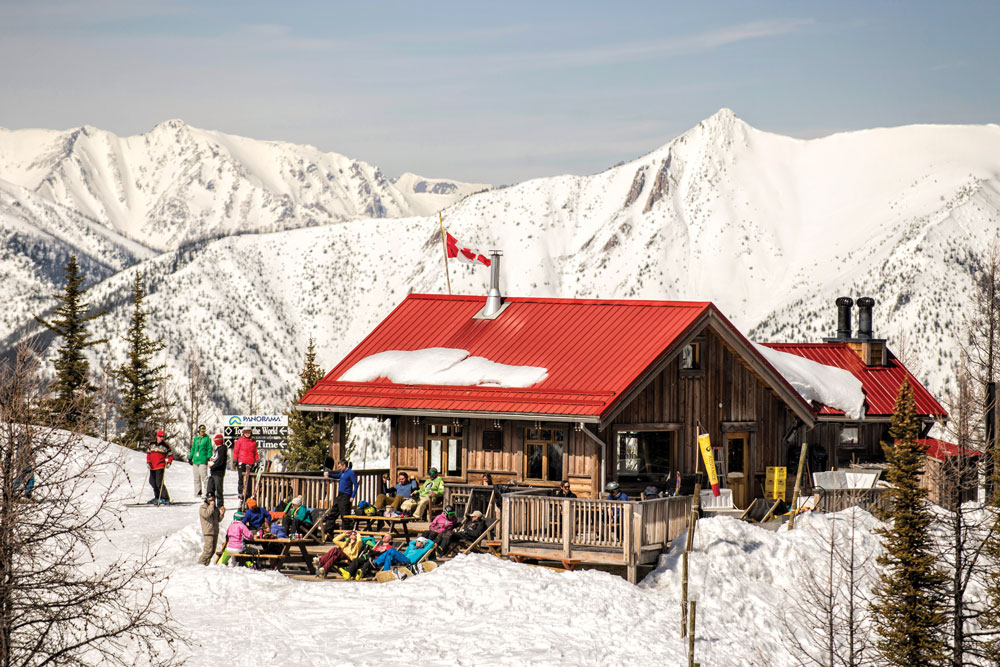 photograph courtesy of Panorama Mountain Resort
Panorama's Summit Hut is an ideal spot for spring skiers to catch some rays.
This Invermere-area mountain village resort is a favourite of Calgarians who like the convenience of ski-in-ski-out accommodations. Panorama's March specials include a package of three days skiing and four nights accommodation starting at $111 per person per night, redeemable any day of the week. There's also a three-nights-lodging-two-days-skiing Midweek Break special available Sundays to Thursdays starting at $107 per person per night. Guests receive discounted rates on lift tickets and kids eight years old and under ski free when accompanied by an adult with a lift ticket for an equal or greater number of days.
1-800-663-2929, panoramaresort.com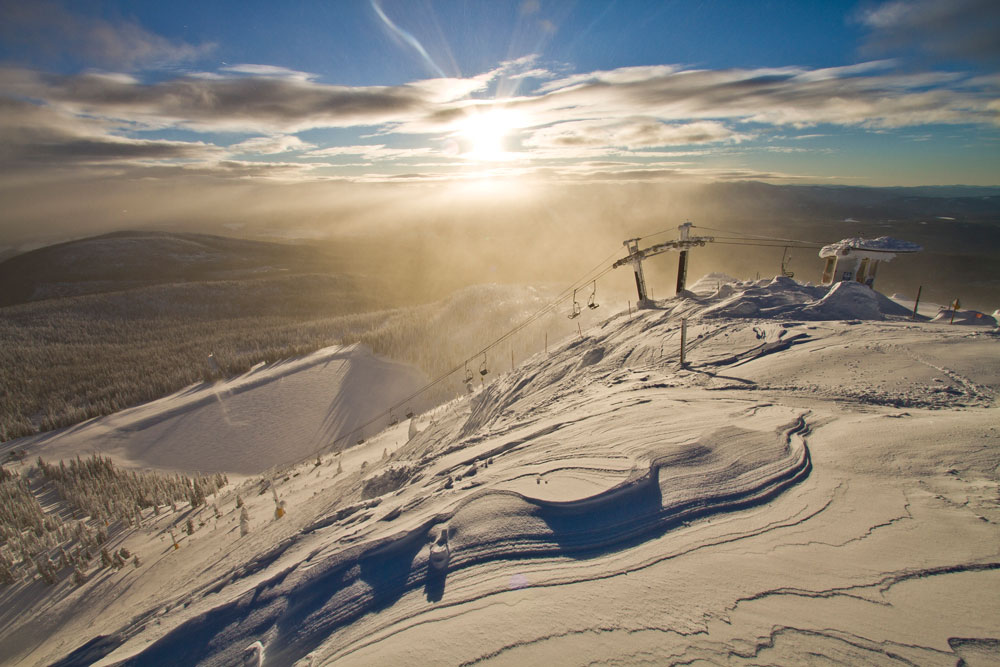 photograhp by Matthew Butterworth/Big White Ski Resort
Big White Ski Resort.
If you like the vibe of the Okanagan, you will love that Big White Ski Resort near Kelowna is offering a Buy 5 Get 7 spring-break promotion where those who book five nights accommodation and five days skiing get an extra two nights and two days of skiing free. The deal is available from March 26 to April 16, a time when the resort will also offer a variety of Easter activities for families.
1-800-663-2772, bigwhite.com
Late-season Cat-skiing Deals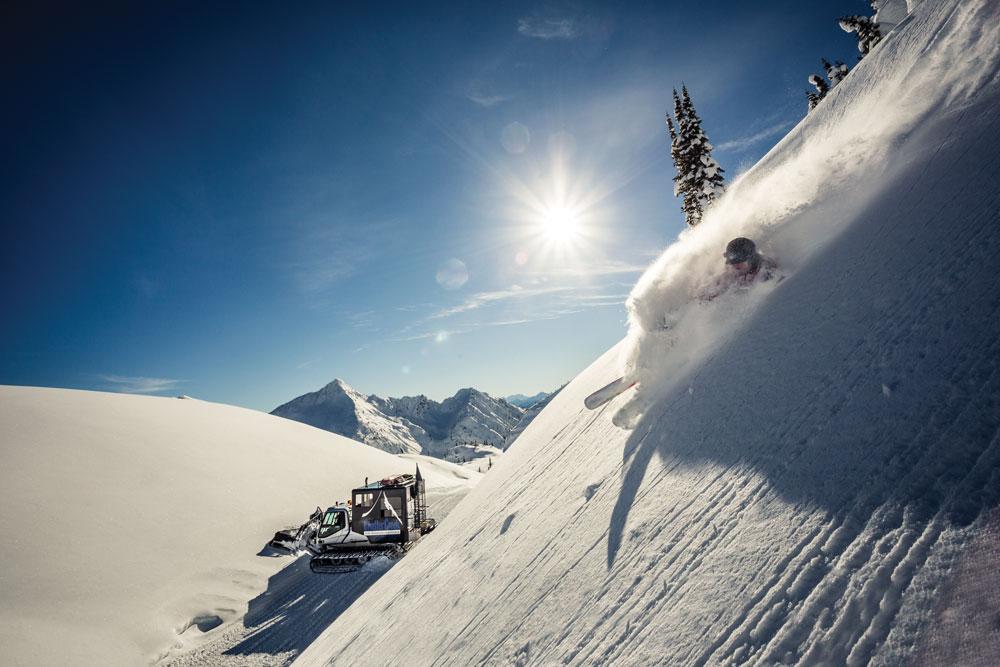 photograph by Dylan Page
Chatter Creek cat-skiing.
When it comes to cat-skiing (backcountry skiing in terrain accessed via snow-cat) the later in the season you go, the cheaper it's going to be. At Chatter Creek, a heli- and cat-skiing outfitter near Golden, the per-person rate for a three-day cat-skiing tour is $3,516 during the peak winter months, but drops to $2,885 for March 28 to 31. (If you can wait until April you can do a two-day tour for as low as $1,692.) At Island Lake Lodge, a cat-skiing operation near Fernie, a three-day trip that costs $3,151 in February drops to $2,393 starting March 18. The biggest issue with waiting until March to book a backcountry trip is availability, though many operations have a wait-list or standby program for those who can go on short notice.
Chatter Creek, 1-877-311-7199, chattercreek.ca; Island Lake Lodge 1-888-422-8754, islandlakecatskiing.com
The Spring Pass
If you're a fair-weather skier, you might want to consider buying a spring pass to your favourite local resort. Both Sunshine Village and Lake Louise Ski Resort offer late-season passes, which tend to pay for themselves if you know you'll be putting in at least four or five days between the beginning of March and closing weekend. While spring passes might sound like a bit of a gamble, both Banff resorts are world-renowned for their long seasons, with Sunshine, in particular, extending its season through the May long weekend. If you don't do the nine-to-five grind and would rather avoid weekend crowds, you can get even more bang for your buck with a mid-week-only spring pass.