When Keshia Cheesman and Bianca Miranda were majoring in drama at the University of Calgary, they struggled to find plays and monologues they could relate to. As fat women of colour, they didn't see themselves reflected in a lot of existing material. So, when a professor told them they could create shows of their own, they were galvanized — it was the first step towards developing something for themselves.
Flash forward seven years, and the best friends and collaborators have co-created and star in The F Word, a Downstage production presented by Alberta Theatre Projects running at the Martha Cohen Theatre until February 19. The highly personal play chronicles Cheesman and Miranda's friendship and their journey to self-acceptance and fat liberation through a variety of storytelling formats. "There's a cabaret feel to it," says Miranda. "We've got a fairy tale, a news segment, bite-sized lectures — but, ultimately, our friendship is the thread that people will follow."
The journey to staging The F Word started five and a half years ago, when Cheesman and Miranda were involved in a Handsome Alice Theatre show called Invisible. In it, the two performed a 10-minute-long piece titled The F Word: "It was basically 10 minutes of us unpacking the word 'fat' and how it's been weaponized against us, and how that's affected us growing up," says Cheesman. "And our end goal was to sing, 'I'm fat and awesome and beautiful.'"
Following that piece, Cheesman and Miranda continued to experiment with The F Word material, working on different projects, until Theatre Calgary commissioned them to develop it into a full show. With the financial support and resources, including studio space, the duo was able to flesh it out into a one-act play, a culmination of a years-long progression.
"We've had some scenes that we were stuck on for years," says Cheesman. "In order to complete this play, we had to grow and to experience more things and to realize things within ourselves." For Cheesman and Miranda, that has involved reclaiming the F word — fat — for themselves. "Society sees fat as this bad word and this awful thing that you don't want to become or shouldn't be. In our show, we really try to deconstruct that: We're trying to show that fat is just a neutral descriptor and what's wrong with that? What's wrong with being fat?"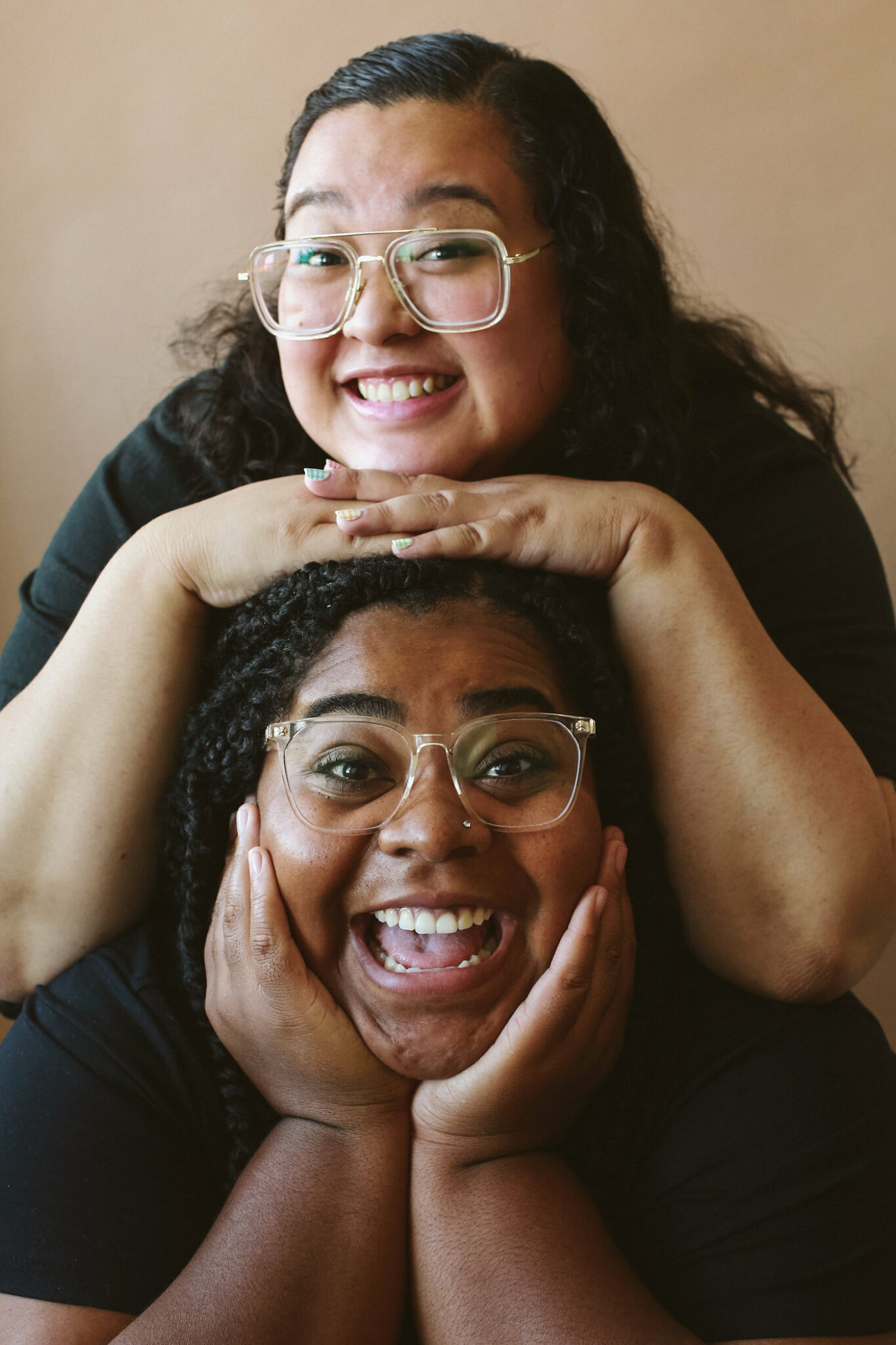 Cheesman and Miranda hope that audiences laugh and feel happy when watching The F Word, and that they see fat bodies as fully realized human beings who are capable of anything. They also want fellow fat folks to feel celebrated and seen: "When we wrote this, we really had our community in mind," says Miranda. "I hope they feel they have the right to be loved and to be joyful."
When creating The F Word, the considerations Cheesman and Miranda had for their community went beyond the material on stage: For this production, Alberta Theatre Projects has introduced size-accessible seating, which was a must for Cheesman and Miranda. When the two had seen Alberta Theatre Projects productions together in the past, sitting next to each other was uncomfortable: "We needed to make sure that fat people can come to a show that's about them and feel like they belong in the space and are comfortable in the space," says Cheesman. The size accessible seats, marked with an "s" on the seating map, are free of arm rests and have a weight capacity of 500 pounds; they will now be an option at all Alberta Theatre Projects productions going forward.
As their show makes its world premiere, more than anything, Cheesman and Miranda are looking forward to bringing all of themselves to the stage, and doing so together. "We dance and move in the show in the best way that we know how; we sing in the show; I speak Tagalog in the show," says Miranda. "There's so much of us in it that we're loud and proud about." Adds Cheesman: "Theatre time is also play time for us, so I'm just excited to play on stage with Bianca and have the time of our lives."
[Note: An earlier version of this story failed to mention that The F Word is a Downstage production. We have since updated the story.]