Though it's just past noon on the slopes of Mount Titlis in central Switzerland, so far this morning, I've dashed across Europe's highest-elevation suspension bridge, slid through a glacier cave and ridden a revolving gondola.
Now I find myself careening down a 3.5-kilometre track on a wooden sled. A crisp, alpine breeze ripples through my hair as I whiz past copses of cedar at 30 km/h, faster even than the skiers on the adjacent run.
Skiing at Mount Titlis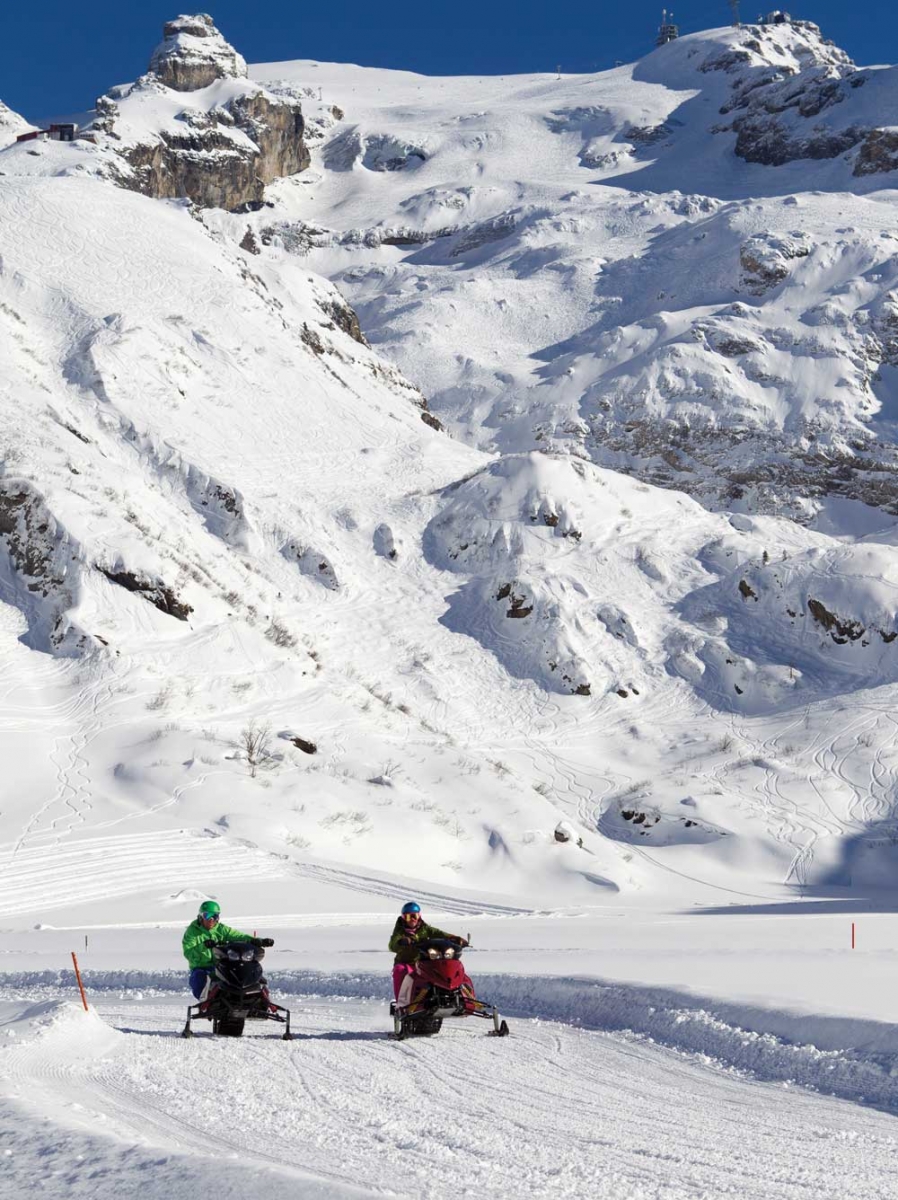 photograph by Oskar Enander
Electric snowmobiles at Titlis.
Rising up from the quaint alpine village of Engelberg, Titlis is less a ski resort than a winter-sport mecca. Sections of open clearing in Titlis' snowy woods reveal an electric snowmobile track, an igloo village (real igloos guests can sleep in, and an ice bar), a glacier cliff walk, an illuminated glacier cave plus purpose-built sledding and snowshoe trails.
Coming from the Canadian Rockies, I'm astounded at all that's offered here, though, really, I shouldn't be. Switzerland is where winter tourism was invented, so it makes sense the Swiss would know a thing or two about providing visitors with a stimulating, well-rounded alpine experience.
After my morning sport extravaganza, it's time to fuel up. The self-service restaurant at Trbsee Alpine Lodge isn't fancy, but the selection is impressive, offering traditional Swiss fare such as rosti potatoes, ham baked inside a massive loaf of brown bread and three types of soup, as well as glacier water on tap.
Feeling satiated, I venture outside with a steaming mug of mulled wine to soak up the sunshine. In the Alps, "aprs" is as much a part of the experience as shredding the slopes. So is people-watching, I've decided, as I observe the curious sight of leathery mountaineers mingling with fur-clad banker types from Zurich.
Of course, ski culture here is part of everyday life – not just a pastime for those who are affluent enough to afford it, as is often the case in North America. Andr Schwarz, Swiss-born co-owner of the Post Hotel & Spa, first came to Canada in 1969 to work as a ski instructor at Lake Louise (coincidentally, Schwarz did his ski-instructor certification training at Titlis).
In Switzerland, says Schwarz, early ski lifts were often built on private land, with the landowners charging users on a per-ride basis. If the weather turned bad, skiers would be less inclined to pay for another ride, and would instead opt to enjoy a meal and a glass of wine at the local hut or restaurant. That practice carried over into good-weather days, forming the basis of the local aprs-ski tradition.
Visiting St. Moritz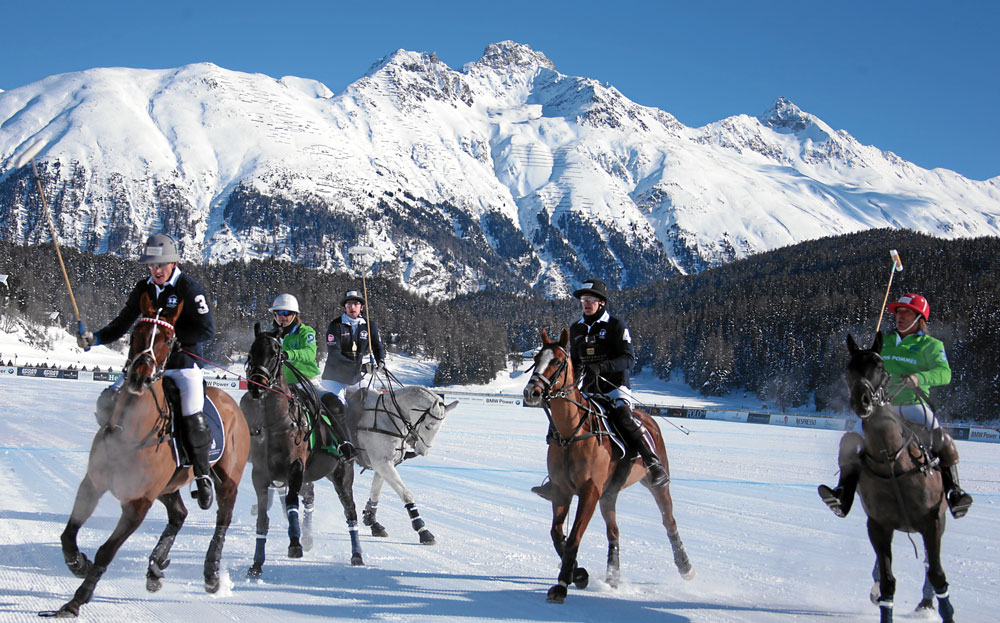 photograph by swiss-image.ch/Andy Mettler
Polo at St. Moritz.
The next day, it's off to St. Moritz, considered the birthplace of winter tourism in the Alps. That claim stems from a widely cited incident from 1864 in which St. Moritz hotelier Johannes Badrutt convinced a group of British summer guests to return for the Christmas season, offering to pay their travel expenses if they didn't find the winter to be just as delightful as it was in the summer. The guests stayed the whole winter, inspiring many of their countrymen to follow their lead.
With its posh hotels, polo games on frozen lakes and celebrity sightings, St. Moritz can feel like stepping into an episode of Lifestyles of the Rich and Famous (I rubbed shoulders with Ralph Lauren in my hotel lobby – not someone wearing Ralph Lauren, but the Ralph Lauren). Yet, there is much to offer more humble winter tourists, as well.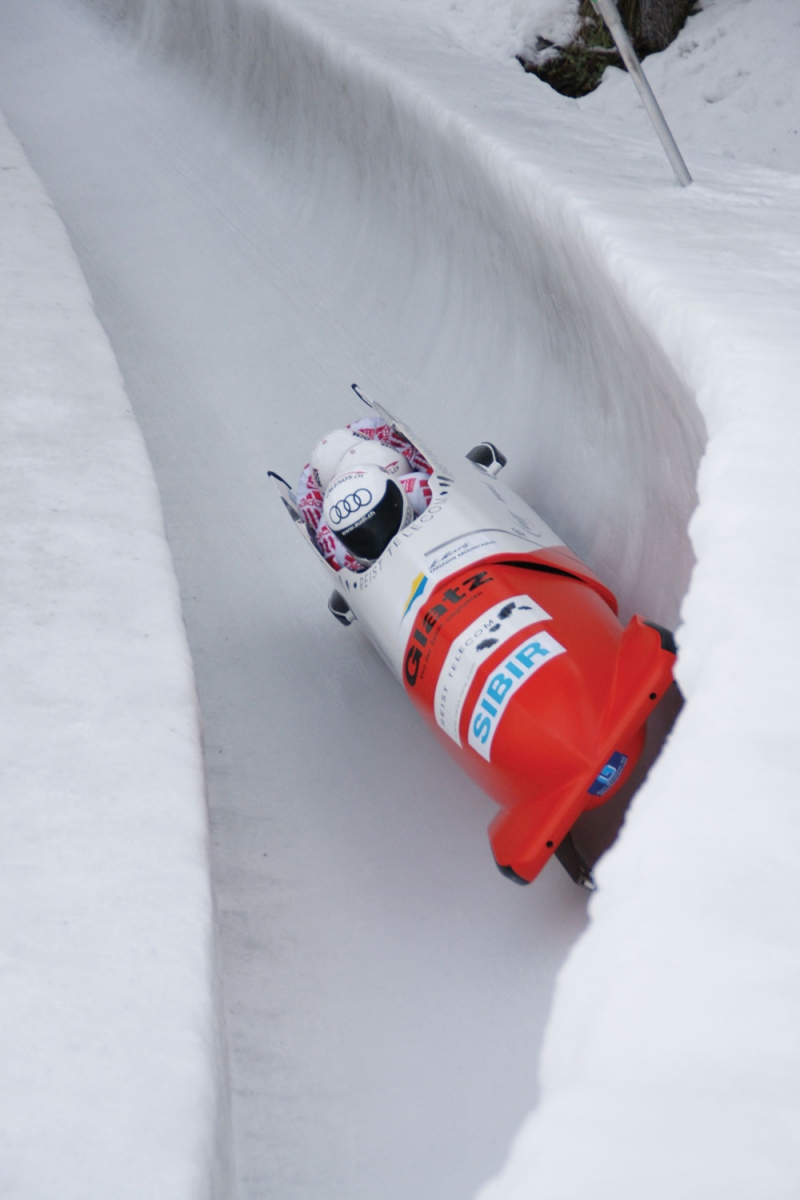 photograph by swiss-image.ch/Roger Schaffner
Bobsleigh at St. Moritz.
St. Moritz is home to the world's first bobsleigh club. Like Calgary, St. Moritz has hosted the Winter Olympic Games (twice, in 1928 and 1948), but, these days, the facilities are used more by fun-seekers than training athletes, as I discover during my "taxi ride" (as the locals call it) down the bob run. Nestled between the bob pilot and brakeman – both locals who could easily pass as international playboys – we barrel down the natural ice track, the G-forces acting as adrenaline-induced Botox, if only for
a few minutes.
Skiing in the Canadian Rockies
Resorts in the Rockies may be mere babes in comparison to those in the Alps, but, like all dutiful children, they're attempting to emulate their Swiss elders. While it has taken the resorts in the Rockies a bit longer to catch on to the fact not everybody skis and not everybody who does wants to do so all day, it's also more challenging for resorts operating within a national park to expand their operations. That said, snowshoeing, winter hiking and tube runs are now offered at our local hills.
But, when it comes to skiing, sometimes less really is more, and that's one thing the Rockies resorts have going for them over their Swiss counterparts. In the Rockies, you'll find fewer people on the slopes, wider runs, and arguably, better quality snow. According to Schwarz, skiers in the Rockies are also more civilized when it comes to waiting their turn on the slopes. "People here are friendlier in the lift line – if there even is a lift line," he says. "If there is an inch free in the Alps, they'll take it."
Local legend has it that, while in St. Moritz, Winston Churchill said to his wife: "The air is like Champagne here. It's the Champagne climate!" He could have said the same of the Rockies, where the dry climate creates snow skiers and snowboarders refer to as "Champagne powder."
Upon my return from Switzerland, I head to Sunshine Village for the closing weekend festivities, which include sipping bubbly at the Veuve Clicquot outdoor Champagne bar on the Trappers spring patio. Snow bunnies groove to a live band, while beach balls are batted overhead in the balmy air.
The Swiss would definitely approve.
---
Where to find a slice of Switzerland in the Canadian Rockies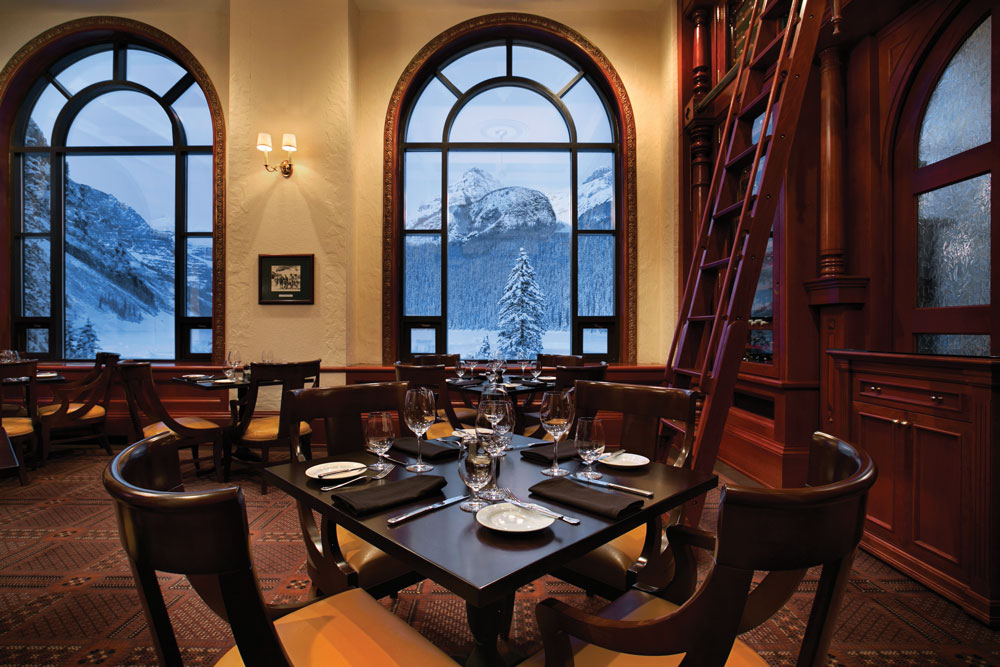 photograph courtesy of fairmont chateau lake louise
Walliser Stube.
Swiss expats did much to shape the alpine culture in the Canadian Rockies. Here are some authentic Swiss experiences close to Calgary.
Eat like the Swiss
Pick up ready-made Swiss delicacies from schnitzel and sptzle to imported chocolates and cheeses at Valbella Gourmet Foods in Canmore.
104 Elk Run Blvd., Canmore, 403-678-4109, valbellagourmetfoods.ca
Dine at Swiss-Italian restaurant Ticino in Banff, or dip into fondue at the Waldhaus Pub at the Fairmont Banff Springs Hotel.
405 Spray Ave., Banff, 403-762-6801, fairmont.com
The Walliser Stube at the Fairmont Chateau Lake Louise offers traditional Swiss aprs-ski fare such as traditional fondues with Kirschwasser, Bndner Teller (a selection of thinly sliced air-dried meats) and hearty Veal Eminc Zrich Style.
111 Lake Louise Dr., Lake Louise, 403-522-1818, fairmont.com
Ski and stay like the Swiss
The Mountain Adventure Program (sometimes referred to as the Mountain Heritage Program) at the Fairmont Chateau Lake Louise offers guided alpine experiences, inspired by the professional Swiss mountain guides employed by the hotel from 1899 to 1954 to support guests on mountaineering expeditions.
111 Lake Louise Dr., Lake Louise, 403-522-1818, fairmont.com
The Alpine Club of Canada's historic Abbot Pass Hut was built in 1922 by the Swiss guides from Chateau Lake Louise. Located on the Continental Divide at 2,926 metres elevation, the stone structure continues to serve as an overnight destination for strong hikers and as a base for mountaineers.
Near Lake Louise on the Continental Divide between Mts. Lefroy and Victoria, alpineclubofcanada.ca
The Post Hotel & Spa in Lake Louise is co-owned by Swiss-born brothers George and Andr Schwarz and provides a European-influenced hospitality experience.
200 Pipestone Rd., Lake Louise, 403-522-3989, posthotel.com