Where to get a free horse-drawn wagon ride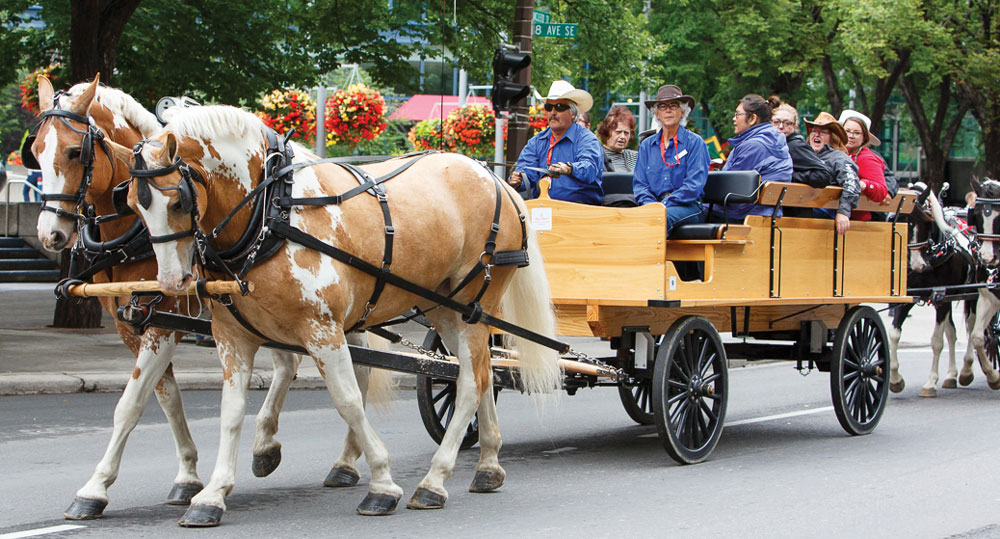 Exploring Stampede can be murder on cowboy-booted feet, so if you ever want to take a load off, the Stampede Downtown Attractions Committee provides free horse-drawn wagon rides through the city's streets every morning on a first-come, first-served basis. Head to the northeast corner of Fluor Rope Square (Olympic Plaza) at 8:30 a.m. to snag your tickets for the ride, which starts at 10 every morning during Stampede. The ride takes place in one of 15 vintage wagons, some of which date back to the late 1800s, and lasts about an hour.
---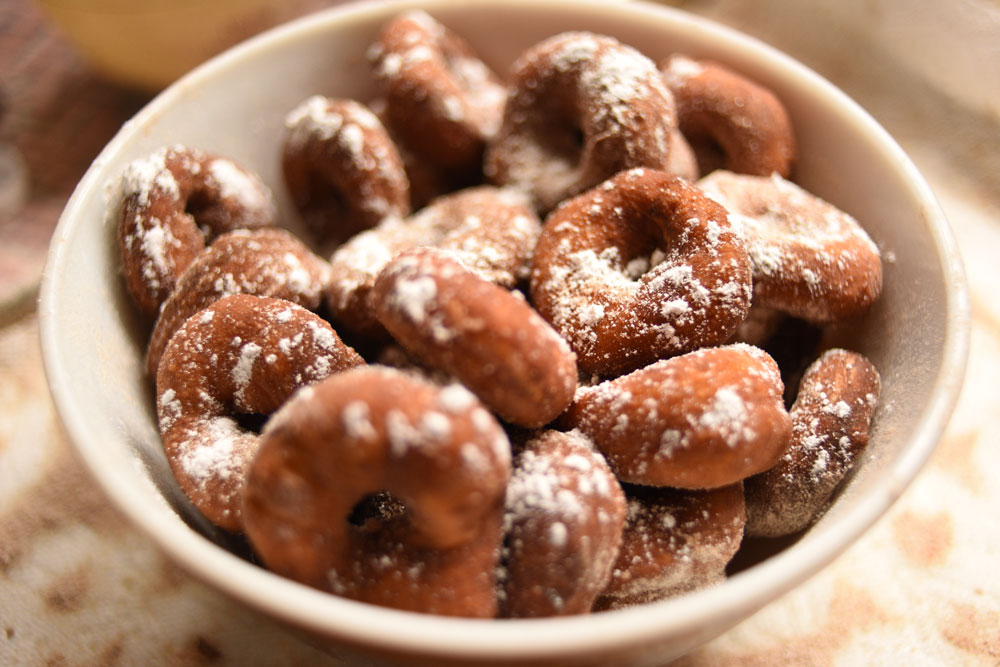 PHOTOGRAPH BY JARED SYCH
Food writer Julie Van Rosendaal often finds herself cooking her own Stampede food every July, saying it's easier than people think, and the iconic mini-doughnut is no exception. Try Van Rosendaal's recipe and make your own mini-doughnuts during Stampede this year.
---
Yup, you can see what it's like to be a shepherd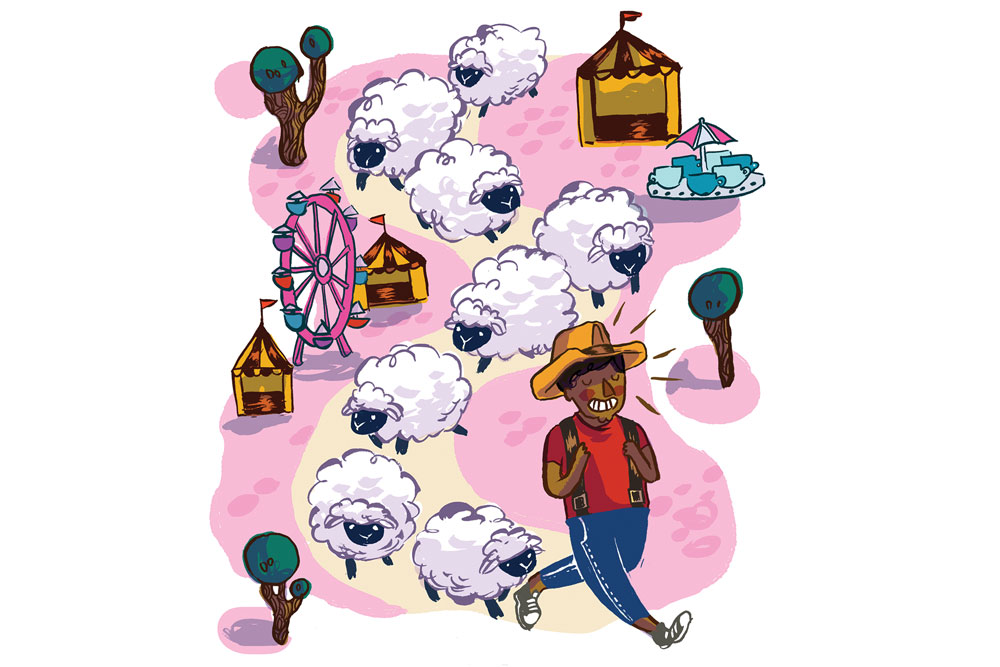 Every day during Stampede, a few lucky city slickers get to do the Shepherd's Challenge, a competition that involves taking a sheep through real-life farm tasks, such as feeding, loading it on a trailer and gathering wool. If you're up to the challenge, Tony Legault, a chair on the Calgary Stampede Sheep Committee, has these tips: "Don't rush it. Every time a competition occurs, people want to go fast, but you're better to be good than fast. Remember it's an animal, it wants to be led. Animals sense if you're nervous, but if you're confident, it will sense that and do a lot more for you."
---
The story of the airplane landing on the busy midway in 1919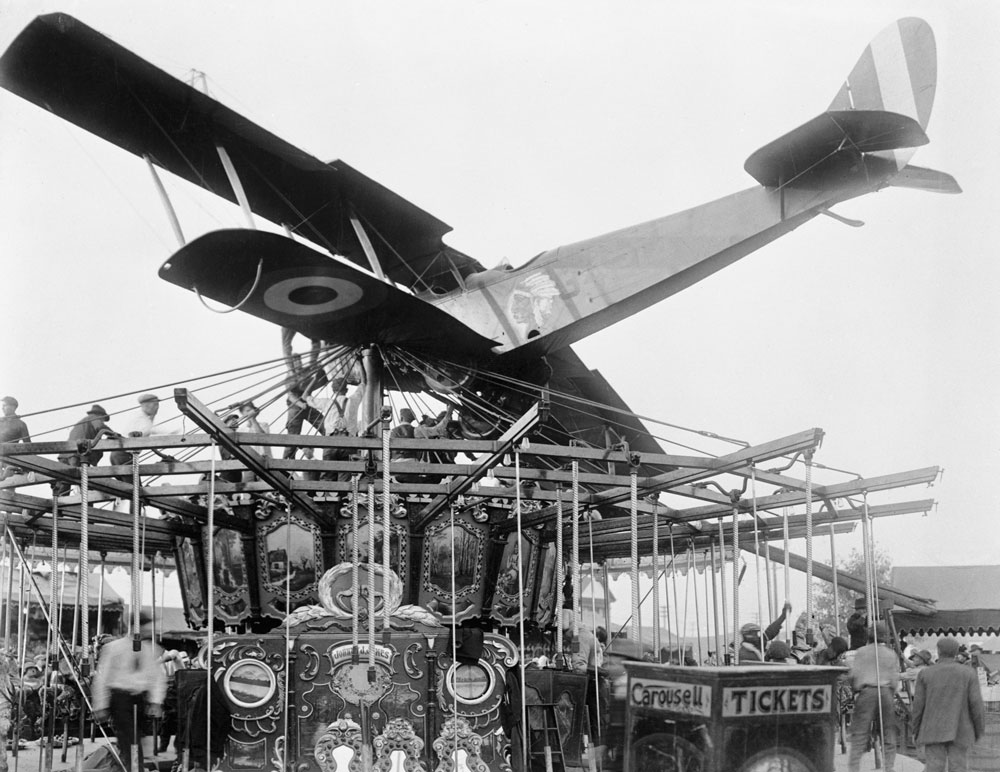 July 5, 1919, was shaping up to be a bad day for First World War flying ace Fred McCall. He'd taken Calgary Exhibition and Stampede co-founder E. L. Richardson's two boys for an aerial tour of what was then Victoria Park, when suddenly he lost power. Faced with the decision to land his plane on either the crowded midway, a racetrack with speeding cars or atop the nearby merry go-round, he "practically speared" the plane on the ride's centre pole, and both the pilot and passengers walked away without a scratch. The Calgary Daily Herald described the feat as "a wonderful exhibition of daring aviation, quick thinking and pluck."
---
There's a foundation that rescues leftover Stampede food

Last year marked the first time that Leftovers YYC, a foundation that rescues leftover food and distributes it to organizations that feed those in need, picked up Stampede foods. By visiting a handful of community pancake breakfasts in addition to the Stampede grounds, the foundation collected about 1.4 tons of food, or 2,860 pounds, says founder Lourdes Juan.
"A lot of it was pancake batter and the dough they use to pre-make everything deep-fried at the Stampede. There were a ton of hamburger buns. And a lot of those colossal onions," says Juan. While collecting all this food kept her on site until the early hours of the morning, there were certain fringe benefits. "We did pick up a lot of mini-doughnuts," she says. "My car smelled of mini-doughnuts for about a week."
---
Things to know if you really want to win a prize at the Stampede games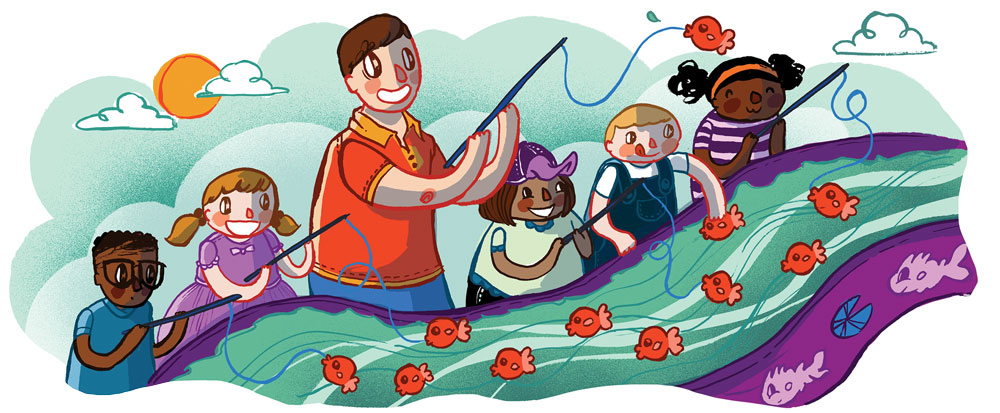 Jessica McGrath has worked Stampede games for four years and says there aren't too many secrets to share about winning a prize, but there are some things worth knowing if you're looking to bring home a teddy bear.
Every kid's a winner
McGrath says that those seeking a guaranteed payout would do well to swallow their pride and try the kids' games. "You'll see older people come through kiddieland and play the games there and they comment, 'I should have come here first, because I at least get a prize here for sure.'"
Midway skills
When it comes to grown-up games, luck isn't as important as skill, says McGrath. If you're trying to knock down a collection of blocks, there's going to be a specific block you'll need to hit. When you try to get a ball into a basket, you'll have to hit the back of the board to bounce it in. "It's those games where it's a very precise movement, and if you don't hit that movement then you're not going to win," she says.
Pity prizes
Can't manage to beat a game? If you spend enough money at a booth, the attendant will probably give you a prize anyway. "Once they've spent a certain amount of money, you are supposed to give [patrons] a prize; otherwise, you're just taking away their money and that creates an angry customer," says McGrath.
---
Midway by the numbers
All numbers are based on 2014 data.
60
Rides on the midway
80
Games on the midway
650
People employed on the midway every year
2,163
Kilometres you would have travelled if you'd ridden every ride of the Polar Express every day during Stampede
4,000 to 5,000
Stuffed animals collected in the big bins at park exits every year. The toys are donated to the Humanitarian Aid Response Team, which delivers them to children in war-torn areas of eastern Ukraine.
156,000
Lights on all rides
752,288
Mini-doughnuts served
---
How to make the perfect pancake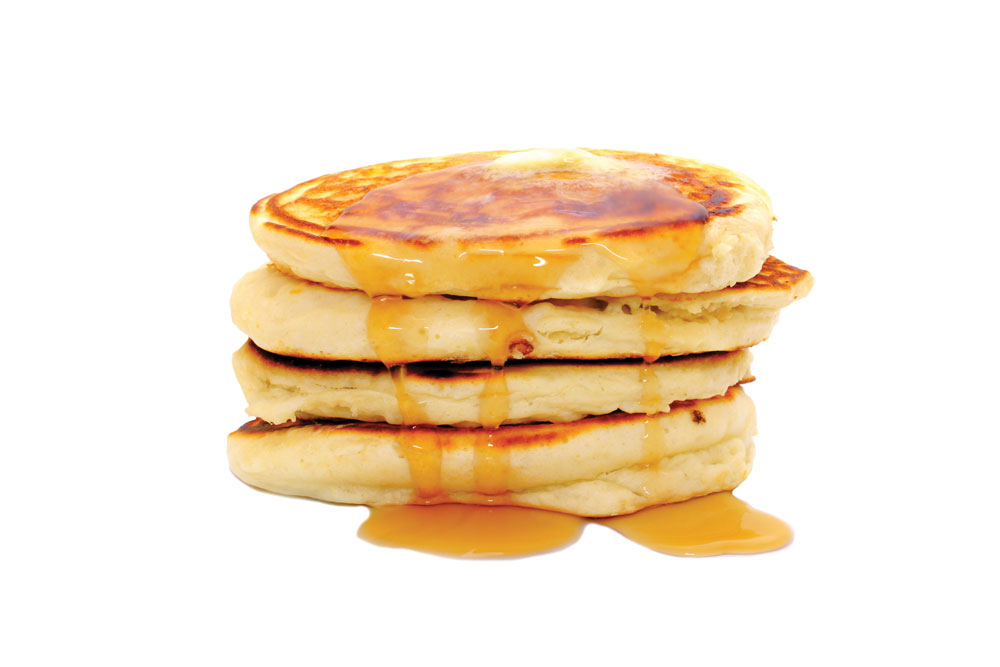 Thinkstock
Every year, well-meaning community associations, churches and businesses of all stripes dish out what must be the most dirt-simple of meals, the pancake breakfast, with no idea that they've been making cakes in pans all wrong.
Luckily, we have math to save us from pancake mediocrity. This equation, developed last year by math students at the University of Sheffield in England, ensures the perfect volume of batter every time: (D x T x x P)/4, where D is the frying-pan diameter in centimetres, T is the desired thickness in centimetres and P is the total number of pancakes.
So, if you wanted to make 12 pancakes that were one cm thick, and your pan was 18 cm wide, you would need 3.05 litres of batter to make your delicious dozen.
---
What it takes to make a prize-winning cake at the Western Showcase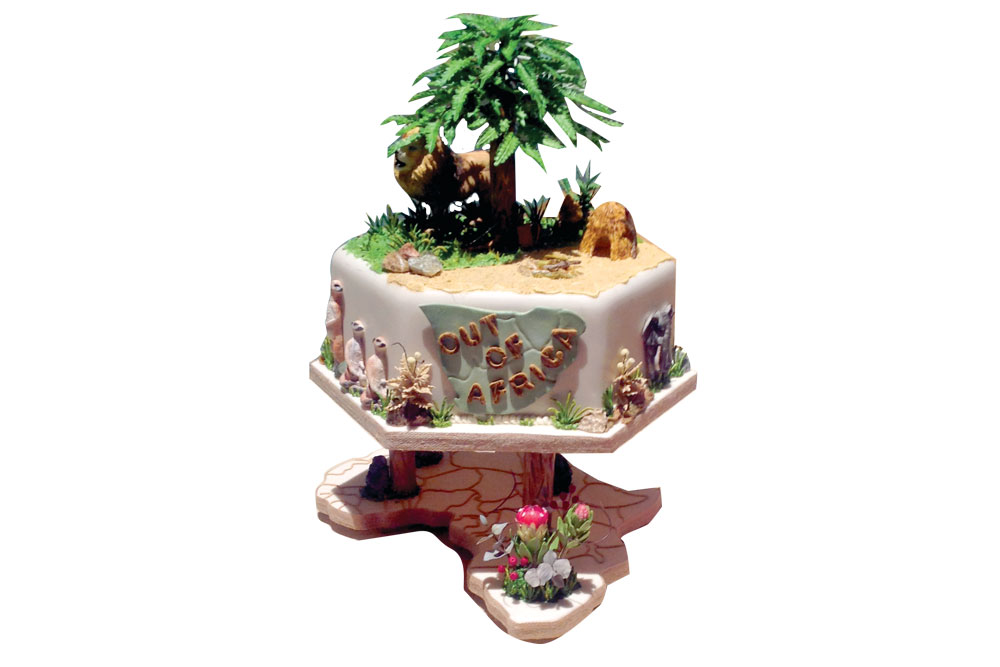 photograph courtesy of lynette oosthuizen
Lynette Oosthuizen's "Out of Africa" cake.
The Western Showcase's creative arts and crafts competition is packed with cool things such as quilts, paintings and cakes-and-sugar art. Lynette Oosthuizen won best overall in the latter section last year with her "Out of Africa" cake. As she explains, there's a lot more to creating a prize-winning cake than you might think.
"It takes months," Oosthuizen says. "I worked a couple hours a week, starting in September. I don't honestly know [how much it cost in total], but there's a couple hundred dollars of sugar and molds there. I had to make five lions before I got a good one!
"I had [to make] two good lions because anything can happen when you're putting the cake together. You can break its leg off, so you need a spare. I had to have spare flowers, a spare hut, spare rocks, spare everything."
---
The secret behind what's in a horse's name
A horse is a horse, of course, but its name is still important, though not just in the way you'd think. According to Tyler Kraft, the Calgary Stampede's ranch manager, you can tell a lot about a horse from its name and brand, including the year it was born as well as its pedigree. "One famous mare we have is called Flavoured Cherry, her brand is F16. She has a daughter named Rum Flavoured her brand would be R16. So the letter represents the year, the number represents something to do with the mare."
All horses born during a particular year have a name that starts with that year's given letter (2017's is E), while also playing on the mother's name. For example one mare named New Money had a foal born in an "A" year, so it was named Added Money.
---
How to judge an award-winning honey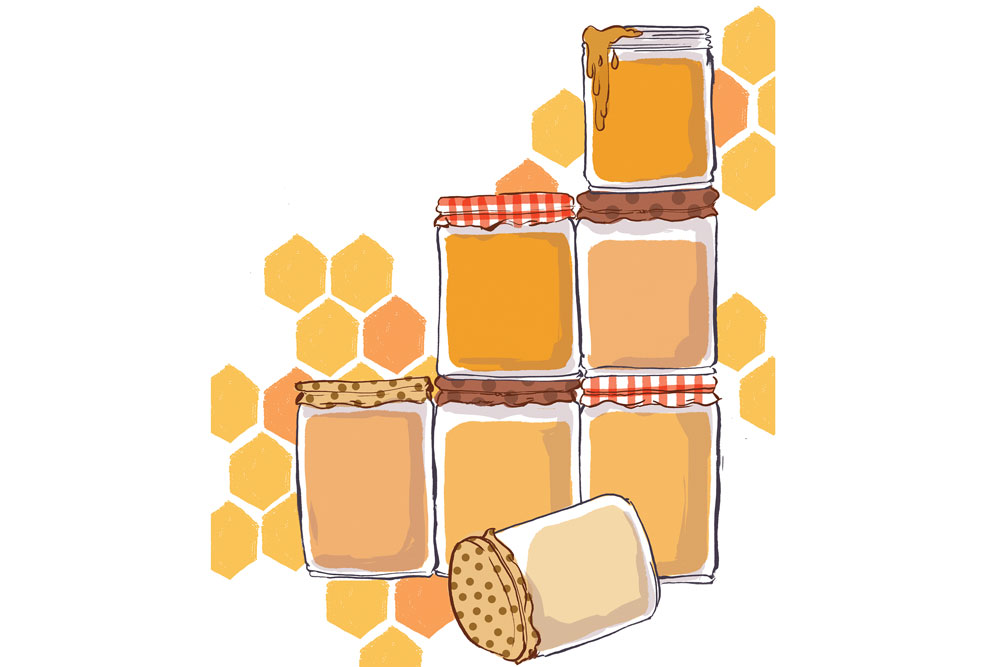 ILLUSTRATION BY ROSENA FUNG
Last April marked the Aggie Days/Stampede's second-annual honey competition, where aspiring apiarists competed to have their products labeled the best in four categories. You can see the winners on display in a special showcase during Stampede week. But what makes an award-winning honey?
Jim Rogers, a member and former president of the Calgary District Beekeepers Association, goes through the criteria for a 100-point, prize-winning jar.
Flavour and aroma
20 points
"Honey is like wine, in the sense that a lot of times honey has a very unique flavour based on [environmental] factors."
Cleanliness
20 points
"Foam or air bubbles can get in there one way or another, so you have to warm it to a point where you can get rid of those air bubbles and the appearance is nice and clear. You also want to avoid having bee legs in there."
Filling accuracy
10 points
"You fill the jar up far enough so you can't actually see through from the lid to the top of the jar, but you don't want to overfill it either."
Density and viscosity
15 points
"Basically the moisture content. If you have honey that has greater than 19-per cent moisture it'll go bad. In our part of the world, we usually get about 15- to 15.5-per cent. That makes it really good and thick."
Smoothness
15 points
"[Judges] look for smoothness in a creamed or crystallized category because honey can cream or crystallize different ways."
Container
10 points
"I came in third last year. My honey was okay, but there was a little dint in the lid and I lost a point or two that way."
Brightness
10 points
"There's a colour guide you can judge by."
---
How well do you know blacksmithing terms?
The blacksmithing competition can be visually enticing, what with the molten metal and the flames and all. You don't want to get nailed as a poseur when it comes time to talk farrier terms, as that can put a damper on things, so here are a few terms you should know.