Whether you're a swimmer, a fisher, a boater or a committed sun bather, there is nothing better on a hot summer day than to be in, near or on some water. As a land-locked city, it may appear that Calgary doesn't have much water on tap, but that couldn't be further from the truth. If you aren't lucky enough to be able to access one of Calgary's private lake communities (either through living there or finagling an invitation), check out these other opportunities.
1. Try stand-up paddleboard (SUP) yoga on Chestermere Lake with Wild Spirit. wildspiritsupyoga.com
2. Rent a kayak from The Paddle Station's location at Shouldice Park and then kayak to their location at St. Patrick's Island. paddlestation.ca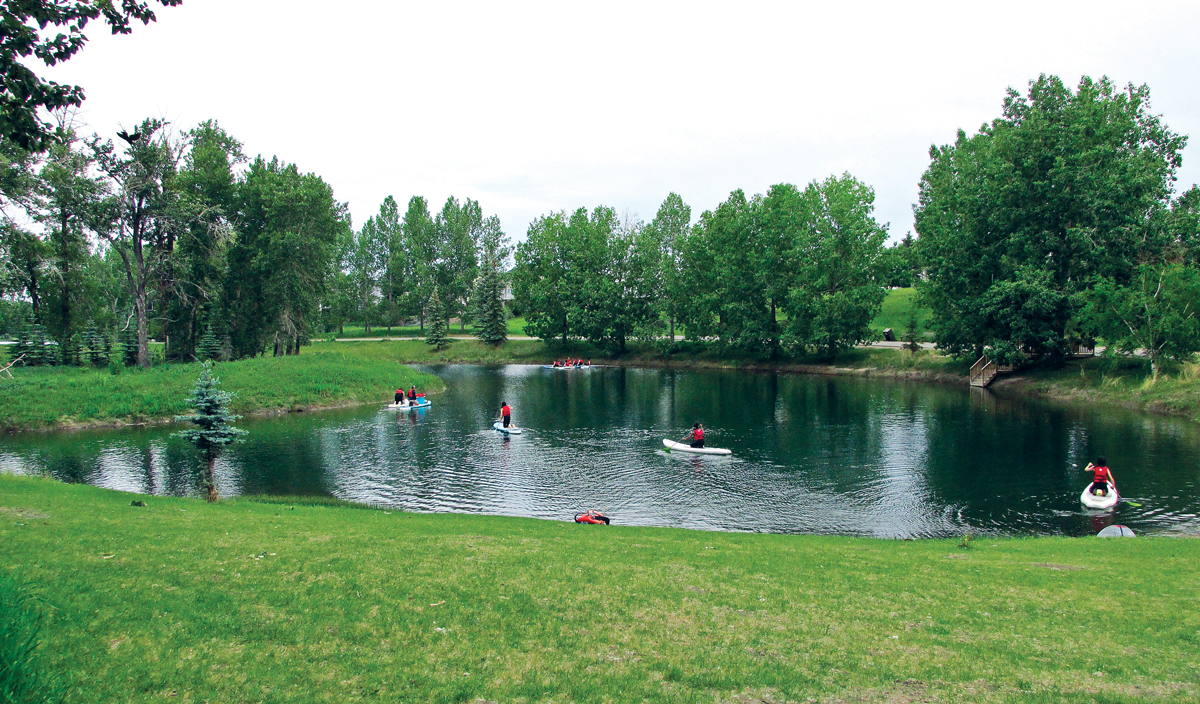 3. Carburn Park is one of the few City parks that allows stand-up paddleboarding on its three man-made ponds. It's a great calm spot to SUP perfect for beginners. 67 Riverview Dr. S.E. 
4. Learn to canoe on the Bow with Rocky Mountain Paddling Centre. rockymountainpaddling.com
5. You can't swim in or SUP on the Glenmore Reservoir, and this summer only boats that can be launched by hand will be allowed. But you can canoe. The Calgary Canoe Club will teach you how and rent you a canoe. calgarycanoeclub.com
6. Raft the Bow and make it easy with rentals from Lazy Day Raft Rentals. For those who really love rafting the Bow, the U of C Outdoor Centre does a two-day rafting trip. lazydayraftrentals.com, ucalgary.ca/outdoorcentre
7. Shallower water makes the Elbow a less stressful rafting experience, especially with small kids. Remember that you still need lifejackets by law, though. Start at Sandy Beach and end in Mission near Repsol Sport Centre.
8. At only about two metres at its deepest, man-made Sikome Aquatic Facility (usually called Sikome Lake) in Fish Creek Provincial Park offers up warm water perfect for a summer swim.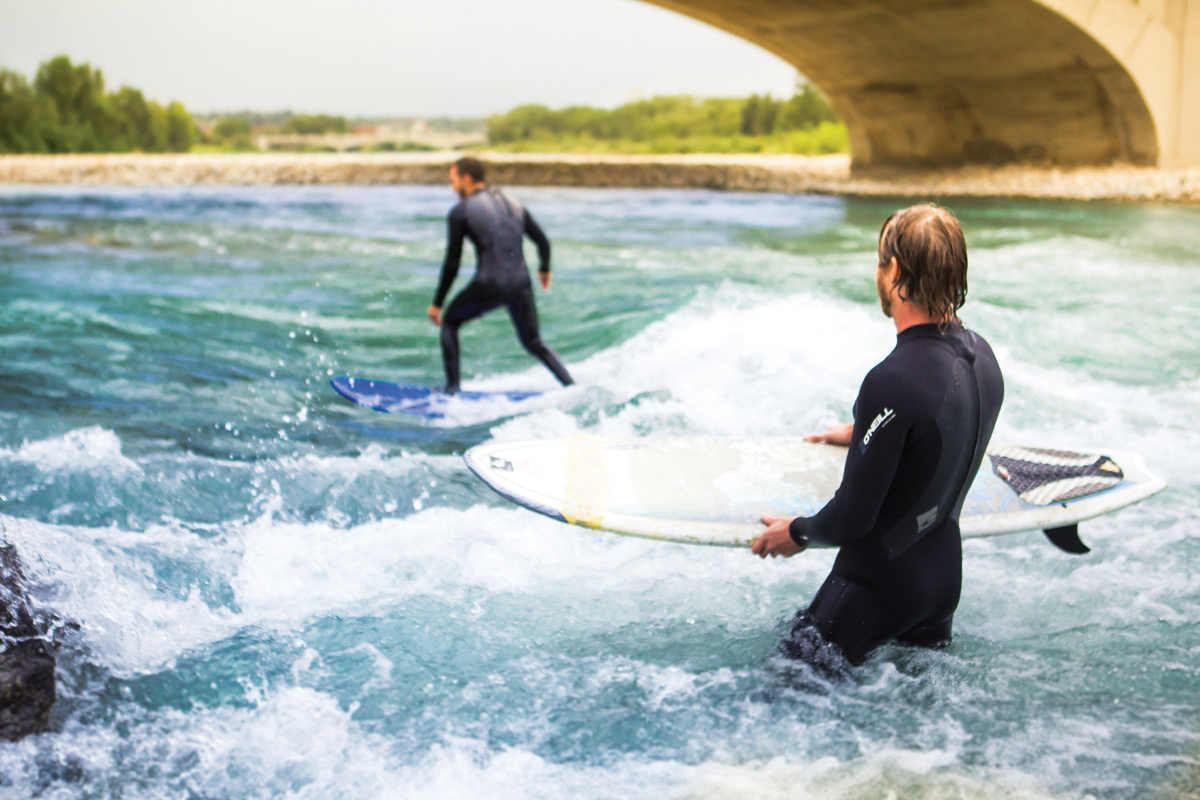 9. Yes, you can surf in Alberta; just ask the "surf anywhere" pioneers of the Alberta River Surfing Association, who suggest you start by learning at the Louise (10th Street) Bridge. albertariversurfing.com
10. Only certified divers (or those training with an instructor) should go scuba diving at Lake Minnewanka. Those who do get to see the townsite of Minnewanka Landing, which was submerged in 1941. Banff National Park
11. After an $11.9-million redevelopment, Prairie Winds Park re-opened last summer, though the splash park was delayed in opening until this year. There's also a wading pool and lazy river (as well as washrooms, a tandoori oven and other features).
12. If you're up for a chillier swim, drive out to one of the glacier-fed lakes of K-country and Banff National Park. Johnson Lake, Chain Lakes and Cascade Pond are all suitable for warm-blooded swimmers.
13. Wade into "the breach" on St. Patrick's Island or the paddling pool at Riley Park.
14. Go on a walk-and-wade fly-fishing trip with Hanson's Fishing Outfitters on the Bow and learn more about the river and how to read the water. hansonsoutfitters.com
15. Seasons of Bowness Park restaurant in Bowness Park overlooks the lagoon and if you suddenly decide to have a more active water experience, you can rent a pedal boat, canoe or kayak from the boathouse next door. seasonsofbownesspark.ca
16. The old quarry in Canmore has been reclaimed and made into Quarry Lake. The area includes a sandy beach at the shallow end. Because it's more than 100 metres deep in some areas and fed by underground springs, the water can be quite cold, so swim at your own risk. But the beautiful setting is perfect for relaxing on the beach. quarrylakecanmore.ca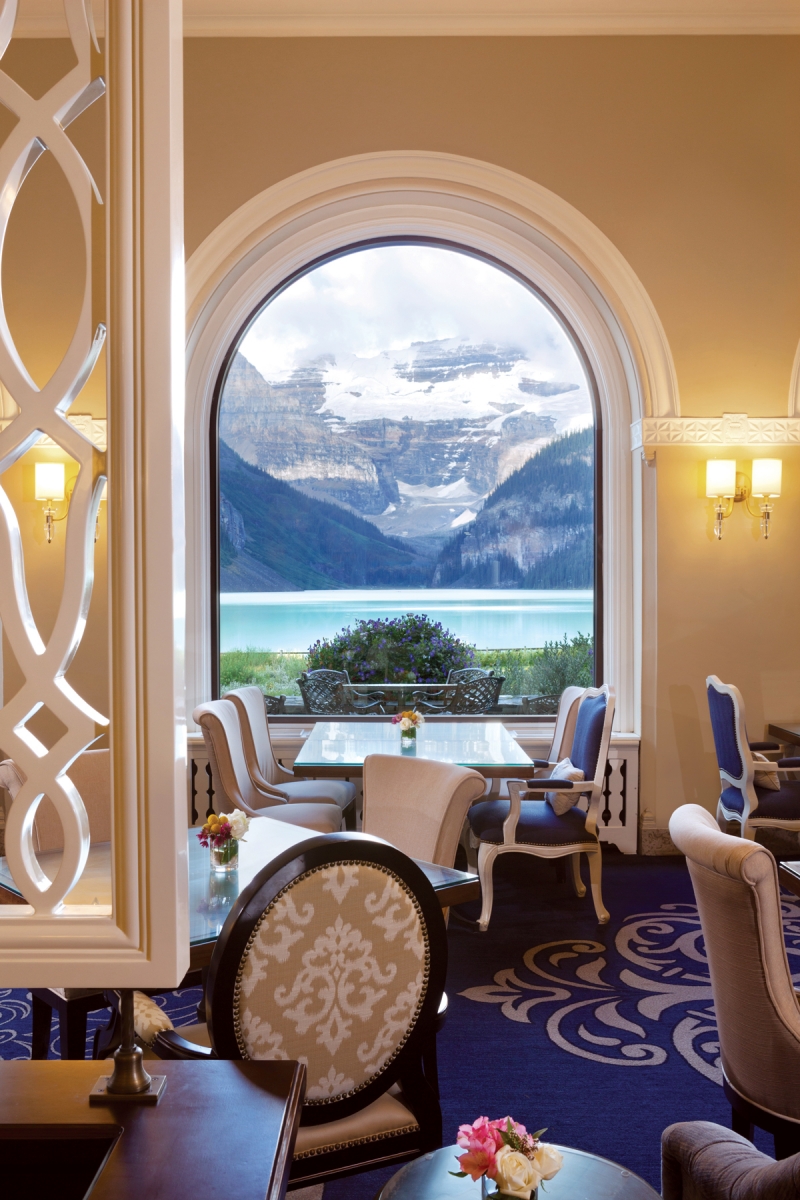 17. Arguably, there is no more beautiful lake in the country than Lake Louise. Admire it in style, even if the weather isn't hospitable, from the Fairmont Chateau Lake Louise Lakeview Lounge. fairmont.com/lake-louise
18. If you like the look of water, but not being wet, there are few better spots in the city than the pool deck at Hotel Arts. Order some appies and cocktails from Raw Bar and relax in style. hotelarts.ca
19. Stand in the mister at the Stampede midway.
20. You can sit in a lawn chair with your feet in the river in lots of spots along the Bow and Elbow. But the south bank of the Bow in Edworthy Park, across the footbridge from Angel's Cappuccino & Ice Cream Caf has the advantages of great people-watching and easy access to parking, washrooms and nearby snacks.
21. The day-use lockers have been upgraded at the Banff Upper Hot Springs so the cost is now bundled with the entrance fee, meaning you can "take the waters" without worrying someone will take your stuff. hotsprings.ca