Clocking in at a little less than three hours from Calgary, this drive might take you a little longer than some of the rest, but it will take you to one of the sunniest, warmest corners of the province. Medicine Hat gets more than 300 days of sunshine each year and in the summer it can get hot. The city straddles the South Saskatchewan River and has cliffs and coulees. Getting there is a classic prairie drive with grassland, farmers' fields and sky as far as the eye can see.
Medicine Hat came about during the late 1800s when the CPR was moving west. The natural gas and clay in the area attracted industries that set up shop in the early 1900s. Medicine Hat experienced a boom and then settled down for a little while. The population now is a little over 60,000 people. Natural gas is still important and clay has become a big attraction for visitors.
Getting There
294 kilometres from the Calgary Tower | Southeast on Hwy 1
What to Do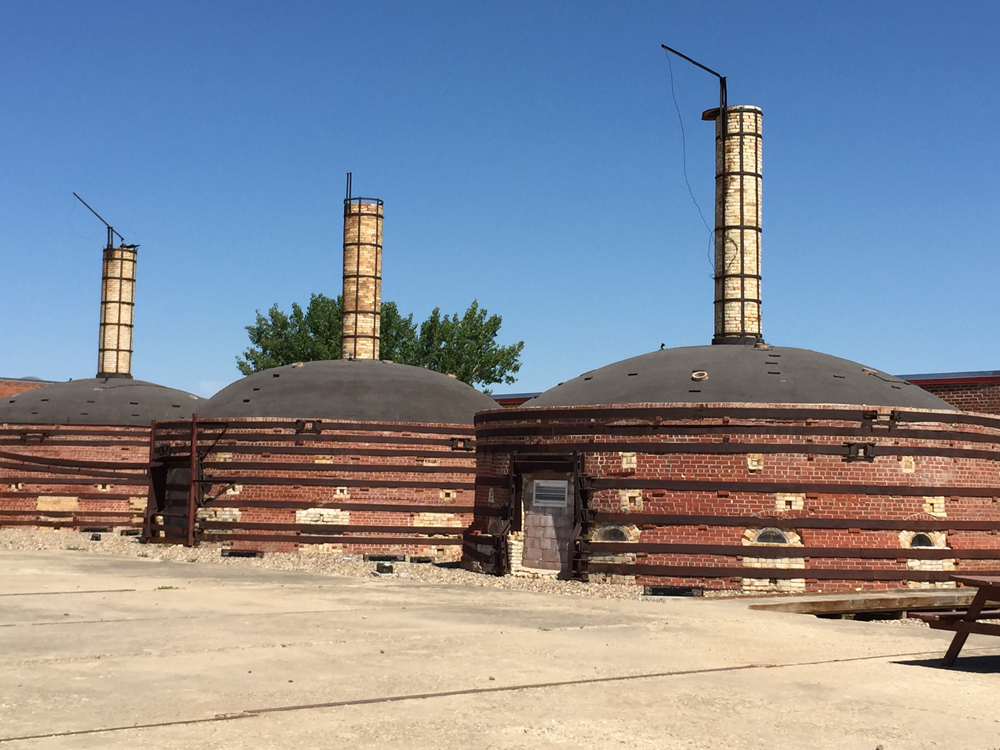 This could be your entire reason for going to Medicine Hat. Medalta is in the Historic Clay District, so designated because this spot on the South Saskatchewan River was once the centre of Canada's clay and pottery industry. It all goes back to the huge amounts of accessible, affordable natural gas in the area that helped fuel the kilns and grow the city.
Now you can walk through the museum area to see how and where two-thirds of Canada's pottery was once made. A highlight is walking past examples of Medalta pottery from the past and into the massive beehive kilns where they were made. Medalta also has a working ceramics studio where you can watch artists-in-residence create contemporary pieces as well as recreations of Medalta's famous pots and bowls.
403-529-1070, 713 Medalta Ave. S.E., medalta.org
The Esplanade is essentially the hub of arts and culture in Medicine Hat. It was built in 2005 and includes an art gallery, museum and 700-seat theatre. The art gallery rotates exhibits of regional art. The museum is a project of the Historical Society of Medicine Hat, which has been collecting local stories and artifacts since 1948. The main theatre in the Esplanade is intimate and has incredible acoustics. Performances are back on the table, so check out the online calendar to see what's coming up and try to time your trip to Medicine Hat to catch a show here.
401 1 St. S.E., 403-502-8580, esplanade.ca
View this post on Instagram
The Saamis Tepee is 65.5 metres tall, made of steel and concrete and is one of Medicine Hat's major landmarks. It was built for the 1988 Winter Olympics in Calgary where it was placed at McMahon Stadium. Now it is along the TransCanada Highway, close to the Tourism Medicine Hat offices. When you walk into the Tepee, you'll see a series of 10 paintings that illustrate Indigenous culture. Keep going on a self-guided walking tour in the Seven Persons coulee below, which is one of the most important archaeological sites of the Northern Plains.
8 Gehring Rd. S.E., medicinehat.ca
Medicine Hat has a few parks and a huge pathway network. Echo Dale in the west near Redcliff is the one with two lakes. The little lake is for swimming and the bigger lake is stocked with trout for boating and fishing. There are also picnic and fire pit areas. Police Point Park is a little smaller than 100 hectares and has a nature centre and lots of pathways. It's on the east end of Medicine Hat, nestled in a curve of the South Saskatchewan River. Go there if you want to bird watch or launch your raft into the river.
Where to Eat
Coffee shops
View this post on Instagram
Medicine Hat has a handful of local coffee shops where you can get a great cup of coffee and baked treats while chatting up the barista to get some tips on the city (they really know what is going on). Station Coffee Co. has baked goods from Frosted Sweets Baking, while Mad Hatter Coffee Roastery roasts small batches of beans every day and has delicious treats like whoopie pies.
Breweries and Distilleries
View this post on Instagram
Hell's Basement Brewery was Medicine Hat's first brewery. The taproom and patio are open to enjoy a few drinks, plus you can book a tour in advance to learn more about the brewery's operations.
Medicine Hat Brewing Co. revived the name of the city's original brewery. The 2020 version serves classic craft beers like ales and lagers. It also has a patio series that includes grapefruit radlers and cherry flavours. Watch for its collaborations and vault beers as well.
Grit City Distillery serves up something a little stronger than beer with its lineup of vodka, gin and liqueurs. If you visit the tasting room, make room for food including brined chicken wings, Hasselback potatoes and flatbreads.
You can buy off sales from all three of these locations or pick up a selection of the products at Calgary liquor stores if your road trip leaves you wanting to drink in the memories at a later date.
View this post on Instagram
This smokehouse started in Medicine Hat in 2013 as a casual counter-service joint and has since moved into a new, bigger space with table service and an expanded menu. It takes reservations, which is helpful if you are planning your road trip in advance. You can smell the beef, pork and chicken smoking onsite before you even enter, making it hard to choose from all the options on the meaty menu. Order a sandwich or a barbecue platter with sides that include baked beans, slaw and potato salad. The drink menu has plenty of beer to choose from and a cocktail lineup that includes a smoked Caesar and peach sangria. Get a pound of brisket, pork, chicken or sausage and a few bottles of sauce to take home with you.
2771 Box Springs Blvd. N.W., Medicine Hat, 403-525-7675, skinnysmokehouse.ca
This comfortable restaurant run by husband and wife duo Chris Orchard and Sandee Anderson serves dishes that are as handmade and full of local ingredients as possible. Start with bacon-wrapped steak ends, followed by wild mushroom bannock or a North Fork Ranch elk ribeye. End your meal with warm apple pie.
925 7 St. S.W., Medicine Hat, 403-525-9938, rustickitchenandbar.com
Medicine Hat has a really good Thai restaurant. Thai Orchid Room has been in Medicine Hat since 2006 after moving from tiny Bow Island. The menu of authentic Northern Thai food includes spring rolls, curries and pad Thai that are all delicious. They spice all of the dishes to taste and there is a kid's menu.
3, 36 Strachan Ct. S.W., 403-580-8210, thaiorchidroom.ca