Canmore is not the kind of place that is easy to just drive by. And it isn't easy to only spend one day here, either. You're spoiled for choice when it comes to restaurants, cafés and things to do in this mountain town. The next time you're out here, make a point to try a new restaurant, tackle a new hike or visit
Elevation Place
. Throughout the summer and into the fall, there are also plenty of big events happening too, including the
Canmore Folk Music Festival
, the
Canmore Highland Games
and more.
Getting there
105 kilometres from the Calgary Tower | West on Hwy 1
---
Where to Eat
The food on Communitea Cafe's menu is healthy, fresh and satisfying, regardless of whether you've been shopping in town or hiking a mountain. Expect a range of bowls, wraps and sandwiches served throughout the day. We recommend the Buddha Bowl (opt to pay extra for avocado and salmon) or the pad Thai if you're here for lunch. Don't forget to choose one of the many teas to pair with your meal.
1001 6 Ave., 403-678-6818, thecommunitea.com
Crazyweed Kitchen's welcoming space is rustic and trendy at the same time, and its menu has a range of satisfying dishes — think fully loaded tartare, Thai grilled chicken, baked Alaska and more. Open Wednesday to Sunday, the restaurant currently offers lunch Friday to Sunday and supper from 4:30 p.m. onward.
1600 Railway Ave., 403-609-2530, crazyweed.ca
If you're in Canmore on a sunny, summer day, make a point to visit this restaurant and sit on its patio. You'll get views of the Three Sisters while you eat your burger or buffalo chicken dip. You pretty much have to order a Grizzly Paw pint while you're here, but if you're not feeling like beer or you're the one driving home, Grizzly Paw also makes its own sodas.
Grizzly Paw Brew Pub, 622 8 St., 403-678-9983; Grizzly Paw Brewery, 310 Old Canmore Rd., 403-678-2487, thegrizzlypaw.com
Casual and cozy, this bakery has lots of tasty sweet and savoury pastries for you to munch on during the drive home. Stop by for snacks like cherry cream cheese danishes, cinnamon buns, jelly doughnuts, pretzels and more. If you're staying for lunch, try the daily soup and create your own sandwich by choosing as many available toppings as you'd like.
1514 Railway Ave., Canmore, 403-678-4232; 121, 1000 7 Ave., Canmore, 403-678-8858, jkbakery.ca
Co-founders Christian Agir and Kalen Mcconell opened Kain Tayo in 2021 with the intention of connecting people through delicious food. Kain Tayo is Tagalog for "let's eat," and with menu options like hand cut sukiyaki fries, five spiced crispy pork belly and chicken adobo bao buns, you won't have to think twice about digging in.
725 9 St., Canmore, 403-675-3345, kaintayocanmore.com
Founded by a father and son duo, Rocket Pie offers some of the best pizza in the Rockies to locals and travelers alike. The restaurant's specialty is Neapolitan-style pizza, but the menu also contains calzones, salads and pastas. Pro tip: try the chili oil. They don't call it "world famous" for nothing!
304 Old Canmore Rd., Canmore, 403-675-2865, rocketpie.ca
---
What to Do
Canmore is home to a range of artist studios and galleries. If you're here for the day, you could do an art studio hop and see a variety of different art styles. See Jason Carter's bright and bold work at Carter-Ryan Gallery, admire local and western Canadian art at the Avens Gallery and more.
Bring your bikes up to Canmore with you (or rent one in Canmore) and ride the multi-use trail that connects Canmore and Banff. The pathway is about 26 kilometres one way if you're riding all the way to the Travel Alberta Visitor Information Centre. Stop in Banff for an ice cream cone before riding back into Canmore.
Shop local at the Canmore Mountain Market, which runs on Thursdays from May 25 to October 5. Swing by for a pre-hike lunch, or take your time wandering through the market to peruse the wide variety of products, listen to live entertainment and more.
Elevation Place, 100, 700 Railway Ave., canmore.ca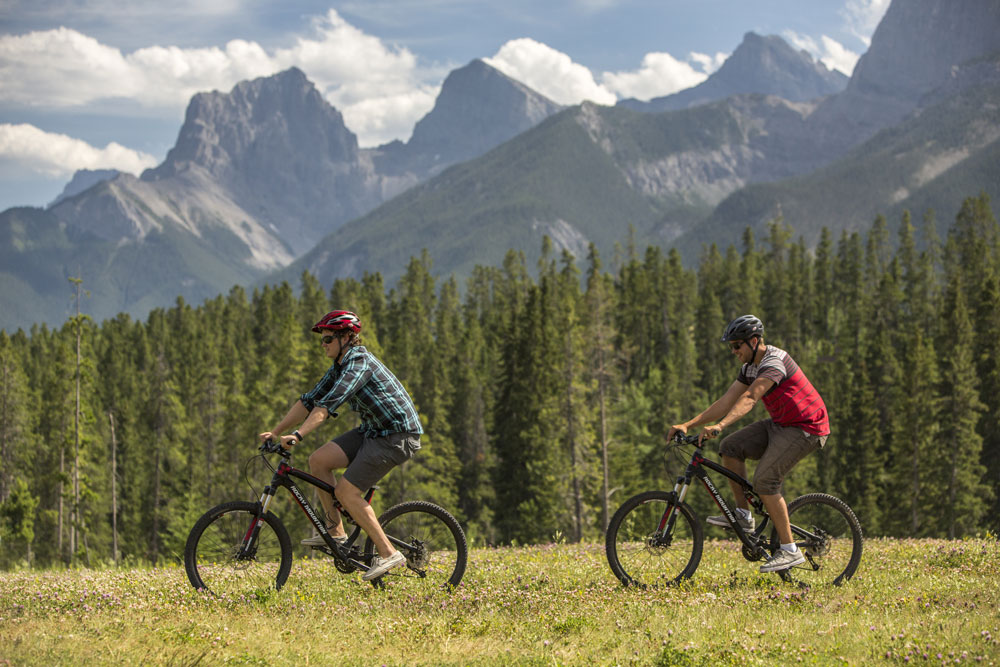 The Canmore Nordic Centre isn't only for cross-country skiing and fat biking. There are also plenty of summertime activities to do here. Rent a mountain bike from Trail Sports on-site and explore the trails on two wheels. There's over 100 kilometres of trail to explore here for a range of skill levels. The centre also has a mountain bike skills park if you're really interested in getting that adrenaline flowing.
You could also come here for a game of disc golf, roller skiing, hiking or trail running. Be aware that you're in bear country here — it's a good idea to carry bear spray.
1988 Olympic Way, 403-678-2400, canmorenordiccentre.ca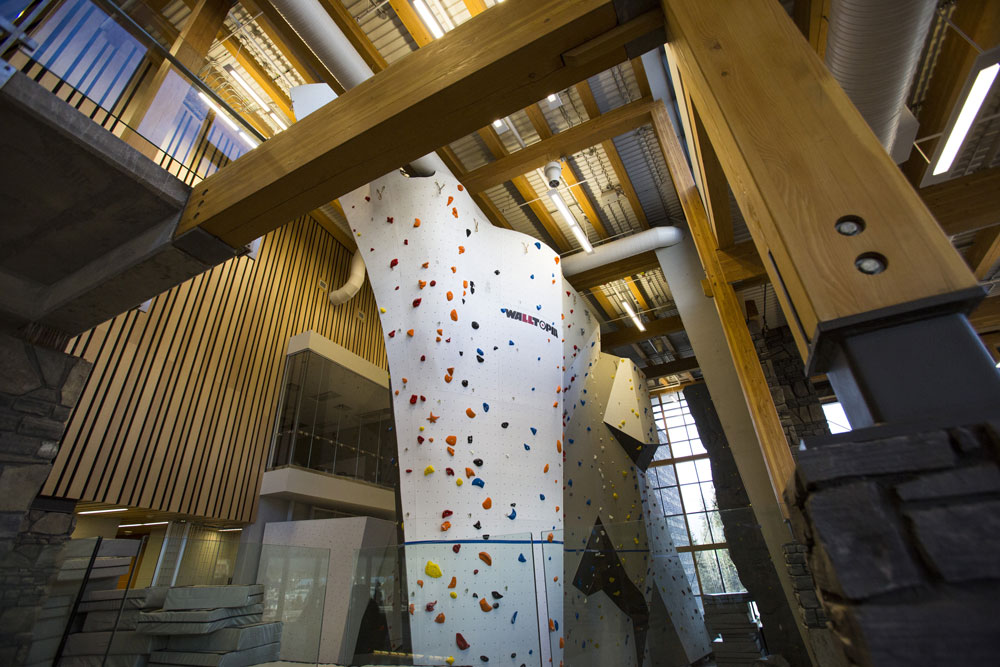 You won't be bored if you visit this 77,000-square-foot recreation facility. You can come here and go indoor rock climbing, visit the aquatic centre or get a workout done in the fitness centre. The Canmore Art Guild also has a gallery that operates out of this space.
700 Railway Ave., 403-678-8920, canmore.ca
These two stores on Main Street specialize in products made by local and emerging makers. At Project A, you'll find pillow cases by Ginni Seehagel, Builderburner ceramics, Field Kit Co. soaps and more. And at Alberta's Own Marketplace, there are colourful art prints by Brett Heidi, Heartprint blankets and socks designed in Calgary.
Project A, 103, 710 Main St. Canmore, 403-609-9932, project.a.shop; Alberta's Own Marketplace, 826 Main St., Canmore, albertasownmarket.com
[This story was updated on May 18, 2023.]