Canmore is not the kind of place that is easy to just drive by. And it isn't easy to only spend one day here, either. You're spoiled for choice when it comes to restaurants, cafes and things to do in this mountain town. The next time you're out here, make a point to try a new restaurant, tackle a new hike or visit
Elevation Place
. Throughout the summer and into the fall, there are also plenty of big events happening too, including an
open water swim race
, the
Canmore Folk Music Festival
and the
Canmore Highland Games
.
Getting there
105 kilometres from the Calgary Tower | West on Hwy 1
---
Where to eat
There's going to be a line when you arrive at this restaurant, especially if you're here around lunchtime on a weekend, but it's a line that's well worth waiting in. The food on this menu is healthy and fresh and satisfying, regardless of whether you've been shopping in town or hiking a mountain. There is a range of rice bowls, salads and sandwiches on the lunch menu, and breakfast bowls and breakfast paninis are served until 11:30 a.m. We recommend the Buddha Bowl (and opt to pay extra for avocado and salmon) or the pad Thai if you're here for lunch. And choose one of the many teas to pair with your lunch. The caf also hosts live music events.
1001 6 AVE., 403-678-6818, thecommunitea.com
This isn't a fine dining restaurant, but this also isn't a place you'll come immediately after a hard, sweaty hike. The welcoming space is rustic and trendy at the same time, and its menu has a range of satisfying dishes – think creative wood-fired pizzas, big plates of Thai grilled chicken, lamb sirloin or halibut, and more. You might have trouble settling on one dish. (That's okay – that gives you an excuse to visit again.) Choose a few small plates for the table to start with and be sure to save room for dessert.
1600 Railway Ave., 403-609-2530
If you're in Canmore on a sunny, summer day, make a point to visit this restaurant and sit on its patio. You'll get views of the Three Sisters while you eat your burger (or something else from the Grizzly Grill). You pretty much have to order a Grizzly Paw pint while you're here. If you're not feeling like beer, or you're the one driving home, Grizzly Paw also makes its own sodas and these pair with burgers just as well as beer.
If you plan ahead, try to book a tour of the Grizzly Paw Brewing Company's production facility before or after you eat lunch. There are a range of different tour packages and they start at $17 per person.
Grizzly Paw Brew Pub, 622 8 St., 403-678-9983; Grizzly Paw Brewery, 310 Old Canmore Rd., 403-678-2487, thegrizzlypaw.com
This is a specialty grocery store along Canmore's main street, but around the corner from the grocery section, you'll find a little caf and deli counter. The space is small, but cozy. Order either Phil and Sebastian coffee or a glass of wine to go with your panini.
817 8 St., 403-609-6631, mountainmercato.com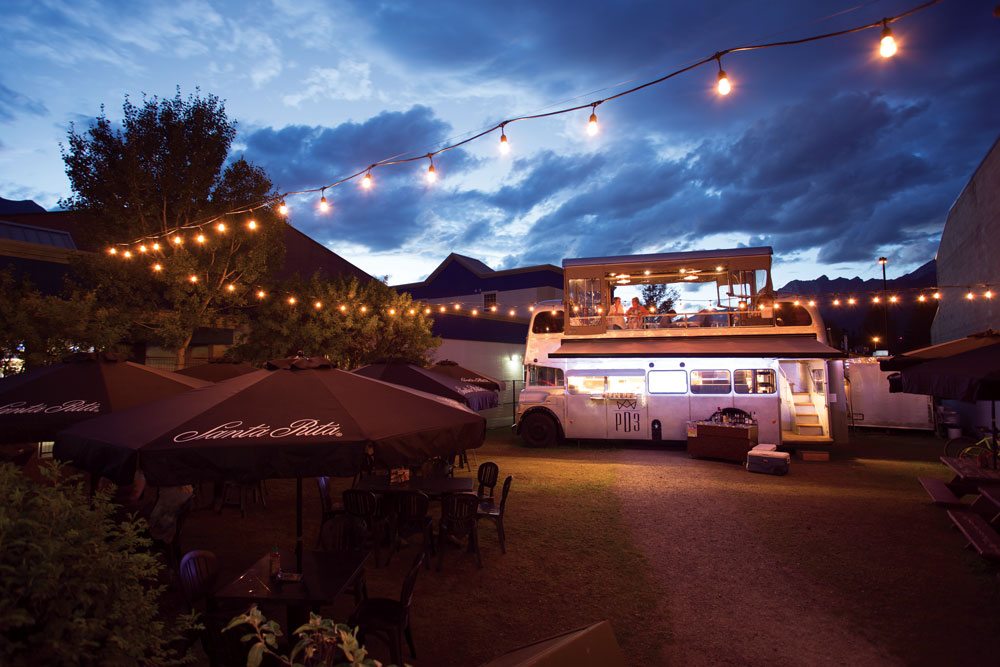 For a new kind of dining experience, visit Blake Flann's food bus. PD3 runs out of a double-decker bus, parked off of Canmore's 8th Avenue. The lower level is a little more casual, serving burgers and tacos you can grab and go to the outdoor tables with. The upper level is where a seated five-course fine dining menu is served.
806 8 St., 403-609-4928, blakecanmore.com
Have you ever made plans to go hiking with a friend, woken up on that day to find it torrentially raining, and decide to go hiking in Canmore despite the bad weather? And then, after realizing it's a totally miserable experience 10 minutes into the hike, decide to just go eat instead? We have. If that happens, what you want to do is head to Rocky Mountain Bagel Company for a toasted bagel with cream cheese and coffee. (Come here for some freshly made carbs when the weather is good, too.)
102, 830 8 St., 403-678-9978, thebagel.ca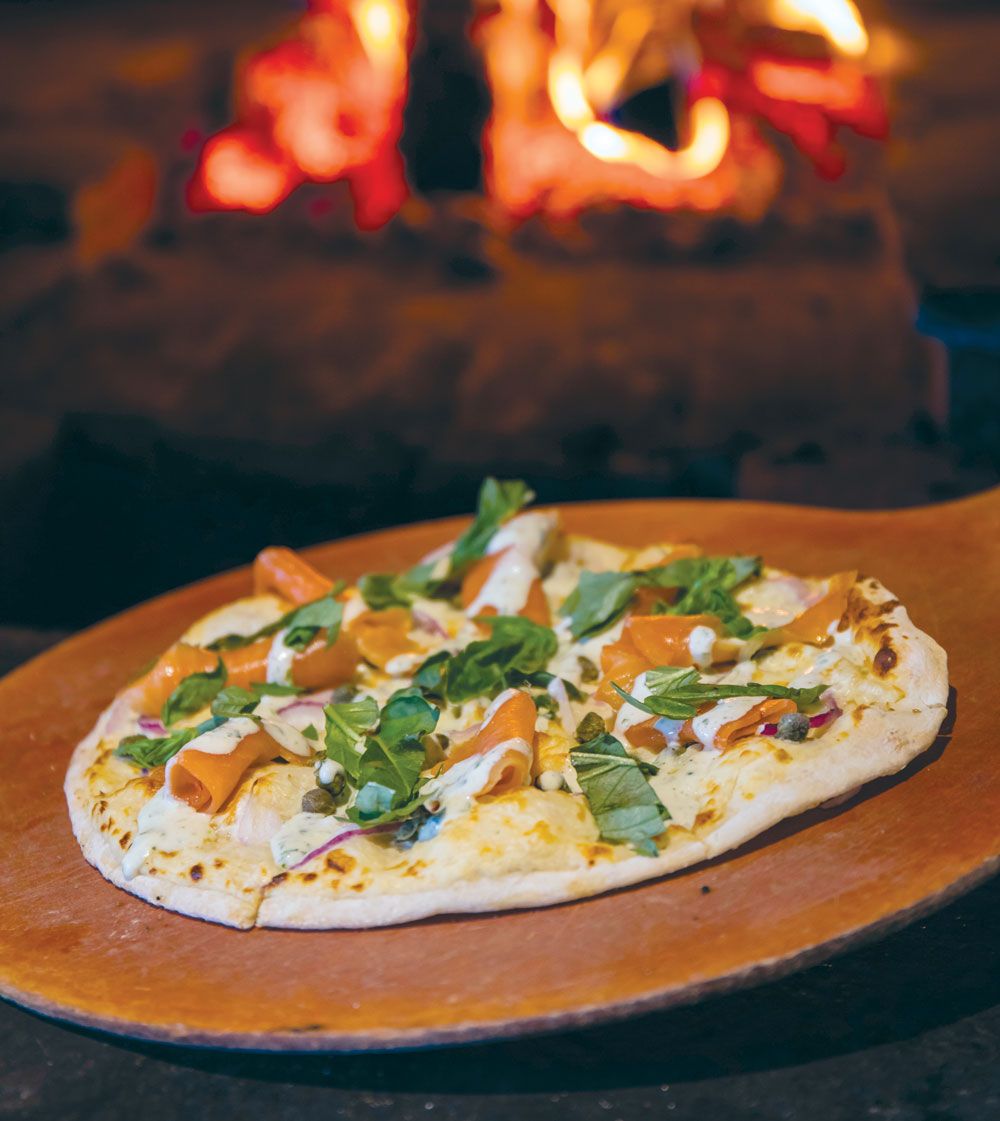 The West Coast flatbread.
These pizzas alone are worth the day trip to Canmore, but are particularly tasty after a day of hiking or biking in the area. These pizzas have a thin, crispy crust and there are plenty of varieties you wouldn't find elsewhere. We recommend the West Coast flatbread (it has smoked salmon and capers and is $16) or the Fig, Bison and Brie (from $16). A few of the pizzas come frozen, so you can buy a few to take home and enjoy later.
1, 838 10 St., 403-609-5508, rockymountainflatbread.ca
---
What to do
There's a range of artist studios and galleries in Canmore. If you're here for the day, you could do an art studio hop and see a variety of different art styles. See Jason Carter's bright and bold work at Carter-Ryan Gallery, admire local and western Canadian art at the Avens Gallery and stop in at Fireweed Glass Studio and see the glass artwork by several artists.
Bring your bikes up to Canmore with you (or rent one in Canmore) and ride the multi-use trail that connects Canmore and Banff. The pathway is about 27 kilometres one way if you're riding all the way to the Travel Alberta Visitor Information Centre. Stop in Banff for an ice cream cone before riding back into Canmore. If you're planning on doing the full round trip, the ride could take you up to three hours.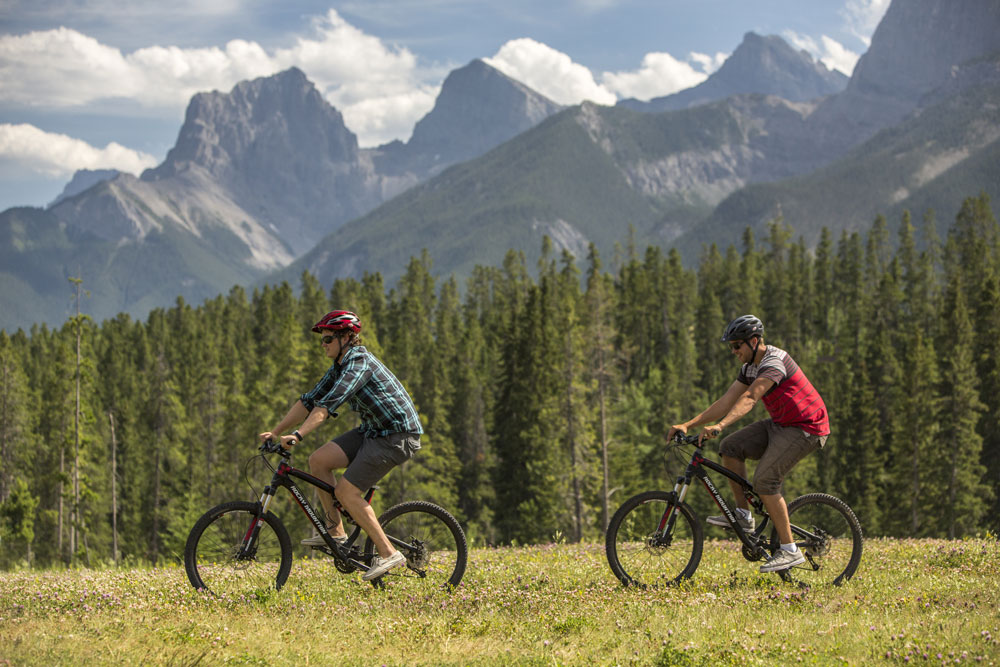 The Canmore Nordic Centre isn't only for cross-country skiing and fat biking and biathlon. There are also plenty of summertime activities to do here. Rent a mountain bike from Trail Sports on-site and explore the trails on two wheels. There's over 100 kilometres of trail to explore here and there are trails suitable for a range of skill levels. If you're new to mountain biking, stick to the wider dirt roads. If you're a little more advanced, try the single-track trails. The centre also has a mountain bike skills park if you're really interested in getting that adrenaline flowing.
You could also come here for a game of disc golf, roller skiing, hiking or trail running. Be aware that you're in bear country here – it's a good idea to carry bear spray.
1988 Olympic Way, 403-678-2400, canmorenordiccentre.ca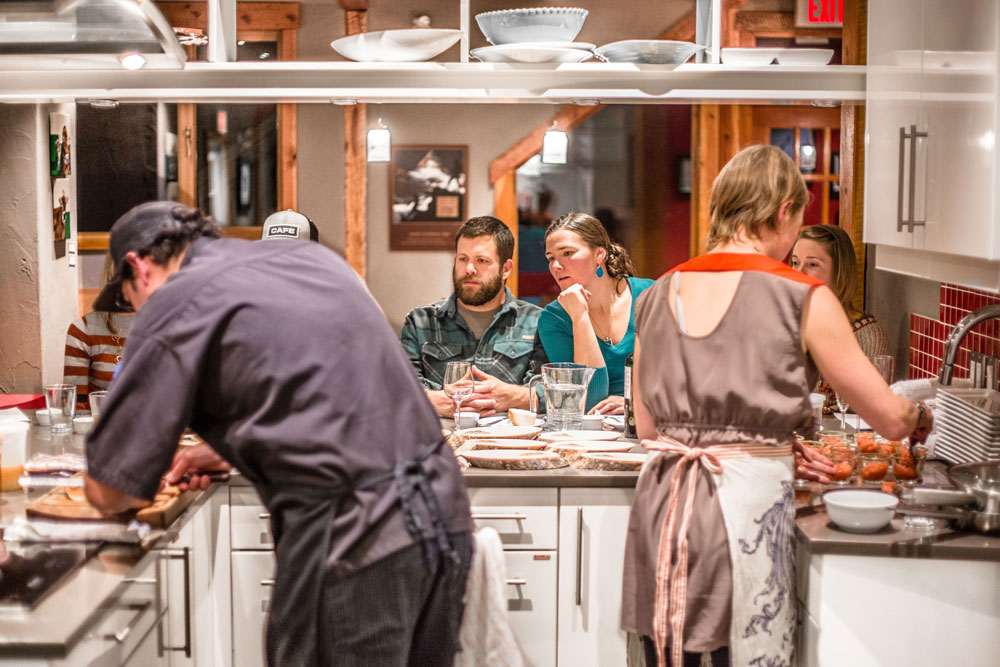 This boutique hotel runs a range of demonstration-style cooking classes in its downstairs kitchen. That means that you watch the professional chef make tasty dishes and you get to eat the food. (Maybe make notes so you don't forget the tips that the chefs share.) There aren't cooking classes in the summer, but they will resume in the fall and they fill up fast so register in advance.
629 10 St., 403-609-0482, paintboxlodge.com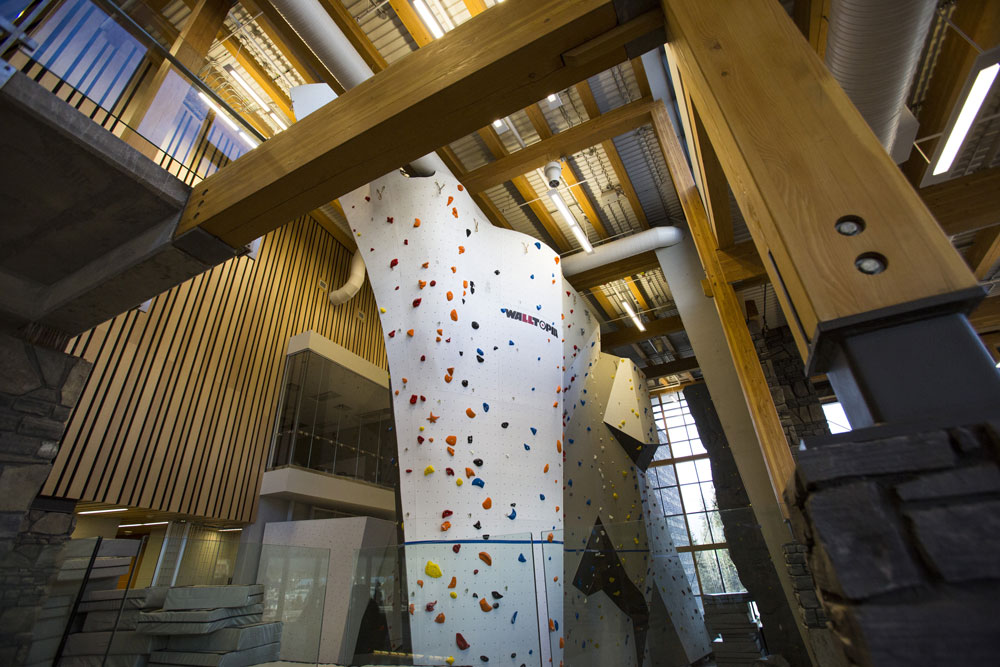 The indoor rock climbing wall at Elevation Place.
You won't be bored if you visit 77,000-square-foot recreation facility. Come here and go indoor rock climbing, visit the aquatic centre (there's an eight-lane swimming pool and a lazy river and a steam room), get a workout done in the fitness centre or check a book out of the library. The Canmore Art Guild also has a gallery that operates out of this space.
700 Railway Ave., 403-678-8920, canmore.ca
Hiking
Whatever your fitness level and whether you're looking for an awe-inspiring view or a gorgeous body of water, there's a hike around Canmore suited to you. For something shorter and easier, try hiking the Grassi Lakes Trail or Grotto Canyon. If you're looking to try scrambling, try Ha Ling Peak or Lady MacDonald – you'll be rewarded with spectacular views when you summit. Remember: always check the weather and trail reports before you leave on a hike.
This store was once a pop-up until it opened its permanent location in November 2017. Project A sells work by emerging artists, recent grads and new business owners. Find fashion by Rachael Meckling, pillows by Pepper B Design and ceramics by From Tree to Sea.
103, 710 Main St. Canmore, 403-609-9932, project.a.shop
This shop is also on Main Street and full of products by local makers. Buy a blanket from Heartprint Threads, coasters from Glass Candy YYC and jewellery from Tiny Zen Jewelry.
826 Main St., Canmore, albertasownmarket.com
Spa day
Getting away to the mountains for a day might be just what you need to relax and unwind a little, especially if you're booking a spa treatment. One Wellness and Spa offers a range of spa treatments, including facials, scrubs and wraps.
One Wellness and Spa, 187 Kananaskis Way, 403-679-7179, onewellnessandspa.com
---
Big events
Various dates
Grizzly Mountain Events holds a range of outdoorsy races for active types. There is a Canada Day Fun Run that raises funds for the Canmore Nordic Ski Club. On July 14, 2018, there is a 1.5 kilometre or 3km open water swimming race in Quarry Lake . For something a little longer, consider the off-road triathlon (September 2, 2018), or the ultra marathon through the trails at the Canmore Nordic Centre (October 7, 2018).
August 4 to 6, 2018
This is the longest-running folk music festival in Alberta – it's been around since 1978. Headliners at this festival this summer include Buffy Sainte-Marie, Lindi Ortega and Ruthie Foster. An advanced adult weekend pass costs $120.
June 20 to 24, 2018
This improv fest brings in talent from Calgary and Edmonton as well as international improvisers for five days of laughs and beer in the mountains. The schedule includes workshops, theatre sports and improv battles. In 2018, the award-winning Showstopper! The Improvised Musical from London is part of the festival. .
September 1 and 2, 2018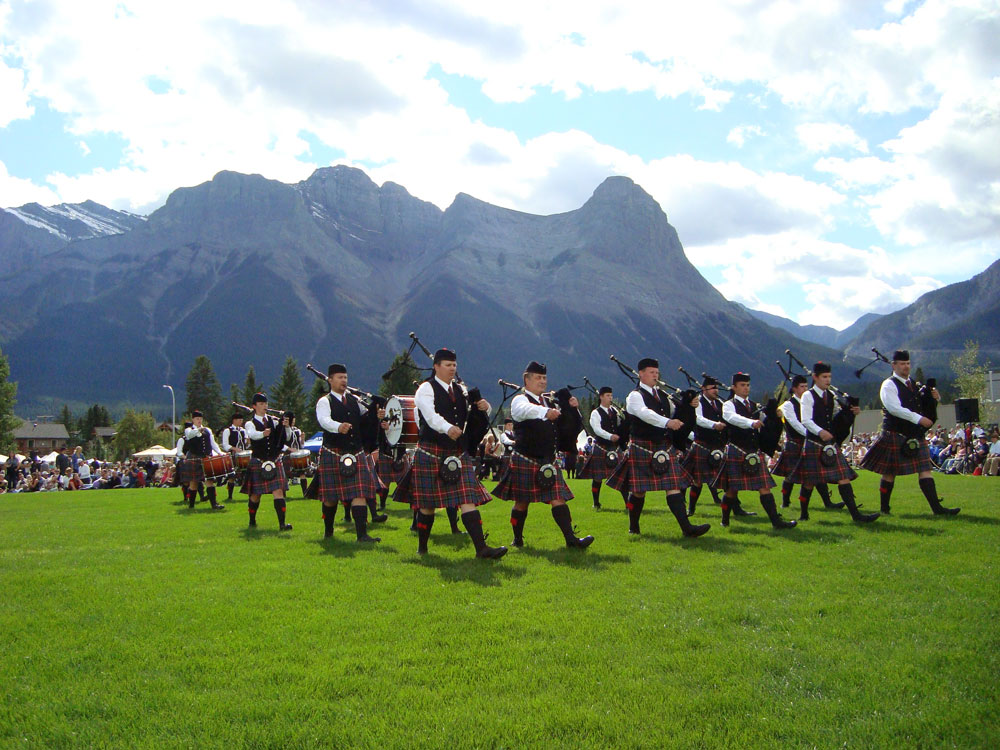 You don't need to have Scottish heritage to appreciate these games. Taking place over the Labour Day weekend, the Canmore Highland Games showcases different Scottish traditions. See highland dancing, and piping and drumming, as well as heavy sport competitions and a tug-of-war. You can also sample traditional Scottish food, try different Scotches during a Scotch tasting and shop for products from Celtic vendors.
September 14 to 16, 2018
If you went to Camp Chief Hector as a kid – or you send your kids now and you're a little jealous after hearing all their stories – you too can experience camp here. Camp Yoga takes place at Camp Chief Hector. It's mostly about yoga and fitness, but there are other fun camp activities to participate in too, like rock climbing, archery, canoeing and campfires. (There's also wine tasting, so it's not exactly like the camp you send your kids to.)
Where to Stay (If Your Day Trip Becomes an Overnight Trip)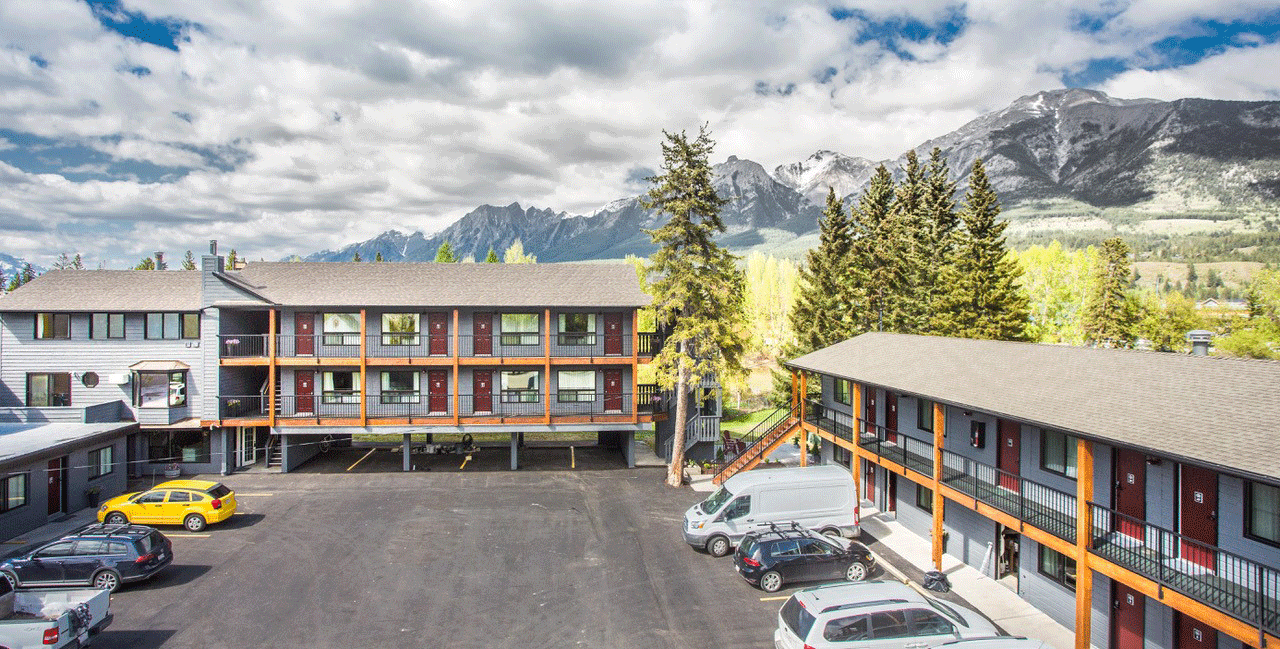 If you've been to Canmore before, you might remember this place as the Bow Valley with a great location right on Main Street and steps away from Grizzly Paw Brewing Company Restaurant, but decor that was in desperate need of a refresh. The team behind Basecamp Resorts felt the same. They purchased the property and overhauled all 25 suites to make them modern, fresh crashpads for your stay in Canmore. It still has parking right outside your room, which makes it ideal for road-tripping Calgarians. It has digital entry, which means you get the code to your room to let yourself in. The fridge is stocked with complimentary breakfast and fresh scones are delivered to your door in the morning. If you have a bigger group or are looking for more space to spread out, the same hotel group also owns Basecamp Resorts and Basecamp Lodge.
610 8 St., Canmore, 855-219-4707, lamphousehotel.com
This article was updated on June 2018.