You know Drumheller for its prehistoric landscape and decorative dinosaurs scattered throughout its downtown. But it's so much more than plastic dinosaurs, even though that's definitely part of its appeal. There's enough to do in this small town to fill an entire day, or even an overnight trip. Make the 90-minute drive northeast and fill your day with hiking, learning about all things prehistoric, and eating in rustic restaurants. If you plan your trip right, you can also see the award-winning Canadian Badlands Passion Play.
---
Getting there
135 kilometres from the Calgary Tower | East on Hwy 9
---
What to do
This is a little piece of Badlands history that's worth checking out. Right at the Red Deer River, by the North Dinosaur Trail and Alberta Highway 838, you'll find a little ferry that will take you to the other side of the river. The ferry was commissioned by the Frenchman Andre Bleriot in 1913, who decided a ferry was a better choice than a bridge. In the early 20th century, the ferry was also used by locals as a place to socialize. The ferry is essentially a small, moveable bridge that can take you and your car to the other side of the river in less than eight minutes.
AB-838, outdoorescapade.com
This adorable little church is located off the North Dinosaur Trail in Midland Provincial Park. It was first built in 1968 and was reconstructed in 1991 by inmates. It has seated more than 10,000 people. The catch — it can only fit six people inside at one time.
Murray Hill Rd., canadianbadlands.com
You don't need to head into the Rockies to go hiking. You can go hiking at these parks and canyons and you'll see colourful rock layers, impressive valleys and prairie vegetation. At Midland Provincial Park, there's a one-kilometre walking loop with signs about how the Badlands were formed. Come early for beautiful sunrise views. Keep in mind that in the summertime, temperatures can reach 40°C.
The Drumheller hoodoos are an iconic part of this area. These structures are made up of sand and clay, and were formed over thousands of years from erosion by wind, water and the freeze-thaw cycles. Be sure to walk this trail — it's only 15 minutes east of Drumheller — and don't forget the camera.
Willow Creek Coulee, tyrellmuseum.com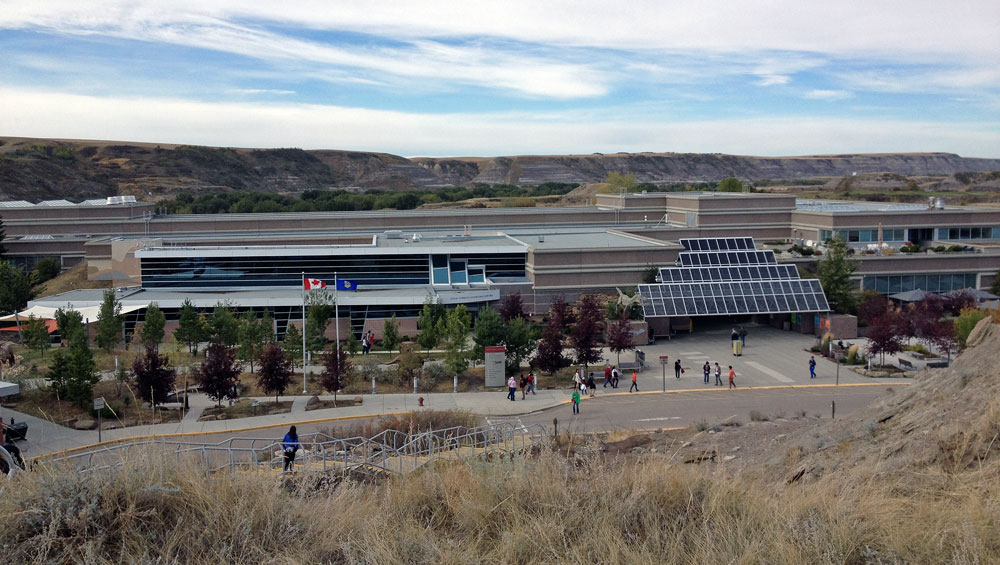 This is undeniably a Drumheller highlight. The Royal Tyrrell Museum is an exceptional museum that showcases fossils, dinosaur skeletons and palaeontology research.
1500 N. Dinosaur Tr., 403-823-7707, tyrrellmuseum.com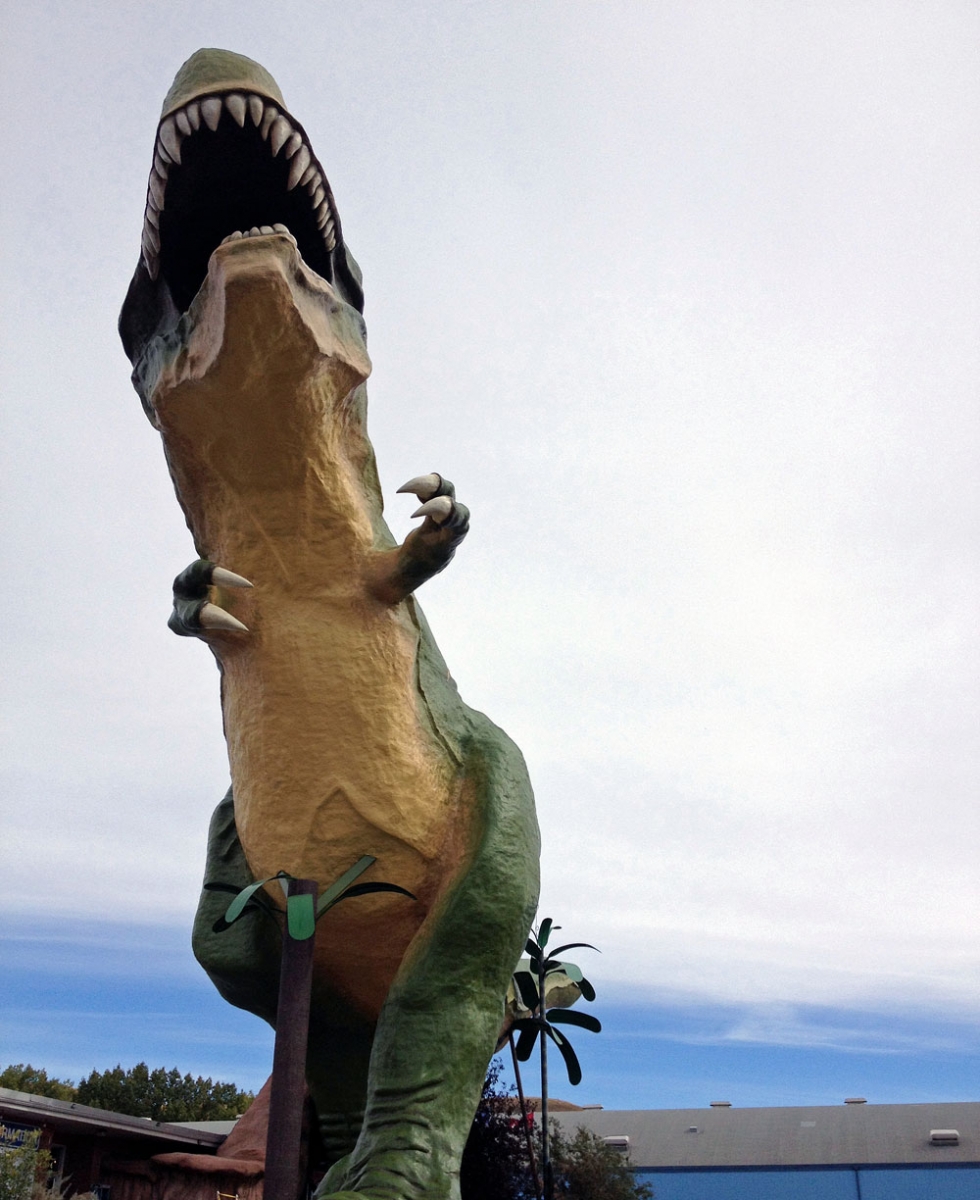 It's impossible to come to Drumheller and the miss the World's Largest Dinosaur. Literally — it's very easy to see from a distance. It's a model of a Tyrannosaurus Rex, but it's actually 4.5 times bigger than a real T-Rex. Climb the 106 stairs to the dinosaur's mouth to get great views of Drumheller.
601 1 Ave. W., 1-866-823-8100, worldslargestdinosaur.com
It's quirky and a little strange, but it's worth a stop. This doll museum has more than 700 dolls. One of the former owners, Gladys Steeves, started the collection in the 1970s.
60, 249 3 Ave. W., 403-823-3655, telus.net
---
Where to eat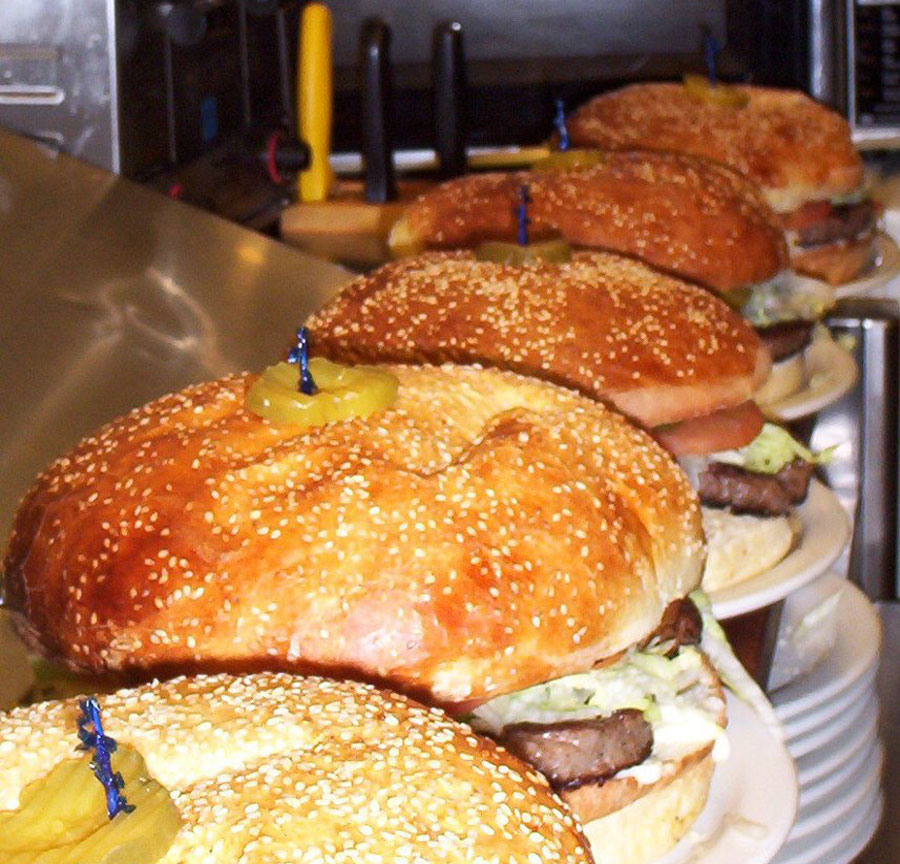 Come here if you're looking for some satisfying (and enormous) comfort food. The menu has 18 different burgers as well as sandwiches like grilled cheeses, hot dogs, cheese dogs, BLTs and more. If you're really hungry, or you want to feed your whole family with one dish, order the Mammoth Burger. To give you an idea of its size, it's a 24-ounce patty and the house-made bun is eight inches wide. Bernie and the Boys Bistro was featured on You Gotta Eat Here! in 2013.
305 4 St., 403-823-3318, bernieandtheboys.com
Located just outside of Drumheller in Wayne, the Last Chance Saloon has more than 100 years of history under its belt. The restaurant celebrated its centennial in 2013 — it opened in 1913 and serviced the area's coal miners. Today, Last Chance Saloon serves a range of burgers, sandwiches and plenty of deep fried, shareable dishes. And the venue frequently hosts live music, too. You can also stay in a themed room in the Rosedeer Hotel next door from $65 per night.
555 Jewell St., 403-823-9189, visitlastchancesaloon.com
This is where the locals like to breakfast. It's kind of like Drumheller's version of Calgary's Blackfoot Truckstop Diner — there are good prices, large portions, lots of breakfast items to choose from, and a train travelling around a track that's suspended from the ceiling.
801 N. Dinosaur Tr., 403-823-7595, traveldrumheller.com
---
Big events
June 23, 2018
First things first: this is not a race. It's a chance for cyclists to test their endurance and admire the picturesque Badlands from the seat of a bicycle. The bike route starts just a little east of the World's Largest Dinosaur and goes along North Dinosaur Trail, past the Royal Tyrell Museum and even includes a ride on the Bleriot ferry over the Red Deer River. If you're new to cycling, choose to participate in the 50 kilometre route. If you're up for a real challenge, do the full gran fondo distance — that's 160 kilometres. Whichever distance you choose, you'll see hoodoos, you'll see vistas and you'll see a lot of (plastic) dinosaurs. Registration in June starts at $150.
Start and finish at Badlands Community Facility, 80 Veterans Way, granfondobadlands.ca
July 6 to July 22, 2018; Fridays to Sundays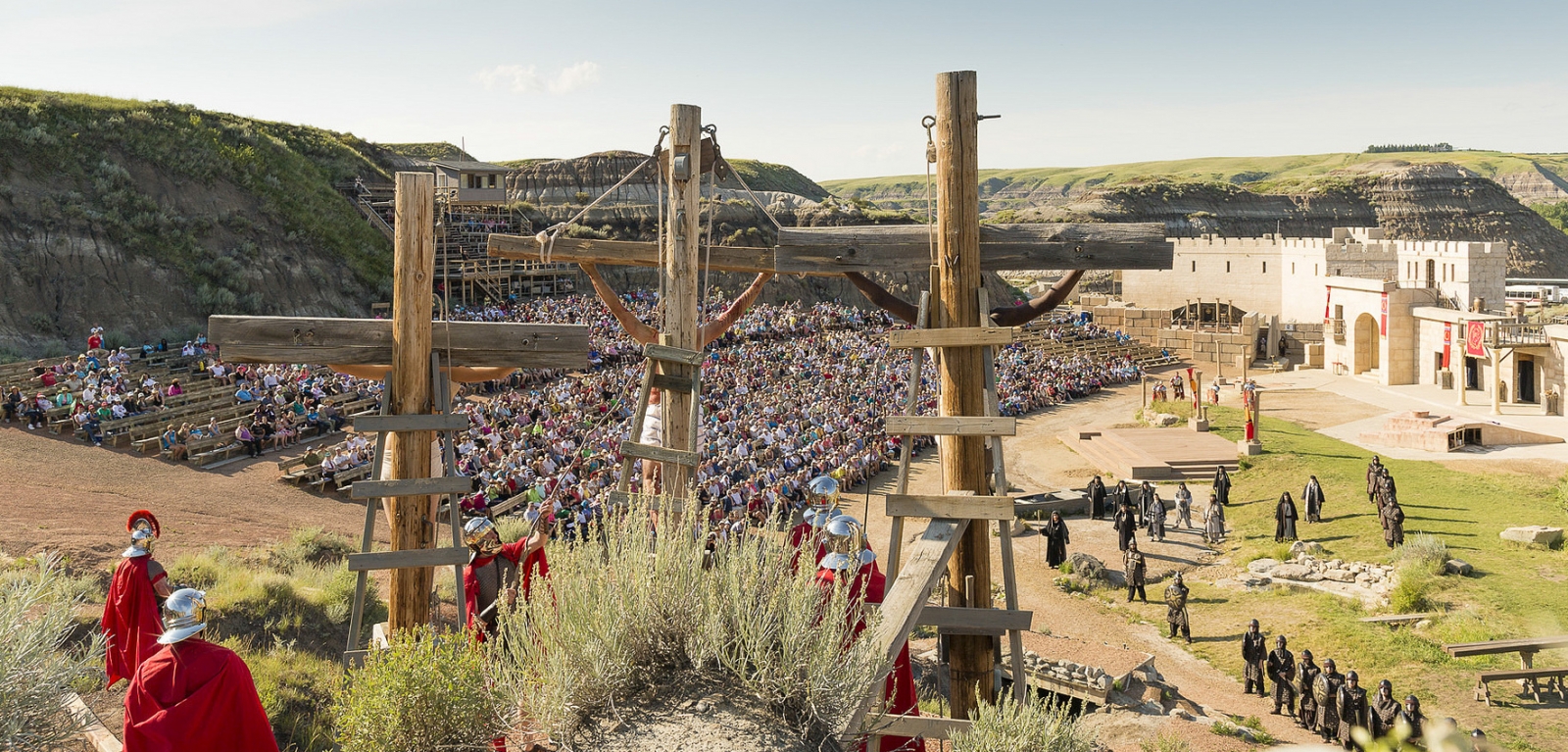 This is an award-winning cultural experience — it was named one of the top 100 events in North America by the American Bus Association in 2014. It brings the 2,000-year-old story of Jesus Christ's life, death and resurrection to the Badlands. And it's big. Really big. It's performed on Canada's largest outdoor theatre stage (it's 30 acres) and includes more than 200 volunteer actors and farm animals. This year marks the play's 24th season. Adult tickets start at $50.
605 17 St. S.W., 403-823-2001, canadianpassionplay.com
Located a little over 20 minutes outside of Drumheller in Rosebud, the Rosebud Theatre is well worth a stop if you're in this area already. The theatre started at the Rosebud School of the Arts in the 1970s and the Rosebud Theatre grew out of the Rosebud Historical Music Theatre program that the school launched in 1983. The theatre stages seven shows each year. This summer, it is staging Joseph and the Amazing Technicolour Dreamcoat and The Amish Project. Ticket prices vary.
102 Railway Ave., 403-677-2001, rosebudtheatre.com