Last year, fans of J.K. Rowling's beloved Harry Potter series swarmed through the streets of Kensington during its first transformation into Diagon Alley. The foot traffic was so impressive that streets had to be closed to cars to allow the Potterheads to enjoy the festivities.
On July 30, the Kensington BRZ is whipping out the polyjuice potion once again and turning the streets of the northwest community into Diagon Alley. This year's celebration comes features nearly 50 participating stores and more magic than you can shake a wand at.
Here are a few things you can expect at this years' Spend a Day in Kensington's Diagon Alley.
Oodles of Owls
Still bummed about not getting an owl-mailed invitation to attend Hogwarts? You can at least get the owl portion of the experience. The Alberta Birds of Prey Foundation will be outside Talons and Tea Leaves (The Naked Leaf) with a parliament of owls ready to teach you about the foundation, the birds' habitats, and Alberta's birds of prey.
Eat, Drink and be Harry
Kensington's many restaurants and eateries offer a smorgasbord of themed foods this year. Burger 320 will be making pumpkin fries, witches brew gelato and green troll bogies slushies. Winebar Kensington will have chocolate frog legs and firewhiskey. Pulcinella Calgary is serving butterbeer ice cream and donuts. Container Bar will be brewing up some polyjuice potion punch and sorting hat cocktails. And, you can catch snitch cupcakes at Crave Cookies and Cupcakes.
Photo courtesy of Kensington BRZ
A golden snitch cupcake from Crave Cookies and Cupcakes.
Fantastic Phone Booths and Where to Find Them
Wizardly government affairs have always been well guarded, and the entrance to the Ministry of Magic is no exception. Disguised as a phone booth next to Swizzlesticks, meddling muggles who snoop their way inside will get a chance to experience the Ministry's decked-out entrance. The booth will also be on permanent display in Kensington after the event.
Keep Your Broom in the Air
If the high-flying world of Quidditch appeals to you, be sure to stop by the Hillhurst Sunnyside Community Association Field where matches will be played throughout the day. Training sessions for the sport of wizards and witches will also be available, so you can find out whether you're best suited to be a chaser, beater, keeper or seeker.
Photo courtesy of Kensington BRZ
A quidditch match from last year's event.
A Bit of Stage Magic
The parking lot next to Purr will have a stage with a range of entertainment throughout the day. It kicks-off with The Sadlier-Brown Band from noon to 2 p.m., followed by stories of wizardry by local story-teller/harp player Jeff Stockton from 2 to 2:45 p.m., as well as the 10 finalists for the Calgary Comic & Entertainment Expo's costume competition at 4 p.m. (If you'd like to enter, simply tag your best Harry Potter cosplay with @calgaryexpo, @kensingtonyyc  and the hashtag #KensingtonDiagonAlley on Instagram or email it to costume@calgaryexpo.com.)
A Knight of Kings and Queens
The giant chess game from the first Harry Potter book will make an appearance in life-sized fashion outside of Orange Theory Fitness every two hours from 10 a.m. until 4 p.m., when a match will play out for all to see.
A Golden Ticket
Last year's impromptu road closures were no fun if you drove to the event and this year's planned road closures will be equally halting. Calgary Transit is encouraging attendees to use public transit to make their way to Diagon Alley with the release of a special, commemorative ticket available for purchase now until event day.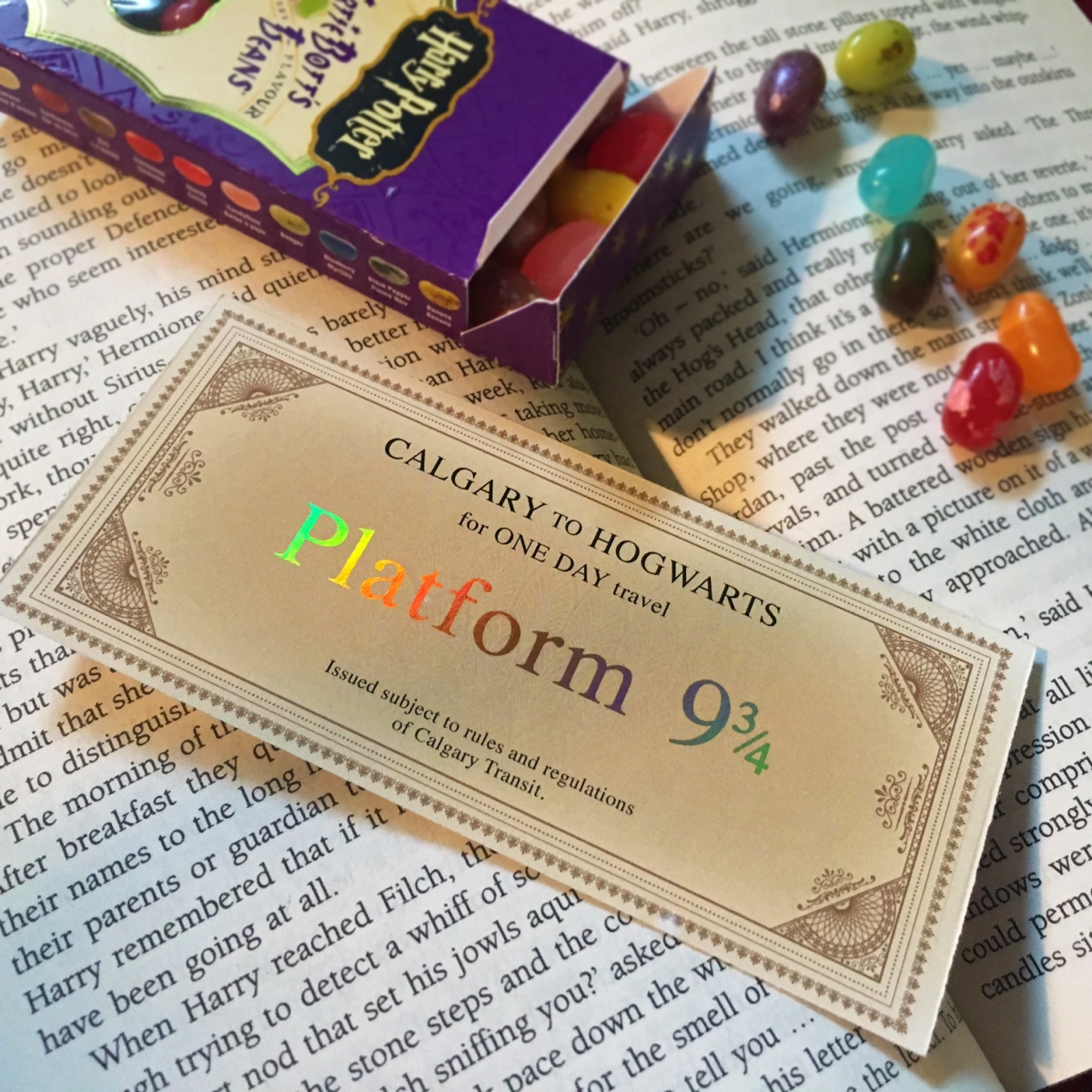 Photo courtesy of Kensington BRZ
This commemorative ticket from Calgary Transit is your key to the Sunnyside LRT trainstation (or rather, platform 9 and 3/4) this Saturday.
For more information, visit visitkensington.com