Make no bones about it; Calgary is a dog-loving city and few of us dog owners want to leave our best friend out when hitting the trails. And really, who better to hike with? Unlike friends and family, with dogs, there's no need to pause for yet another selfie and they'll never start the hike hungover. Keenly observant, they just might even warn you of approaching wildlife and save your life.
That said, not all dogs are well trained or well behaved enough to be good hiking companions. Even with docile dogs, instinct has a nasty habit of kicking in under certain circumstances (cue the wafting scent of a wild animal). Dogs are programmed to love the thrill of the chase without concern for the consequences of bounding back to you with a coyote, cougar, or even a bear in hot pursuit.
Both Banff National Park and the provincial parks in Kananaskis Country have similar regulations in place to avoid the negative effects of dog and wild-animal interactions. While there are no official off-leash areas in Kananaskis Country, there is one in Banff at Hawk Avenue near the entrance to the industrial district. Otherwise, dogs must be leashed at all times, including at campsites. Both K-Country and Banff have regulations on leash length (though parks officials don't run around with tape measures) of no more than two metres in K-Country and three-metres in Banff. Don't expect a warning if your dog is caught off-leash. Do, however, anticipate a significant fine (fines start at $200 and can be as high as $25,000, though maximum fines are rare.)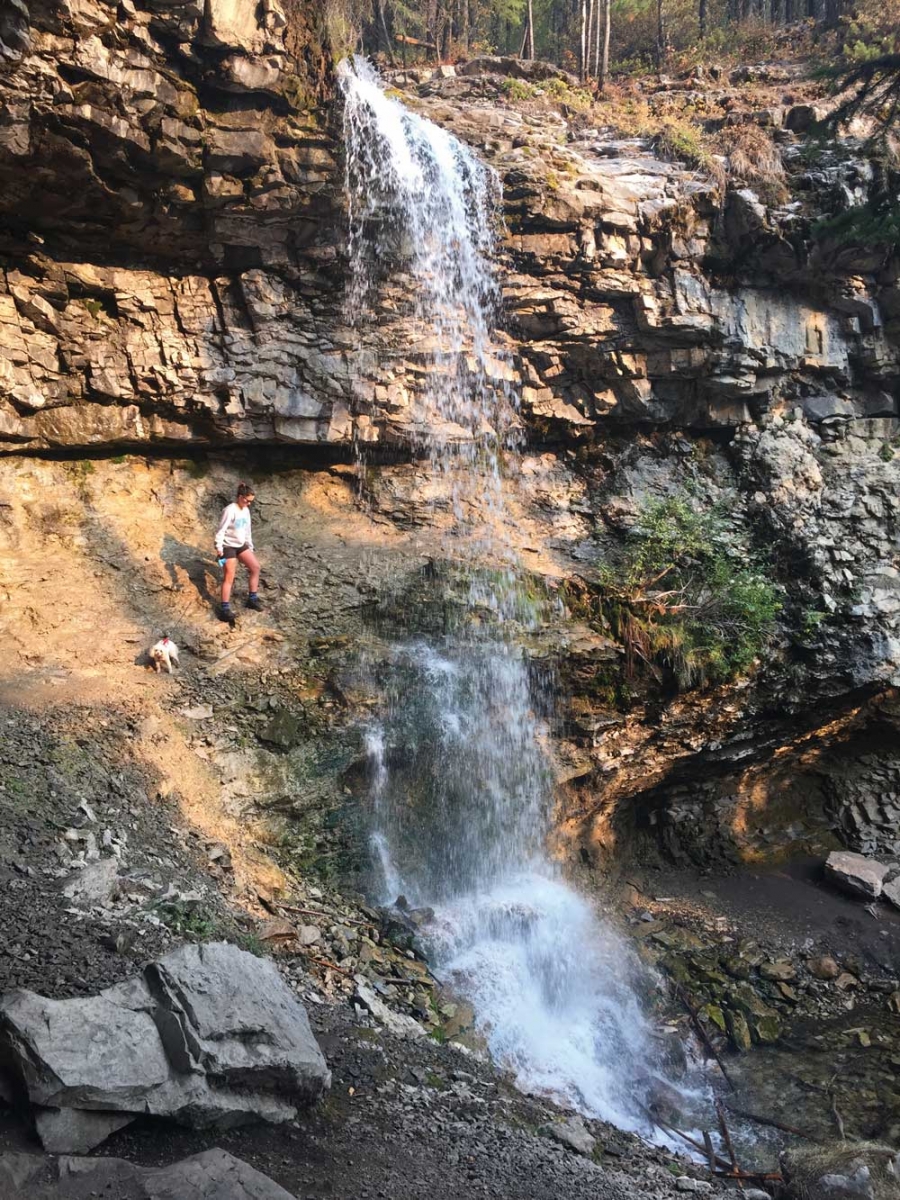 Doggie doo-doo is another big concern, with its own set of rules and regulations. Banff National Park asks that you dispose of your dog's waste in a bin. Bring thick plastic bags that won't burst if dropped, as you're required to pack out your dog's waste no matter where you are on a trail. (Hint: before hitting the trail, walk your dog for 100 m or so, as often they'll "perform" right after a car ride.) In K-Country, once you're on the trail, follow the "leave no trace" guidelines that go for humans as well, burying the poop in a hole a minimum of 15-to-20-centimetres deep by 10-to-15-cm wide and at least 50 m (or around 70 adult paces) from water, a trail or a campsite.
Respect and consideration for the non-doggie people you encounter on a hike is also very important. A well-mannered dog is a treat to be around while out-of-control dogs are most definitely not. The fewer negative experiences people have, the less likely they'll be to complain to the authorities and the more likely it is that trails will stay open for everyone – human and canine – to enjoy. It's best to socialize your dog before taking them out on a mountain trail, perhaps at an urban off-leash park, of which Calgary has plenty. If they're not relaxed or they're aggressive around other people and dogs, choose less-travelled trails or better still, leave your dog at home.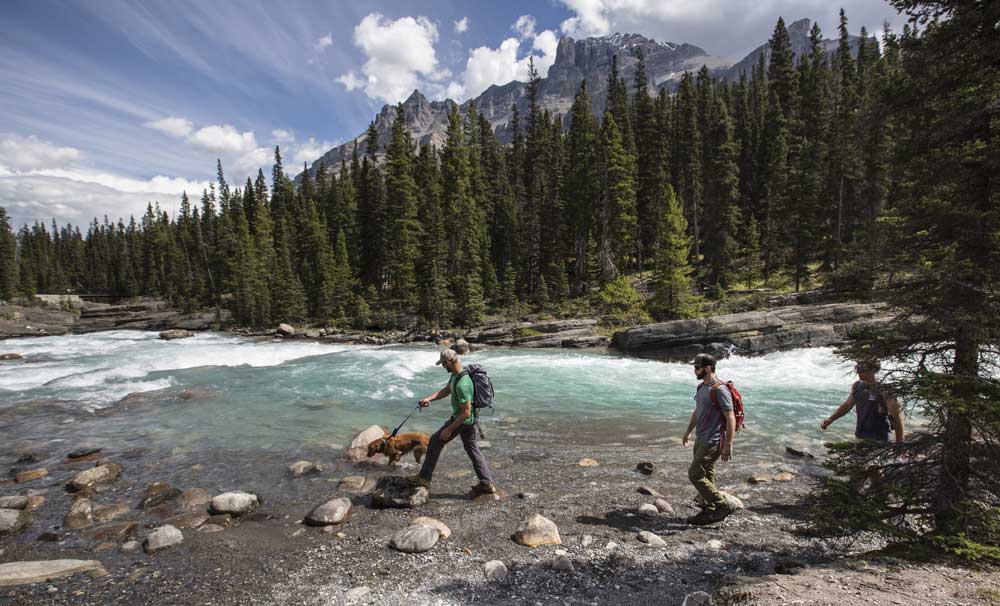 To keep dogs cool on summer hikes, choose a trail with a water source, such as Mistaya Canyon in Banff National Park.
Just like you, your dog will appreciate a hiking experience all that much more if they are in shape. It's best to avoid taking your dog on an epic hike without building up to it (have you ever tried carrying 50 pounds of dead weight for even one km?) Be choosy about the trail you pick. Hiking near streams, rivers and lakes means your dog can cool off and stay hydrated. If you're worried about your dog contracting giardia (a.k.a. beaver fever), carry water from home for them along with a collapsible bowl. Shade is helpful. Sharp rocks on delicate paws are not. Research the hike thoroughly before you go and beware of trails like Mount Yamnuska with lots of exposure or rock-scrambling sections. It can be nerve-wracking for both of you.
Once the warm weather hits, you should also be concerned about ticks, with low brush and grassy meadows prime areas for pets to pick up these nasty parasites. A tick bite is not life-threatening for a dog, but to avoid lyme disease, and for peace of mind, it's best to spend a few minutes at the end of the hike or once you get home running your fingers through your dog's fur and feeling for anything unusual. Combing is also a good idea. If you find a tick, remove it with tweezers as you would for a human and pay a visit to the vet if you can't get the whole tick out. It's also possible to vaccinate your dog against lyme disease, which is undoubtedly a good step to take if you're planning to be out there a lot during the spring, when tick season occurs.
As far as trail closures go, dogs and humans are in the same boat when it comes to bear activity, particularly during the height of berry season. But even if your favourite trail is among those closed on account of bears, there are several thousand kilometres of alternate hiking trails across Banff National Park and K-Country for you and your dog to explore together. In spite of the occasional hiccup of hiking with your dog, the fun and companionship tend to outweigh everything else.
Where to stay with your dog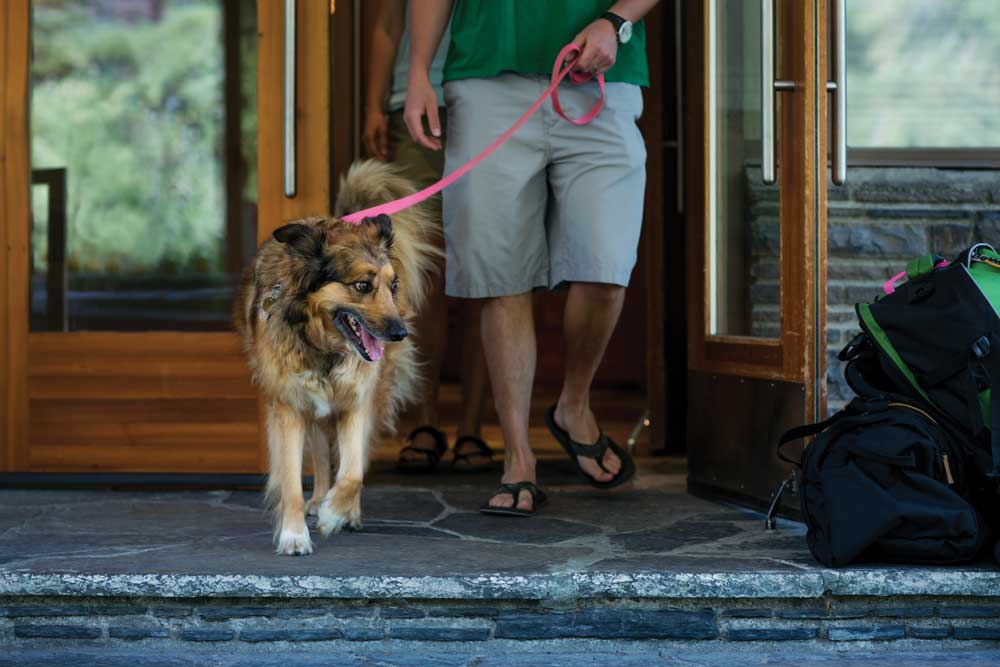 As more and more people travel with their pets, hotels have evolved to suit their needs with pet-friendly rooms – albeit in limited numbers. In Kananaskis Country, the two major hotels, Mount Engadine Lodge and Pomeroy Kananaskis Mountain Lodge welcome pets for an extra charge of $20 and $40, respectively, per night. In Banff you have a terrific amount of choice including the Fairmont Banff Springs, the Moose Hotel & Suites, Rimrock Resort Hotel, Juniper Hotel, Canalta Lodge, Buffalo Mountain Lodge, Hidden Ridge Resort and Irwin's Mountain Inn, just to name a few. All charge extra for the privilege of bringing your dog, with prices ranging from $20 to $40 per pet, per night. Few, if any, ask for a damage deposit. Some hotels limit the size of dog and most allow a maximum of two dogs per room. Many of the hotels ask that you don't leave your pets unattended or, if you do, that they're housed in a kennel. In Banff there's also the option to have your pets looked after or walked by myhotelsitter.com for an hourly fee.
Meet the Fairmont Dogs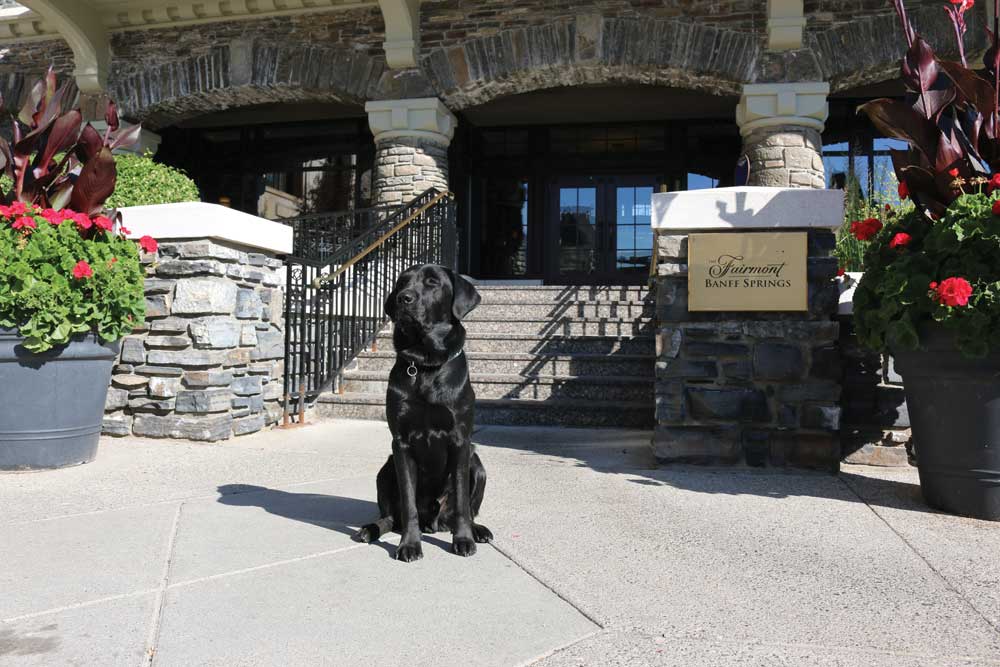 One of the most popular staff members at the Fairmont Banff Springs these days is Bear, a two-and-a-half-year-old black Labrador retriever and the "official dog" at the historic hotel. As a graduate of the Canadian Guide Dogs for the Blind program, he's well mannered, always agreeable and a big hit with guests – even those who are normally uncomfortable around dogs. Bear can usually be found working the floor by the VIP concierge desk between the hours of 9:30 a.m. to 3:30 p.m., offering a wagging tail, a shake of the paw or a cuddle. Guests can even arrange to have Bear join them on an adventure. He's delighted to be your surrogate dog, if even for an hour.
Bear's counterpart at the Fairmont Chateau Lake Louise, a yellow Labrador named Marcus, holds the very official-sounding title of Director of Pet Relations, though these days he's semi-retired on account of his age. Unlike energetic youngster Bear, Marcus prefers a quieter approach with visiting guests, especially during the summer when there are larger numbers of people around. If you're lucky to see him during slow periods, stop to shake his paw and give him a gentle scratch behind the ears.