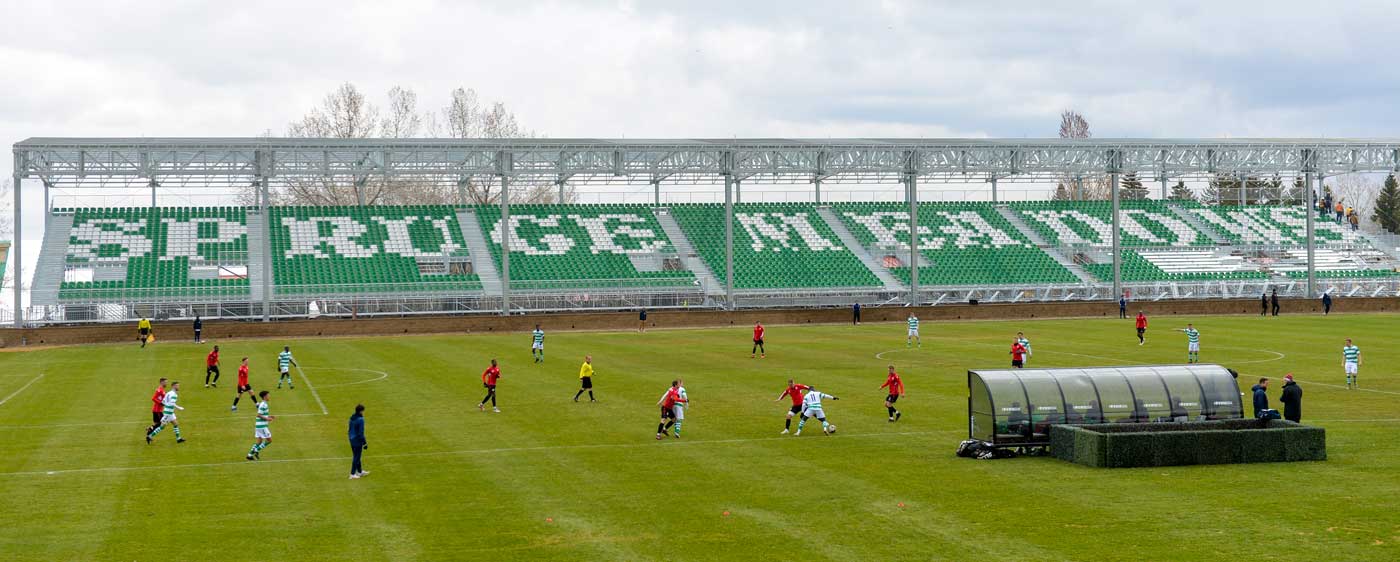 Calgary's history with professional sports goes way back — the Calgary Stampeders football team was founded in 1945, the Calgary Flames hockey team launched in 1972 and the Calgary Roughnecks lacrosse team has been around since 2001. But it's been more than a decade since Calgary had a professional soccer team to call its own.
That changed in 2019 with the debut of the Cavalry FC, Calgary's new professional soccer team that's based out of Spruce Meadows. The team is led by general manager and head coach Tommy Wheeldon Jr., who played with one of the city's last professional soccer teams, the Calgary Storm, from 2002 to 2003.
"I'm proud to have been born and raised in England, but to be honest, Calgary's home. So for me, in a roundabout way, this has been my part of giving back to the city that's adopted me, giving back to a country that's adopted me. So it's going to be a really good full circle movement," Wheeldon Jr. says.
"It's a great journey to be a part of and hopefully it will be a memorable one in the next chapter."
Here's What You Should Know About Calgary's New Professional Soccer Team
History
Calgary has had a few short-lived professional soccer teams over the years. The Calgary Boomers, the Calgary Mustangs and the Calgary Kickers/Strikers all played for brief stints in the 1980s. Most recently, there was the Calgary Storm, who played from 2001 to 2003, and another team called the Calgary Mustangs in 2004.
In 2017, a new professional soccer league called the Canadian Premier League (CPL) was founded. The league's first season launched in 2019 with seven teams: Calvary FC from Calgary, FC Edmonton, Forge FC from Hamilton, HFX Wanderers FC from Halifax, Pacific FC from Langford, Valour FC from Winnipeg and York9 FC from Toronto.
Team Record So Far
Cavalry FC has established itself as one of CPL's most dominant teams from the very beginning. Before its first season launched, the team won all of their pre-season games without a single goal scored against them.
Since the regular season launched on May 4, the team has won 10 games and tied one game. This puts them in first place in the CPL standings.
The Cavalry FC play four to eight times a month until the season ends on October 19, 2019.
The Facility
Spruce Meadows, the internationally renowned equestrian facility, is the home of the Calvary FC. The team plays at the facility's Atco Field, which has natural grass and expanded seating to fit 6,000 spectators. The field's showjumping features are taken down while the Cavalry FC plays, but will be replaced for some of Spruce Meadows' Summer Series tournaments while the soccer team plays away games.
"The strategic design of our Atco Field is that there will still be, from time to time, equestrian events in here. So it's important that we're the sport version of a Transformer, that we can actually transform from a soccer stadium into an equestrian ring with very seamless effort," says Wheeldon Jr.
Spruce Meadows' lower plaza also has a store where you can pick up Cavalry FC memorabilia, two beer tents, food vendors and a fan zone.
Spectator Tips
While you can park at the venue for $10, there are ways to get to and from the game that will help you skip some traffic. Spectators can catch a Red Arrow shuttle from Somerset/Bridlewood LRT Station to Spruce Meadows and back again later. The free shuttle runs for two hours before the game and one hour after the game. Spruce Meadows also has bike racks if you want to ride over.
Soccer fans can also download CPL's app, Centre Circle, for more information on the league and Cavalry FC and to purchase tickets. And if you can't decide where you want to sit, check out the team's virtual venue feature that shows you the view from any seating section in the arena.
Spruce Meadows, 18011 Spruce Meadows Way S.W., 403-974-4567, cavalryfc.canpl.ca