The Okanagan probably brings to mind scenes of summer vacationing, but this southern B.C. wine region has just as much to offer in the autumn. Here are some of the amazing things to do in the fall in and around the communities of Penticton, Summerland and Oliver.
---
What to Do
Get active in the outdoors
Penticton-based outfitter Hoodoo Adventures offers a range of cycling and kayaking adventures to get you out into nature and enjoying the mild autumn weather. The kayaking experience on Okanagan Lake includes views of Munson Mountain, an extinct volcano adorned with a selfie-worthy sign that spells out "Penticton" in large white letters. Hoodoo also does biking tours on the Kettle Valley Trail, a former railroad corridor that features tunnels and rock ovens that early 20th-century railroad workers used to bake bread. Be sure to stop at the Trail Store, a mom-and-pop shop nestled in an orchard along the trail, for one of their ambrosia apple slushies.
Hoodoo also offers a Spirited Brews Cruise bike-and-tasting experience that includes stops at Maple Leaf Spirits, the oldest B.C. craft distillery still run by original owners, and Bad Tattoo Brewing where you can pair beer with unique pizzas such as the "black and blue" with blue cheese and blackberry compote.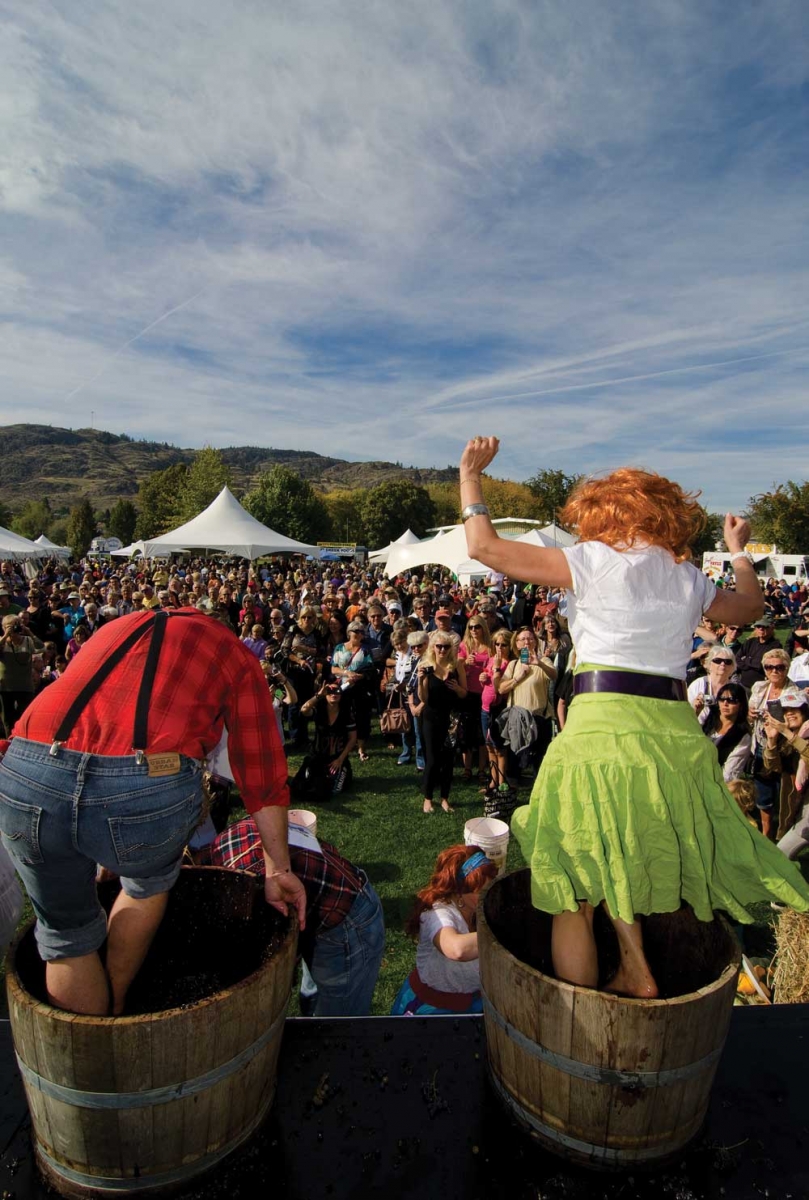 photograph courtesy of oliver tourism association
Grape-stomp competitors at the Oliver Festival of the Grape.
The town of Oliver declared itself the "Wine Capital of Canada" in 2001, a moniker made official by the Queen when she visited in 2002, so it makes sense that Oliver would be home to the annual Oliver Festival of the Grape. Since 1997, this one-day festival (this year it's on Sunday, Oct. 1) has brought Okanagan oenophiles together to celebrate the fruit of the vine. An assortment of food trucks means you can do more than just drink (a wineglass-holder necklace is a must, as you'll want both hands free to eat). The cornerstone event is the grape-stomp competition, which pits 24 amateur teams of stompers against one another to see who can make the most juice. If you and three friends have got what it takes, sign up soon, as the spots fill up quickly.
Go cider tasting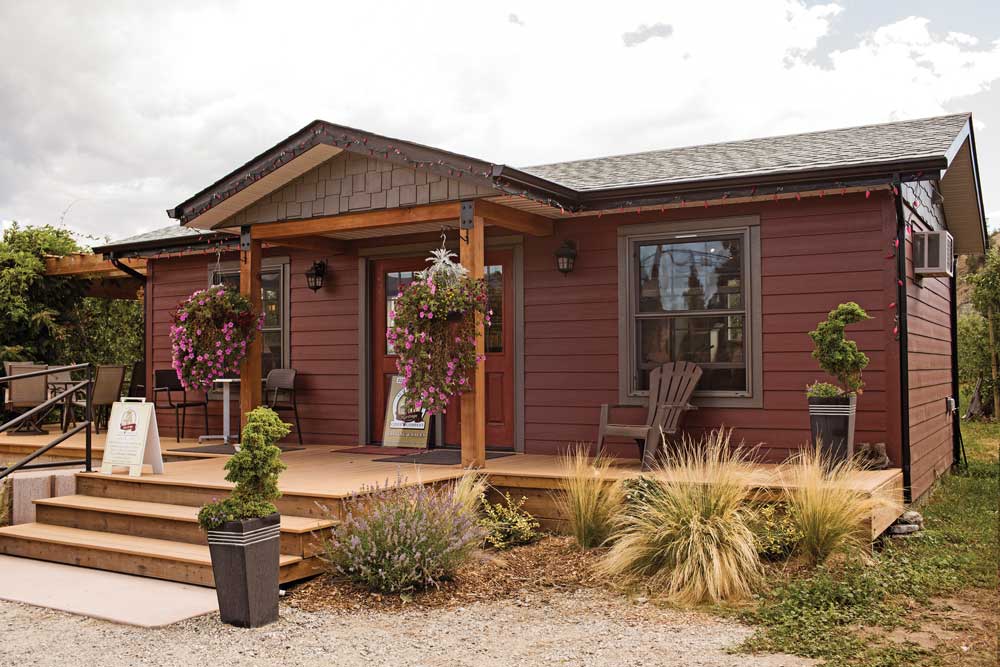 photograph by moniquie Wiendels Photography
Summerland Heritage Cider Company's tasting room.
The Okanagan is well known for its wine but Okanagan cider is making a name for itself as well. Summerland Heritage Cider Company, located 10 minutes north of Penticton in Summerland, grows its own European cider apples, whose high tannin content makes for robust, complex flavours. Summerland Heritage's five blends vary from bone-dry to sweet. Make sure to try the Woodland Hopped, a cider blend that incorporates hops grown on the tasting room patio. Also in Summerland, about a 10-minute drive from Summerland Heritage, is Dominion Cider Co. Named after the Dominion Experimental Farms that once studied and developed new heritage apples in the region, Dominion grows the majority of its apple varietals on site and hand-picks, crushes, blends and bottles everything themselves. A tasting on their farm is as fresh as cider gets. Should you fall in love with its rural charm, you can rent Dominion's cozy, one-bedroom carriage house, which lists on Airbnb for $110 a night.
summerlandcider.com, dominioncider.com
Every Saturday morning from May to October, vendors with names like Harry's Cherries, Ogopogo Meats and What the Fungus take over a few blocks of Penticton's Main Street to sell everything from farm-fresh produce and warm pastries to handmade jewellery and crafts. Rows of brightly coloured harvest vegetables and friendly merchants make for a pleasant stroll while you snack on a brioche or meat pie.
---
Where to Eat
This low-lit Italian restaurant in Penticton has been serving locals and tourists alike for more than 20 years. They've achieved this longevity thanks to dishes like their petti di pollo alla Villa Rosa – tender chicken served with tiger prawns – and desserts made with seasonal ingredients such as fall's creamy pumpkin cheesecake. As with any good Okanagan restaurant, Villa Rosa's wine list includes 120 local vintages as well as an impressive selection of Italian bottles, while their "Sicilian mule" cocktail, a mix of New Amsterdam vodka, Fentiman's ginger beer and lime juice served in a copper mug, has just the right amount of kick.
795 Westminster Ave. W., Penticton, 250-490-9595, thevillarosa.com
As evidenced by the display of their motto "community sourced, community driven," Craft Corner Kitchen is the place to go to eat local. Chef and general manager James Holmes prides himself on his menu being as regional and seasonal as possible, sourcing ingredients from a nearby farm that supplies his restaurant exclusively. The handcrafted cocktails created by co-owner Jonathan Cote also have a local bent, using components from regional producers such as Dubh Glas Distillery and Cannery Brewery. Even the sodas are a hometown affair – small-batch pops from Penticton-based People's Craft House made with local fruits, herbs and flowers. Ask locals about what they like to eat in Penticton and you'll get an earful about Craft's poutine, made with apple fries and sweet vanilla salt.
557 Main St. Penticton, 250-493-2368, craftcornerkitchen.com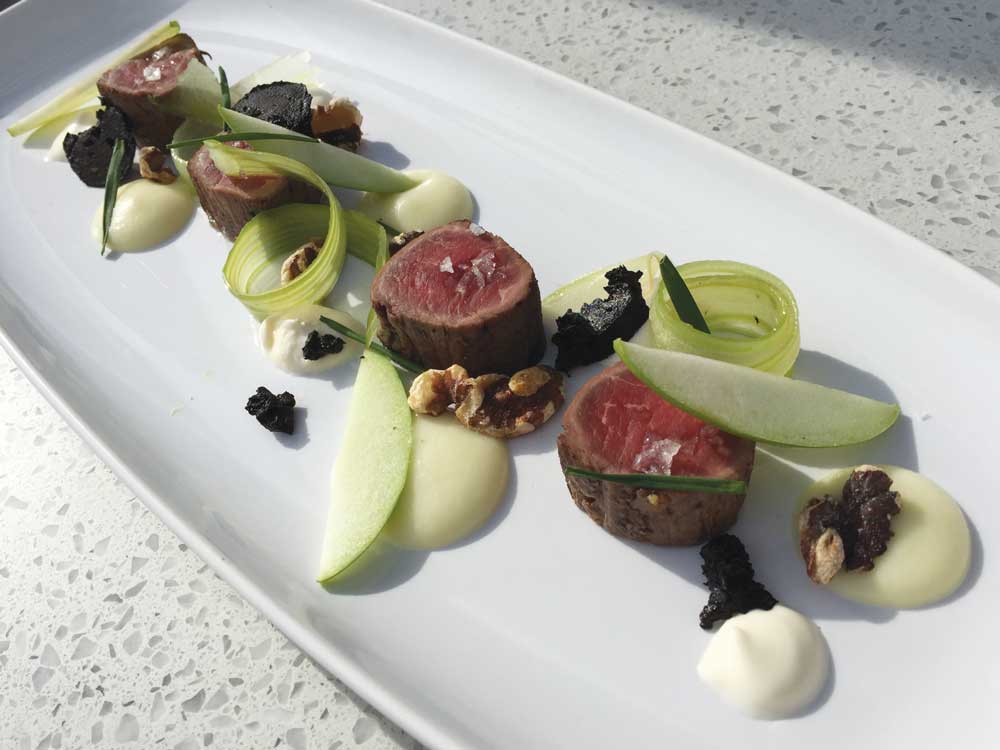 photograph by andrew guilbert
Beef tenderloin tataki at the Liquidity Wines restaurant.
Located 25 minutes south of Penticton, the restaurant at this 20-year-old winery boasts one of the finest patio views in the region, looking out over an ornamental infinity pool to row upon row of hillside vineyards. Beautifully plated dishes pair perfectly with Liquidity's wine list, which includes their own creations as well as vintages from other makers. The tasting room also serves as a contemporary art gallery.
4720 Allendale Rd., Okanagan Falls, 778-515-5500, liquiditywines.com
---
Where to Stay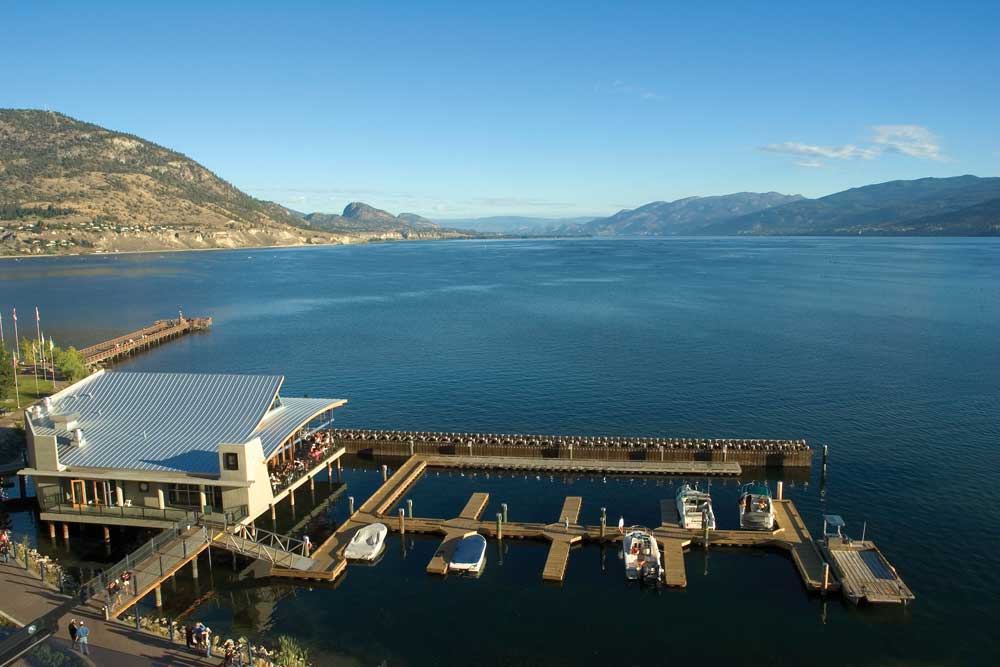 photograph courtesy of pentiction lakeside resort
Penticton Lakeside Resort
As the name suggests, this 273-room resort gets you a lakeside view if you're in a north-facing room, though the scenic mountain vista to the south means there's really no bad views to be had here. In-house amenities include three restaurants – the morning-enhancing Bufflehead Cappuccino & Wine Bar, the contemporary lake view-endowed Hooded Merganser and late-night hot spot, the Barking Parrot – as well as a juicery, gym, pool and boutique. All this being a mere five-minute walk from downtown Penticton means there's never a dull moment.
21 Lakeshore Dr. W., Penticton, 250-493-8221, pentictonlakesideresort.com
Located just south of Oliver in Osoyoos, the Watermark is the ultimate crash pad for your grape-stomping team. All of the 123 suites feature private balconies and well-equipped kitchens, but for the height of luxury book one of the 30 beachfront townhomes that are just a sliding door away from Osoyoos Lake – you'll feel like you've just moved in to your own beachfront property. The Restaurant at Watermark features award-winning tapas, which you'll be able to work off in their on-site yoga and Pilates studio where they also offer spin classes as well as yoga on the beach.
15 Park Place, Osoyoos, 250-495-5500, watermarkbeachresort.com