Raw wilderness beckons many to Canada's Yukon Territory to go whitewater rafting, canoeing, trekking or single-track biking. But there's also an understated cool in the historic streets of Whitehorse that's attracting curious travellers beyond the outdoorsy types – even the Royals (the Duke and Duchess of Cambridge visited the Yukon on their Canadian tour last fall) saw the allure of a place where bear sightings are as much a part of the vibe as craft beer and cocktails.
With Whitehorse a direct flight from Calgary (approximately three hours via Air North or four hours via WestJet), you can easily discover the Yukon's scenic landscapes of massifs and glassy alpine lakes, celebrate the rich First Nations heritage and culture and enjoy the northern hospitality. In the peak of summer, when epic skies ablaze in pink and orange make every hour seem like the magic hour, there is no shortage of good times to be had under the midnight sun.
What to do
Explore Whitehorse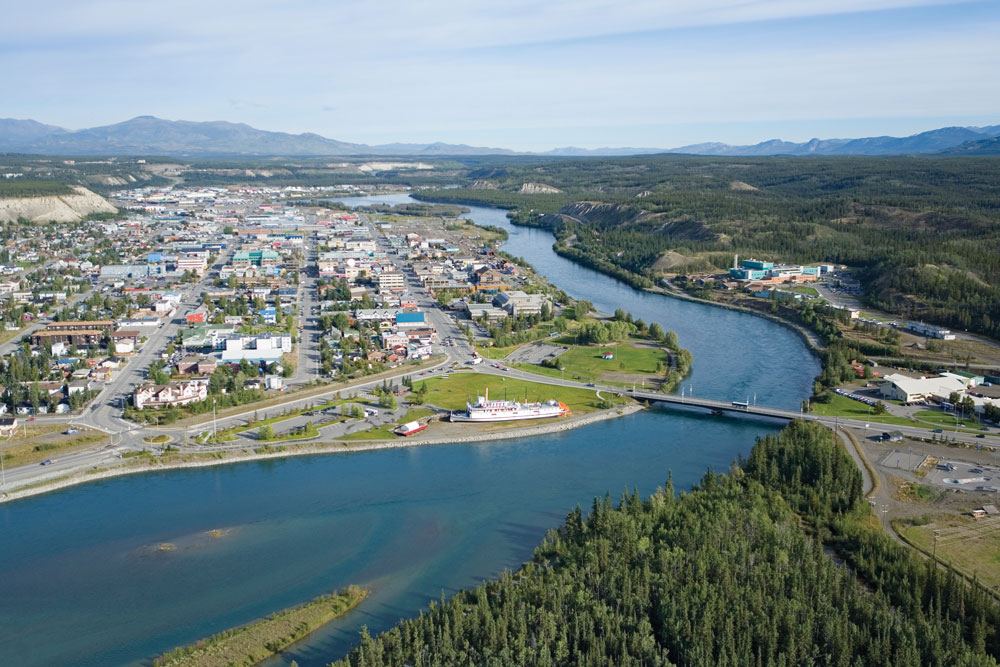 photograph by Fritz Mueller, courtesy of Government of Yukon
Aerial view of Whitehorse.
Yukon's capital city is charmingly laid-back, yet unwittingly cosmopolitan. Old log churches sit next to art galleries, and buildings painted with colourful street murals are on nearly every block. Take a walk to the wharf waterfront, which hosts many outdoor festivals and food trucks through the summer, or hop on the restored 1925 trolley for a roll alongside the Yukon River. Stroll the specialty shops at Horwoods Mall for everything from design pieces to gourmet cheeses, and find traditional Aboriginal artifacts and interpretive displays at the impressive Kwanlin Dn Cultural Centre.
This Whitehorse museum houses taxidermy wildlife, Sam McGee's original log cabin, old neon signs and Klondike gold rush-era relics. There's also a new exhibit at the telegraph office where Prince William and Kate famously made history during the royal tour by sending the first "telegraph-to-tweet" using a Morse code telegraph machine hooked up to a computer.
Take a Carcross daytrip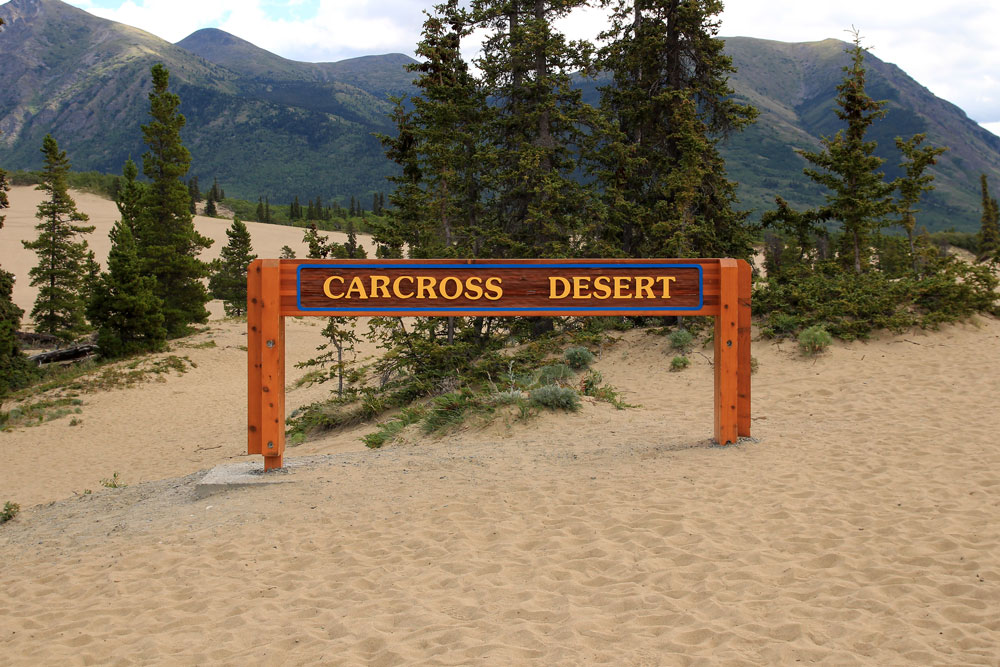 Thinkstock
Carcross Desert.
It's hard to imagine visiting both a beach and desert in the Canadian north but in the tiny hamlet of Carcross, south of Whitehorse, you can see a bald eagle soaring above the sandy beach at Bennett Lake and visit the world's smallest desert. Located just off the highway, the Carcross Desert sand dunes are a popular spot with the ATV crowd. Don't miss the colourful Tlingit-inspired murals at Carcross Commons, a retail village where you'll also find artisan Keith Wolfe Smarch creating traditional totem poles and masks at the carving shed. Carcross is also where you'll find Montana Mountain, an old silver mine turned epic mountain bike park boasting more than 35 kilometres of hand-built and restored single track. It's one of the many reasons Outside Magazine gave Whitehorse and Carcross the "best biking destination" honours in its 2013 Travel Awards.
Hiking
Trekkers looking for solitude and remote wilderness will find the Yukon to be a hiker's paradise, with iconic trails like the multi-day Chilkoot as well as scenic scrambles through the alpine forests in Kluane National Park and Reserve, part of a UNESCO World Heritage Site. Good day-hike options are King's Throne Summit or the Sheep Creek Trail, which offers expansive views over the 'y Ch (Slims River) Valley. Easier options abound at Miles Canyon, where you'll see how the mighty Yukon River has cut a path through basaltic lava.
Takhini Hot Springs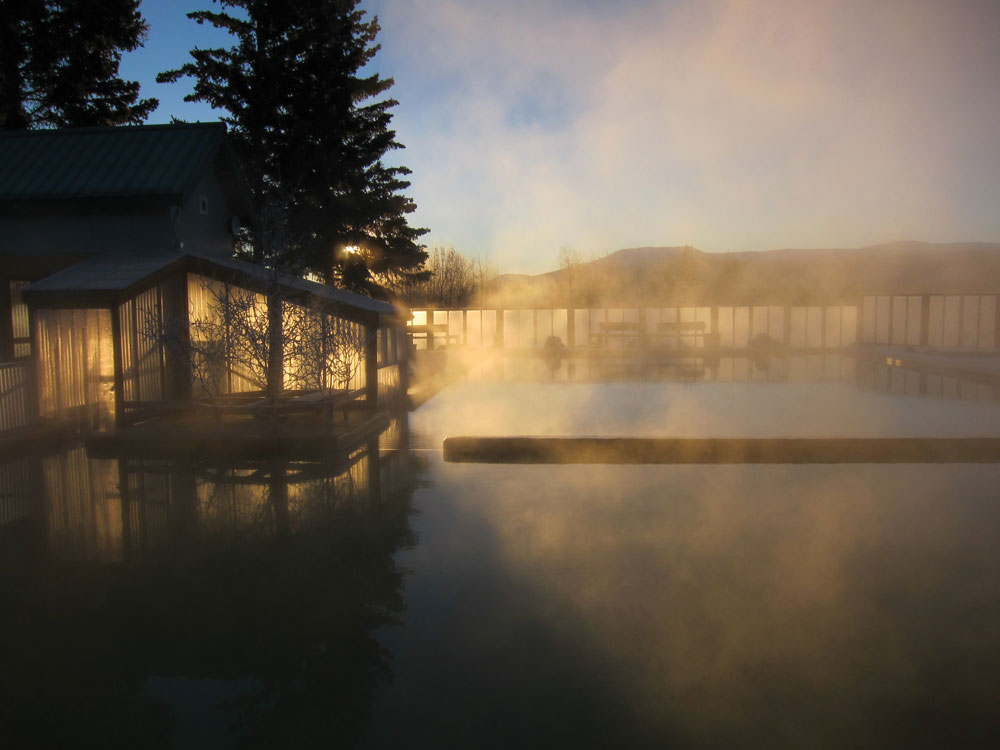 photograph courtesy of takhini hot springs
After a tough day on the trails, bliss out in the warm natural mineral waters at the Takhini Hot Springs just 25 minutes from downtown Whitehorse. Even on weekends, this calm wooded spot is far from crowded, with pockets of visitors relaxing in its outdoor thermal pools.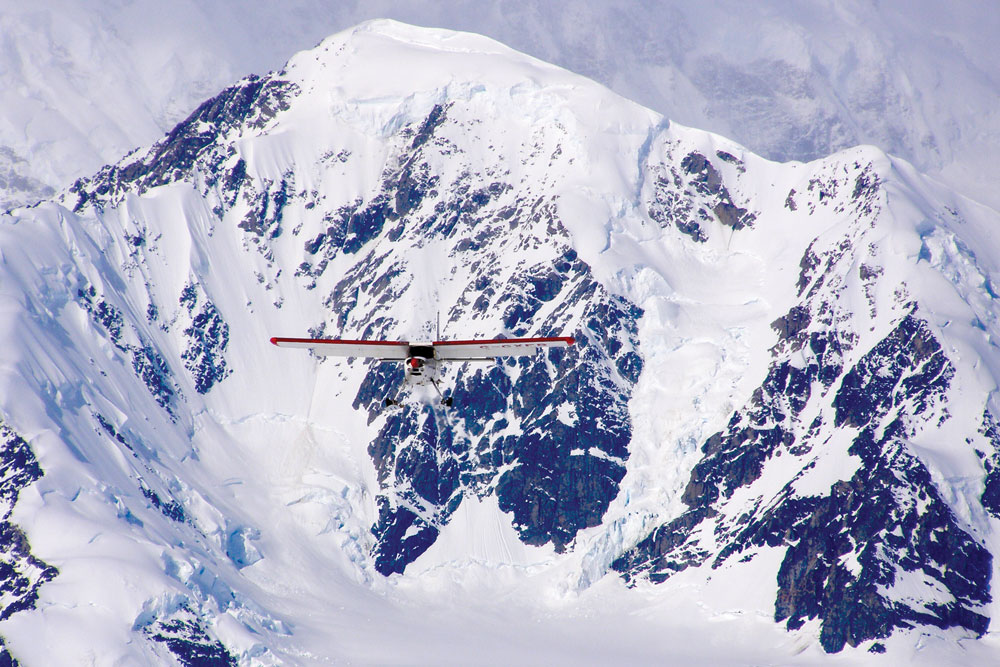 photograph courtesy of Icefield Discovery
Icefield Discovery tour.
The Icefield Discovery tour lets you marvel at the brilliant blue lakes of meltwater and ice crevasses of Kaskawulsh Glacier from the seat of a tiny Helio Courier H-295 ski plane. Take in the jaw-dropping panorama of the St. Elias peaks, then get the once-in-a-lifetime thrill of actually landing on a glacier and setting foot on the largest non-polar icefield in the world, with views of Canada's tallest peak, Mount Logan.
---
Where to eat
Tucked in the boreal forest of Takhini Valley, Bean North roasts the certified-organic fair-trade coffee that you'll find in cafes all across the Yukon. Enjoy a brew of single-origin coffee with a panini or bowl of homemade soup out on the massive deck, then load up on bags of beans to take home.
This latest venture by local restaurateurs Christine Kent and Katja Schmidt of Miner's Daughter and Dirty Northern Public House is a cute caf and salad-smoothie bar in Waterfront Station. The menu is all about healthy veggies and grains – think brown rice and quinoa bowls loaded with kale, avocado, cilantro, beets and carrots and topped with sesame sauce.
This trendy yet intimate spot is great for brunch, lunch or dinner. Start your day with the maple banger and eggs with locally made maple-infused bratwurst, or have the lemon herb-crusted arctic char en papillote with veggies and blue-cheese mashed potatoes if you're dropping by for dinner.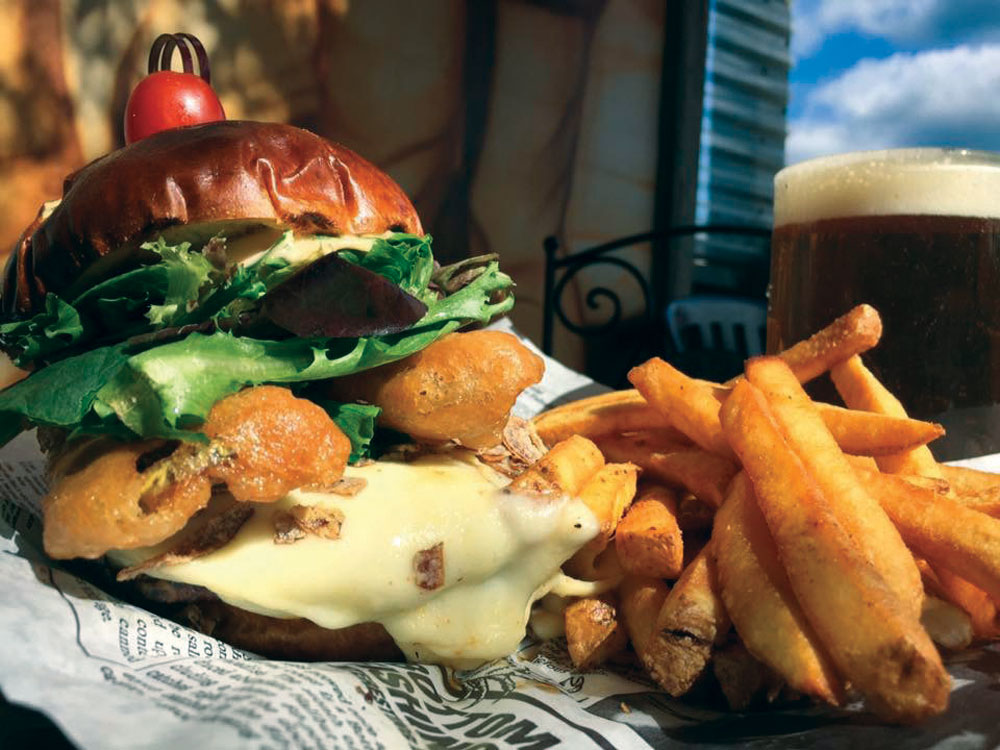 photograph courtesy of klondike rib & Salmon
Klondike Rib & Salmon's Rip Roarin Rowdy Rudolph burger, a reindeer patty topped with deep-fried dill pickles.
Tourists and locals alike line up for this popular eatery housed in Whitehorse's two oldest operating buildings. The extensive menu is packed with offerings of regional wild game such as elk, bison and reindeer and fresh northern ocean fish, making it hard to choose between the Alaskan halibut fish and chips and tender elk stroganoff. Whatever you end up ordering, leave room for fresh bannock and homemade pie.
---
Where to stay
Walk in royal footsteps by booking Room 414 at this modest lodge, now dubbed "the world's most popular three-star hotel" since hosting the Duke and Duchess of Cambridge. The inn is close to the Yukon River and walking distance to the SS Klondike, a historic paddle-wheel steamboat – just look for the 40-foot-tall carved wooden Mountie statue out front.
The guest lodgings at the 181-room Westmark, the Yukon's largest hotel, are spacious, albeit a tad dated. Still, you can't beat the location in the heart of downtown Whitehorse with easy access to restaurants and shopping. Don't miss the Frantic Follies, a nightly vaudeville-style revue in the downstairs ballroom.
---
Tips for travellers: How to get a good night's sleep under the midnight sun
While winter visitors get the northern lights, going north of 60 in the summer brings the extended playtime known as the midnight sun. From late May to September, visitors to the Yukon have approximately 19 hours of daylight to take in the vistas, paddle the rivers or hike, bike and jog the countless trails. To pace yourself for these long days, here are a few ways to ensure a good night sleep:
1. Wake up at the same time every day. This is probably even more important than going to bed at the same hour.
2. Bring a sleep-mask, especially if you're planning on camping. The endless daylight can wreak havoc on your sleep cycle. It's why the hotel rooms usually have blackout curtains.
3. Still struggling to sleep? Consider taking melatonin – nature's sleeping pill – to help your body adjust its internal clock.