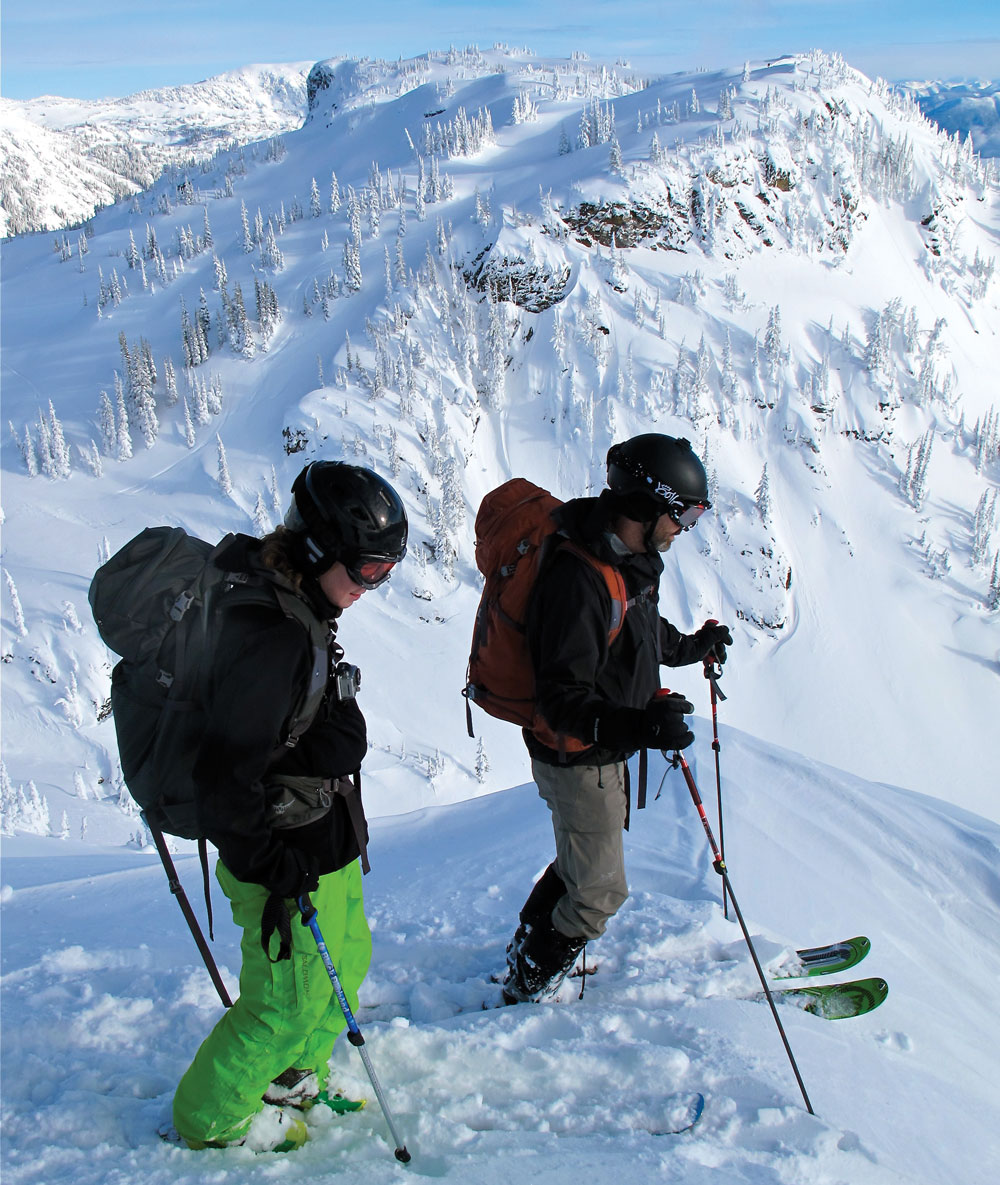 Photograph courtesy of Sol Mountain Lodge
Sol Mountain.
Two opposing forces have recently knocked heads in backcountry skiing. On one hand, super-light alpine touring gear and split snowboards have made the entrance fee (that is, uphill slogging) more tolerable than ever. On the other hand, there are the daunting reports of avalanche tragedies, which shouldn't be taken lightly.
So what's a wannabe to do? Hire an accredited mountain guide, of course – the surest way to minimize risk. With professionally led opportunities more available and economical than ever, even experienced backcountry types have come to realize that paying slightly more for a locally savvy expert is the way to reduce stress while ramping up the fun.
Backcountry skiing in Calgary's backyard
Lake Louise Ski Resort and Yamnuska Mountain Adventures recently teamed up for the ideal introduction to backcountry touring. Actually, skiers refer to this as "slackcountry" (the "slack" part being that chairlifts transport you to the far reaches of the resort), but after that you'll don climbing skins and follow a certified Yam guide in search of the untracked. Slay classic LL powder stashes like Purple Bowl, Richardson Ridge and the Tylenols.
Touring the Selkirks and Monashees
Though less dramatic than our Rockies, the Selkirks and Monashees are a touring mecca thanks to deep, stable snow, exceptional tree runs and moderate temperatures. The new Get Lost adventure centre at Rossland's Red Mountain Resort is where you'll find backcountry guides to show you the goods on various peaks beyond Granite Mountain. And, because it's the Kootenays, they're nothing if not cool; should you hanker to drop a 20-footer under ideal, safe conditions, they'll take you right where you need to be.
Meanwhile, in Nelson, Summit Mountain Guides performs a similar service throughout the region, although it bears noting that the side-country near Whitewater Ski Resort is as reliably awesome as anywhere.
Also worth a pilgrimage is Whitewater's Kootenay Coldsmoke Powder Fest, the nation's foremost celebration of earning one's turns, where it's all about gear demos, group missions and indecently late post-touring revelry. This year's festival takes place February 19 to 21.
Touring with Sol Mountain
A short helicopter hop from Golden or Revelstoke will take you to any one of a dozen or so remote huts specializing in widely varying programs of guided and catered touring. Guide-founded Sol Mountain typifies the vibe of these private kingdoms, which tend to combine hut-like scale with lodge-like amenities. Sol features on-demand hot showers, a yoga room, satellite Wi-Fi and, as is customary across the Canadian snowbelt, dining that has no business being this good this far from civilization. At their best, these lodges stay flexible in their offerings to help groups of differing sizes and skill levels sort their way through four-, five- or seven-night trips. For a complete list of touring lodges, visit backcountrylodgesofbc.com.
Hardcore backcountry skiing
Where can a hardcore find the best of the best? Try Selkirk Mountain Experience, where Swiss-born guide Ruedi Beglinger got in early to snatch one of the most magnificent ski mountaineering tenures in the province. Expect long days with multiple towering objectives.
Likewise, the touring is predictably splendid at Canadian Mountain Holidays, the company famous for heli-skiing, which nevertheless stages epic tours at three of its grand luxe resorts (Adamants, Bugaboo and Cariboo). Now that's true commitment to the Zen of the slog.